CBD For Dogs And Cats - Is CBD Beneficial for Pets?
CBD For Dogs And Cats - Is CBD Beneficial for Pets?
Pets are often our best friends; to think of our close companion contracting an 'incurable' illness can exert devastating emotional tolls on entire families. Not to mention the exorbitant costs of visits to the veterinarian, only to receive drugs, treatments, and surgeries that damage not only your bank account but your pet's health.
Pets are unable to speak (at least in a language humans can comprehend), and as such, they can't tell us when their joints hurt, when they feel anxiety, or when they are having trouble getting restful sleep.
People will try anything to save their pet's health. Enter cannabidiol (CBD) perhaps the best therapeutic compound you could give your pet. Scientific studies have proven that animals (and even birds and reptiles) possess the same endocannabinoid system that exists in human beings.
Clinical Endocannabinoid Deficiency Syndrome and Pets
Many experts now agree that a deficiency in the production of endocannabinoids (literally cannabinoids produced in the body - much like serotonin and dopamine) contributes to nearly every chronic illness known to humankind. Here are a few diseases thought to have CECD at the root of their existence:
Inflammation

Spasms

Rheumatoid Arthritis

Parasitic Infections

Skin Problems

Cancer

Fearfulness
Dogs, cats, and other pets are at a similar risk to humans regarding CECD. There is much talk in the community regarding issues with serotonin, dopamine, adrenaline, cortisol, hormones, and more - but how often do you hear people talking about problems with cannabinoid production in the human body?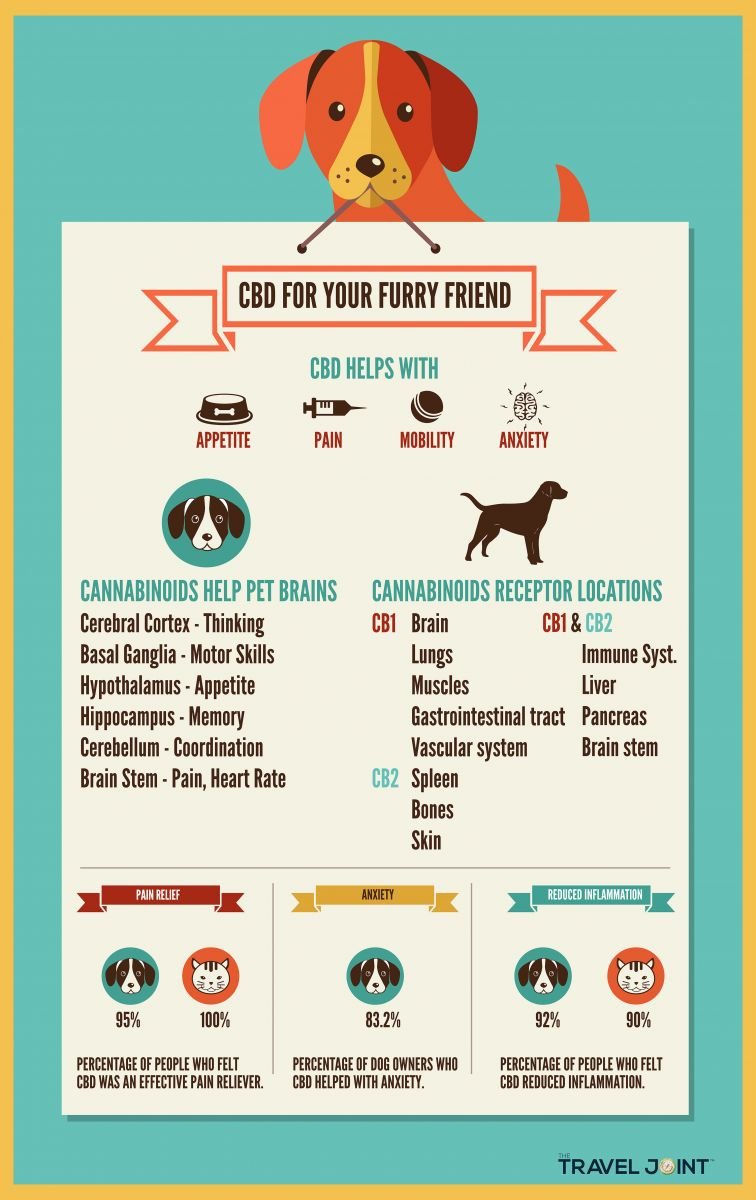 The Reports on CBD for Pets Speak for Themselves
"…our Jack Russell terrier had an intense heart murmur, debilitating arthritis and, after less than 30 days, he begged to go for long walks and his murmur was much improved."
"…the bloating decreased. She displayed enhanced energy. Three weeks later, she was back to her normal body size, and as of week four she was running around the house - you'd never know she was on death's door."
"I've seen dramatic improvement and no one acts 'drugged' or 'out of it.' It's very mild (unlike synthetic pharmaceuticals) and all test results from our doggies indicate they are doing exceptionally well… their vitals are tip-top."
"…the next day, we had earth-shaking thunderstorms - the most severe on record. I was hesitant to try the CBD oil, so I used his melatonin treats. They didn't seem to have an effect. He was so out of sorts that I decided to try the CBD oil. Within10-15 minutes, Cubbie was relaxing next to us on the couch as we watched some television and listened to the thunder roll. It was nothing short of incredible. I have not utilized it since then as we have not experienced any more intense storms, but I have it on hand and would (without hesitation) recommend it to anyone!"
"I administer CBD to my feral foster, whom I couldn't even touch because of her anxiety. She's been ingesting CBD for over six months, and I can not only touch her, but she acts calmly when I put a leash on her, and comes running as soon as I call her!"
"That evening, she administered a dose of CBD oil to our pet Tinkerbell before bed. The following day she was walking, using the bathroom on her own - and exhibited zero seizures! She explains, 'we have no clue how it all works, but CBD has kept our precious angel alive for a year-plus longer than expected!'"
"…a senior Staffordshire Terrier had a six-centimeter mammary tumor and metastasis that disappeared in three months - and didn't come back!"
Ideal Dosage of CBD for Pets
Pets cannot talk to us, and it's important to use extreme patience and compassion in their dosing regimen to ensure you do not overdose your pet- which could cause extreme confusion and uncomfortable feelings in your animal. Granted, the risk of death does not exist, but still - you want your pet to feel good; that's the entire reason we are even here on this webpage.
After extensive research and experience, the generally accepted guidelines are to start with 1mg of CBD for every 10 lbs. of weight, one to two times a day. Most retailers like Holistapet offer dosage instructions for your pet by weight.
Is CBD Right for Your Pet?
There's much red tape surrounding the issue of administering cannabinoids (like CBD) to a pet. However, in reality, we all hate to watch out pets suffer, and the options available to us to relieve their suffering are incredibly limited.
Common issues such as:
Your pet being skittish around other animals

Intense fear around other people or thunderstorms

Apparent pain when struggling to stand up or lay down

General malaise
CBD is safe - you cannot argue with that. The only thing to figure out is the ideal dosage. You don't want to underdo it and think CBD is snake oil that doesn't do anything, but you also don't want to overdo it and turn your pet into a zombie.
Do your research, take it slow - but have confidence. Cannabis is a magical plant that has existed and been used medicinally for millennia. There's a good chance it might not only increase your pet's quality of life but extend the years that you and your animal get to form lifelong memories together.
Be safe, find a trusted source, do your research, use common sense, and take it slow. CBD for pets is powerful, yet gentle. Overdose is impossible, but there is a definite sweet spot.
Here's to your little friend's health!
References:
https://www.ncbi.nlm.nih.gov/pmc/articles/PMC2828614/
https://www.ncbi.nlm.nih.gov/pmc/articles/PMC2626929/
https://www.ncbi.nlm.nih.gov/pmc/articles/PMC4851925/
https://www.ncbi.nlm.nih.gov/pmc/articles/PMC4604171/
https://www.ncbi.nlm.nih.gov/pmc/articles/PMC2903762/
https://www.ncbi.nlm.nih.gov/pmc/articles/PMC4151231/
https://www.ncbi.nlm.nih.gov/pubmed/22506672