Bluebird Botanicals
(6)
Bluebird Botanicals Reviews + Coupon Codes
Shop Bluebird Botanicals via CBDChoice.com
Bluebird Botanicals is a leading manufacturer of pure CBD and hemp extracts (oils). We review the top-rated CBD brands and Bluebird is no exception as they were rated #1 Hemp-CBD company at the 2016 Cannabist Awards. Their products are 3rd party lab tested and results are transparent. They also have honorable assistance programs helping aid those with long term disability, veterans, and even low-income people. In addition, they support and donate to various non-profits so you know this brand is run by good people. Their products are non-psychoactive meaning they don't get you high. Their CBD products are both safe and legal.
What's Unique About Bluebird Botanicals?
Award-winning quality control passing 3rd-party cGMP guidelines with a 99% rating

Their hemp is locally grown in the state of Colorado

They accept over 70 cryptocurrencies and offer 20% off with this payment method

Have Assistance Programs that cater to veterans and/or low-income customers

Bluebird Botanicals coupon codes offered up to 20% off
Bluebird Botanicals Products
CBD Oil Extracts
Their Classic CBD Hemp Extract is great for beginners. It comes with a variety of sizes ranging from 1/3oz to 8oz and priced $9.95 to $139.95 depending on what size you purchase. It contains hemp extract and organic hemp seed oil. The CBD content is 250mg which is a standard concentration for starter oils. You can also purchase more concentrated CBD extracts like the Classic 6x which starts at $44.95 for the 1/3 oz and up to $599.95 for the 8oz. If you believe you'll be using CBD consistently (which is recommended for best results) it's smarter to buy the larger tinctures since you'll be paying less per mg/CBD. Remember you can also use one of our Bluebird Botanicals coupon codes for an extra 20% off.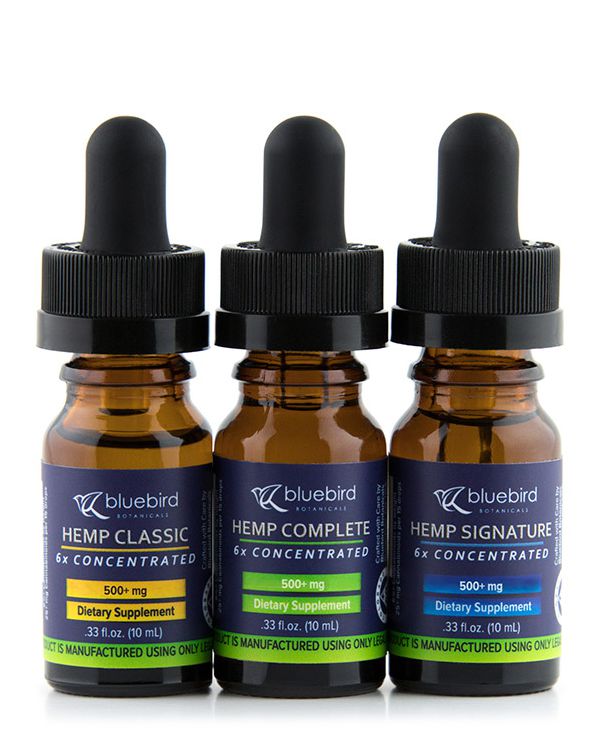 Hemp Capsules
The Hemp Extract capsules come in 15mg per capsule and are 3rd party tested for purities. They come in 2 bottle sizes, 30 and 60 capsules. The 30 capsules cost $39.95 and the 60 costs $74.95 so you get a little bit of a price break with the 60. We also post Bluebird Botanicals coupons so you should be able to cut costs a little further. These are broad-spectrum extracts that in addition to CBD contain glycerin, gelatin, and purified water. These are another great starter for beginner CBD users but take a little longer to enter the bloodstream than the oils.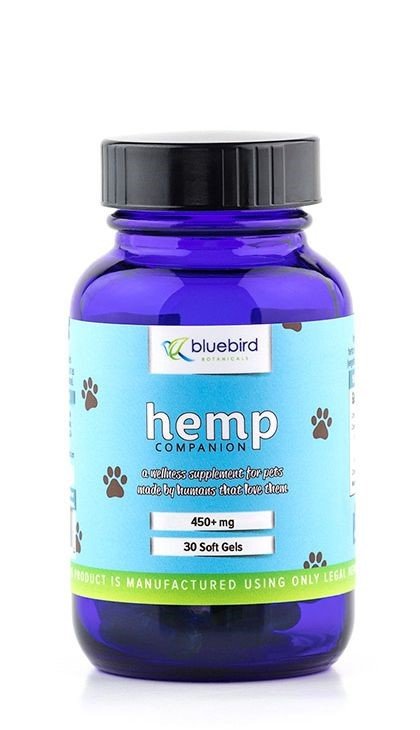 Bluebird Botanicals CBD Vape Oil
The CBD Vape oil is arguably the fastest way for the CBD to enter your system. If you enjoy vaping you may want to strongly consider Bluebird Botanical's CBD Vape-Oil. It comes in 2 sizes, the 1,000mg which costs $74.95 and the 333mg which costs $29.95. Again, these are 3rd party tested CBD Isolates and provide for an unflavored vaping experience. I've tried several different brands/flavors vaping and prefer this unflavored extract as the others tended to leave my mouth feeling dry. If you do prefer flavors you can mix your own juice with this vape oil. If you're also looking for a good vaporizer kit Bluebird Botanicals recommends a few on their website when purchasing the vape oil. My personal preference of all these CBD products is the vape oil but you'll want to do your own research to see what's the best fit for you.
Pet CBD Oil
Bluebird Botanicals also has relief for your 4 legged buddies. They have two main pet products, the Companion Oils, and the Companion Capsules. These products are both safe and effective for helping your pets improve the quality of their life just like humans. These products are also nonpsychoactive and won't get your pets high. They do contain the same CBD mg concentration as the regular capsules and CBD Hemp extracts. These can be used for both cats and dogs.
Companion oil:
1/3oz - $9.95
1oz – $24.95
2oz - $44.95
4oz - $79.95
8oz - $139.95
Companion Capsules:
30 Count: $39.95
60 Count: $74.95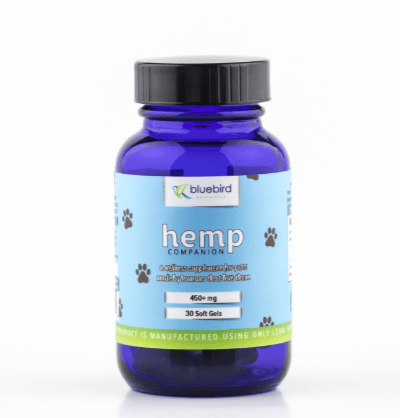 Bluebird Botanicals Pros
Very reasonable pricing

Fast shipping and quality customer service

3rd party lab quality tested and trusted

Assistance Programs

Accepts cryptocurrency

Bluebird Botanicals coupon available
Bluebird Botanicals Cons
CBD not approved by the FDA

Must spend $49+ to qualify for free USA shipping
6 Bluebird Botanicals Reviews
Kristy L

Hi! I have bought the Hemp Classic and use a full dropper. It tastes fine and makes me feel plenty relaxed. I have only been taking it after work at night and it helps me sleep. I'm looking to see if anyone has tried their pet products? 2018-06-30 10:15:02

Shawn

I bought the companion oil for my dog. Once he takes it then he does noticeably calm down. I think next time I'll get some treats instead because it's hard to administer the oils under your pet's tongue. I did use one of your coupons so thank you. 2018-07-23 18:25:37

Lauren

I'm very satisfied with Bluebird Botanicals. I bought the hemp capsules which I prefer because it's easier to take an accurate dosage as sometimes with the tinctures it's hard to fill the dropper up to the desired amount. The capsules are easy to swallow. Also the pricing is much better than what I've seen elsewhere with capsules. 2018-09-19 22:06:56

Selena

Great company. Order has always been on time and any time I've needed to call people have always been more than nice! 2018-09-24 06:56:24

Alyssa

I love Bluebird Botanicals CBD! I ordered the 6x sample pack and the 1,500mg CBD oil is perfect for me. They ship really fast too!! 2018-09-30 06:09:46

adena

I have tried every CBD product on most of the Best CBD lists. I have tried higher concentrates as well. Not one of them are anywhere the quality and relief I get from Bluebird. I don't even bother looking at another company. Its bluebird all the way. Delivery is quick, they are a pleasure to deal with. Perfect. 2018-10-05 18:02:04