Check out the latest Infinite CBD coupons and save on your order today! We provide discount codes and give users the opportunity to leave reviews on the brands they purchase from. Infinite CBD already made our list of cheapest CBD oil brands. One of the reasons their CBD costs so much less than many other brands is that they specifically sell isolate CBD which is cheaper to make. Typically you can get up to 15% off with one of our Infinite CBD discount codes. If you find any other promotions please leave a comment below. 
What's Unique About Infinite CBD?
They were voted best priced CBD oil

Specialize in isolate CBD products

Popular for their CBD Asteroids

3rd party lab-tested to ensure purity

They use isolates and not oils

Infinite CBD coupon codes available
Infinite CBD Products
Infinite is a unique brand supplying consumers with products you don't normally see within the CBD market space, such as hair plasma products. The following is a brief look at some of the products they offer. However, in order to get the full scope of Infinite CBD's selection, we highly suggest you visit their website.
Infinite CBD Isolate Dropper
If you're simply looking for a CBD oil that works quickly, Infinite CBD has you covered. Their Isolate Droppers come in a variety of strengths, giving you versatile dosages for a particular ailment. Doses range from the typical 250mg of CBD all the way up to a staggering 5,000mg – offering you the ability to control the amount of CBD you consume. We found these droppers work great when mixed with foods or beverages.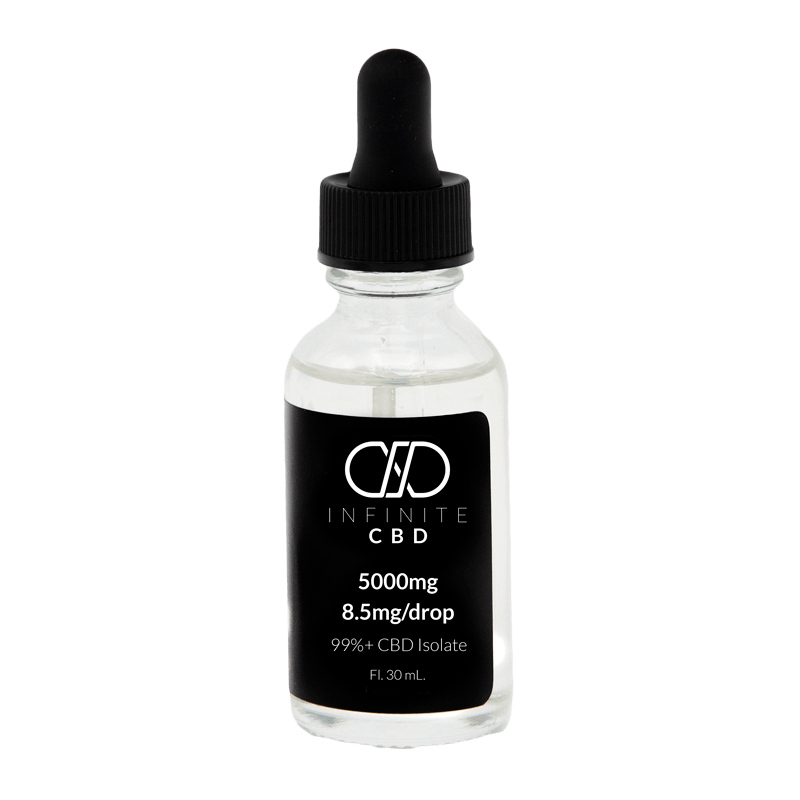 Infinite CBD Capsules
Infinite CBD's capsules are a great option if you're looking to take a daily dose of cannabidiol. These vegan capsules come in three different strengths – 10mg, 25mg, 100mg – and will usually kick in about 30 minutes to 1 hour after consumption.
Furthermore, Infinite CBD has taken their capsules one step further by offering three different varieties – A.M. capsules, P.M. capsules, and isolate capsules.
A.M. Capsules – Infuses CBD with caffeine to give you an extra boost when you wake up.
P.M. Capsules – Infuses CBD with melatonin, the chemical that naturally helps us fall asleep at night, to help you get to bed quicker.
Isolate Capsules – Pure CBD capsules made for those simply seeking 100% THC-free cannabidiol.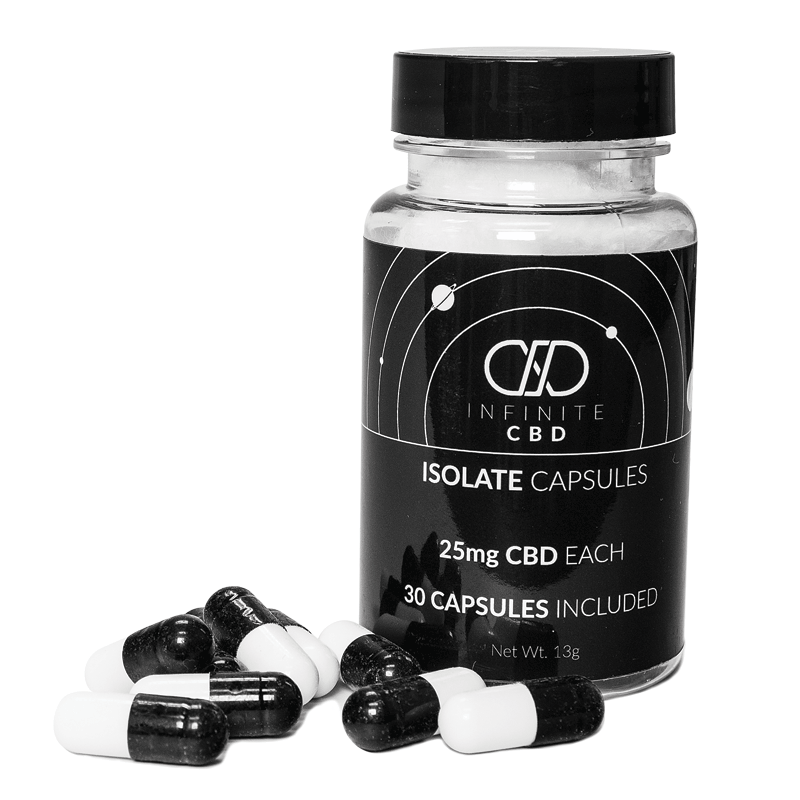 Infinite CBD Asteroid Gummies
Infinite CBD's Asteroid Gummies are some of the best-selling gummies currently on the market both for their powerful effects and delicious taste. If you're new to the CBD industry, gummies are a great way to start off as they're easy to consume. They're also great for children and can be compared to something like Flintstone's vitamins – the only difference is these are asteroid shapes and packed with 25mg of CBD. Infinite CBD's Asteroid Gummies are all made with no artificial flavors, GMO-free ingredients, and are 100% vegan. Infinite CBD also offers a line of sour CBD gummies.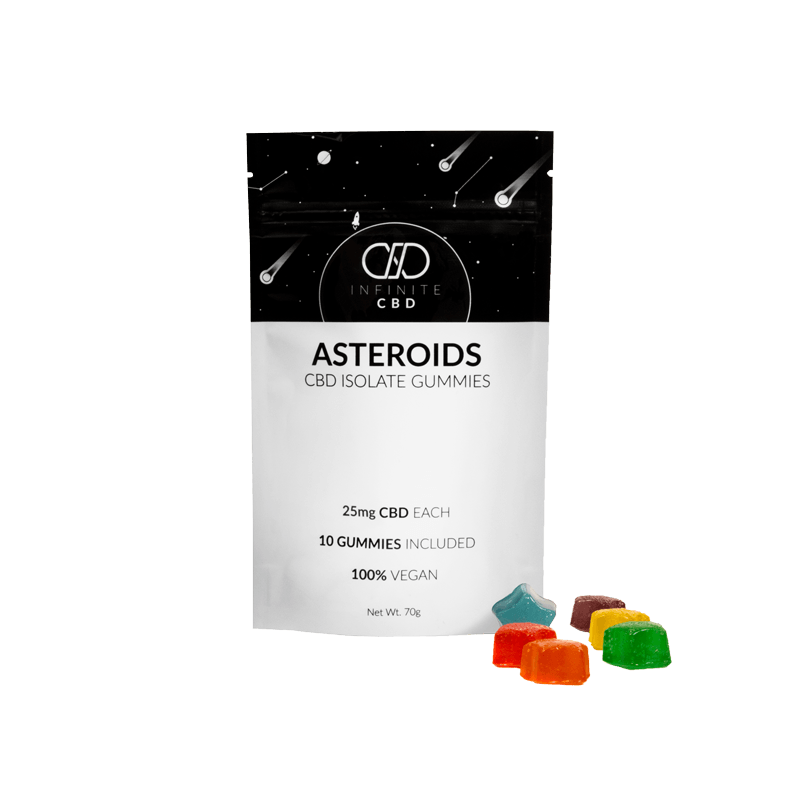 Infinite CBD Dark Matter
Infinite CBD's Dark Matter is advertised as a soap that's designed to help kill off bacteria. By combining CBD with ingredients such as potassium soap, lavender oil, and glycerin, this CBD product offers the following natural benefits to consumers:
Anti-inflammatory

Fights infection

Promotes cells growth

Reduces dry skin
Dark Matter is a perfect product for sports players or those simply looking for an organically beneficial topical.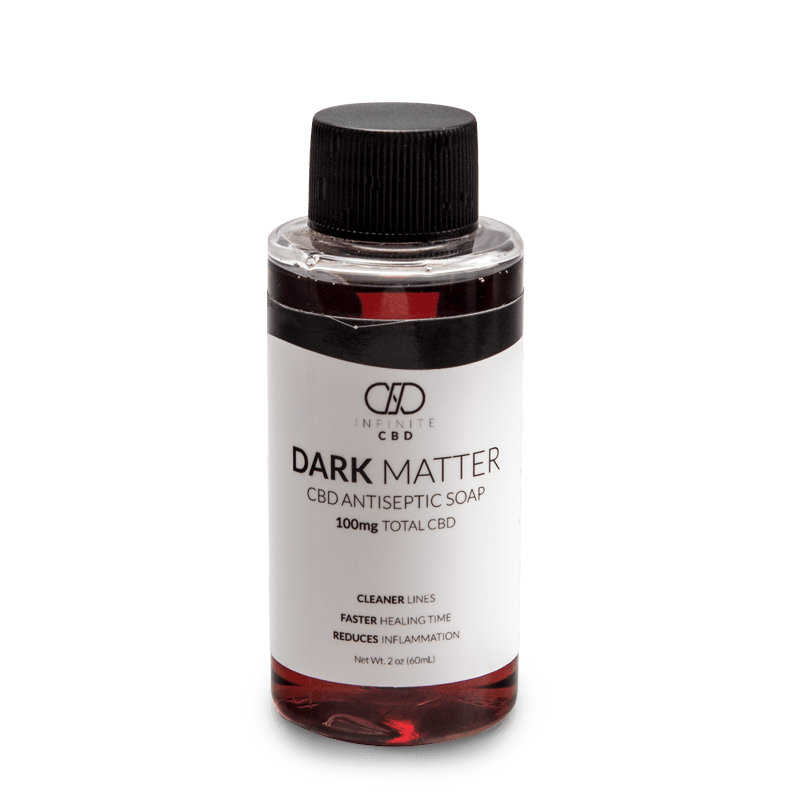 Infinite CBD Freezing Point Cream
Infinite CBD offers a line of products known as Freezing Point Cream. These lotions are designed to reduce pain and inflammation as well as rejuvenating the skin. One benefit to using CBD topicals is the fact that you can target a specific area of pain, such as muscle or joint pain. Infinite CBD's Freezing Point Cream products contain peppermint, menthol, eucalyptus, and camphor, which produces a cooling effect on the targeted area.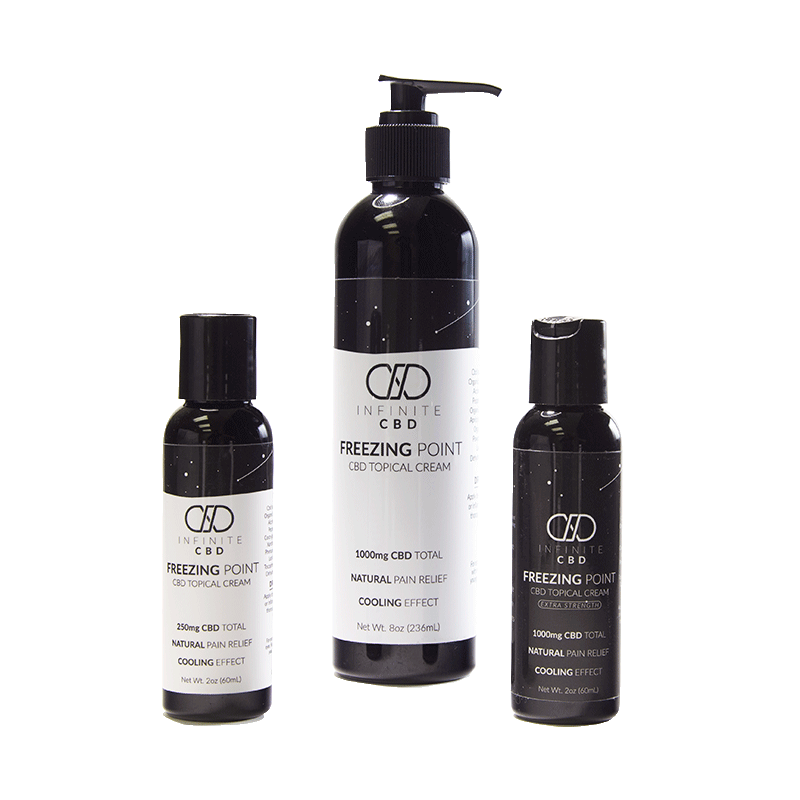 Infinite CBD Freezing Point Salve
If you're looking for a CBD topical that offers further natural benefits, you'll want to check out Infinite CBD's Freezing Point Salve. Unlike the Freezing Point Cream, this product is infused with beeswax, an organic, high-quality material that's known to help fight swelling along with pain and inflammation.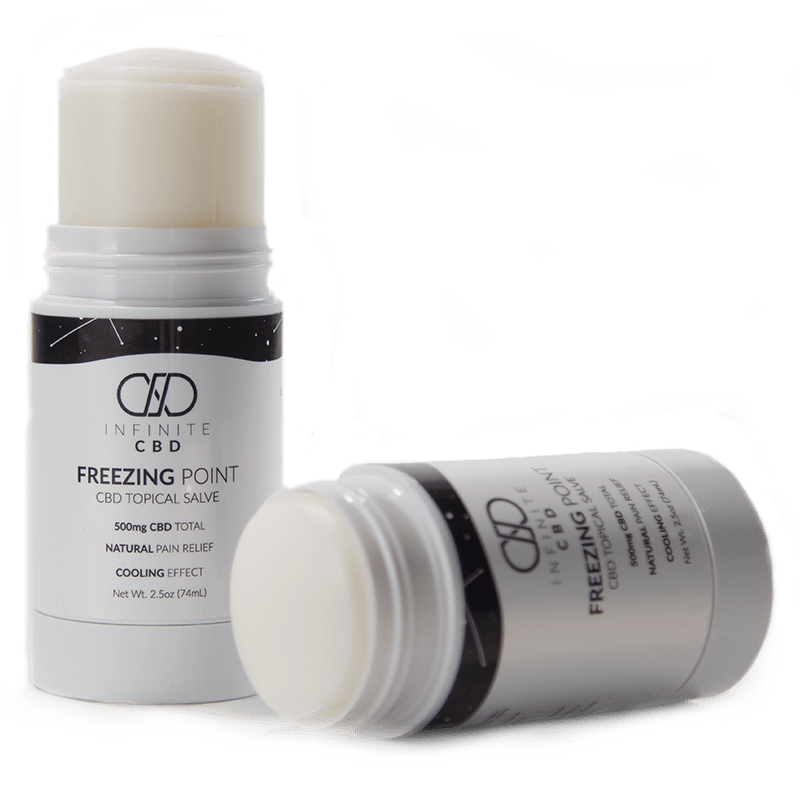 Infinite CBD Afterglow
Infinite CBD's Afterglow uses coconut oil, vitamin E, manuka honey, and lanolin to naturally fight specific skin conditions, including:
However, Afterglow does more than just help to treat skin conditions. It's a CBD topical that can be used daily for the sake of producing healthier, younger-looking skin.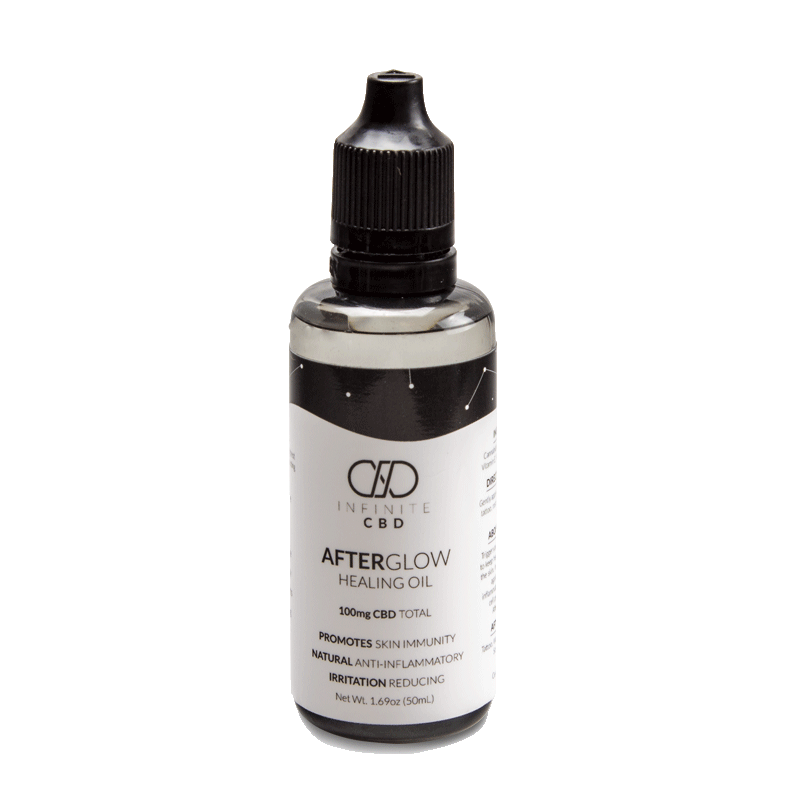 Infinite CBD Absolute Zero
Are you looking for a cannabis terpene that's 99% pure CBD? If so, Infinite CBD offers one of the best currently on the market with their Absolute Zero. This terpene is a great way to add CBD to your favorite recipes, into your vape juice, or mixed together with your favorite non-CBD topical. The benefit of Infinite CBD's Absolute Zero is you really can get wild with experimentation!
Infinite CBD Hair Plasma
As CBD connoisseurs, we can safely say it's not common to come across a product as unique as Infinite CBD's hair plasma. By combining CBD with other ingredients such as coconut oil, vitamin E, argan oil, and other essential oils, Infinite CBD has designed a product to help those struggling with a dry or irritated scalp. All of these natural ingredients are prominent in promoting hydrated and healthier hair straight from the root.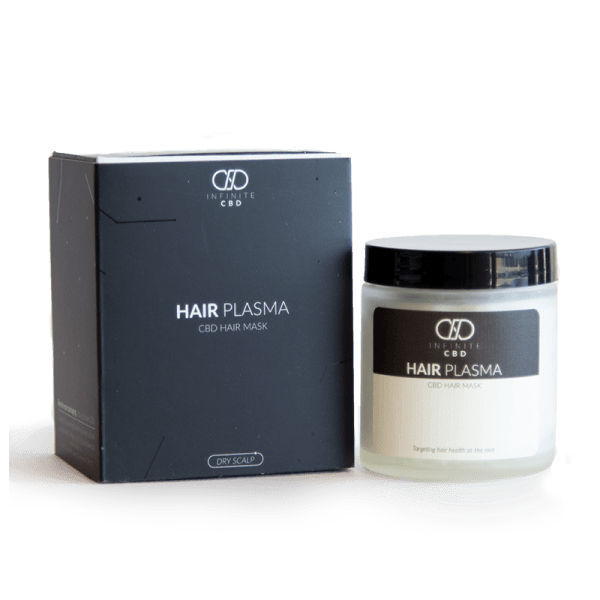 Infinite CBD Beard Flux
Infinite CBD's Beard Flux is designed for similar use to the hair plasma but specifically created for those with itchy, dandruffy beards. By using ingredients such as hemp seed oil, tea tree oil, caprylic capric triglycerides, sandalwood oil, and peppermint oil, Infinite CBD has developed a product that will not only improve your beard's appearance but also help with skin health.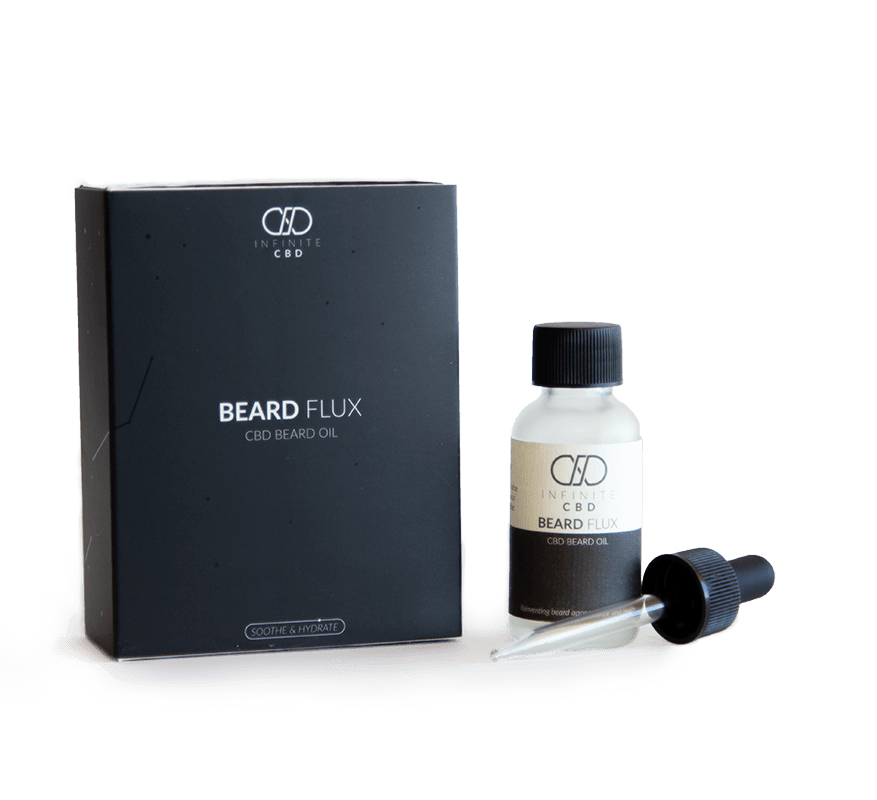 Infinite CBD Moonlight CBD Lip Balm
Most topicals focus on fighting pains found throughout the entire body. Yet, these very topicals tend to ignore a very sensitive region of our skin – our lips. Infinite CBD has taken their topical wellness products one step further with the Moonlight CBD Lip Balm. A chapstick made from all the essential, organic ingredients your lip needs along with a punch of cannabidiol. Moonlight CBD Lip Balm is perfect for those with chapped lips, rough cuticles, or sensitive skin.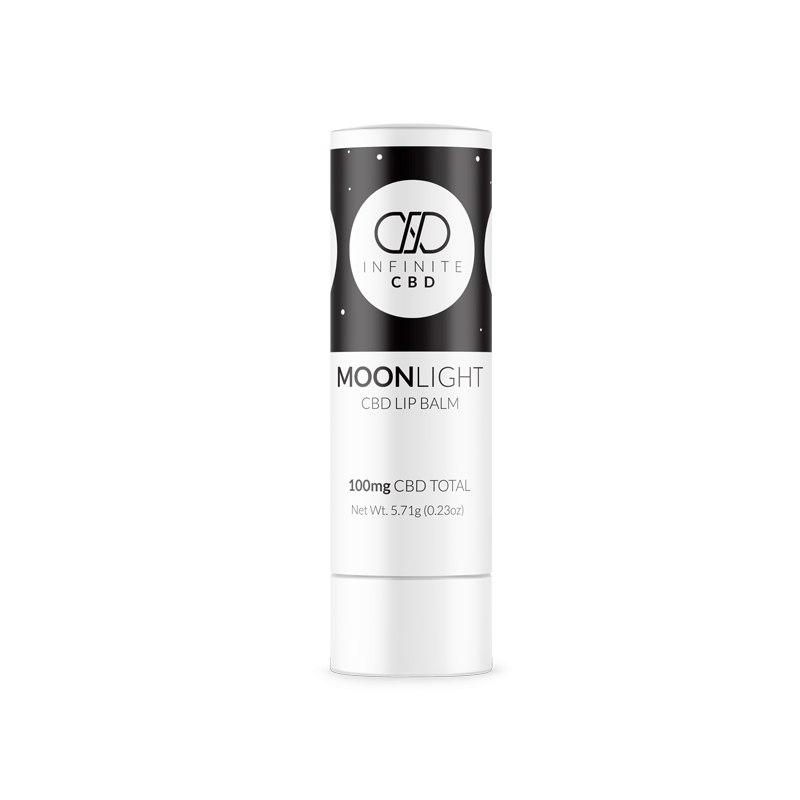 Infinite CBD Big Bang
Yes, Infinite CBD even offers a product made to increase sexual pleasure. If you ever wanted a long-lasting lubricant that provides you and your partner with CBD, Big Bang has you covered.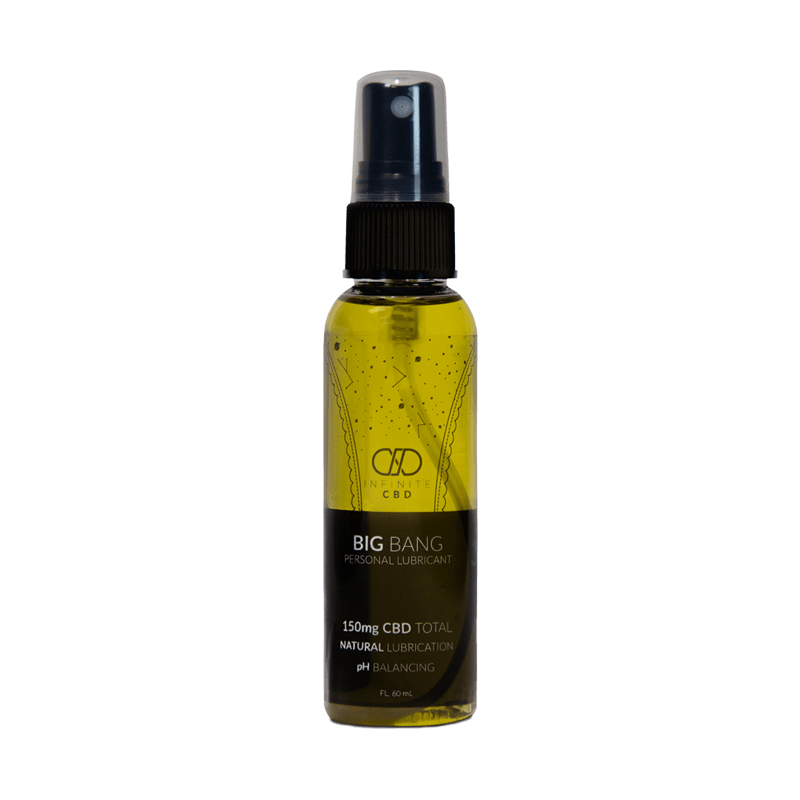 Infinite CBD NANO CBD Shot
If you've ever heard of a Wellness Shot, then you're already aware of the concept Infinite CBD is going for here. For those who don't like to take capsules and want to try something other than a tincture, Infinite CBD offers a product known as the NANO CBD shot. These little bottles are filled with CBD and other ingredients filled nutrients meant to better the health of your body. They come in three different categories – energy, detox, and rest – so you have the ability to take a shot for your specific ailment.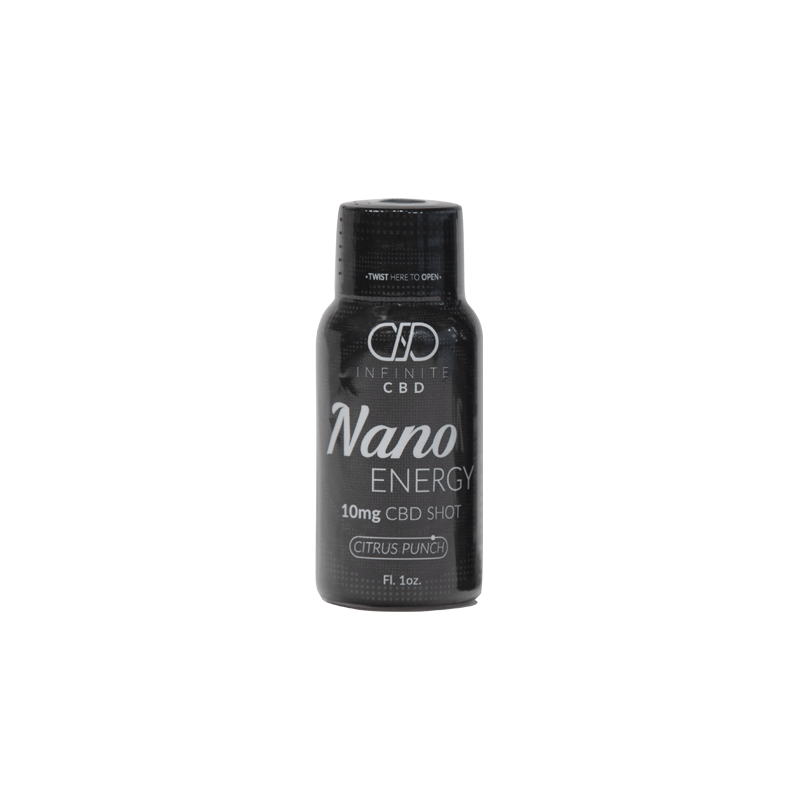 Infinite CBD NANO Non Dairy Creamer
If you're looking for a daily dose of CBD with your morning cup of coffee or tea, Infinite CBD's NANO Non Dairy Creamer is a great way to do so. This vegan product provides you with the sweetening sensation you'd normally find in traditional creamers but adds a punch of CBD to the mix.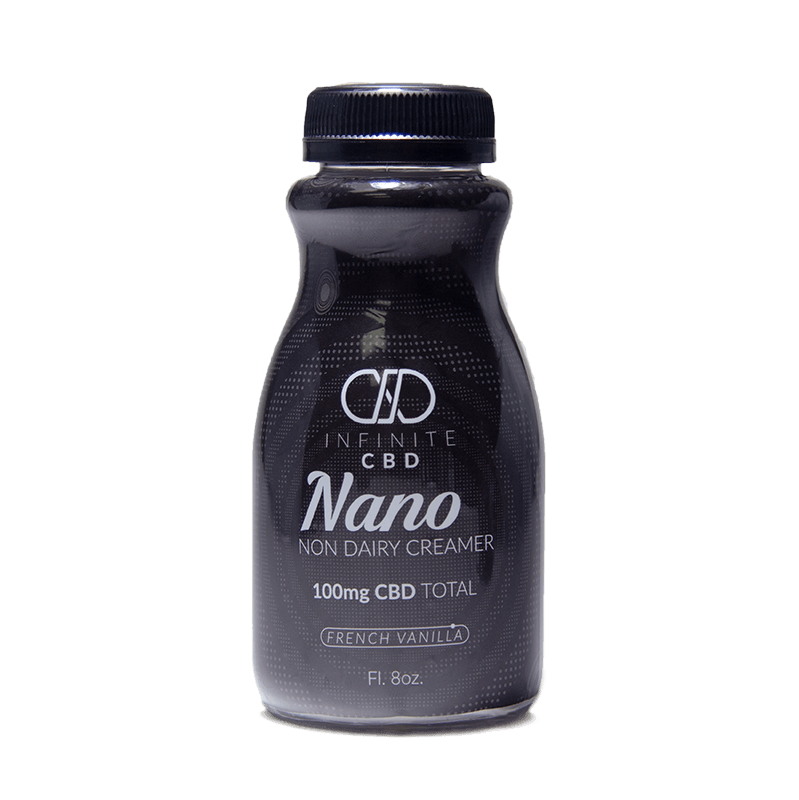 Infinite CBD Pet Dropper
Of course, no CBD company can go without thinking of your furry friends. With Infinite CBD's Pet Dropper, you'll be providing your pet with all the natural benefits cannabidiol has to offer. We suggest only using this dropper on a dog or cat and mixing it in with their food as it can be easier than trying to drop the liquid on their tongue.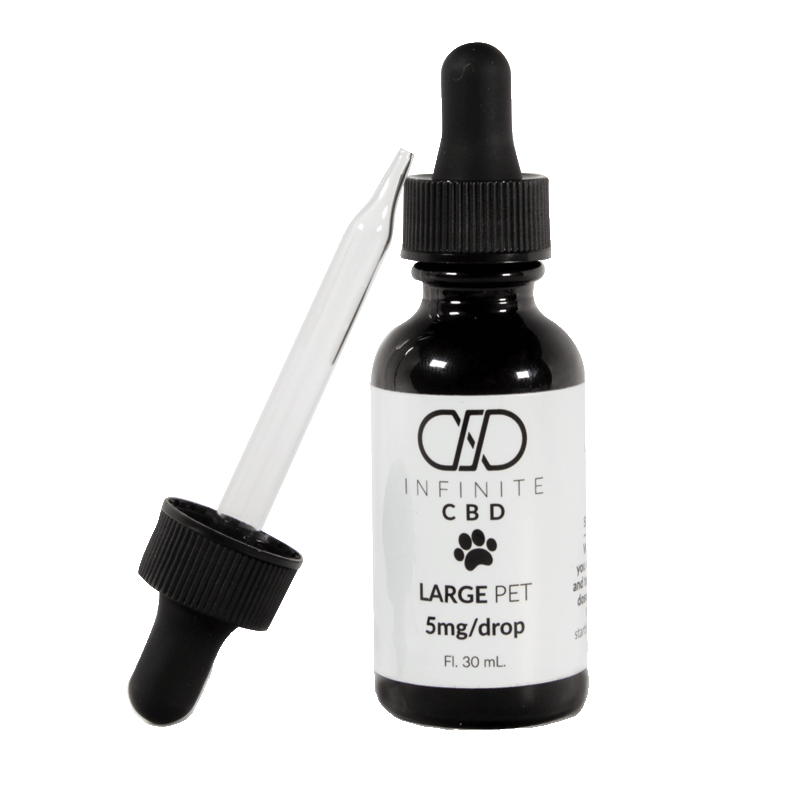 Infinite CBD Launch Pad
One aspect of animal care most CBD companies overlook is the importance of your furry friend maintaining healthy skin. Infinite CBD has not only looked into this but developed a product that's absolutely unique to the pet CBD market space. Launch Pad is a salve that's made to be placed on your pet's nose or paws and helps to promote skin health as well as moisturization.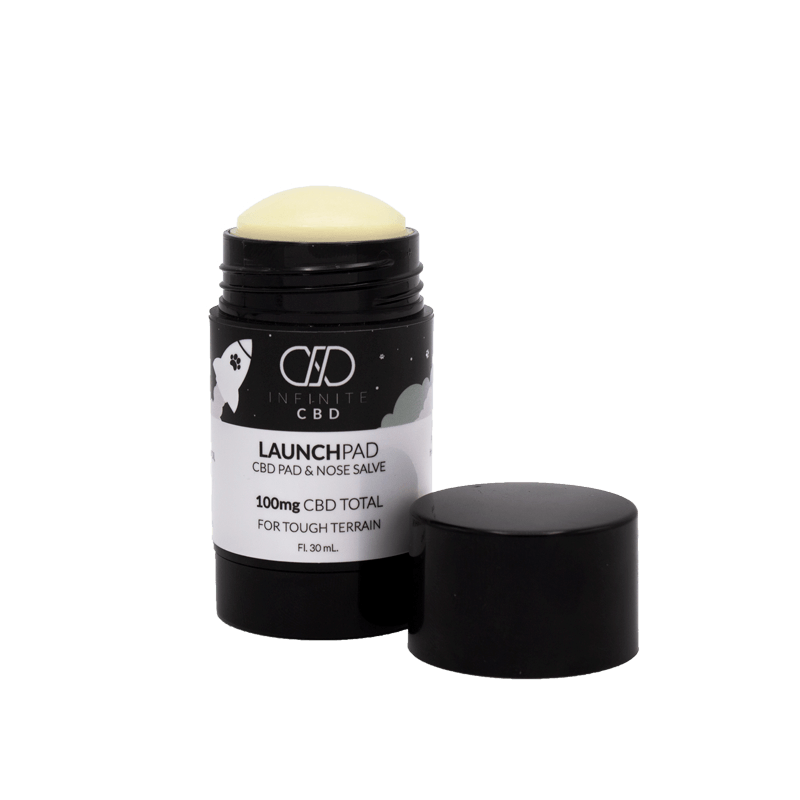 Infinite CBD Certificate of Analysis
When you're shopping for CBD, it's important to know whether or not the CBD you're purchasing is pure and clean of contaminants. Sometimes, CBD from companies without a reputation – or black market companies – can be filled with harmful chemicals that are hazardous to your body. A reputable CBD company will go the extra length to make sure you know exactly how your CBD tested. And they'll always run these tests through an unbiased, third-party lab.
Infinite CBD is transparent about its third-party tests on every product they offer. In order to take a peek for yourself, simply choose a product and scroll down to the bottom of the page. From there, you'll find their third-party lab results.
Our Overall Thoughts on Infinite CBD
If you're worried about CBD showing up on a drug test you'll want to stick with isolated CBD products. This ensures, along with 3rd party lab tests, there is 0% THC and you will pass your drug test. If you'd like to learn more in detail about our Infinite CBD reviews we go over our own products we bought and tested. 
How to Use Our Infinite CBD Coupons
In order to redeem your Infinite CBD discount code, you'll want to click "Get Coupon" from one of the offers above. Copy the code and a new window will pop up for you. Once this happens you'll want to shop products then look for the "coupon code" box at checkout. Simply paste your code in and watch your cart price go down!
Infinite CBD also offers a point system through their website. By accumulating points, you'll be able to purchase other products at a discounted price. Furthermore, Infinite CBD has a monthly discount for all customers. If you click on the "shop" page and look in the upper right-hand corner, you'll find their latest monthly deal. This is something to definitely keep an eye out for!

Disclaimer: The following reviews are made by consumers. Infinite CBD has not reviewed and therefore doesn't endorse, support, or approve the reviews or recommendations left by consumers. These statements have not been evaluated by the FDA. Infinite CBD products are not intended to diagnose, treat, cure, or prevent any disease.