Xtracted CBD Coupon and Reviews
After working in both the fitness and natural supplement spaces for a number of years, Brian Lowell and Jacob Ellis became highly interested in cannabidiol (CBD). Their interest sparked when they realized CBD helped greatly in post-workout recovery. As many fitness gurus agree, this is one of the most essential parts of weight training and bodybuilding.
Not only can CBD help relieve muscles but it also has the capability of easing the mind and helping people get a better night's rest. For this reason, Lowell and Ellis found it in their best interest to start a CBD brand under the name Xtracted CBD. The goal of this company is to provide the public with high-quality cannabidiol along with actual information surrounding this cannabinoid.
We invite you to follow along as we take a deeper look into Xtracted CBD and its products. If you're interested in purchasing any of these products, we offer coupon codes on the right-hand side of this page to help you save on your order!
What's Unique About Xtracted CBD?
High-quality CBD products designed primarily for people within the fitness space

All products contain less than 0.3% THC – so, they won't get you high

They use organically grown hemp extracts from plants harvested in Oregon and Colorado USA

Website hosts a blog with lots of factual information surrounding CBD and health

They use a C02 critical extraction (#1 most preferred method)

Free shipping on all orders

30-day money-back guarantee
Xtracted CBD Products
Xtracted CBD currently offers 5 different CBD products. We found this to be the perfect variety for someone who wants a variety of consumption method options, but not to be overwhelmed by too much of a variety. Again, it's important to keep in mind that these products are designed by people within the fitness world. The people behind Xtracted keep health a number one priority when it comes to developing the right CBD product and, with that said, we guarantee you will not be disappointed with what they have to offer.
Pure Hemp Oil Tincture
CBD oil (or a CBD tincture) is the perfect way to get a feel for cannabidiol and see whether or not it help with your ailment. Whether you're combatting discomfort, a sore body, anxiety, or are looking to improve your overall wellbeing, a tincture may just be perfect for you. To top it off, consumption is simple – just place a couple of dozen drops under your tongue, let it sit there for 30 to 60 seconds, then swallow.
Xtracted CBD's pure hemp oil tincture is 100% gluten-free and is made from 3 simple ingredients: PCR hemp oil, hemp seed oil, and natural peppermint flavoring. These tinctures come in full-spectrum which means you'll receive all the benefits of CBD along with a number of other cannabinoids and terpenes. In our opinion, full-spectrum CBD products are the best way to get the most out of what the cannabis plant has to offer.
You can purchase 500mg of Xtracted CBD's pure hemp oil tincture for $44.99 or 1,000mg for $79.99. You can use one of our Xtracted coupon codes to help save on your purchase.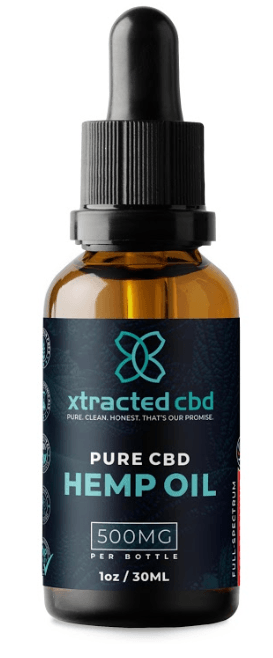 Pure Hemp Gummies
If you're looking for a fun and easy way to consume CBD, Xtracted CBD's pure hemp gummies may just be for you. Each of these sweet treats is packed with 20mg of CBD and are great to take in the morning for a wake-up relief or at night to help you get better sleep.
These CBD gummies are made out of the following ingredients: Hemp-Derived Cannabidiol (CBD), Corn Syrup, Sugar, Water, Gelatin, Citric Acid, Pectin, Natural & Artificial Flavors, Vegetable Oil, Carnauba Leaf Wax, FD&C Yellow 5, Red 40, Yellow 6, and Blue 1.
A pack of Xtracted CBD pure hemp gummies comes with 30 gummies (600mg of CBD total) for the price of $44.99. You also have the option to purchase a travel-size pack for $19.99. These come with 6 gummies, each of which contains a whopping 50mg of CBD!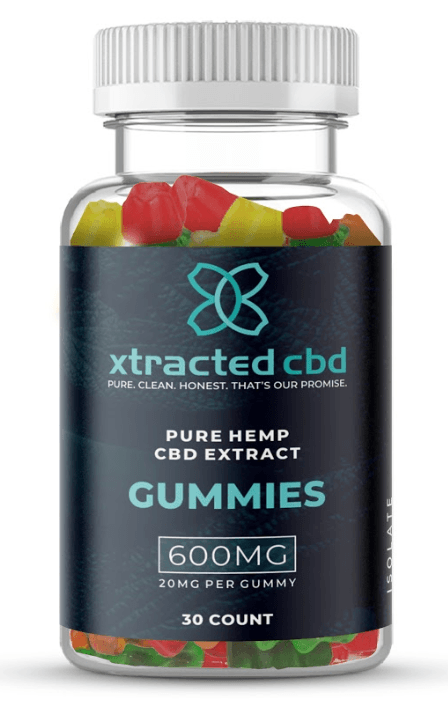 Nano Softgels
Another edible on this list includes Xtracted CBD's Nano soft gels. These are perfect for those who are already accustomed to taking natural supplements and will fit perfectly within your medical cabinet. These CBD soft gels are water-soluble and made with non-GMO's.
Each Nano soft gel is made from full-spectrum hemp oil, hemp seed oil, vegetable cellulose, silicon dioxide, and Vitamin E (as a preservative). For a total of 750mg of full-spectrum CBD (25mg per soft gel), you can purchase this Xtracted product for $59.99.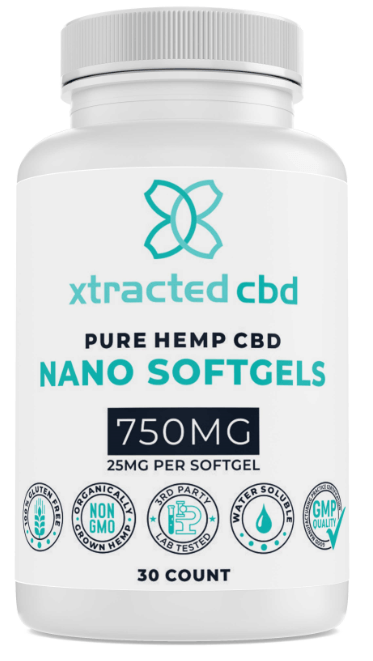 Muscle Roll-On with Menthol
If you're a fitness guru, a CBD topical is without a doubt the best option for maximizing pain relief. This is because a topical allows you to target specific areas of pain. Most people use CBD topicals to alleviate various types of muscle and/or joint soreness.
Xtracted CBD offers a CBD muscle roll-on that also contains menthol. This will provide your body with an instant cooling effect that acts as a momentary pain relief before the CBD kicks in. Each of these roll-ons is designed with the following ingredients: Menthol, Aqua, Alcohol Denat, Steareth-21, Glycerin, Caprylyl Glycol, Phenoxyethanol, Hexylene Glycol, Hemp-Derived Cannabidiol (CBD), Arnica Montana Flower Extract, Steareth-2, Cetyl Alcohol, Xanthan Gum, Boswellia Serrata Extract.
For $49.99, you can purchase an Xtracted muscle roll-on with menthol which contains 500mg of full-spectrum hemp extract. You can use our coupon code "CBDNERDS" to save 10% on their muscle roll-on.

Freeze-Dried Chicken Dog Treats
The last product on our list is one for our furry friends! Xtracted CBD has developed a delicious freeze-dried chicken dog treat, each containing a variety of healthy nutrients and about 2mg of full-spectrum hemp extract.
CBD works all the same in animals as it does in humans. This is thanks to the relationship we both have with an endocannabinoid system (ECS). The only difference between dog CBD products and human CBD products is the CBD count. Since animals tend to have a smaller bodyweight that humans, they don't need as much CBD.
You can currently purchase Xtracted's CBD-infused chicken dog treats for $34.99. Each purchase comes with 75 treats – a total of 150mg of CBD.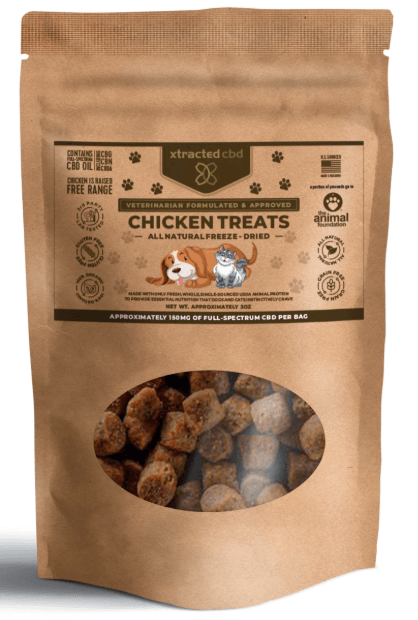 Xtracted CBD Dosage Recommendation
Unfortunately, there are no current dosage recommendations when it comes to CBD products. Xtracted recognizes this problem and has a serving suggestion for each of its products on the specific product pages. However, you may find these serving suggestions are insufficient for you.
This could be for a number of reasons. For one, if you're struggling with a strong ailment (i.e. chronic pain), you're going to need more CBD than someone with a lighter ailment (i.e. mild pain) in order to make the most out of the effects.
Secondly, your body weight plays a major role in how CBD will affect you. Like other supplements, the more you weigh, the more CBD you'll need. A general rule of thumb is to take 1 to 6 mg of CBD (depending on your ailment) for every 10 pounds you weigh.
We suggest newcomers start small and work your way up. This will give you an idea of how CBD makes you feel and how much you'll need in order to meet your desires. Furthermore, it's important to keep in mind that your body will develop a tolerance to CBD. Therefore, you may need more of it now or in the future in order to feel the initial effects.
Xtracted CBD Certificate of Analysis
Before purchasing CBD, you always want to make sure the CBD brand is transparent about their certificate of analysis. This is a third-party lab test result that seeks out various aspects of the CBD, including its purity, whether or not it contains any contaminants (such as pesticides or heavy metals), and the cannabinoid/terpene count.
Xtracted CBD makes it easy for you to find their third-party lab test results. Under the "About" menu, you'll find an option to view "Lab Reports." This will take you to a page where you can choose from the various products they have to offer. Each product has its own batch number and that batch number has its own lab result. To know the batch number of your product, check the label.
In addition to finding 3rd party lab results online, you can actually find these results from each package with a QR code. You simply put your camera on the code and a popup links you to the tested results of the exact product you're holding. We've only seen a few brands do this!
Xtracted CBD Pros
Offers high-quality CBD products at a reasonable price

All products are run through a third-party lab test (certificate of analysis)

All products are made from hemp that is grown organically in the U.S.A.

Website hosts a lot of information surrounding CBD and health

Founders are dedicated to optimizing people's health

Free shipping on all products

30-day money-back guarantee

Xctracted CBD offers coupon codes online
Xtracted CBD Cons
No international shipping

Newer company with smaller social media following

CBD is not approved by the FDA
Overall Thoughts on Xtracted CBD
Xtracted CBD is dedicated to providing you with the highest-quality CBD products available on the market. Their goal is to help people understand and better take care of their health and overall well-being. And for that reason, we have to tip our hats to them.
Xtracted's products are perfect for anyone who's new to the CBD industry or CBD veterans simply looking to try a new brand. We especially enjoyed their muscle roll-on and found the relief it provides to be completely satisfactory. However, all their products may be great options for relieving a variety of ailments.
If you're interested in purchasing an Xtracted product, we invite you to use one of our Xtracted coupon codes on the right-hand side of this page.
How to Use an Xtracted Coupon Code
Once you've made a selection of products on Xtracted's website, head on over to the checkout. There, you will find the option to type in a discount code on the right-hand side of the page, under your selected product(s). Simply type in one of our Xtracted coupon codes, hit apply, and you'll see your savings instantly!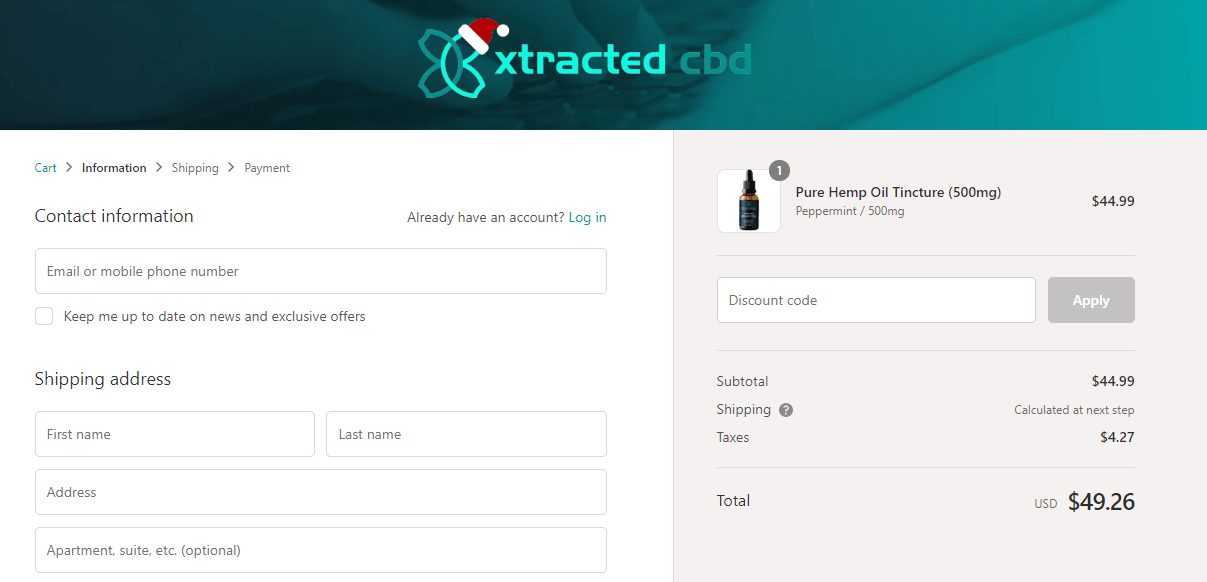 Disclaimer: The following reviews are made by consumers. Xtracted CBD has not reviewed and therefore doesn't endorse, support, or approve the reviews or recommendations left by consumers. These statements have not been evaluated by the FDA. Xtracted CBD products are not intended to diagnose, treat, cure, or prevent any disease.