Daily High Club Discount Code & Reviews
(8)
Daily High Club Reviews
Daily High Club is a subscription-based box of goodies for your everyday stoner. Every month you'll get really awesome new and exclusive glass bongs, pipes, bubblers, supplies and more from this online headshop. You have the option to purchase one offs with them or even subscription packages that are discounted when prepaid. They ship internationally and each box contains over $100 of value per month. They also offer discreet shipping and guarantee satisfaction on their products. We also found out in our review that you can cancel subscriptions at any time. If you're here for Daily High Club discount codes you can find them on the right. If you're looking for Daily High Club customer reviews you'll want to scroll all the way to the bottom.
What's Unique About The Daily High Club?
They're one of the largest online head shops

Rated highly on YouTube content

Daily high club specializes exclusively in cannabis smoking accessories

Popular for carrying celebrity bongs like the Tommy Chong Bong

Offer subscription box packages of stoner goodies every month
Daily High Club Products
The Daily High Club offers four different kinds of bongs: scientific, artistic, featured and celebrity bongs.
Scientific Glass Bongs
Scientific glass bongs are typically blown from clear glass and they use lab quality percolators or "percs" to create a smooth smoke. They come in all sizes from small hand pipes to huge bongs. Daily High Club's Scientific Glass in this category start at $22.49 (bubblers) and go up to $119 for the Double Showerhead bong. These prices don't take into account Daily High Clubs discount codes which are typically 10% from what we've seen.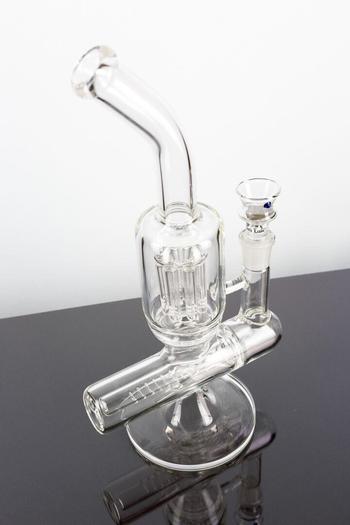 DHC Tornado Recycler Dab Rig
This bong costs $ 49.99 and is one of the sturdiest water pipes. It has 3 glass tubes connecting to the main chamber with a matrix perc and 14mm fused glass downstem. This makes it compatible with most of 14mm add-ons. It's pretty easy to use so don't be intimidated if you're a beginner to this type of glass.
Celebrity Bongs
These feature the most popular glass bongs in the market. The Tommy Chong's Fat Steamroller is a thick glass bong costing $ 34.99. This bong is 7" long with twisted glass accents for a better grip. Clearly it is named after the legendary Tommy Chong. This is actually one of my favorite sections of Daily High Clubs store because you can shop branded Tommy Chong accessories like shirts and collab boxes.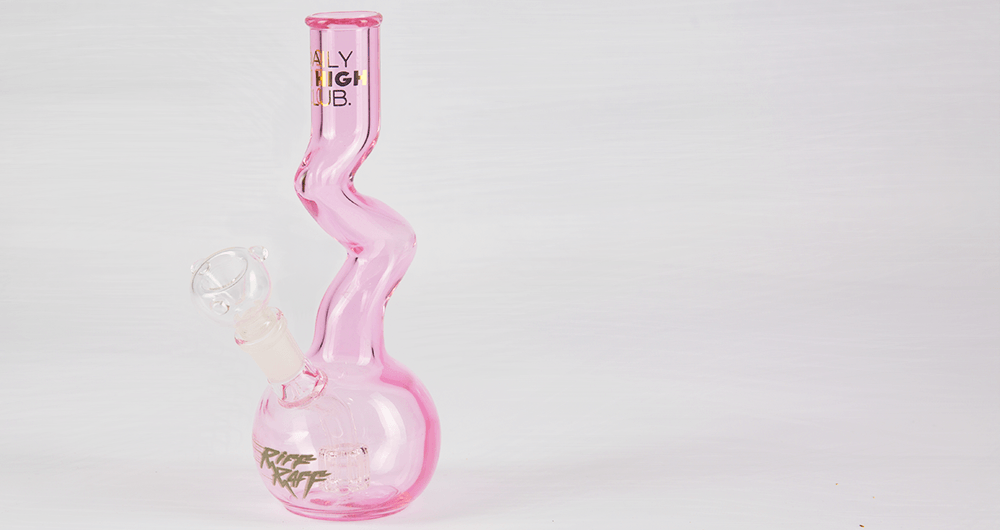 Dab Rigs and Pipes
Daily High Club offers dab rigs, bubblers, dry pipes, and artistic glass pipes. Concentrates are rising in popularity and so are dabbing accessories. Dab rigs are water pipes closely similar to bongs but are better equipped to handle the strength of an average dab hit. They basically make the hit smoother and stronger. When choosing a dab rig, consider factors such as the percolator type, size, base, joint angles, and general appearance.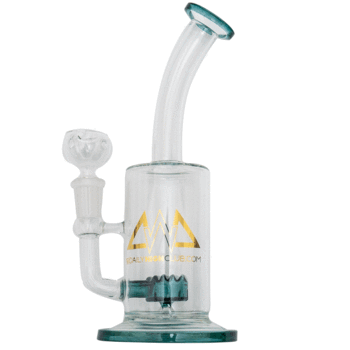 Daily High Club Bell Bottom Recycler
This costs $ 59.99 and our Daily High Club discount code will knock off $6. It has a height of approximately eight inches and a joint of 14mm Female. It has a recessed joint perfect for a banger or a bowl. It also features a slitted showerhead perc that gives a smooth smoking experience. They also offer different kinds of bubblers; hammer bubblers have a flat base so you can easily place it on the table. Pendant bubblers are good for on-the-go as you can hang them around the neck. Double water bubblers provide super smooth hits as they have dual chambers holding individual percolators.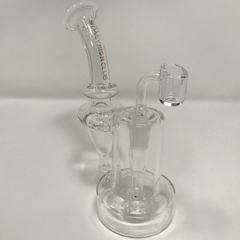 The Weapon of Grass Destruction
This may be considered one of their finest pieces. This hammer bubbler is compatible with countless 14mm male add-ons. This is a water pipe that rips smoothly and comes with a price tag of $34.99 which isn't too bad considering the attention to detail the glass has. It ships free of charge in the US but if you live abroad they'll still send it to you.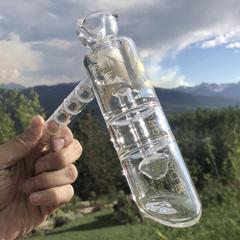 Accessories
They have a special bracket of accessories that sell at $25 or under which include pipe cleaners, blunt wraps, grinders, and the following:
Road Rasta Bong
This pocket-friendly bong is a simple and easy to use bong that sells at $ 14.99; it has a height of 5 inches which makes it very portable. It ships for free in the US. Other accessories include smoke pipes, premium rolling papers, stash jars, quartz bangers and more.
"The Danklet" Ankle Bracelet Pipe
This is a chic bracelet costing $8.99. It is hand-made from premium materials and is designed to store your stash as well as serve as a smoking pipe. They also sell cannabis apparel such as sweatshirts and T-shirts. These are great if you want to discreetly have some toking gear at a concert or park.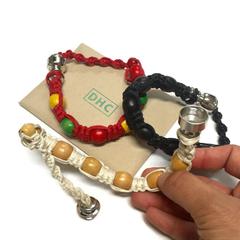 Monthly Subscription Boxes
One of the greatest features offered by Daily High Club is the subscription service that allows subscribers to receive a monthly box of smoking supplies and additional accessories (such as stickers) at a greatly discounted price. The El Primo subscription service which costs $ 29.99 guarantees over $100 worth of products. You can use Daily High Club coupons for these boxes to save 10%. They also discount when you purchase multiple months in advance. Boxes ship to the US, Canada and internationally too.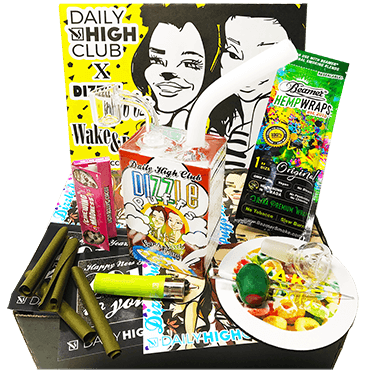 Daily High Club Pros
They offer discreet delivery, no company names on the packages

They offer international shipping which is rare in this industry

They offer a 100% money-back guarantee

Have frequent sales and Daily High Club discount codes

They offer a free replacement for any glassware/bongs/dab rigs that arrive broken.

Smoking subscription boxes (such as the El Primo box)

Offer wholesale opportunities

Offer free shipping for most products on their online store within the US
Daily High Club Cons
They do not offer free shipping on all products

They don't sell cannabis, just hardware, and accessories
Overall Thoughts of Daily High Club
If you're a weed enthusiast, there's no better place to get your bongs and accessories than Daily High Club. Not only does their variety offer you endless possibilities but you're guaranteed quality with whatever you do choose. And for the price Daily High Club offers, this is hard to beat.
Typically, a stoner will walk into a smoke shop and pick one of the 100 bongs displayed. However, this kind of buying doesn't allow you to get creative with your glass pieces. We've seen tons of different kinds of bongs with all sorts of shapes and sizes, many of which the stoner culture has embraced. Daily High Club adds to this by allowing full customization through its monthly subscription services and various accessories.
We know already that those who decide to take up our discount code offers are going to dazzle their friends with all their new accessories. And we wouldn't want you to miss out on this one!
How to Use a Daily High Club Discount Code
Want to start customizing your smoking set up with Daily High Club? We currently offer coupon codes on the right-hand side of up to 50% off your total order. In order to redeem one of these codes, you'll first want to make a selection on Daily High Club's website. Once you're in checkout, you'll find the option to type in a Daily High Club discount code underneath the area showing you your selected products. Simply type in this code, hit apply, and you'll see your savings instantly!
Helpful Links
Twitter | Instagram | Facebook | Pinterest | Youtube
8 Daily High Club Discount Code & Reviews Reviews
Brenden Schuster

I bought a glass bong from them and it shipped safely and quickly. I'm considering trying one of the monthly goods boxes but do people really need that much supplies delivered every month? Maybe I'm not the biggest stoner lol! 2019-01-22 17:36:24

Susan

Love their products. Fast shipping! Best products. 2019-08-24 12:03:28

Justine

Got a box every month for the last year. You keep curating some awesome boxes! Can't believe it's September already. 2019-09-12 12:39:21

Justin

Hate the waiting! Well I did! Now I just come home to find the box randomly on the porch once a month and get super pumped to open every time! Love your boxes guys!! Keep up the good work!! 2019-09-22 11:33:17

Christopher

I really enjoy using Micro Rasta Traveler Bong from them, it is super smooth. I love the 4 hole puck I wish there was a slight larger product with the same function. It is my all time favorite on your website. 2019-09-29 12:41:46

Courtney

Their Graffiti Slime Spray Paint Can Bong/Dab Rig has a great function. Cool look. I use this piece everyday and have no complaints! Definitely want another piece from DHC. 2019-10-22 08:02:06

Rikado

Fastest shipping I ever had on Daily High Club, took like 8 days maybe a little less. New daily driver, hits phenomenally. Absolutely love it. 2019-12-06 16:04:24

Christopher B.

My overall experience with my purchase at DHC was good. The bear I purchased is quickly becoming my favorite thing to snuggle up with while in bed. It's hits smooth and is easy to store. My only complaint is that I choose the brown bear at check out and received a clear one. In time I'm sure it will look brown too. 2019-12-22 11:30:03