Endoca
(5)
Endoca Reviews + Coupon Codes
Endoca is a high-end, premium CBD company with a range of products that cost from $49 to $499 and are known for producing some of the highest quality extracts on the market. Their pharmaceutical-grade cannabis is organically grown and harvested with no herbicides or pesticides at their facility in Denmark. Their products are tested at every stage of the production process. This ensures they retain full control of what's in their product, something not so common with other CBD retailers. For the quality seeking, health-conscious buyer, this brand is perfect and has received fantastic customer reviews for its treatment of chronic health issues. Endoca showcases their CBD in a range of products that include salves for the skin, pure hemp oils to put under the tongue, suppositories and even CBD infused chewing gum! Users can choose according to their needs and report that their products have eased the symptoms associated with anxiety, chronic pain, and even epilepsy. Because there is no THC in their products, the effects are nonpsychoactive and you won't get high. Unlike most other CBD brands, Endoca has worldwide shipping.
What's Unique About Endoca CBD?
Endoca uses ISO Certified, organic, GMO, and pesticide-free hemp

One of the few brands with CBD chewing gum and Suppositories

Endoca is a seed to store brand meaning they're involved from step 1 in production

Endoca has one of the best topical salves we've reviewed

Endoca products are 3rd party lab tested with transparent results
Endoca Products We Recommend
One of their most popular products is their 3% Hemp Oil Drops. These come in 300mg tinctures for $31, with a 5% discount when you buy three and 10% for 6. Perfect for a first-time user, they are to be taken under the tongue for 30 seconds 3 times a day and also contain Omega 3s, 6s, Vitamin E and other nutrients. These are one of the most effective ways to consume CBD. They don't get you high and are legal. If you have severe pain or ailments, we recommend you purchase their higher CBD content tincture which contains 1500mg of CBD. Their packaging has all the dosage recommendations.
At $15 for 10 pieces, it's maybe the priciest chewing gum you've ever seen, but each piece comes 15mg of CBD and is flavored with Xylitol, a plant-derived sweetener, and wild peppermint extracts. We do have Endoca coupon codes so you can knock off another 20% from their retail price to save you a few bucks. Most brands we've reviewed don't have CBD chewing gum and Endoca has put an emphasis on purity and taste with this product.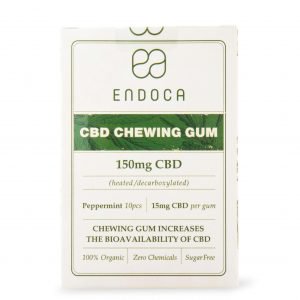 99% pure organic Cannabis Crystals are another of Endoca's most popular products. They come in a 500mg pack for $48 and the most common method of using these crystals is with a vaporizer or e-cigarette, however, they can be added to a carrier oil to make your custom CBD oil or melted with butter to create edibles. Users report this helps with reducing epileptic seizures drastically and note its fast-acting relief.

Endoca places an emphasis on quality and environmentally friendly practices. All of their batches are 3rd party tested and the results are posted regularly on their website for customers to see. CBD Nerds is very meticulous with recommending brands or products that lack 3rd party lab tests for quality. We want to make sure if you decide on brands/products, you're choosing ones that don't have impurities. Here's a small screenshot from their latest analysis.
Endoca Pros
High quality, certified organic pure product extracted with natural CO2 and no harsh chemicals.

Family-based company (10 years experience with CBD)

Worldwide shipping (many brands don't do this)

Excellent 24/7 customer service with live chat

Environmentally friendly practices, no pesticides and recycles vegetable oil as an energy source in the production

Wide range of products to suit different needs/ailments

Endoca coupon codes often available
Endoca Cons
With quality comes cost, they are not the cheapest CBD brand

You have to spend $100 to qualify for free shipping

Not FDA approved
Disclaimer: The following reviews are made by consumers. Endoca CBD has not reviewed and therefore doesn't endorse, support, or approve the reviews or recommendations left by consumers. These statements have not been evaluated by the FDA. Endoca products are not intended to diagnose, treat, cure, or prevent any disease.
5 Endoca Reviews
Megan

I've been using the 300mg CBD drops daily and it's effects have been incredible! My anxiety has reduced tons and I'm not waking up in the middle of the night. I haven't tried the 1500mg but I'm guessing if you have physical pain or more serious ailments this is what you'd want. 2018-06-26 17:31:19

Darren

I've been using the whipped body butter twice a day for my lower back pain. It definitely makes a difference relaxing the muscles. It's hard to explain how it makes you feel but it doesn't get you high. Just soothing I guess. 2018-07-17 21:44:40

Peter

Love this website, they ship fast and products are quality :) 2018-07-20 12:05:07

Mikey P

I tried the raw hemp oil, it gives you this tingly feeling on your tongue and does the trick when it comes to feeling calm and relaxed. I take it just once a day, full dropper which is a fairly high dosage and sleep well. Endoca seems like a good choice except it takes up to 5 days to get your product if you are having it sent to the USA. Also if you get the raw hemp oil it won't taste good. I guess it's more or people with raw diets but it has an earthy taste. It wouldn't be bad if you can chase it down with a drink but you need to put the oil under your tongue for at least 30 seconds. 2018-08-31 21:17:43

Rob

Great company, I bought some CBD oil after looking at trustpilot reviews. The coupon code was helpful. 2018-10-26 21:44:40