10 Best CBD Pain Relief Rubs, Salves, And Creams [2020]
10 Best CBD Pain Relief Rubs, Salves, And Creams [2020]
The National Institutes of Health reports that cannabidiol (CBD) has excellent pain relief qualities and notes that topical CBD solutions are an effective and safe way to control neuropathic pain. CBD is also an effective painkiller for people who have not found relief from traditional painkillers or treatments.
CBD is a compound found in cannabis that has many health benefits without any psychoactive effects. In other words, it will not get you high, but it will help you feel good because it has anti-inflammatory qualities and can provide ample pain relief without the danger associated with other painkillers.
CBD is just one of 85 chemical substances in the cannabis plant known as cannabinoids, and CBD pain relief creams are an excellent way to relieve pain while simultaneously nourishing your skin. The benefits of CBD range from having anti-inflammatory properties to helping find optimal homeostasis.
Those with chronic pain can benefit from CBD pain relief creams because they can be applied directly to the source of the pain and the cream is quickly absorbed by the skin. CBD pain relief creams provide instant relief without any psychoactive effects. Unlike other pain relief methods, CBD pain relief creams are safe and can be applied repeatedly as needed. In fact, these are some of the best ways to take CBD.
CBD pain relief creams are especially beneficial for the elderly, frail, or children with sore muscles or painful joints, and CBD Nerds have found the 5 best CBD pain relief creams currently available.
I didn't just guess which is the best CBD cream. I bought all of these products and tested them on a shoulder recovering from a torn rotator cuff that was very painful. Each of these has its pros and cons which I'll try to highlight below. The CBD creams that make this list are sold online by some of the biggest and best brands.
1) KannaFreeze from Pure Science Lab
15% Off Pure Science Lab Coupon: 15off
KannaFreeze Pain Cream makes it to the top of our list mainly based on customer feedback, effectiveness, and price. This CBD Pain cream contains 99+% Pure CBD (Cannabidiol) Isolate derived entirely from Industrial Hemp Oil that was extracted from the mature stalks and stems of the plant. This product contains 7% menthol which enhances the effects of muscle pain relief. It's popular among athletes, weight lifters, and long-distance runners.
Potency: 250mg - 500mg
Ingredients:
Hemp Oil Extract, Aloe Vera Extract, Carbomer, Decyl Polyglucose, Deionized Water, Grapefruit Seed Extract, Green Tea Extract...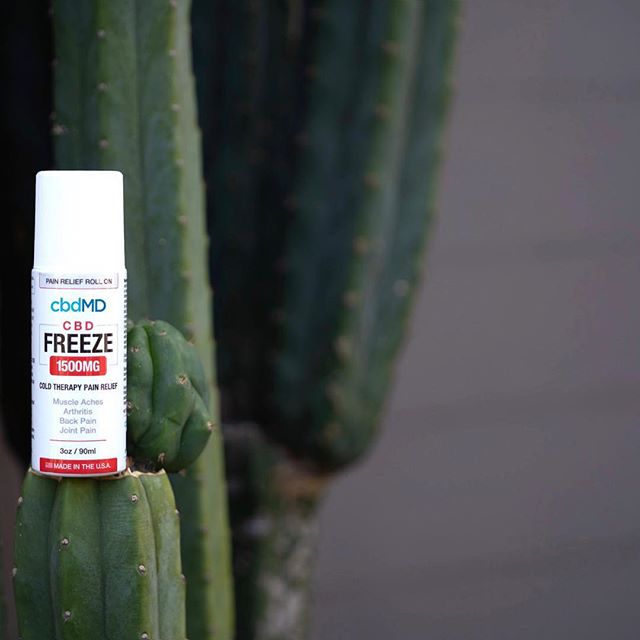 20% Off cbdMD Coupon: Grind
cbdMD Freeze Pain with 1500mg CBD is among the best CBD pain relief topicals we have tested. You can purchase smaller dosages in 300mg and 750mg but if you are in serious pain you'll want the 1500mg. The CBD pain freeze topical just needs a shake and you can roll it on over where you're feeling muscle pain, arthritis, or any other tension related to your joints.
The CBD used is broad-spectrum containing CBG, CBDv, CBN and more. Because there's no THC, you won't get high from this CBD topical. What really helps with the muscle pain is the Menthol USP Natural 4%. This is what gives you that icy-hot feeling and the CBD helps with its anti-inflammatory properties. If you purchase this pain relief rub you'll want to use it up to 4 times daily.
cbdMD is not only a top trusted pain topical provider, but they make our top list for having great customer services like live chat and very fast shipping. They are also the top-priced CBD brand we've reviewed.
Price: $99.99
Potency: 1500mg CBD
Ingredients: Menthol US 4%, Aloe Vera Extract, Arnica Montana Extract, Cannabidiol (CBD)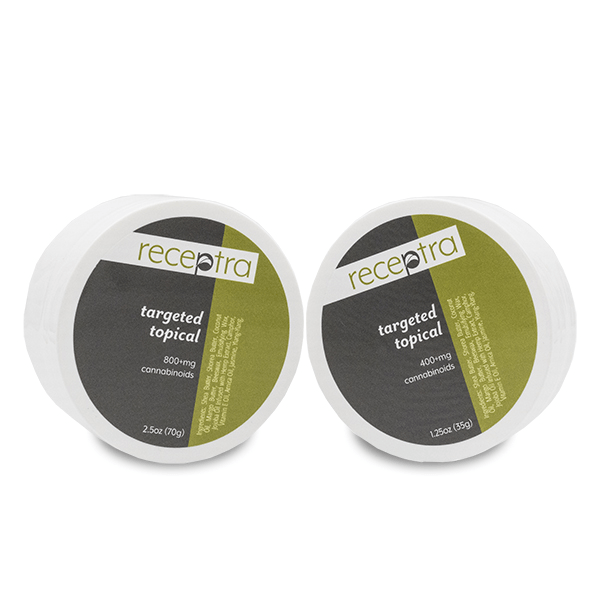 15% Off Receptra Naturals Coupons
Receptra Naturals Targeted Topical is available in two sizes and strengths. The non-greasy formula provides excellent relief from joint and muscle pain quickly. Receptra Naturals Targeted Topical is also made with essential oils such as jasmine and ylang-ylang to help you relax.
Ylang ylang oil is known for its calming qualities as well as its ability to kill bacteria, lower high blood pressure, and increase your libido. The combination of CBD and essential oils not only provides excellent pain relief but can also help to repair damaged skin.
Receptra was one my favorite CBD pain relief topical for a variety of reasons. It came in a mid to larger size container meaning you won't run out in a week. It smelled the best in my opinion as the ingredients are pure and natural with minimal additions. It rubbed on smooth, would actually make a great massage oil for massaging a sore muscle. It was very helpful relieving pain in my shoulder. If there are any knocks on this product it would be that it rubs on quite oily.
4) Charlotte's Web Hemp Infused Balm
10% Off Charlotte's Web Coupon: CBD Nerds
Charlotte's Web Hemp Infused Balm contains 300 mg of hemp extract per ounce, but that's not all it has going for it. The formula also contains vitamin E, apricot kernel oil, shea butter, and sunflower seed oil, so the pain-relieving balm will also moisturize your skin.
Charlotte's Web Hemp Infused Balm comes in both .5 and 1.5 oz. sizes, and you can feel good about what's inside the container, as all ingredients are sustainably grown, cruelty-free, gluten-free and non-GMO. The package itself is also made of BPA-free materials.
Another benefit of Charlotte's Web Hemp Infused Balm is that it's reasonably priced compared to many other comparable CBD products, and you only need to rub a small amount in the affected joint or muscle to start feeling its effects. The company also offers a wide variety of other hemp and CBD products, including creams, capsules, and oils, as well as CBD products for pets.
Price: $39.99 for a 1.5 oz. container
Potency: 300 mg per ounce.
Ingredients: Sunflower seed oil, Cajeput oil, Camphora bark oil, Cassia oil, Clove flower oil, Mentha Arvensis leaf oil, menthol, beeswax, Coconut oil, Hemp oil extract, Shea butter, Cocoa seed butter, Tocopherol.
5) Green Roads Muscle & Joint Relief Cream

20% Off Green Roads Coupon: Nerds20
Green Roads Muscle & Joint Relief Cream contains 150 mg of broad-spectrum CBD per ounce, extracted from American-grown hemp and infused into a soothing, non-greasy cream. The pain-relieving cream also contains chamomile extract and lavender oil, so it offers a soothing, relaxing scent as you rub it on.
Green Roads offers its Muscle & Joint Relief Cream in both 150 mg and 300 mg potencies, so you can choose the potency that's right for the kind of relief you need. Whichever dose you choose, you can look forward to using a product that's reliable and safe, which is one of the benefits of buying from a company founded by a pharmacist.
In addition to soothing relief this Muscle & Joint Relief Cream promises, Green Roads offers a variety of other CBD products, including a Muscle & Joint Heat Relief Cream that provides similar benefits to this product, but with the added benefit of a relaxing heat sensation for your tired muscles and joints.
Price: $39.99 for a 150 mg potency
Potency: 150 mg-300 mg
Ingredients: Purified water, glycerin, Anhydrous Hemp-derived CBD, Lavender oil, Chamomile extract, Glyceryl Stearate, Cetearyl Alcohol, Stearic Acid, Sodium Cocoyl Glucamate, Carbomer, Hydroxyethyl Cellulose, Propylene Glycol, Vitamin E, Cucumber Extract, Triethanolamine, Xanthan gum, acrylamide, Sodium Acrylate Copolymer, Paraffinum Liquidum, Trideceth 6, Polyquaternium-10, Tetrasodium, Menthol, Methylchloroisothiazolinone, Methylisothiazolinone.
6) Palmetto Harmony Holy Cannecense
10% Off Palmetto Harmony Coupon
Palmetto Harmony Holy Cannacense combines simple ingredients with high CBD hemp oil to create a soothing cream that can be applied as needed. This product is particularly good for sensitive individuals, as it only contains a few ingredients and is also 100% fragrance free. This pain-relieving cream is packed with 100 mg of CBD in each 2-ounce jar, and it needs to be kept at temperatures below 75 degrees, otherwise, it can liquefy and will need to be refrigerated to restore its usual consistency.
Palmetto Harmony is a family-run company that offers many other useful CBD products, including full-spectrum cannabis oil, capsules and pre-filled vape pens.
Price: $34.99
Potency: 100 mg
Ingredients: High CBD hemp oil, Organic East African shea butter, Beeswax, Holy basil, Frankincense, Sweet orange.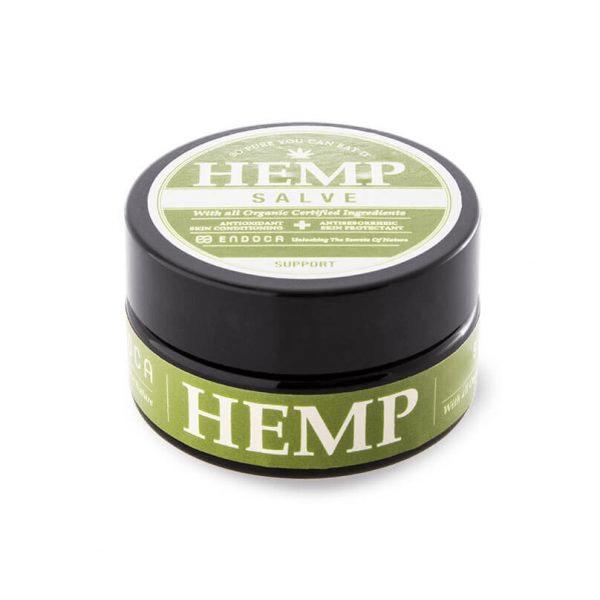 Endoca Hemp Salve is 100% organic and contains 750 mg of CBD. Endoca Hemp Salve is an excellent CBD pain relief rub not only because of its potency but also because it is made with natural food-grade ingredients to ensure quality. This CBD pain relief salve is free of pesticides, GMOs, and is ISO Certified.
This all-natural product can heal skin on sensitive areas like your face or chapped lips with soothing ease but is also strong enough to heal broken skin and cracked heels. If you have dandruff or red skin, it's no problem with Endoca Hemp Salve because it is an excellent CBD pain relief rub that can also help to heal mild cases of seborrheic dermatitis, plus it also has an anti-itching quality.
Endoca Hemp Salve also has anti-aging qualities because it moisturizes the skin and helps to prevent dry skin and wrinkles, keeping your skin silky smooth. It makes our list for its top-quality ingredients. It's a little more difficult to rub on as it's a CBD salve as opposed to cream so just keep that in mind if you decide on this one. 750mg is one of the higher concentration salves you'll find.
Price: $65. You can receive 10% off if you purchase 6 and 5% off if you purchase 3.
Potency: 750 mg.
Ingredients: beeswax, cannabidiol, cannabis sativa seed oil, coconut oil, citrus medica lemon peel oil, citral, vanilla, vitamin E.
8) CBDistillery Topical CBD Salve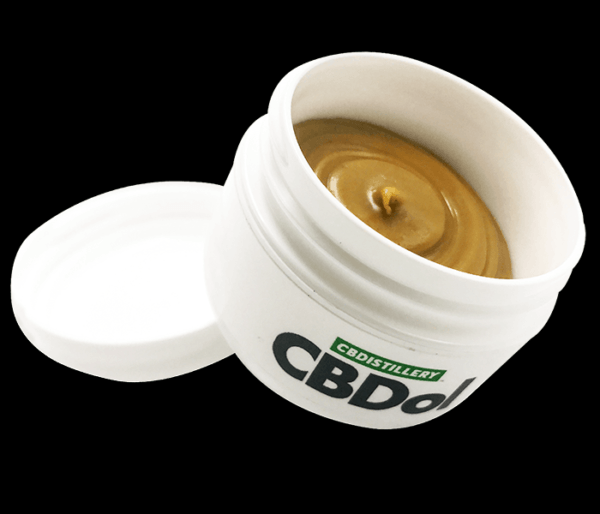 CBDistillery is a Colorado-based company that uses 100% natural hemp from hemp stalks and stems free of pesticides and GMOs. This CBD pain relief rub contains 500 mg of cannabidiol and provides immediate relief for muscle and joint pain.
Not only does CBDistillery Topical CBD Salve contain the anti-inflammatory qualities of cannabidiol, it also includes several other natural anti-inflammatory oils such as eucalyptus, peppermint, and lavender. CBDol is a full-spectrum salve that contains all necessary cannabinoids to get the full benefits of CBD. This full-spectrum hemp is popular for arthritis pain.
In terms of a CBD pain relief cream, CBDistillery was close to being my favorite except for a slightly off smell I didn't like and the container is smaller than the others. As far as running on and relief, this was probably the best product I tried. It is slightly priced higher than the Endoca Salve but if you decide on this one you won't be disappointed. The rub-on is very smooth and not too oily like Receptra.
Price: Normally $60 but currently on sale for $50.
Potency: 500 mg for 1 ounce.
Ingredients: Aloe, arnica, basil, beeswax, camphor, cinnamon, oil, eucalyptus, frankincense, grapefruit seed, green tea, hemp seed oil, kosher glycerin, lavender, lecithin, magnesium, marjoram, olive oil, peppermint, tea tree oil, and wintergreen.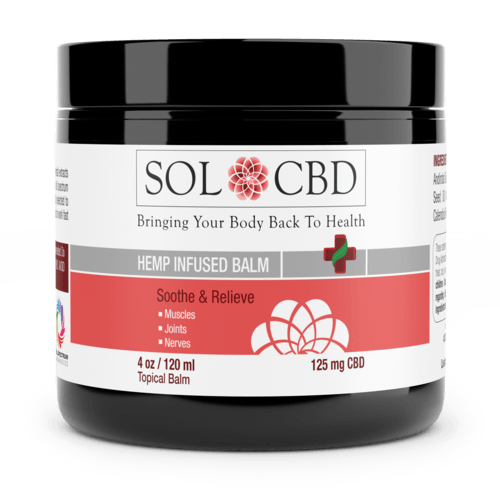 SOL CBD Hemp Infused Balm blends CBD oil with 12 other essential oils and natural herbal extracts. This CBD pain relief cream uses ucuuba butter which also has anti-inflammatory and antiseptic properties. Ucuuba butter is used for treating acne, arthritis, eczema, rheumatism, and skin ulcerations. The Nevada-based company offers a 60-day money-back guarantee.
Sol CBD Balm is definitely one of my favorite CBD creams I've tried for its smooth rub on and pleasant smell. This would actually make a great massage oil. It did slightly help with my muscle pain but wasn't as strong as the other options. It does come in a larger case so lasts longer but on the downside has less CBD than the above pain relief creams I've tested.
Price: $59 but currently on sale for $47. Save $29 if you buy 2 or $54 if you buy 3.
Potency: 125 mg for 4 ounces.
Ingredients: Blue mallee eucalyptus oil, calendula flower extract, candelilla wax, CBD hemp oil, copaiba oil, grapeseed oil, lemon peel oil, nerolidol, organic rosemary leaf extract, organic sunflower seed oil, wintergreen oil, virgin andiroba oil, and virgin ucuuba butter.
10) Sagely Naturals Hemp Relief Cream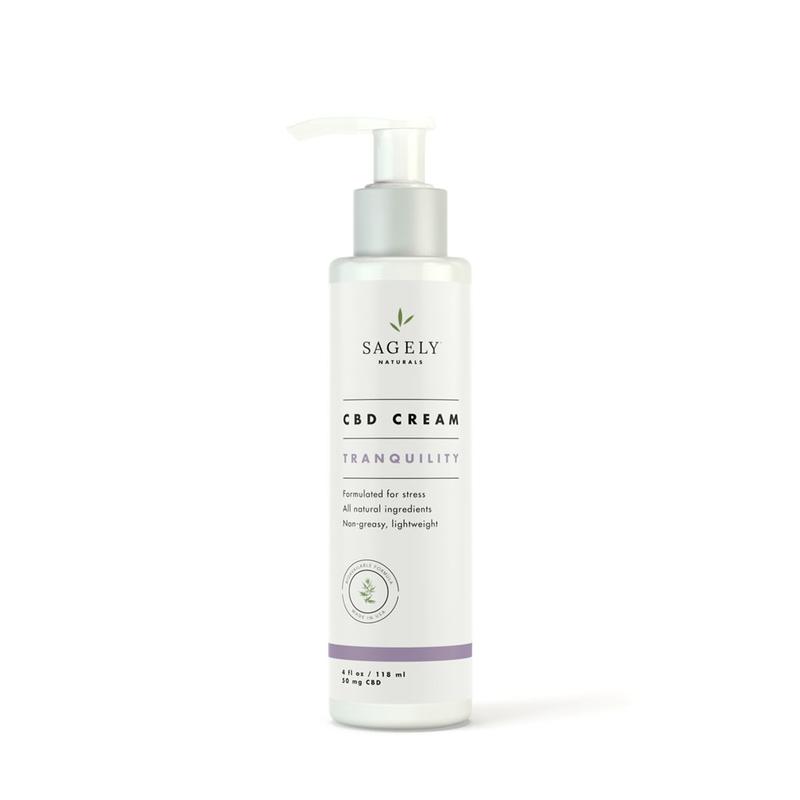 10% Off Sagely Naturals Coupon
Sagely Relief & Recovery Cream is a CBD pain relief cream that combines peppermint, menthol, and safflower seed oil with organic hemp oil. It both hydrates and moisturizes while also providing refreshing, cooling pain relief. Sagely Naturals Hemp Cream also features Moroccan argan oil which is known for its antioxidant and anti-inflammatory qualities.
This non-greasy CBD cream is light-weight and works great for minor muscle aches and joint pain. It also ships for free when you spend more than $36, and you can also save 20% off your first order if you join their email list. Sagely is based in Santa Monica, California and only uses use organic, non-GMO grown hemp. They also test each batch 3 times and is free from artificial colors, dyes, parabens, synthetic fragrances, and sulfates.
When testing this CBD pain relief rub it was probably the most effective on this list but doesn't make the top because of its additional ingredients. It does have that icy hot sensation which can be pretty intense. It's likely the best option if you have a muscle injury that's severe.
Price: $19.99 for a 2-ounce bottle. $35.99 for a 4-ounce bottle.
Potency: 25 mg in the 2-ounce bottle and 50 mg in the 4-ounce bottle.
Ingredients: Cannabidiol, Caprylic/capric triglyceride, cetyl alcohol, Cetearyl Glucoside, Cetearyl alcohol glycerin, marula oil, tetradecane, menthol, organic hemp seed oil, argan oil, safflower seed oil, xanthan gum, stearic acid, ethyl hexyl glycerin, Phenoxyethanol, peppermint oil, and water.
How To Use CBD Creams And Pain Relief Rubs
All of the products above will have instructions based on whether it's a topical cream or salve. To begin, you'll want to store these away from heat, light, and humidity. For usage, apply to the affected area, not more than 3 to 4 times daily. Rub in thoroughly until the cream is absorbed. If you're newer to CBD try smaller doses to start and gradually move your way up.
4 Reviews
Lindsay

Endoca should be at the top! Love their pain relief topical! 2019-06-08 05:23:59

Chris

I've tried the CBDol and agree with the review. The salve helped with my knee pain greatly! Stick to full-spectrum!! 2019-10-02 02:07:00

Olivia

I have been using Sagely CBD for awhile now and it's great on my knees and lower back. But it can get kind of expensive after awhile considering how much I use everyday trying to avoid taking ibuprofen. So I swap that out for Absorbine Jr. for when I am running low and in between my Sagely. It works amazing and lasts throughout my entire day and into my workouts. Plus it's super cheap and can be found anywhere. 2019-10-22 13:54:57

daniellidman

I have also tried CBD which i got from which has helped me for a while now with my chronic back pain and lower join pains and it works so tremendously and gives me good rest at night. In addition, it's supper affordable and cheap and it's everywhere. 2019-10-31 09:58:18