Blue Ridge Hemp
(6)
Blue Ridge Hemp Coupon And Reviews
Blue Ridge Hemp specializes in selling CBD infused Natural Care products online. Their CBD products are safe, legal, and ship right to your door. The company is based out of Asheville, NC and its mission is to help people improve the quality of their lives with less pain. Blue Ridge takes industrial hemp-derived cannabinoids and infuses it with other sourced Terpene rich botanicals to distribute products meant to provide relief. We've reviewed their online store below. If you're looking for Blue Ridge Hemp coupons or promotions you can find them on the right. If you're here for Blue Ridge Hemp reviews you'll want to scroll all the way down.
What's Unique About Blue Ridge Hemp?
Most known for selling CBD self-care products like topicals and bath bombs

Offer CBD Superfoods

Sell Pet CBD products

They offer "yoga CBD," a program

USA based
Blue Ridge Hemp Products
As mentioned, Blue Ridge Hemp offers products that aim to help people with self-care. In other words, many of the products on their site are designed to help you gain better well-being. CBD in itself has been shown to do this through many people's personal journies. But to have a variety of products with an equally versatile amount of uses really helps Blue Ridge Hemp stand out amongst competitors. Let's take a look at some of the products they have to offer.
CBD Tinctures
Blue Ridge Hemp offers a standard set of premium CBD tinctures (or CBD oils) that range from 350mg to 1,000mg of cannabidiol. Tinctures are great for both newcomers and CBD advocates alike as they're easy to consume, small in size, and discreet in nature. Since almost every CBD company has its own set of tinctures, we can't say these hold up much better than others you'll find on the market. But if you're looking for a tincture that'll do the job, Blue Ridge Hemp has you covered.
CBD Topicals
Blue Ridge hemp offers an extensive list of CBD topicals including; CBD infused gel, CBD infused salve, organic hand, and body lotion, CBD infused massage oil, CBD infused roll-on, CBD bath bombs, CBD scrubs, CBD muscle care, and CBD joint care. All the topicals contain cannabidiol with trace amounts of THC but are infused with different organic herbs. They are intended for pain control and relaxation and work in pretty much the same way, being rubbed directly on the skin. The CBD Infused Gel comes in a 2oz bottle and contains 200mg of CBD. It sells at $ 50.00. It is ideal for muscle-related pain and inflammation, it provides a warming and cooling sensation on the skin. It contains key ingredients such as organic aloe leaf juice which is the base of the gel, menthol crystal which combats inflammation and irritation and cools the skin, capsicum and 99.7% pure CBD isolate.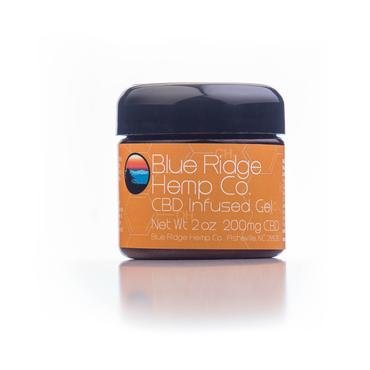 CBD Superfoods
Blue Ridge Hemp sells CBD superfoods that include chocolate bars, chocolate chip cookie bites, dark chocolate CBD ghee, dark chocolate CBD coconut oil, golden spiced CBD ghee, and golden spiced CBD coconut oil.
The CBD Alchemy chocolate bar is a silky smooth and nutrient-dense cannabis-infused chocolate bar that is loaded with a plethora of health benefits. Each bar contains 60mg of CBD and is absolutely vegan, gluten-free, and dairy-free. The velvety texture allows the chocolate to melt easily on your tongue and fortunately this chocolate does not need refrigeration. It contains organic cacao, organic coconut sugar, wildcrafted reishi, organic calamus, celtic sea salt, and wildcrafted chaga.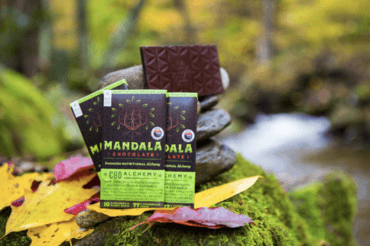 The golden spiced CBD ghee comes in an 8oz container (250 mg CBD) and sells at $ 55.00. This ghee is seasoned with a mix of spices associated with anti-inflammatory benefits. Together with CBD, they make for a superfood that is as tasty. Moreover, it is lactose and casein-free and does not require refrigeration. It contains organic turmeric, organic cinnamon, organic black pepper, celtic sea salt and 99.7 % pure CBD isolate. The color, flavor, and texture vary by batch.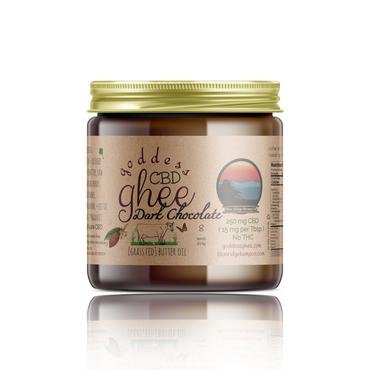 Flowers
They have over 12 flowers to select from, cut hemp flowers from farms around the US which are wrapped in handcrafted natural cones. The Kush Hemp Strain is derived from OG Kush which is the backbone of many west coast cannabis varieties. It sells at $ 60.00. This top cut flower has a sour lemon scent and flavor and is great for relieving stress and providing nostalgic relaxation. It contains less than .3% Delta 9 THC and is Non-Psychoactive.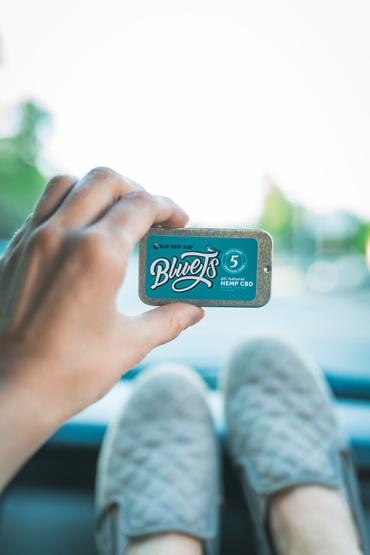 Hemp Tea
Many CBD professionals say it's best to take CBD right when you wake up in the morning as this allows for the cannabinoid to work its way through your body throughout the day. Though this can be done in a number of ways, it's hard to imagine anything better than a cup of hemp tea. Blue Ridge Hemp currently offers three different types of hemp tea - Sweet CBD Dreams (nighttime), Drop of Sunshine (morning), Hemptation, and Earl Green. Besides the Earl Green flavor, all of these are 100% caffeine-free. Drinking a cup of hemp tea may be one of the easiest ways to consume CBD, so, this is a great option for newcomers.
Pet CBD
The Pet CBD Tincture comes in a 1oz bottle which has 250mg of CBD and it is sold at $40.00. It is ideal for pain management and also calming your anxious pet. They recommend starting with 2-4 drops per days as you adjust accordingly. You can place the drops beneath the tongue of the pet or mix it with their food or water. It contains 99.7% Pure CBD Isolate extracted from Industrial Hemp.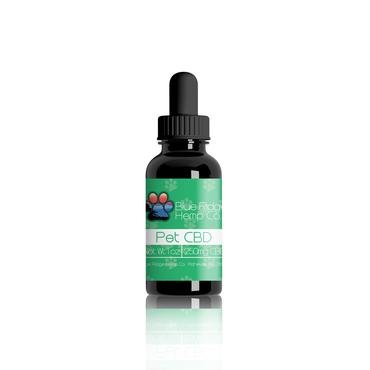 Blue Ridge Hemp Dosage Recommendation
The perfect dosage of CBD differs for everyone. There are a number of different aspects to dosing which must be considered before consumption. These include:
Ailment - everyone takes CBD for a different reason. Some are in desperate need of pain relief while others simply are looking for better well-being. Your ailment is a strong indicator as to how much CBD you're going to need in order to benefit from its effects.

Bodyweight - the more a person weighs, the more CBD they will require.

Strength - the stronger the CBD is (the higher the mg count) the less you'll need in order to feel its effects.

Tolerance - those who take CBD for a period of time are bound to develop a tolerance to it. Therefore, you may need to take more in order to feel the initial effects.
If you're new to the CBD community, we suggest starting small and working your way up. So, for example, if you have some Blue Ridge Hemp CBD oil, you'll want to take 1 to 2 drops a day just to see how the cannabidiol makes you feel. From there, you can up your doses to 2 to 3 drops twice a day or further until you feel satisfied with the product.
Blue Ridge Hemp Pros
They offer a wide range of products include flowers, scrubs and roll-ons

Free 2-3 Day Shipping On orders over $65

Offer an assistance program called "Reduced Price Assistance"

Blue Ridge Hemp coupon codes offered online

Offer hemp-derived CBD that does not get you high

They ship internationally through DHL
Blue Ridge Hemp Cons
Not FDA approved

We can't find lab test results on batches
Overall Thoughts of Blue Ridge Hemp
Blue Ridge Hemp is a unique CBD company. Though most of those within the CBD marketplace hopes to better your self-care and well-being, very few make it their mission. And even fewer do so to the point where they offer programs such as "CBD yoga".
For this reason, we give Blue Ridge Hemp a lot of credit in their goal to help their customers. With services such as "Reduced Price Assistance," we know Blue Ridge Hemp has their customer's put in mind first. And in an ever-growing corporate world, such small businesses are a relief to come by.
The biggest concern we have with Blue Ridge Hemp is its lack of transparency when it comes to the lab testing of their CBD products. Most companies will provide this information as a way of informing their customers that the products are completely safe to consume. For this reason, if you do want to purchase a product from Blue Ridge Hemp, it may be in your best interest to reach out through their contacts page and ask for this information. Though we cannot guarantee you'll receive it, it's always in your best interest as a consumer to know what's in the CBD you're consuming.
How to Use a Blue Ridge Hemp Coupon Code
Interested in purchasing a product from Blue Ridge Hemp? We currently offer promo codes on the right-hand side of this page ranging from 10% to 20% off your total order. In order to use one of these codes, you first need to make a selection on their website. Once you're in checkout, you'll notice you have the option to type in a discount code on the right-hand side of the page, under your selected products. Simply type in our code, hit apply, and you'll see your savings instantly!
6 Blue Ridge Hemp Reviews
Molly Beech

I was referred here by a friend and really want to buy the CBD chocolate bites. When will these be in stock!? 2019-01-22 23:22:25

Tracy

I highly recommend Blue Ridge Hemp Co to everyone! I recently ordered Blue J's for some pain relief. I ordered Sour Space Candy. It was smooth, sweet tasting and did not burn the back of my throat. I was pleasantly surprised! I highly recommend ordering from Blue Ridge Hemp Co! They are very helpful and are committed to being there for their customers! I plan on being a lifetime buyer! 2019-08-24 11:58:06

Zack

Great product my job is very physical. I was coming home so sore I have bursitis and lower back Sciatica. Tried the kush flower in minutes the pain subsides and I was up doing cores and playing with my daughter. I recommend this company for anyone and they have a huge variety of products. Thanks Blue Ridge Hemp Co. 2019-09-12 12:30:38

Kathy

My daughter bought the roll on hemp oil from Blue Ridge as a gift. I have had surgery twice to fuse my spine with continued near constant pain even two years out. Also have osteoarthritis, rheumatoid arthritis, and fibromyalgia. I tried the roll on on my neck and shoulder area and, within seconds, the pain went away and lasted for two days! My ankles hurt real bad and I put it on them. Same result. It is a life saver for me. The only personal drawback is the smell. It irritates my sinuses. I am very sensitive to camphor or eucalyptus fragrances. It is also a bit "greasy" but it is "oil' so there:S that. I highly recommend it for chronic pain sufferers. 2019-09-21 12:21:02

Haylay

Great products that work, relieved my pain thank you so much! 2019-10-14 14:20:32

Sue

I strongly recommend Blue Ridge Hemp Co. and their wonderful products. Check them out and you'll love them too! 2019-12-20 07:05:31