Direct Vapor
(4)
Direct Vapor Coupons And Reviews
Direct Vapor is one of the largest online vape stores with a wide range of Vape Mods, E-Liquids, and Accessories. They are a USA based company known for havin huge selections and consistent promotions and competitive pricing. You can shop by brand name, new arrivals, starter kits and more. If you're new to vaping they have a solid selection of starter kits that's that'll get you on the right track. They ship free and offer a 60 day warranty. In addition, they're confident enough to offer a 15 day money back guarantee. We've reviewed some of their products and will give you the breakdown below. We also provide and update Direct Vapor coupons, promos, sales, and more. If you've purchased products from them please leave a review.
What's Unique About Direct Vapor?
Known for being one of the largest USA based online vape stores

Offer both free shipping and a 60 day warranty

Consistently offer Direct Vapor coupons and promotions

Offer step by step guides for how vaping works

Direct Vapor coupons and discounts offered regularly
DirectVapor Products
Starter Kits
Direct Vapor stocks a wide range of starter kits from top of the range suppliers such as Kanger, Eleaf, Smok, Sigelei and more. For beginners, a starter kit can come in handy as it gives you a soft landing into the world of vaping. A basic starter kit should contain a vape pen or MOD, battery, coil, refill tank, cable, batteries, instruction manual and vape juice of course.
Direct Vapor starter kits are basic and beginner friendly, lacking the intimidating builds found in more advanced kits. An example is the Eleaf iCare starter kit which goes for $64.95. This is the starter kit in the photo below and comes with free shipping. The MOD is chic and portable and needs no fire button. Even more advanced vapors or people who have been vaping for a long time prefer simplicity. If this is you then we recommend DirectVapor beginner kits since they include everything you need without the hassle of shopping a variety of products.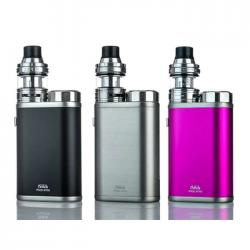 Sub ohms are a new style of starter kits with less than one ohm of resistance in their coils. They come in different designs to ensure that you get the most out of your cloud chasing experience. If you prefer to vape directly to the lung, then sub ohms will work better for you. The Kanger top EVOD is priced at $14.95 and is sleek looking and boasts of plenty safety features. But remember that these devices are complex; make sure to read the instruction manual before you embark on using them. Direct Vapor coupon codes are not typically offered but they consistently mark down prices on these starter kits.
Other starter kits include; box MOD, vape pod, temperature control, ultra portable and e-cigarettes starter kits. Direct Vapor also offers their own starter kits which are typically discounted as there's no middle man. We haven't tried their own branded products so if you have please leave a review below. If you're looking for a basic low priced option there are starter kits like the Eleaf iStick Pico that are discounted with the auto-ship option.

Direct Vapor E-liquids
Direct vapor stocks a wide variety of e-liquid brands. Some of the brands include: VaporFi, Element, Cosmic fog, Motley brew, Naked, Big apple, Jam monster and Pachamama. They also come in different flavors such as candy, tobacco, menthol, dessert, fruit, banana and mango among others. Worms On Ice E-liquid by Candy King comes in a 100mL bottle and costs $24.95 , including free Shipping. With such a wide range of brands and tastes, you are spoilt for choice. Direct vapor also gives great discounts on most of their e-liquids during clearance sells which you can benefit from.

Dry Herb Vaporizers & Vape Pens
Dry herb vaporizers are a still a new thing even to pro vapers, but Direct vapor has these stocked in plenty as well. They come in different colors, styles and strengths. The VaporFi Atom starter kit is a powerful dry herb vaporizer kit. Concentrate vaporizers are a subset of the dry herb category specifically designed for waxes and oils. If you choose to go with a dry herb vaporizer, make sure you invest in the right mouthpieces and cleaning equipment to keep your device from building up residue in the vapor path, which could cause a burnt flavor that you're not expecting. Also check to see if there's a Direct Vapor coupon code as they typically save you 10%-20%.
Direct vapor deals with over 50 top of the range hardware brands offering a wide selection of prices, quality, services, features and designs. When selecting a vape pen brand, they recommend that one considers the battery life, size and airflow. For example, for a direct lung hit always go for a wider air flow. When selecting a mod, consider the power you want and how much you are willing to pay as this greatly varies across brands. Vape pens are less sophisticated and less powerful than vape mods. However, they are cheaper and simpler to use.

Vape Juice Brands
Direct Vapor sells one of the largest vape juice brand selections we've found online. Examples of some of these big brands includes Vaporfi, Smok, Vaporesso, Eleaf, Joyetech and the list goes on. If there's a brand you like the most you can just click the brand logo from their "Vape Brands" menu and shop specifically those products. Direct vapor recommends that you check the PG to VG ratio when selecting which vape juice to go with. If you love a lot of vapor, go for a higher VG ratio, if you value a throat kick more then go for a higher PG ratio. Also consider the flavors offered by each brand.
Direct Vapor Auto-Ships - What Are They?
Direct Vapor offers Auto-Ships which is their most common promo offering a 10% discount (coupon is auto applied) when you set these up. These are only offered on select items but you'll notice the "Auto-Ship" badge on the product. An Auto Ship is basically a subscription based service where you don't have to continuously order the same products. You can cancel them anytime and don't have any obligations. These are more for customers that vape a lot and want a consistent supply sent to them with a pricing incentive. You can adjust the frequency, delivery, and quantity of items based on your own preferences so it's highly curated to you.
What's cool about the Auto-Ships feature is you get free shipping always. You can even have these sent to PO Boxes and you only pay sales tax if you are having these shipped in Florida. First timers get a 10% discount and ongoing accounts get 5% off. You don't have to be a USA buyer to get an Auto-ship, they do send international but there's a small fee with that.
Direct Vapor's return policy is 15 days. If you did buy products from them after reading our reviews here you'll want to contact Direct Vapor for questions. We don't actually ship products, but offer Direct Vapor reviews and coupons when available. They also have a 60 day warranty so for returns just call 1-(844)-90VAPOR
Direct Vapor Pros
USA based retailer

Among best prices with a Direct Vapor coupon codes and/or discounts automatically applied

Offers money back guarantee

Very large and diverse selection catering to beginners

Good source of learning content for beginners

Subscription based discounts
Direct Vapor Cons
There have been complaints about customer service

Vaping is arguably not safe

For international shipping there's fees
Disclaimer: The following reviews are made by consumers. Direct Vapor has not reviewed and therefore doesn't endorse, support, or approve the reviews or recommendations left by consumers. These statements have not been evaluated by the FDA. Direct Vapor products are not intended to diagnose, treat, cure, or prevent any disease.
4 Reviews
Cyrus

They carry all the biggest brands and have very good pricing and promotions. Be careful many vape companies are from China, Direct Vapor is from Florida. 2018-08-30 16:46:27

Lisa Whiting

I ordered a mod and it leaked. I returned it, which you have to pay your own shipping for and they issued a gift card to me. I had to fight to get a refund and they acted like they did me a favor doing it. I returned it within 5 days ( not even) . Needless to say I won't be ordering from here again. 2018-09-07 21:00:50

Robbie

Direct Vapor has really good deals and they shipped fast to me! 2018-12-10 21:32:50

Darlene Riojas

I purchase 2 ecigs from direct vapor because of their 15 day return policy. This "policy" is NOT what you think. I tried returning these 2 ecigs bc too large and just didn't like them. When I tried returning, I was told only unopened items could be returned which you don't see this until you go further into their website and customer service told me where to find it. I ask only for CREDIT in my purchase and I was going to buy 2 different ones that I always use. But she would only off a $20 credit. I urge everyone to think twice before using this website - check them out on Florida's BBB website and complaints. 2018-12-12 18:37:40