Glori Blends
(2)
Glori Blends Reviews + Coupon Code
Glori Blends is an online hemp CBD retailer that offers fast and and efficient results safely and legally. Their CBD products are free of THC and are therefore non psychoactive. They offer a variety of products like CBD oil, Capsules, CBD for Pets, and Topicals. Their best sellers include the Bliss "Mood Stabilization", the Relief "Pain" oil, and their "Daily" tincture. Glori Blends products are whole plant full-spectrum meaning all terpenes are included which is what we recommend as opposed to isolated CBD products. Glori Blends formulates their products based on individuals who have specific needs. If you're here for a Gori Blends coupon you can find them on the right side. If you're here for our Glori Blends customer reviews you can find them below.
What's Unique About Glori Blends?
They offer whole plant full-spectrum hemp derived cannabinoid products

They offer a 15 minute free consultation via chat or phone with an expert

Glori Blends coupons among the best we've seen

Products are GMO free, lab tested, natural, and organic
Glori Blends CBD Products
Glori Blends currently offers four different categories of products: CBD Oils, CBD Topicals, CBD Capsules, and CBD for Pets. Each of these provides you with a selection of high-quality products that will not disappoint both CBD newcomers and long-time users alike. One aspect of Glori Blends we found extremely useful was their categories of different medical conditions. Each of their products is designed for different ailments, such as sleep, pain, or anxiety. And you can search through these categories on their website based on these ailments. This makes it easier for people to find exactly what they're looking for and is a unique touch to the Glori Blends name.
CBD Oils
Glori blends have five different kinds of hemp-derived CBD tinctures, each selling at $175.00. The five include mood stabilization, pain relief, inflammation relief, focus, and sleep tinctures. They also have a whole-plant hemp tincture that is ideal for everyday use. It contains 500mg of whole plant hemp and sells at $65. You can use a Glori Blends coupon code to knock off 50% here. The pain relief tincture contains whole-plant hemp extract mixed in fractionated coconut oil with terpenes added to it. It is intended for the relief of both acute and chronic pain including joint stiffness and aches. It contains 1500mg of hemp extract. The Lucid/Focus tincture had pinene and limonene which have shown great benefits in enhancing concentration.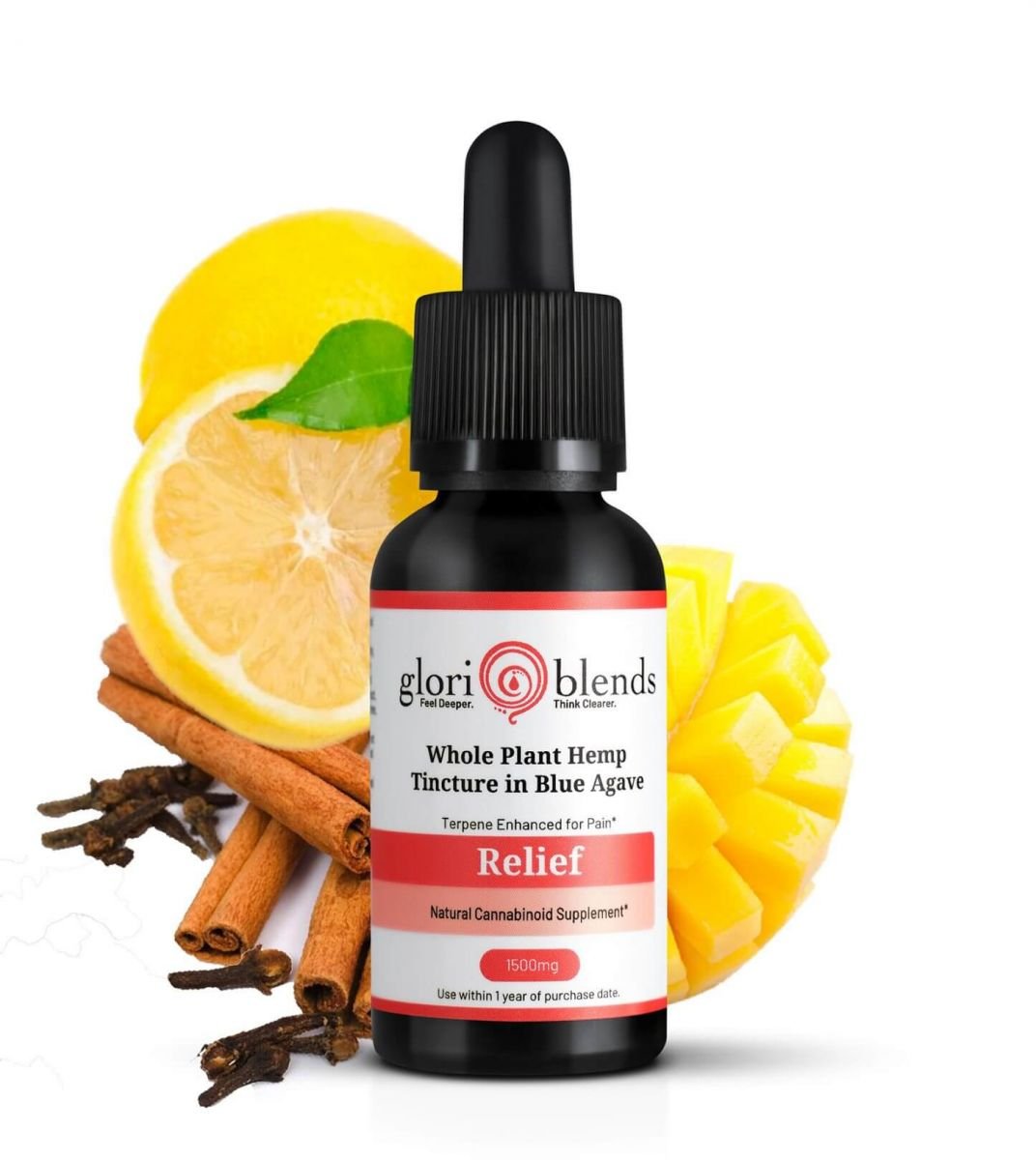 CBD Capsules
The Glori blends capsules also come in five different categories, similar to those of the tinctures. They all cost between $ 40-150. The Sleep capsules contain whole-plant hemp extract, coconut oil, Beta-Caryophyllene, Linalool, and Myrcene. These capsules were intended to aid in falling asleep and staying asleep, the unique terpene blend supports relaxation, relieves anxiety and has sedative-like effects. The anti-inflammatory capsules/ Thrive capsules contain Limonene which is a powerful anti-inflammatory agent. All their products contain less than 0.3% THC and are safe for use even by children.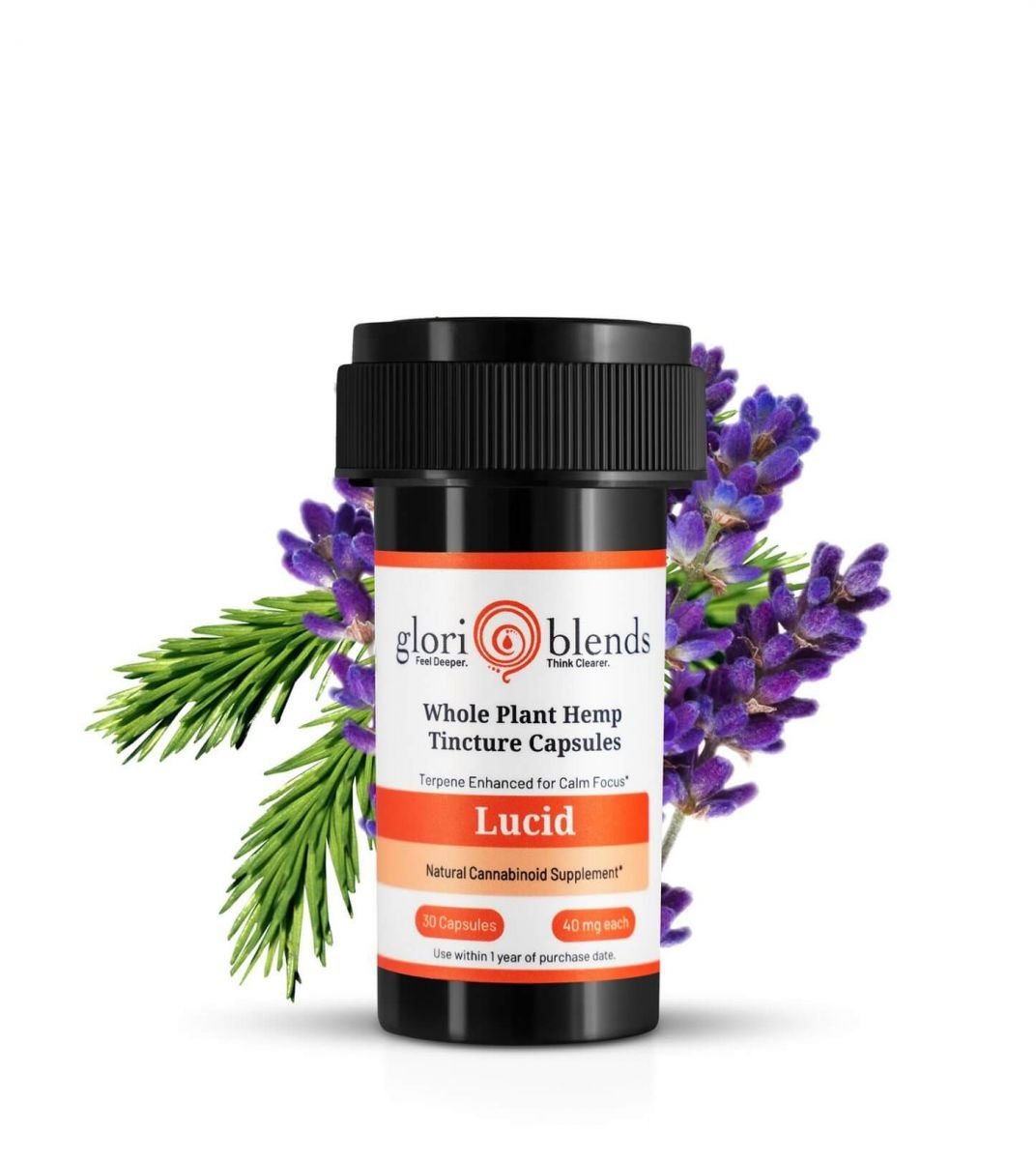 CBD Topicals
Topicals are a fast and effective way to combat skin inflammation or joint aches. In this range, Glori blends offer two products: whole-plant hemp salve and Glori Ice. The salve contains hemp extract, Beeswax, Cranberry Powder, Grapeseed Oil, Tea Tree Oil, Arnica & Lavender Flowers, Damiana, Neem and Poppy Leaves. All these herbs work together to relieve pain, aches, and inflammation on the skin and joints. Glori Ice is a hemp product formulated for pain, it contains menthol and arnica which provide instant relief from sports-related aches and pains.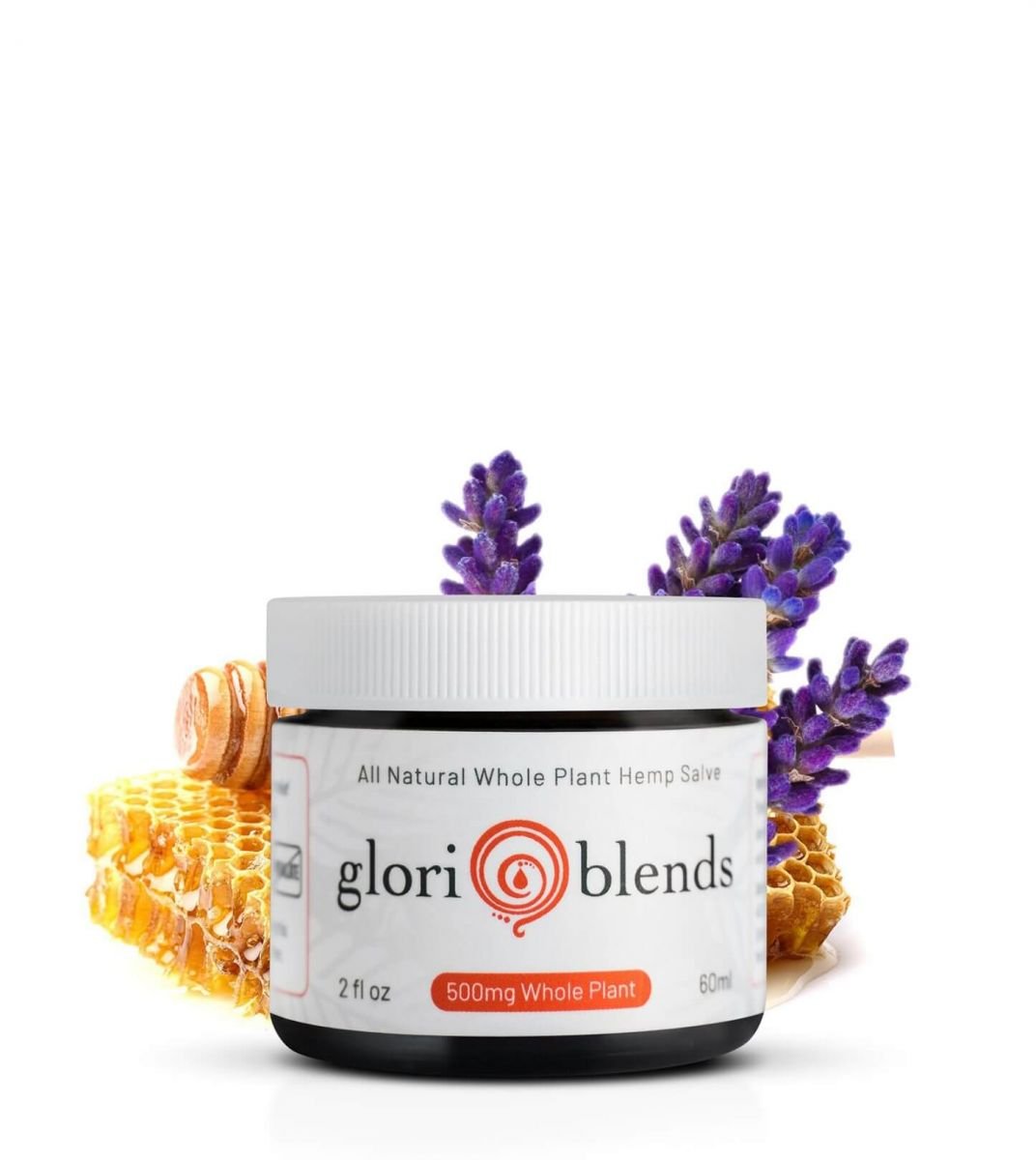 CBD for Pets
They offer two hemp-derived products for pets: calming drops and a coat spray. The calming drops help to combat anxiety and restlessness in your pet, containing whole-plant hemp extract in fractionated coconut oil. The recommended dosage 1-2 drops twice daily. You can mix the oil with the pet's food to conceal the earthy taste of CBD oil. The coat spray has Beta-Caryophyllene and essential oils (Rosemary, Lavender) that help to deal with annoying dandruff and itchiness in the skin of your pet.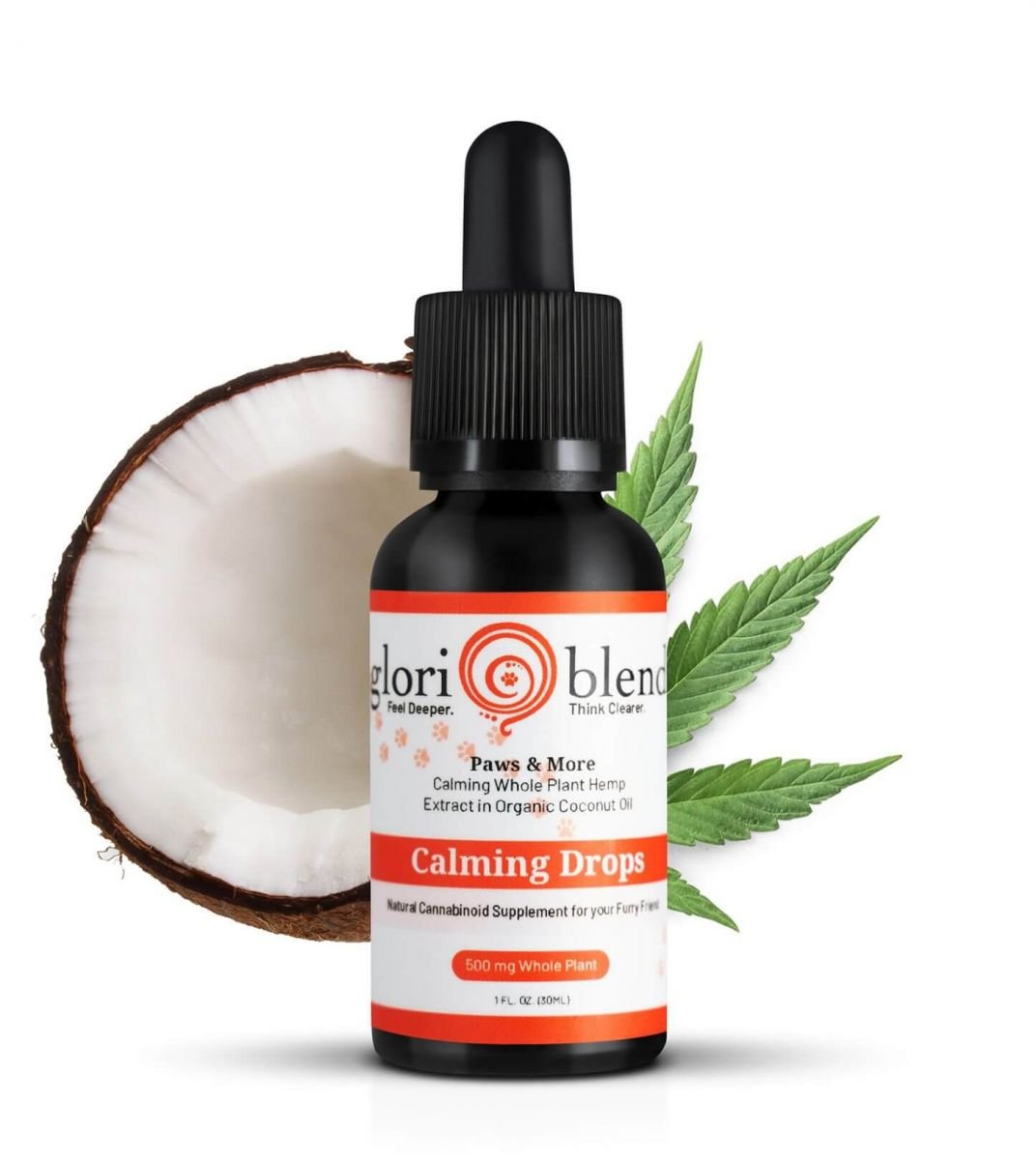 Glori Blends Dosage Recommendation
Finding the right CBD dosage for you can be a tricky task as there currently are no regulations or standards. We advise anyone new to the CBD industry to start small and work your way up. This will give you an idea of how CBD affects you and how much you'll need in order to meet your desires.
CBD works similarly to other substances in the sense that your body weight plays a major role in how much you should take. The more you weigh, the more CBD you'll need. A general rule of thumb is to take anywhere between 1 to 6 mg of CBD for every 10 pounds you weigh.
In order to determine this mg count, you want to consider your ailment. For example, someone who's experiencing chronic pain will probably want to take 6 mg of CBD while someone experiencing mild pain will only need 1 to 2 mg (for every 10 pounds). Of course, since there are no standards to dosage, you can always experiment with more or less to find what's right for you.
CBD is 100% safe with little to no side effects and it's impossible to overdose on it. For this reason, people currently taking it have a lot of wiggle room when it comes to dosage experimentation.
It should be noted that your body will inevitably develop a tolerance for CBD. Therefore, you may need to take more of it in order to feel the initial effects.
Glori Blends CBD Pros
Wide range of products enriched with terpenes to give full entourage effects

They ship to all the US states

All products have less than 0.3% THC as approved in the 2014 US Farm bill

They offer wholesale opportunities

All their products are natural and organic and non-GMO

All products are lab tested for cannabinoid potency.

Glori Blends coupon code at 50%

All plants are grown in Colorado USA with strict growing practices
Glori Blends CBD Cons
CBD Not FDA approved

No free shipping

No international shipping

No money-back guarantee
Overall Thoughts on Glori Blends
Glori Blends is a great company to use if you're seeking out CBD for a specific ailment. Of course, many other CBD companies have products that are designed to relieve specific medical conditions. For example, if you suffer from insomnia, you're bound to come across CBD products that also have melatonin in it.
However, we don't often run across a CBD company that uses a variety of ailments for each of their different products. In turn, this offers two things to the consumer:
It allows them to search through the website at ease.

It gives them a variety as they'll find products for their particular ailment in a variety of consumption methods.
Beyond the convenience of this category organization, Glori Blends offers very high-quality products for fairly standard prices. Whether you're a newcomer or long-time CBD user, we definitely suggest you check them out. And to help you save money on your purchase, we currently offer coupon codes on the right-hand side of this page.
How to Use a Glori Blends Coupon Code
In order to use one of our coupon codes, you'll first need to choose a product(s) from Glori Blend's website. When you view your shopping cart, you'll have the option to type in a coupon code in the lower left-hand corner, under your selected product(s). Simply type in one of our codes, hit apply, and your savings will appear instantly!
Disclaimer: The following reviews are made by consumers. Glori Blends has not reviewed and therefore doesn't endorse, support, or approve the reviews or recommendations left by consumers. These statements have not been evaluated by the FDA. Glori Blends products are not intended to diagnose, treat, cure, or prevent any disease.
2 Glori Blends Reviews
Johnny Morrissey

These are the best CBD products I have used to date. Thanks for the review! 2019-01-19 21:16:15

Nick

I can't believe how well these actually work. My whole family are loyal customers! 2019-01-29 15:12:26