Green Garden Gold
(1)
Green Garden Gold Coupons + Reviews
Green Garden Gold offers high-quality hemp extracts shipped directly to your door. Their CBD products are legal, safe, and do not get you high. Green Garden Gold offers a very wide variety of CBD products including capsules, CBD oils, CBD Gummies, creams, pet products, and more. If you're here for our Green Garden Gold coupons you can find them on the right. If you're here for our Green Garden Gold reviews you'll want to scroll to the bottom of this page. If you are a returning customer please leave a review below!
Green Garden Gold CBD Benefits
Offer hemp derived CBD products with low THC content

Offer organically grown European hemp

Hemp oil free from herbicides, pesticides, and heavy metals

Proven track record with 55 plus years in the market

Wide range of products including CBD for pets

Full spectrum CBD with terpenes, phytochemicals flavonoids, and more
Green Garden Gold CBD Products
Real Terpenes with CBD (CBD Oil)
These tinctures come in three different varieties: hybrid, Indica, and Sativa. The Hybrid is rich in terpenes and works well to combat stress. Sativa will make you more alert and focused. Each tincture has 500mg/16mg CBD per serving and goes for $ 69.99. You can use a Green Garden Gold coupon to knock off 10%. All of the three come with 350 reward points which you can redeem on your next purchase as well.
Green Garden Gold CBD capsules
Green Garden Gold CBD Capsules are an easy way to consume your CBD. We recommend CBD capsules for those who want the most accurate dose and those who don't want to taste the hemp. With a combination of 30mg of naturally occurring CBD and OMEGA 3-6-9, these capsules provide a perfect balance of all-natural benefits. They also offer Panidiol­™ joint formula which is a fast-acting CBD supplement that works great at relieving arthritis pain, joint aches, and relaxing sore muscles. Fortunately, they work fast, so you can begin feeling the sense of relief in no time.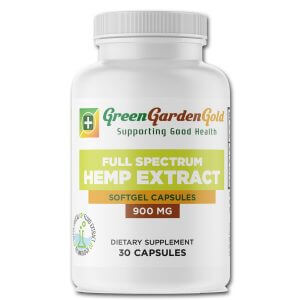 Green Garden Gold CBD Oil
They have Med Pac CBD oils and VG blended CBD oils. The Med Pac hemp extract contains CBD oil blended with medium-chain triglycerides (MCT) and coconut oil. The strength ranges from 300mg to 4000mg of CBD with packed cannabinoids, terpenoids, and essential oils. The VG blended CBD oil is great for taking orally or as a CBD vape. The dosage amount can vary depending on your CBD needs.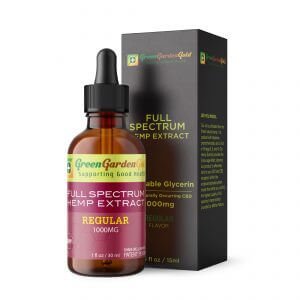 CBD Gummies
Each pack contains two dozens of yummy gummies with 15mg of CBD per gummy. Gummies are a fun way to consume CBD that even children can enjoy. One good thing about them is that you can't taste the hemp that you normally would with CBD oil. Typically CBD Gummies do have sugar though. These go for $39.99 and our Green Garden Gold discount code takes 10% off.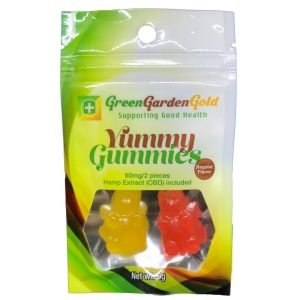 CBD Pain crèmes
The Green Garden Gold CBD salve cream contains 75mg of organic hemp that is CO2 extracted. It targets pain in joints, muscles, or nerves. To use simply apply to the muscle area in pain and wait for results.
CBD Pet Products
The Dog joint formula capsules are great for relieving pain and inflammation due to arthritis symptoms. The capsules contain glucosamine, chondroitin, MSM and hemp extract. They also offer organic whole wheat flour dog treats which offer the full entourage effect for your pet. To keep them fresh, store them in an air-tight bag in the refrigerator (up to six months) or the freezer (up to two years). Each container has 70 treats and costs $29.99 and Green Garden Gold coupons apply.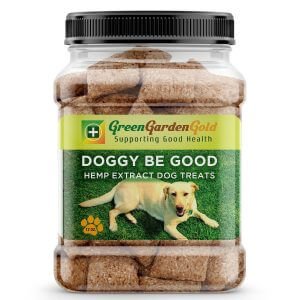 CBD Weight Control
In this category, Green Garden Gold has CBD ketones, CBD MCT powder and CBD probiotic. You can also buy a bundle with all three, of course, this will save you some dollars. CBD Ketones+ drive the human body into nutritional ketosis. This happens when your body shifts to using fatty acids and ketones as the primary source of fuel instead of carbohydrates and glucose. The ketones used are HPLC tested for purity and potency and are Dairy/Lactose-Free, Gluten Free, and Vegan. The Probiotic Blend support healthy digestion as well as promote a healthy immune system.
CBD Skin and Beauty
They offer sunrise and moon glow CBD serum which helps to get rid of unwanted wrinkles and helps heal damaged skin. You can use it as a cleaner to help clear your pores and treat acne, eczema, and more.
Green Garden Gold CBD Pros
Products may be returned within 30 days for a full refund

Place emphasis on shipping products on time

Green Garden Gold coupon codes + seasonal discounts

Offer reward points for logging into the website and also offer loyalty reward points

Offer wholesale options for would be retailers
Green Garden Gold CBD Cons
No free shipping

Not FDA approved

CBD isn't cheap
1 Green Garden Gold Reviews
Jeannie

I absolutely love CBD Gummies! Just don't eat the whole bag in one sitting :) 2018-11-12 23:23:59
Green Garden Gold Coupons