Herbstrong
(1)
Herbstrong Coupon + Reviews
Founded by two Southern California locals, Herbstrong was built on passion about innovation, health, and fitness. When the two locals heard about hemp oil, they knew they had to start a movement for a more natural recovery alternative in the sports industry. Wanting to represent hemp and CBD in the light it deserves, they researched and formulated tirelessly until they produced the extra strong and highly effective hemp supplements that they have available today. For about the price of a cup of coffee a day, Herbstrong provides a genuine combination of value and quality that you can't find with many other CBD brands. We decided to test out the words that Herbstrong lives by, so we've compiled a comprehensive review of the brand as a company. Stick around until the end, though – we have a coupon for those who want to give the CBD brand a try after reading our review on the subject. Let's dive into our review to discover what's unique about Herbstrong, the various products the brand has to offer, and the important pros and cons that make the company what it is.
What's Unique About Herbstrong?
Products formulated with no preservatives, dyes, or other additives; only the pure products

Geared towards athletes and people in various health and fitness communities

Tried and true experiences constantly posted on social media, shows how close the Herbstrong community is

Herbstrong products contain no THC and don't get you high
Herbstrong Products
Extra Strong Full Spectrum Recovery Drops
What appears to be their main product are the full-spectrum recovery drops that come in a variety of strengths. The first strength is the 1,000mg bottle, recommended as a starter if you're unfamiliar with CBD or don't know what strength to try out first. Considered an extra strong concentrate product, you get approximately 4mg of pure full-spectrum CBD oil per drop. Infused with MCT oil, you can place a few drops under your tongue twice a day to determine which dosage is right for you.
The extra strong full-spectrum recovery drop line is geared towards overall body relaxation, relief, and recovery. The 3,000mg bottle is a step up from the 1,000. You can expect approximately 6mg of full-spectrum CBD oil per drop. Meanwhile, the strongest bottle, which contains 5,000mg of full-spectrum CBD oil in total, has approximately 10mg of oil per drop.
Depending on your tolerance to the hemp plant and how CBD affects you on an individual basis, you'll need to decide which strength and how many drops you need per dose. The most important tip is to not give up on the first try – in fact, it can take over a month before you start to feel all of the effects that CBD can provide. Keep at trying to find the right dose for you and your medicinal needs and you'll get the hang of it over the course of a few days or weeks.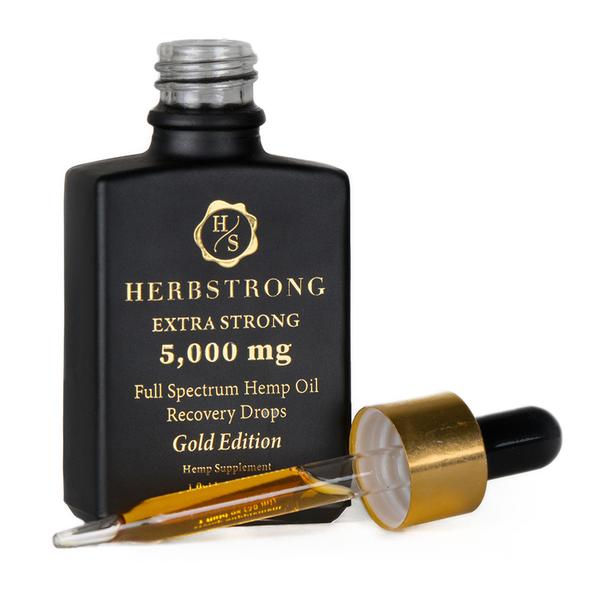 Extra Strong Full Spectrum Recovery Cream
Made specifically for recovering injuries, pains, cramps, and muscles, the recovery cream from Herbstrong is supposed to be topical and potent. Made with 1,000mg full-spectrum CBD oil, you get approximately 50 servings per jar or about 20mg of CBD oil per dime-sized amount. It's unscented, as Herbstrong adds no additives or fragrances to their products, so you'll be able to enjoy the sweet, natural scent of the hemp plant.
Made with coconut oil and shea butter, this recovery cream is gentle for sensitive skin and effective for target areas. Particularly for those that have regions with a lot of chronic pain or inflammation, this recovery cream is ideal for fixing the flare-ups. Whether you need it after your workout or just after a normal day of wear and tear on the body, this recovery cream can truly come in handy.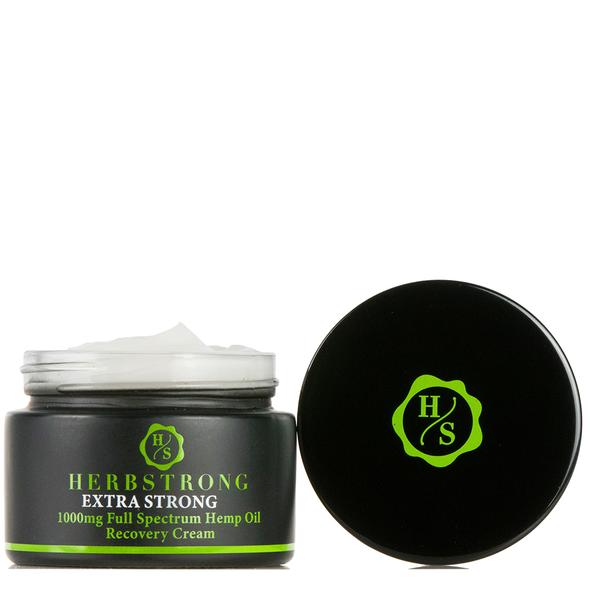 Strong Paws Full Spectrum Recovery Drops
The pet recovery drops come in 250mg, 1,000mg, and 2,000mg strengths. They're full-spectrum hemp oil products that are safe for your furry friends, whether they're cats or dogs. Completely THC-free, you don't have to worry about any negative side effects that the psychoactive aspect of the plant can give them. The Strong Paws pet drop line was formulated specifically for discomfort and pains that can happen as your furry friend gets older in age.
The 1,000mg bottle is formulated to have approximately 4mg of full-spectrum CBD oil per drop, infused with MCT oil to keep your pet's fur soft and shiny too. With no additives, the oil is claimed to be able to help pets with anxiety, pain, epilepsy, and more. As every pet is different, you'll have to test out which strength is right for your pup or feline friend.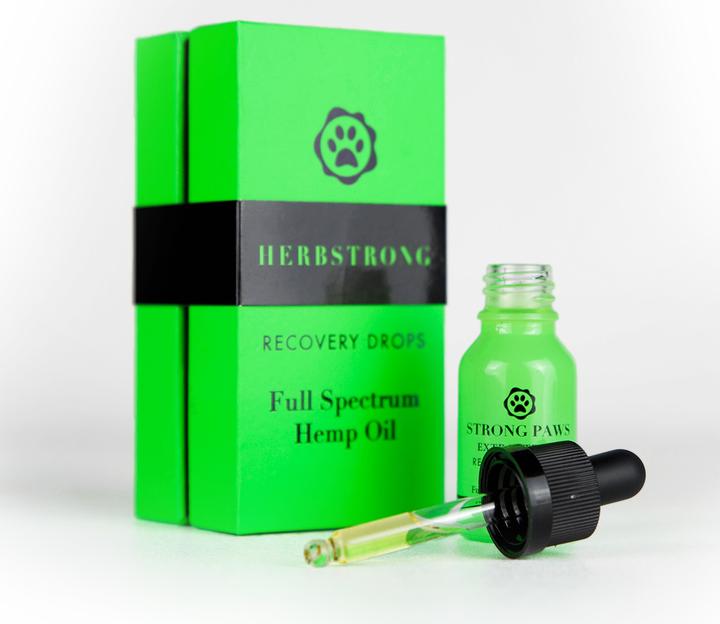 Herbstrong Pros
Products aimed towards athletic recovery

Includes a product for our furry best friends

Recovery drops formulated with only two ingredients – MCT oil and hemp

Large Herbstrong community makes you feel welcome and like the product is genuinely effective

Herbstrong coupon codes offered online
Herbstrong Cons
Free shipping, but only on orders over $100

Prices are a bit higher for some products, like the 5,000mg recovery drops

Only natural flavor available as they don't add fragrances or other additives to their products
Disclaimer: The following reviews are made by consumers. Herbstrong has not reviewed and therefore doesn't endorse, support, or approve the reviews or recommendations left by consumers. These statements have not been evaluated by the FDA. Herbstrong products are not intended to diagnose, treat, cure, or prevent any disease.
1 Herbstrong Reviews
Catherine

The recovery cream is great and has a soothing smell! I will order again and look forward to trying other products! 2019-09-06 04:20:57