Honest Paws
(8)
Honest Paws Discount Code and CBD Products for Dogs 2021
Welcome to our Honest Paws review! Honest Paws is a pet product CBD retailer based out of the United States. While many other CBD retailers sell pet products, Honest Paws' main focus is only CBD pet products. They sell high-quality CBD oil and CBD pet treats for dogs and cats. Their treats are 100% all-natural, lab-tested, and contain no THC. This means these products are safe and do not get your pet high. Honest Paws offers a 30-day money-back guarantee which is somewhat rare with other CBD brands we've reviewed. Typically their customers buy products for pets that suffer from pain and inflammation, skin allergies, joint pain, anxiety, and more. You can shop their products by which symptoms your pet is suffering from to help guide you to the right purchase. If you're here for an Honest Paws coupon code you can use the coupon "CBDNERDS" to save 15%. If you're here for Honest Paws reviews scroll down and please contribute your own review if you decide to purchase from them!
What's Unique About Honest Paws?
They are a CBD brand that specifically focuses on pet CBD products

They provide transparent 3rd party lab test results on their website

They offer CBD infused coconut oil

Their site is very user-friendly and easy for CBD beginners to navigate

They offer a rewards program for loyal customers

Honest Paws coupon available
Honest Paws CBD Product Review
Honest Paws CBD treats come in peanut butter, tasty turmeric, or creamy coconut flavor. Each bag contains around 20 treats and priced at $24.95, not including the Honest Paws discount code of 15%. The dog treats are 100% Full Spectrum but don't contain THC which is what causes one to get high. Each treat contains 5mg of CBD and the package has recommended dosage instructions based on your dog's weight.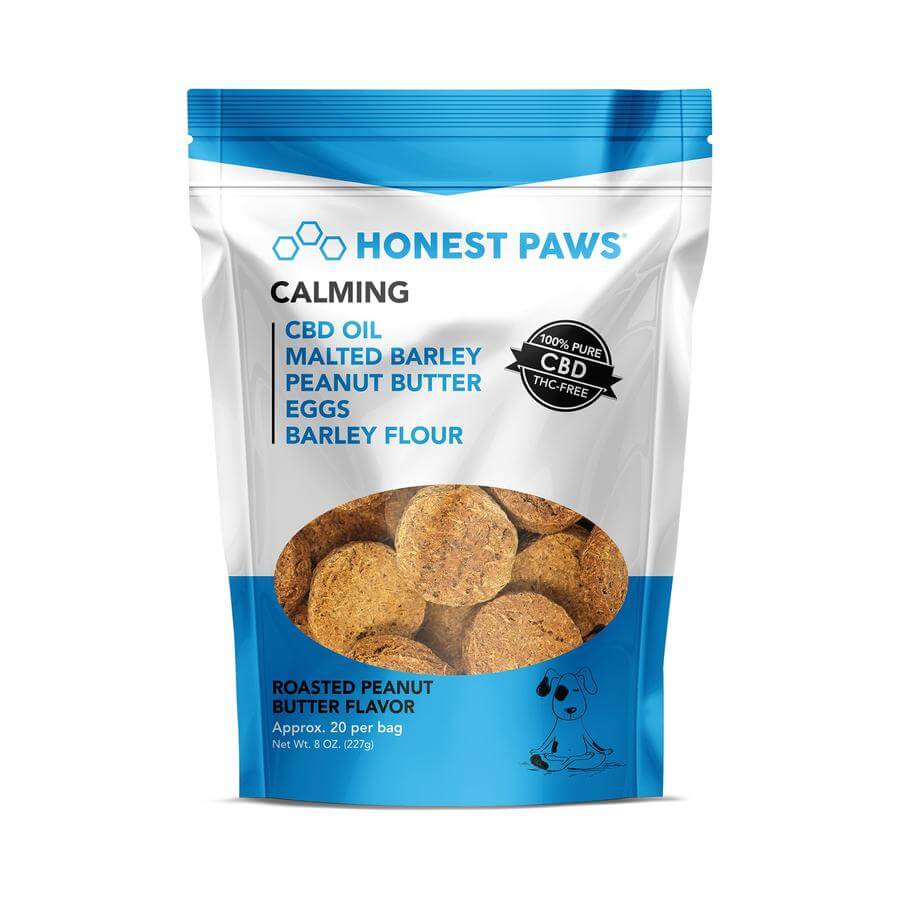 Honest Paws offers CBD oil for pets that's also Full Spectrum. There are 3 different levels they sell and each has different levels of CBD content. Level 1 has 125mg which we recommend for small dogs up to 25 pounds. Level 2 has 250mg of CBD and is recommended for medium-sized dogs weighing between 25-50 pounds. Finally, Level 3 has 500mg of CBD which is recommended for dogs that are 50lbs and larger. Level 3 has limited stock. You can also get a 30 day supply that's discounted in addition to the Honest Paws coupon offered. It's recommended you put the drops under your dog's tongue to get the best results.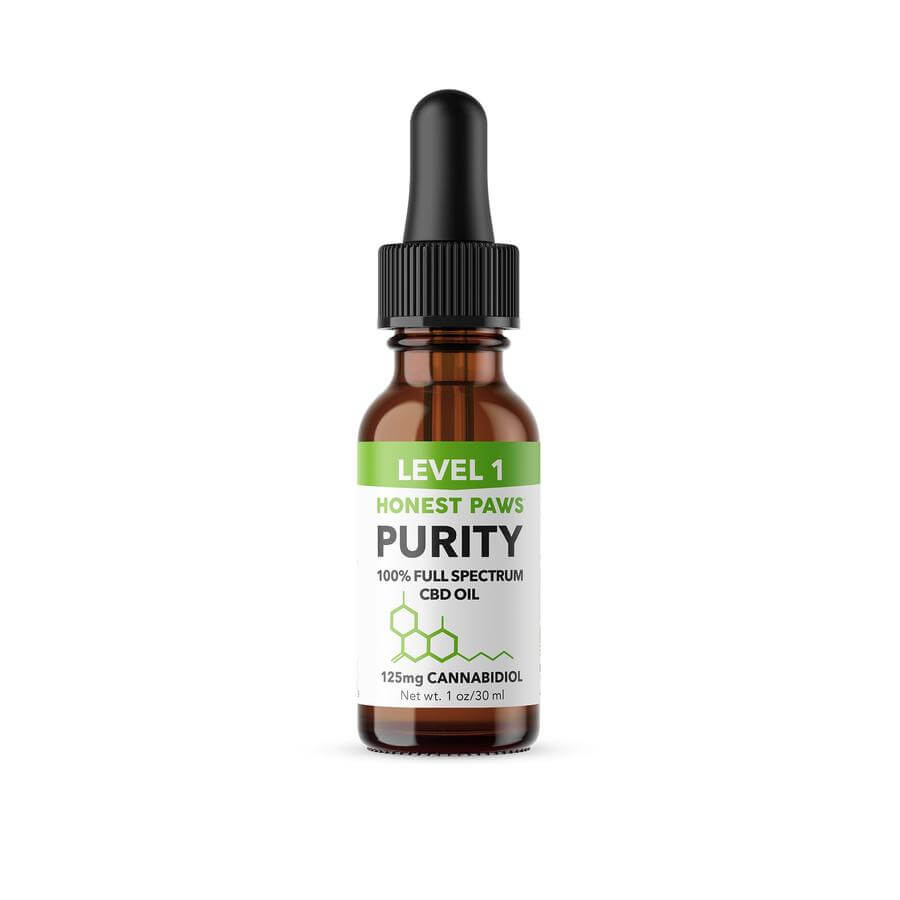 The Honest Paws CBD infused coconut oil is a great solution to rub on skin allergies and/or eat. The entire jar contains 125mg of CBD which is fine for smaller pups. If your dog is 25 pounds or under you'll want to give him 1/2 tablespoon or less. If 25 pounds or bigger then go with a full tablespoon. It's currently priced at $27.95. You can either use a coupon for 15% off or subscribe and save 15%.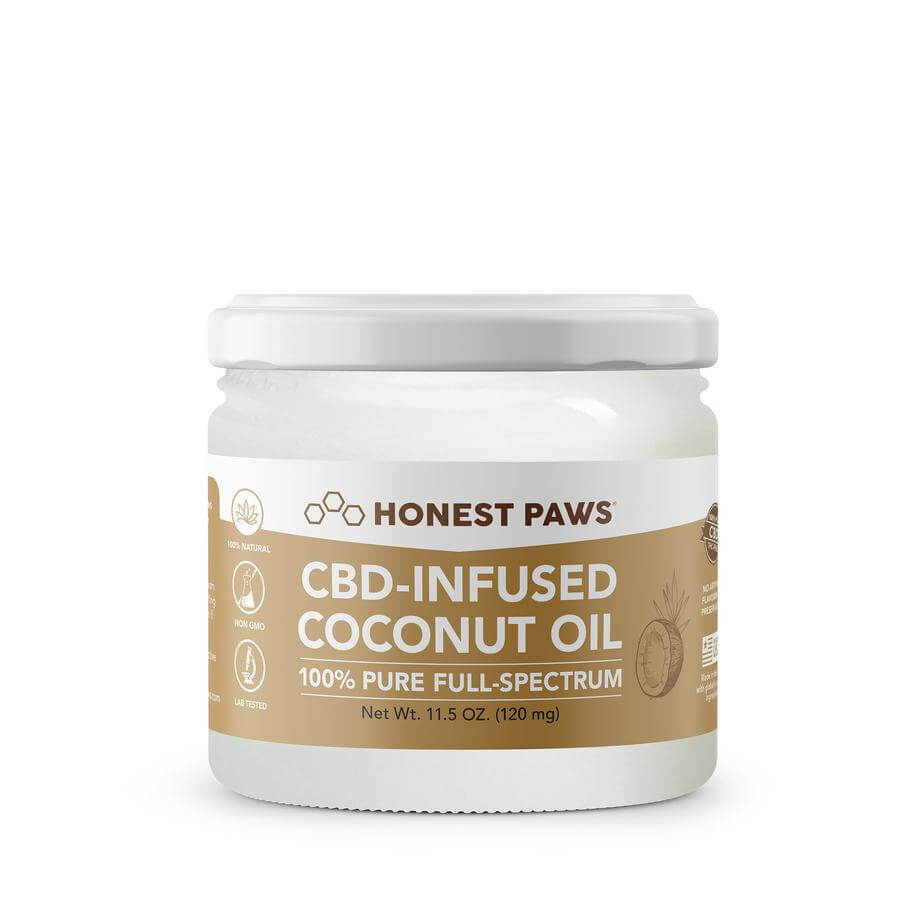 The Honest Paws CBD Soft Chews are a great option if it's difficult to administer CBD oil for your pet. There are two main options to choose from: The Calming Aid and Joint Support. Both items are priced the same at $39.95 and both have 30 soft chews. The entire pack contains 250mg and comes with dosage instructions based on your pet's weight. This is a relatively high price given how much CBD you get. If you decide to go with the Soft Chews just click "get coupon" and shop the product from the window that pops up.
When I first saw this product I thought why would I buy this for my dog when I could just buy this for myself? The CBD Infused Peanut Butter is exactly what it sounds like, peanut butter with CBD. Each dosage contains 5mg and another fun way for your pet to consume CBD. Yes, it's safe and does not get your dog high. There's anywhere from 32-64 dosages in the jar depending on your dog's size. This is moderately priced at $29.95 and the Honest Paws discount code applies.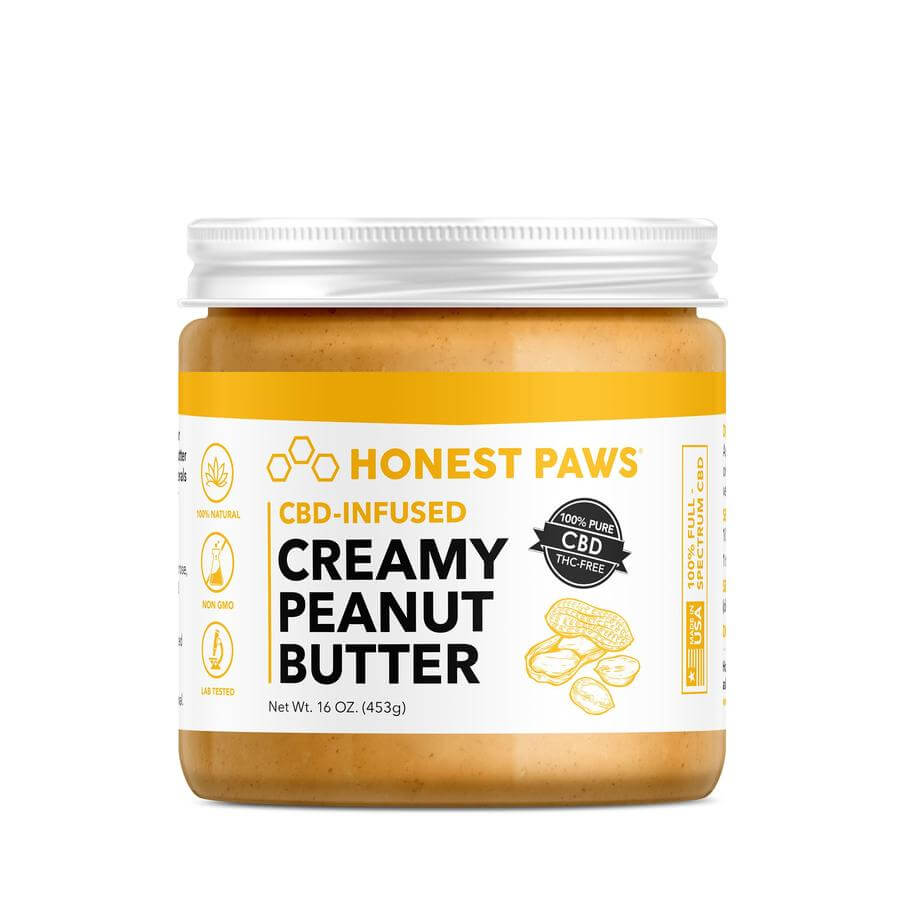 Honest Paws Certificates of Analysis
Honest Paws allows the opportunity to view batch test results from their website here. The process is simple as you just click the product from the dropdown menu, then select the batch number and click submit. You'll see the batch number on the product you purchase. They also offer this info on their website. These lab tests help ensure quality, consistency, and purity. Their 3rd party lab test company is called Botanacor.
Honest Paws Pros
Products are USA made

Offer a rewards program

Only focus on pet-related products unlike most CBD brands

Offers some of the highest-quality CBD oil for pets for pet wellness

30-day money-back guarantee

Verified sitewide Honest Paws discount code for 15% off available

Products are full spectrum and tasty
Honest Paws Cons
Only sell pet products, no people products

You have to spend $40 to qualify for free shipping

CBD is not FDA approved
How To Apply An Honest Paws Coupon Or Discount Code
Enjoy our Honest Paws review? One of the benefits of shopping for these products online is that they offer coupons at checkout. In order to take advantage of this opportunity, click "Get Coupon" at the top of this page. You'll want to copy the promo code and you can shop from the new window that pops up. Once you are done shopping you'll be directed to a checkout page asking for your credit card info and address. On the right side of this page, you'll see a "discount code" box. This is where you paste your coupon and your savings will show immediately after.
Contacting Honest Paws
Honest Paws has a live chat service from their website. This would be the quickest way to get help.
Mailing address: 3027 Marina Bay Dr. Ste 205 League City, TX 77573-2888
Telephone number: 1-844-729-7790
Email address: ask@honestpaws.com
Disclaimer: The following reviews are made by consumers. Honest Paws has not reviewed and therefore doesn't endorse, support, or approve the reviews or recommendations left by consumers. These statements have not been evaluated by the FDA. Honest Paws products are not intended to diagnose, treat, cure, or prevent any disease.
8 Honest Paws Reviews
Terry

My dogs love the treats. They seem to help my older labs arthritis quite a bit. We are very happy with the treats and look forward to our next delivery!! 2018-10-31 22:43:46

Kristen Lee

The CBD infused peanut butter is amazing. I've tried giving my dog CBD treats but for whatever reason he won't eat them. He loves the CBD peanut butter though! Thank you for the 15% coupon too! 2018-12-14 18:32:22

Elisa

I use the Honest Paws purrity oil for cats currently to help treat the separation anxiety and also to help ease introduction of cats to fosters and other cats. The Honest Paws coconut oil is a lifesaver for all sorts of things. When I got the kittens, they had such serious skin issues because of the fleas, and I've used the oil (sparingly) on the skin to sooth the irritation. I've also used it on other foster cats with skin allergies and it makes such a difference! These products have been such a lifesaver in helping to transition these babies to their new world here! If your fur baby is having anxiety, allergies, or other chronic diseases or pain issues check these products out (disclaimer - they are NOT a substitute for medication for diseases that require it such as chronic diseases) however, they simply help aid in giving your pet a wonderful, stress free life! 2019-09-03 09:31:50

Lily

My four dogs love the peanut butter and it is an easy way to make sure the eldest (13) gets CBD for his joint problems. He has been so much more active since I have been using Honest paws PB! Also, it is slightly more affordable than other CBD products. 2019-09-25 01:47:40

Robert

Great product, has helped my senior dog with arthritis pain better than regular pain medicine. 2019-10-05 11:36:47

Julie

Honest Paws' calming bites have worked very well in relieving the extreme anxiety in our dog Jethro during thunderstorms. So glad we bought these for our boy ! 2019-11-01 08:12:55

Margaret M.

My two Silky terriers love their Honest Paw treats! they know they get one after breakfast and after dinner. They literally let me know that it's time. 2019-12-30 13:31:36

Kaitlyn

My puppy loves the taste of the Roasted Peanut Butter treats and I love that they help her to be more calm when we have guests over! 2020-02-26 07:13:55