Kat's Naturals
(11)
Kat's Naturals CBD Oil Review + Coupons
Kat's Naturals is one of my favorite brands I've tried. Their CBD products are made of 100% hemp seed oil so no need to worry about any impure chemicals. You may have seen them in a variety of different wellness stores but they also have an online shop where you can browse a variety of products. Kat's is focused on wellness and carries a modest variety of CBD oil, edibles, topicals, and vapes. The company's intentions are based on natural healing from hemp CBD which is legal and does not get you high. In short, their products give you all the natural benefits of hemp without psychoactive effects. Their CBD is known to limit inflammation in the nervous system aiding in the relief of pain, insomnia, and many other ailments. Depending on your preference and taste, we offer some recommendations to suit your needs. If you're here for a Kat's Naturals coupon code you can find them on the right. If you're looking for Kat's Naturals reviews scroll all the way down. Also please leave your own review!
Benefits of Kat's Naturals
Known as a top isolate CBD provider

Fast results without psychoactive effects

Customers say their CBD oil tastes good

Specialize in full-spectrum CBD Hemp Oil

Typically offer 15-20% off coupons
Kat's Naturals Products
Kat's Natural's most popular products are the CBD oil drops which contain 100% CBD isolate crystals sourced straight from the Netherlands. The CBD is then blended with the organic hemp seed oil making Kat's Naturals some of the most natural CBD products we've found. We recommend their CBD oil drops as they provide the quickest relief (outside of vaping). They are also some of the best tasting CBD oil drops we've tried. They offer 5 different CBD oil drops described below.
Kat's Naturals "Heal" CBD Oil drops
The company's best-selling oil with the highest Potency of CBD isolate (1500mg of CBD per ounce) This product is mixed with peppermint essential oil giving a cooling and calming effect on the body. This item is available in a 5ml sample size bottle with 100 drops, a 15ml bottle with 300 drops, and a 30ml bottle with 600 drops. Based on the recommended dosages, the sample size bottle should last an average of five days, the 15ml bottle should last two weeks, and the 30ml bottle should last up to four weeks. We recommend taking this without mixing it in smoothies or coffee because it has a peppermint flavor, in other words, it tastes like a breath mint. It's best to hold the drops under your tongue for a minute then swallow it with a sip of water. Use one of our Kat's Naturals coupon codes to save on these CBD oil drops.
Kat's Naturals "Naked" CBD Oil drops
Kat's Naked CBD Oil drops (1500mg of CBD per ounce) made with the same exact mixture as "Heal," without the flavor and benefits of peppermint essential oil. So, this drop gets straight to the point with helping to relieve insomnia and depression. This product is available in a 5ml sample size bottle, 15ml bottle, and a 30ml bottle. If you prefer mixing CBD oil with other foods or drinks get the "Naked" drops and not the "Heal". You can use one of our Kat's Naturals coupon codes to save on this.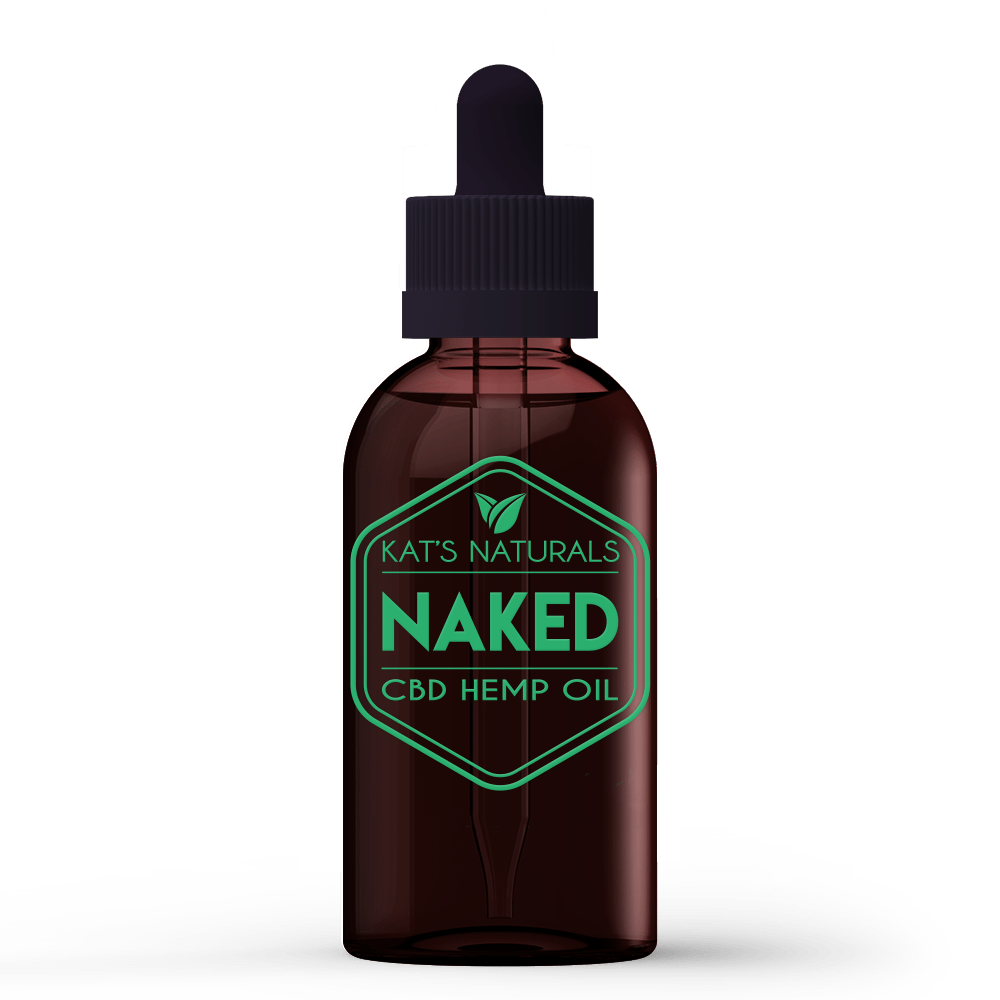 Kat's Naturals "Balance" CBD Oil drops: (750mg of CBD per ounce)
In order to ensure equilibrium in the body, Kat's concocted "Balance," to do just that; Balance the responsibility of the body's major functions with pure CBD and a full spectrum of plant extracts. For those looking to maintain a balanced digestive system, strong immune system, and increase their overall health, should give Balance a chance. This product is available in a 5ml sample size bottle, 15ml bottle, and a 30ml bottle. I would recommend getting the larger bottle since you get more CBD oil/$ and you want to take this stuff consistently to feel its effects. In my experience, it does relieve anxiety almost right away.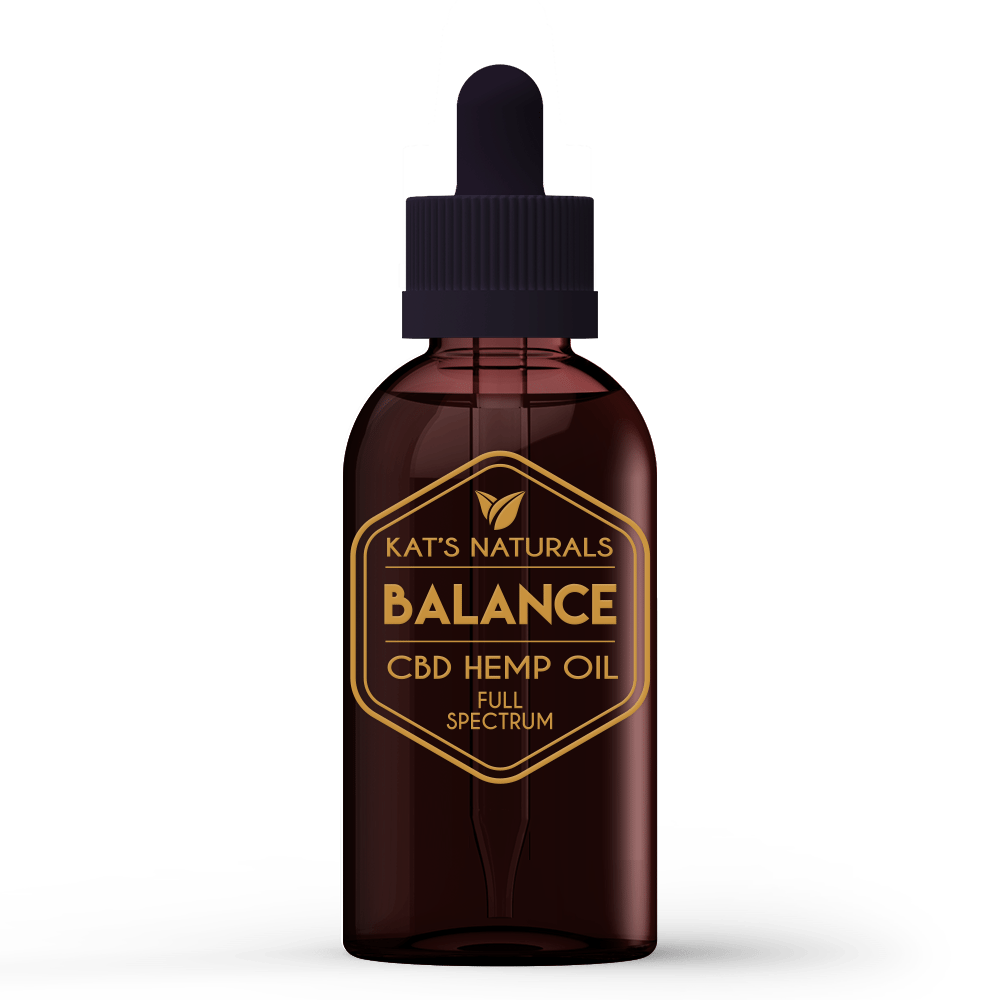 Kat's Naturals "Relax" CBD Oil drops: (300mg of CBD per ounce)
This lower potency product is infused with sweet orange essential oils which help to promote an uplifting effect on the body. If you are brand new to CBD this might be your best choice. Some people have a lower tolerance and are lucky enough to feel the benefits with less concentrated CBD (and save money). This CBD activates the serotonin receptors in the body, making "Relax," a great natural remedy for anxiety. Since the dosage is low, it is recommended that each dose should be 10-15 drops. This product is available in a 5ml sample size bottle, 15ml bottle, and a 30ml bottle. Our Kat's Naturals discount code works for this as well.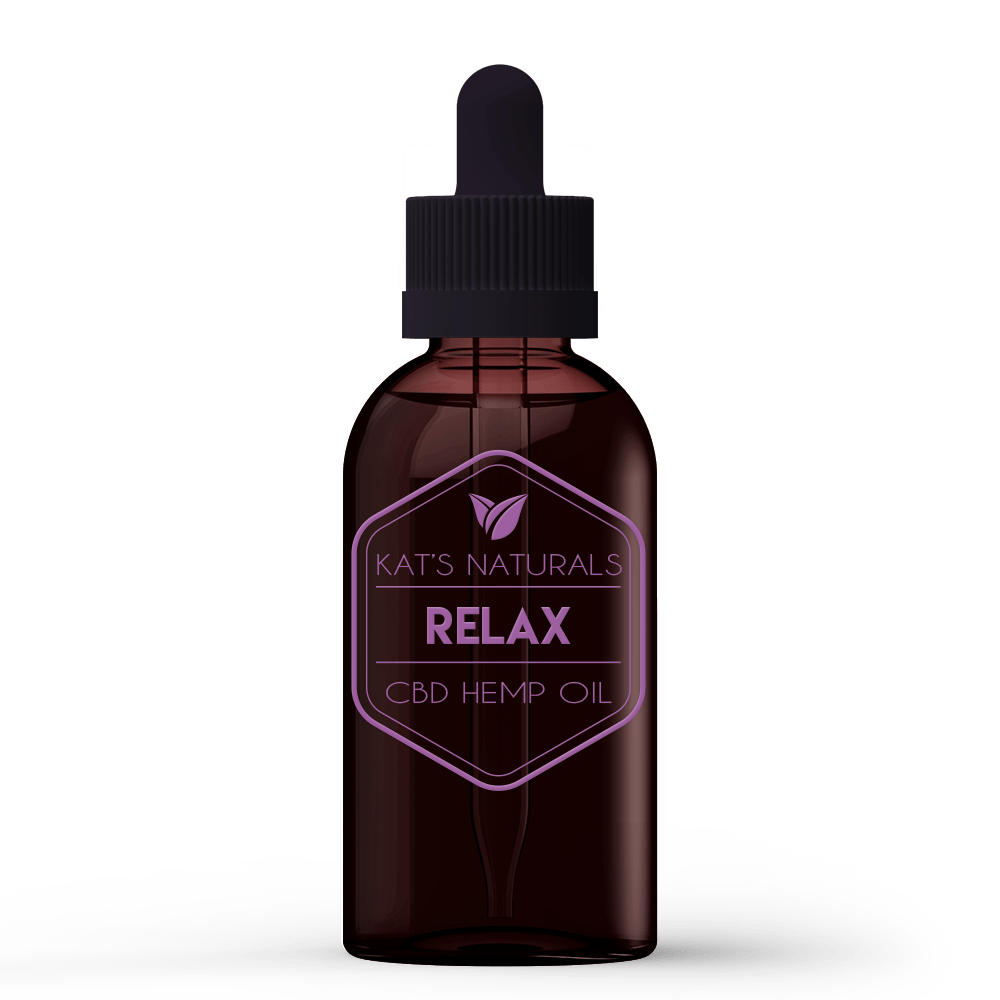 Kat's Naturals "Metabolize" CBD oil drops: (500mg of CBD per ounce)
A medium potency blended with sweet essential oils of lemon, ginger, peppermint, grapefruit, and cinnamon, formulated to aid in helping appetite and boosting metabolism. Similar to the effects of "Balance," this product is created to aid in someone with a healthy lifestyle and made to support the regulation of a nutritious diet. This product is available in a 5ml sample size bottle, 15ml bottle, and a 30ml bottle. This is also another great solution for beginners since the CBD concentration is medium. And yes, our Kat's Naturals coupons apply here as well.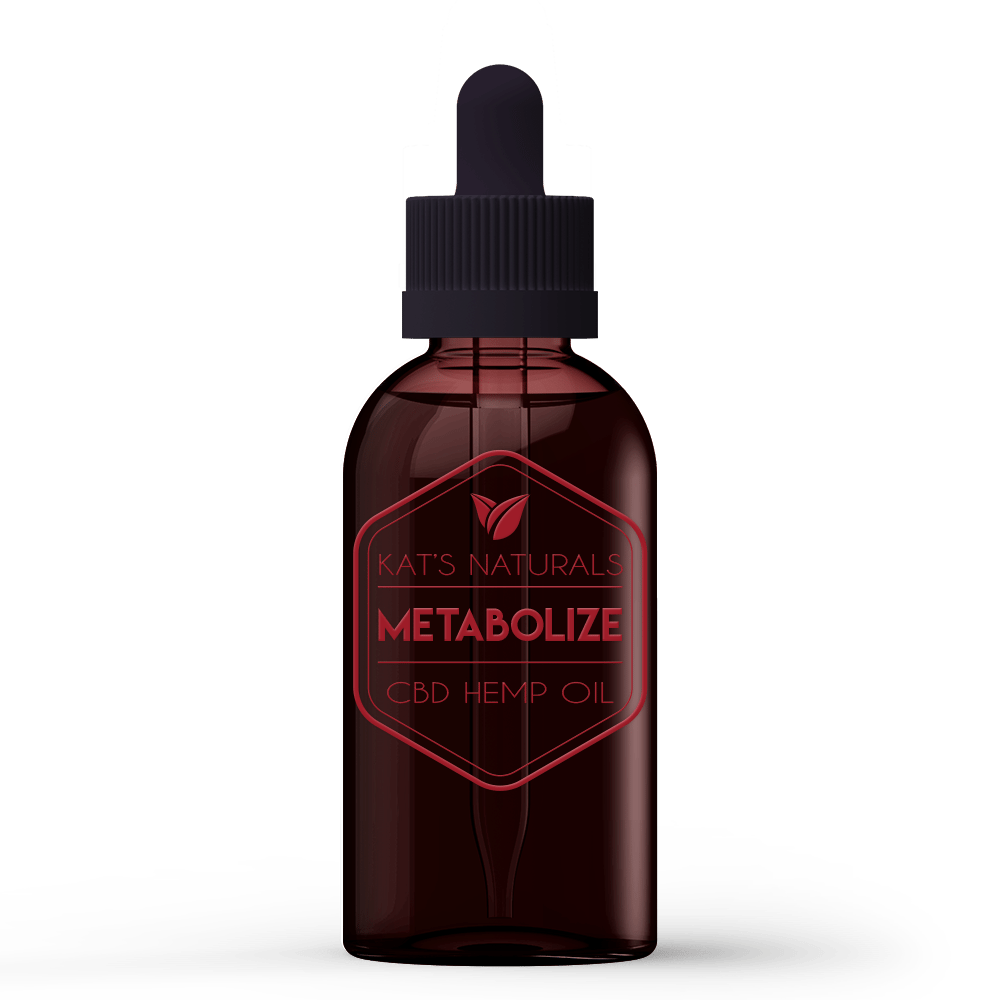 CBD Pain Cream
This pain cream comes in different sizes costing between $45.00 – $160.00. Our Kat's Naturals coupon codes typically knock off 20% on these. The CBD is extracted through critical CO2 extraction from American grown organic hemp. It is THC free and not full-spectrum. It contains 350mg of CBD per ounce and uses a base of avocado and almond butter, emu oil, hemp seed oil, arnica, and numerous essential oils. It is ideal for addressing back pain and muscle cramping. All of Kat's Naturals products come with a CoA certificate.
Capsaicin Cream
This cream contains CBD in a base of avocado and almond butter, emu oil, capsaicin infused oil, with ginger, black pepper, juniper, marjoram, and rosemary essential oils. It is THC free and has no added terpenes. It is useful in relieving pain from skin conditions, joint pain, cluster headaches, and other skin problems.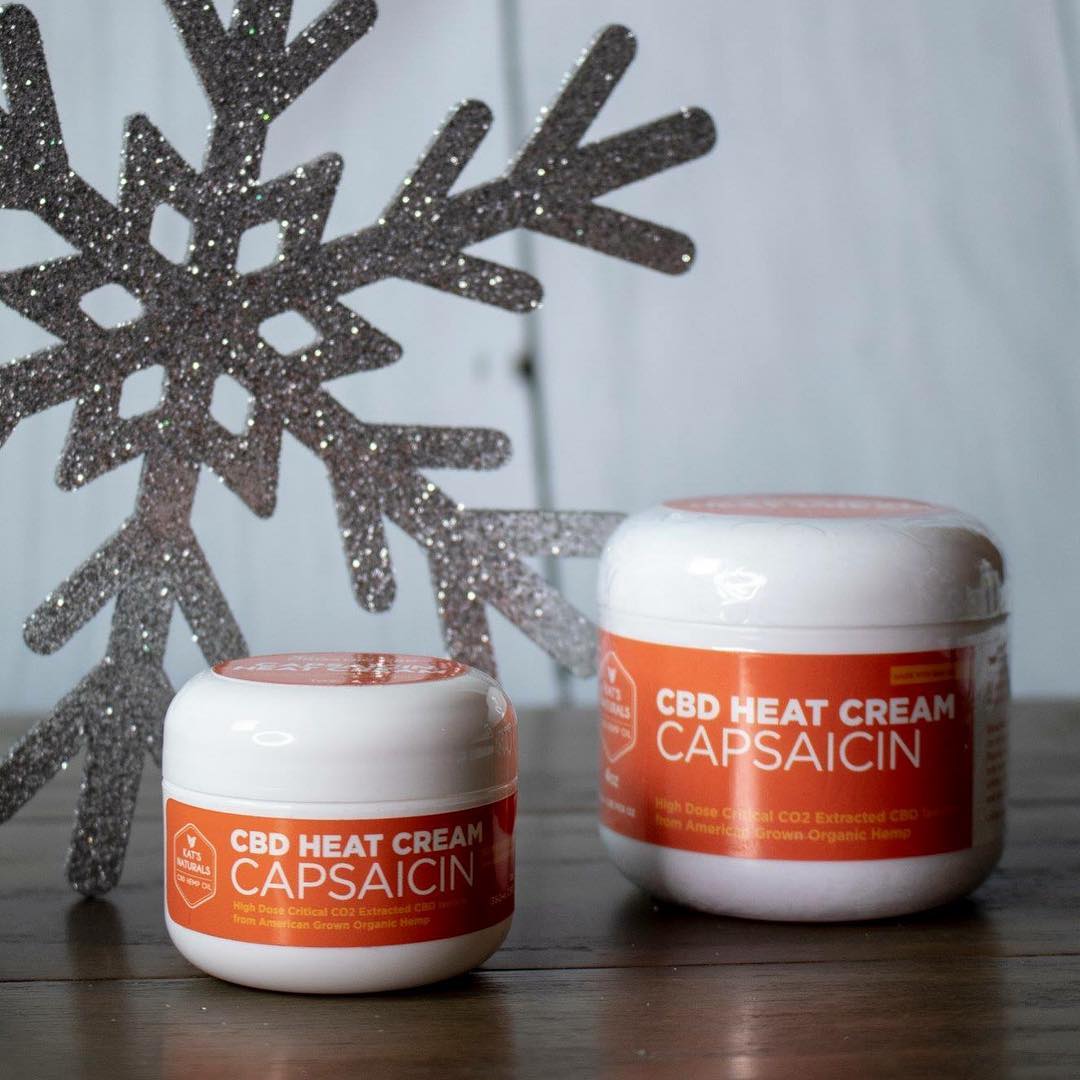 Skin Serum
The skin has the largest concentration of CB2 receptors in the body, which means that CBD exerts its effects rapidly through the skin. This skin serum is useful in maintaining a youthful complexion, healing and toning the skin epidermis. It can also kill bacteria, reduce inflammation and protect the dermis from toxins in the environment. It contains essential oils such as chamomile, carrot seed oil, argan oil, rosehip seed oil, pumpkin seed oil, and lavender.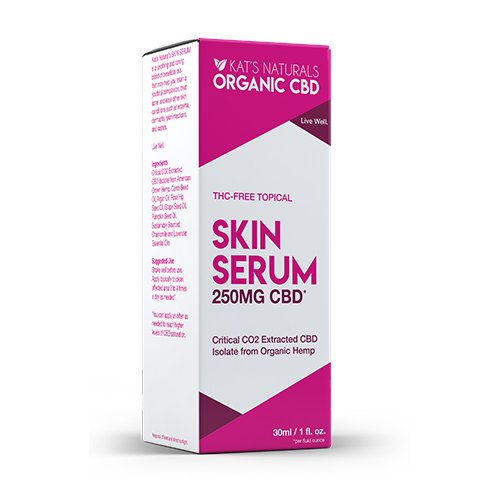 Activated Hemp Flower
This decarboxylated full spectrum hemp flower contains 100mg CBD per oz. It is ideal for the treatment of digestive disorders, pain relief and providing a calming effect. It can also be added to smoothies, granola, and other baked foods to enrich them with the therapeutic properties of CBD. The full spectrum flower is mixed in a coconut oil base.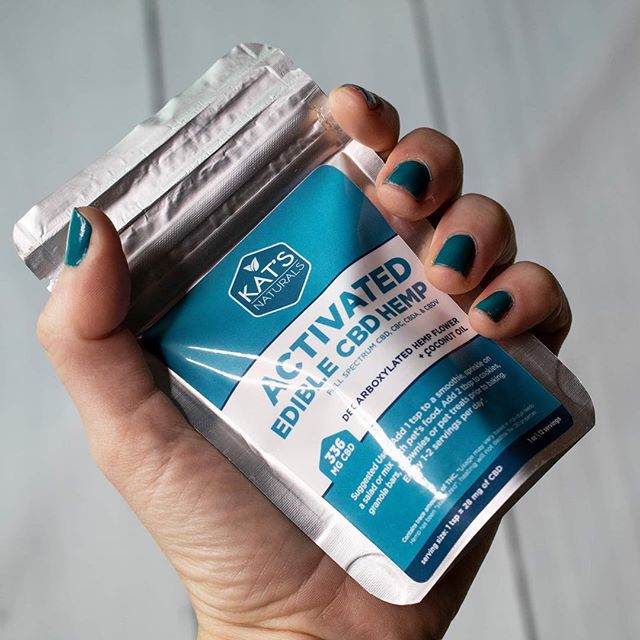 Kat's Naturals CBD Dosage Recommendations
We suggest that you take 3-5 drops 3 to 4 times a day or maybe more depending on your tolerance unless otherwise stated and depending on the potency of the product you decide to purchase. If you are apprehensive about using CBD oil a good way to build comfort is just take 2-3 drops twice a day for a week. You can increase this to 3-4 drops, then 4-5 drops weekly to find your sweet spot. It is best if you don't use the product on an empty stomach. The quality of the products are guaranteed, but the potency of CBD can have you take higher doses depending on your level of tolerance and experience. This is why we suggest ordering the larger size after you have decided that Kat's is the right choice for you. Compared to other products Kat's is known to be higher in price due to its higher quality and providing higher concentrated CBD oils. That said, Kat's Naturals coupons are offered to help alleviate the prices. This was one of the first brands I tried and it left a good impression. Remember, some Kat's Naturals products are full-spectrum meaning there are trace (legal) amounts of THC but there's way too little for you to get high.
Kat's Naturals Certificate Of Analysis
Anytime you purchase CBD oil online, you'll want to make sure there's a Certificate of Analysis. This is a 3rd party lab test result that shows you what exactly is in each product you purchase. These tests are available on the website and you'll be able to search them by product and category. Your actual product will have the batch number on it so you'll just want to click the link on Kat's Natural's website. This hasn't always been the case with them but after checking the site on 5/28/2019 you can find and evaluate the latest batches. You can also scroll all the way down and check stats like CBD per ml, ingredients, and more for specific products. The photo below is an example.
Kat's Naturals Pros
Offers CBD Isolate (0% THC)

Highest quality hemp oil

Tastes good

Pure Essential Oils

Kat's Naturals coupon codes available
Kat's Naturals Cons
Higher than average prices

No free shipping
How To Redeem A Kat's Naturals Coupon
One of the advantages of shopping Kat's products online is that they often offer coupons that range from 15% up to 30% off depending on the time of year (i.e. Black Friday or Christmas). In order to redeem the offers, you'll want to click "Get Coupon" at the top of this page for whatever current offer you see. Copy the code and a new window pops up where you can shop products. After choosing your CBD items, you'll go to your cart and see a "coupon code" box. Simply paste the code in that box and you'll see your price drop!
Contacting Kat's Naturals
One of the pros about this brand is that they have live chat via facebook messenger. You can also contact them via email or by phone.
PO Box 442
Dunlap, TN, USA 37327
support@katsnaturals.com
(888) 499-7880
Disclaimer: The following reviews are made by consumers. Kat's Naturals has not reviewed and therefore doesn't endorse, support, or approve the reviews or recommendations left by consumers. These statements have not been evaluated by the FDA. Kat's Naturals products are not intended to diagnose, treat, cure, or prevent any disease.
11 Kat's Naturals Reviews
Mike

I've tried a few different CBD oils and thought these ones taste really well. I tend to wake up in the middle of the night a lot and CBD oil has helped me get a better night's sleep. 2018-06-15 04:23:55

Elizabeth

I bought the Heal oil. It kind of tastes like a breath mint so I wouldn't mix it with anything. I love it though because it completely calms my nerves. The small tincture is pretty expensive, I realized later if I bought a larger one I would get more for my money. 2018-07-20 17:40:06

Carolina

I agree with the other comments the CBD oil tastes good but this stuff can be expensive and you can go through it fast!! 2018-10-08 05:56:28

Stacy

Your products are amazing. I have been using them for almost a year and tonight shared my experiences with several nurses and doctors while administering heal to my mother in the hospital. They were all impressed with my results and I shared your site ... I hope it brings you some orders. 2019-08-26 13:14:34

Mr. Mike

Great product. Great company. I sleep pain free and deeply. 2019-09-17 13:48:02

Jonnye

I love heal for calming and relaxing. My husband has dementia and gets overly excited at times and 5 drops calms him down. Also helps with pain. I love it! 2019-09-24 08:46:42

Penny

I like dealing with this company Kat's naturals. I trust them, prompt delivery, proud of their product, because I know that those that use it or benefit from that if they keep on using it they will find that it does change the way they feel, except pains in their bodies, and probably things that will not even know about. People are always asking me where do I get my energy, and I my ability to be so active walk 3 miles a day do you my house chores take care of my husband cook three meals a day and an active woman at the church I'm 76 years old and I'm feeling better today than I have most of my life. If you haven't tried it just try it for a month and see what happens. I have my daughter-in-law that has lime disease and she had to use it for a month before she could tell a difference. Others can tell the difference in a day sometime weeks. Just try it. 2019-10-04 06:15:07

Lisa

I take the metabolism formula of Kat's Naturals. I like the fact that it does not make me sleepy and it helps me through my work day. I took it while detoxing off a pharmaceutical medication and I believe I would have had worse symptoms had I not taken it during that very difficult and painful time. I still have rough days. I have health problems and my life is not perfect but I do believe Kat Naturals products have helped improve my quality of life...Thank you Kat Naturals! 2019-10-25 02:14:05

Elaine

I absolutely love the cbd cream!!! Works really well for arthritis. 2019-12-02 12:27:11

Kimberly

I am a returning customer, I love Heal and Pure, they have truly changed my life! Love them! 2019-12-28 01:13:52

Anna

I got the dark chocolate hemp and an oz. of activated edible CBD hemp and love both! Both top quality and enjoyable. Thanks for the coupon code CBD Nerds!! 2020-02-27 12:27:35