Palm Organix
(5)
Palm Organix Coupon + Reviews
A top rated all-natural CBD oil company on a national scale, Palm Organix constantly makes an effort to stop the one-size-fits-all attitude that many other CBD brands take on CBD usage. The world of CBD can be a confusing one, and Palm Organix has made it their personal mission to help you navigate the waters. In this full Palm Organix review, we'll discuss all the things that make the company unique, what they have to offer, and the pros and cons of shopping with them. We'll also have an online coupon for you to use if you end up wanting to snatch up one of your own CBD products from them.
What's Unique About Palm Organix?
USA Made, organic hemp extracts, pharmaceutical grade, non-GMOs

Offer a 100% THC free CBD oil

Known for Sleep Softgels and Pain Softgels

They have a 12-point checklist of strict, rigorous standards for quality

Palm Organix coupon code saves an additional 15%
Palm Organix Products
Palm Organix may just have the perfect variety of products to keep people coming back to their website for more. If you're interested in trying CBD, you may be interested in their tincture or gummies. If you've been around the CBD world for some time and are looking for something new, we recommend their CBD energy drinks. All these products are 100% safe to consume and are made with phytocannabinoid-rich hemp extract.
CBD Salve
Proudly made in the USA, the Palm Organix salve is a pharmaceutical-grade CBD salve at a strength of 500MG. The ingredients are written largely on the back of the bottle, offering instant peace of mind about what you're putting on your skin. The directions were to apply small amounts to the skin and rub in thoroughly, using as needed throughout the day. It appears to help most with chronic pain if there is a pain in specific parts of the body, inflammation, and mild muscle relaxation.
The feeling eventually relieves aches and pains, while the eucalyptus and lavender essential oils fill the room with aromatic fragrances. The lavender and eucalyptus can help to further stimulate sleep, beneficial for those with insomnia as much as those with chronic pain or inflammation.
Things to note for the salve are that its 500MG of their full-spectrum hemp oil – not 500MG of pure CBD. You'll need to keep that in mind, as the CBD is the cannabinoid that interacts with the CB receptors throughout the body and brain. While the other cannabinoids in full-spectrum CBD products have been shown to either enhance or help the effects of CBD, the amount of CBD in the product is what matters, overall. We still observed the essential relief we were looking for, though.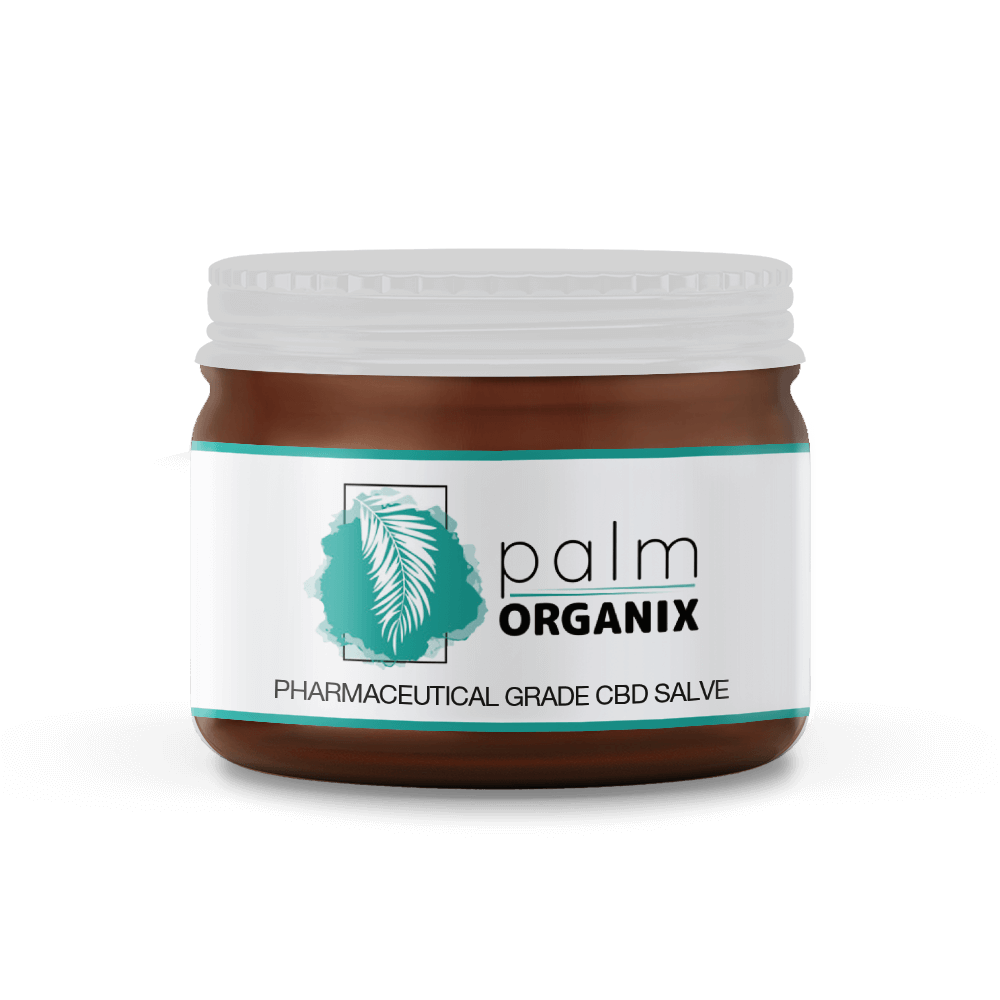 CBD Softgels
Palm Organix appears to currently offer four types of CBD soft gels, each engineered to help with different symptoms or stimulate various effects. The 300MG bottle is just the more diluted version of the 750MG bottle. The 300MG breaks down to only 10MG per soft gel, while the 750MG bottle holds 25MG softgels.
The other two softgel products offered are ones designed with a specific condition or symptom in mind. The CBD Softgel | Sleep is engineered for sleep, while the alternative is designed for chronic pain. They're both 25MG softgels, but the Sleep line is formulated with melatonin to stimulate a relaxing goodnight sleep. The Pain line, on the other hand, is additionally formulated with curcumin, which is an old natural remedy for certain types of pain.
The serving size is one softgel, as they're designed to provide the most enhanced and consistent absorption process even on a full stomach. Quality is confidently guaranteed across their softgels just as much as any of their own products – if you're not 100% satisfied, you can return the product within 30 days of receipt.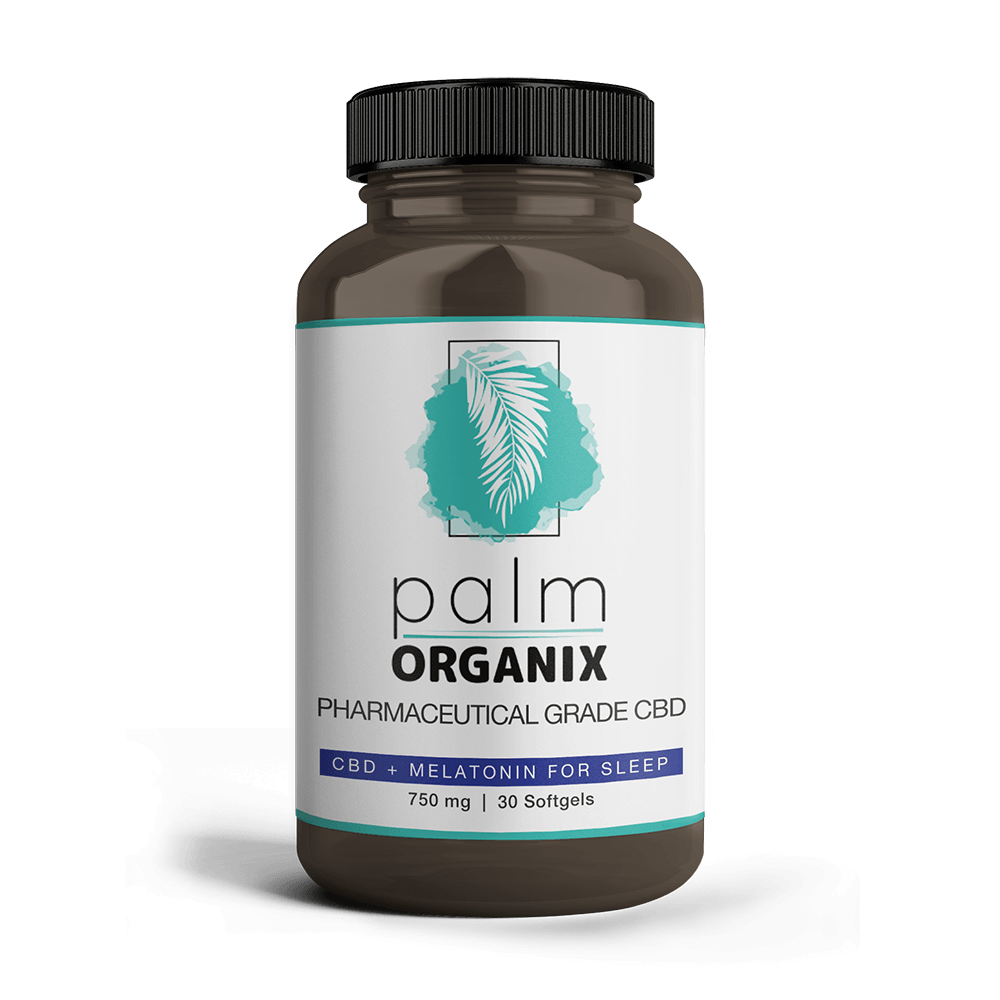 CBD Gummies
Palm Organix currently offers three different options when it comes to their delicious CBD gummies; a 200mg count (with each gummy containing 10mg) offered in a 1-pack, 2-pack, or 3-pack. The price decreases per pack the more you purchase.
Made from cannabinoid and terpene-rich hemp, Palm Organix's CBD gummies provide you with all the pain relief you've been looking for. To take things further, these gummies are made with natural flavorings to provide your tastebuds with a berry punch.
CBD gummies are one of the most popular consumption methods for CBD users. And for good reason! Gummies are an easy way to consume cannabidiol and provide users with a familiar experience. If you're new to the CBD industry and are looking for a product to get started with, look no further than Palm Organix's phytocannabinoid-rich CBD gummies.
CBD Energy Drink
One of the most unique products Palm Organix offers is a CBD energy drink. These are great for those who are in need of pain relief all day and want something to wake up to. Each packet of energy drink contains 75mg of caffeine (almost the average of a cup of coffee) and 12mg of hemp extract.
Beyond helping to boost your energy, one of the benefits of mixing caffeine with CBD is it aid your focus. So, if you're looking for a new way to start your mornings, something to really get you going for a work shift, you may want to check out these CBD energy drinks. Not to mention, they come in a berry flavor which we found absolutely delicious!
All of Palm Organix CBD energy drinks contain zero THC and zero calories. You can 1 box (containing 5 packets) for just $19.99.
CBD Pet Products
Of course, Palm Organix couldn't forget about our furry friends! They currently offer two different kinds of pet products, tincture and pet treats. We found both of these to be ideal for either dog or cat owners are they are 100% safe and will provide your pet with plenty of CBD.
CBD works all the same within humans as it does within animals. This is due to the fact that we both have an endocannabinoid system (ECS) that works naturally with the cannabinoids found in the cannabis plant. The only major difference between pet CBD products and human CBD products is the CBD strength is lower as pets don't need as much of a dose in order to feel the effects.
Palm Organix's CBD Pet Tincture and CBD Pet Treats both cost $34.95. The pet tincture comes with a total of 225mg of CBD and the pet treats come with 60mg of CBD (2mg per treat).
CBD Tinctures
Finally, there are three strengths of milligrams for the line of tinctures from Palm Organix: 250MG, 500MG, and 1,000MG. All strengths come in the standard flavor for the CBD brand, which appears to be Mint (which turned out to be fairly tasty!), but the 500MG also has an orange flavor to throw out a bit of variety.
The best part of the tinctures is the versatility of use for them. While it's easy to consume softgels or apply salve to the skin, it's just as easy to add just a few droplets of minty delicious flavor into my beverage. Not only does it improve the flavor composition of the beverage, overall, but it also can be used sublingually (or directly under the tongue). Just apply a few drops under your tongue, wait about thirty seconds, and make sure it's absorbed fully into the bottom of your mouth.
This provides, arguably, the best type of absorption into the human body, allowing you to feel effects at their most enhanced in the fastest amount of time. Dosing sublingually is easily one of the fastest ways to get CBD and the other cannabinoids that come alongside it in full-spectrum hemp oil into the bloodstream. Use our Palm Organix coupon code to save on these.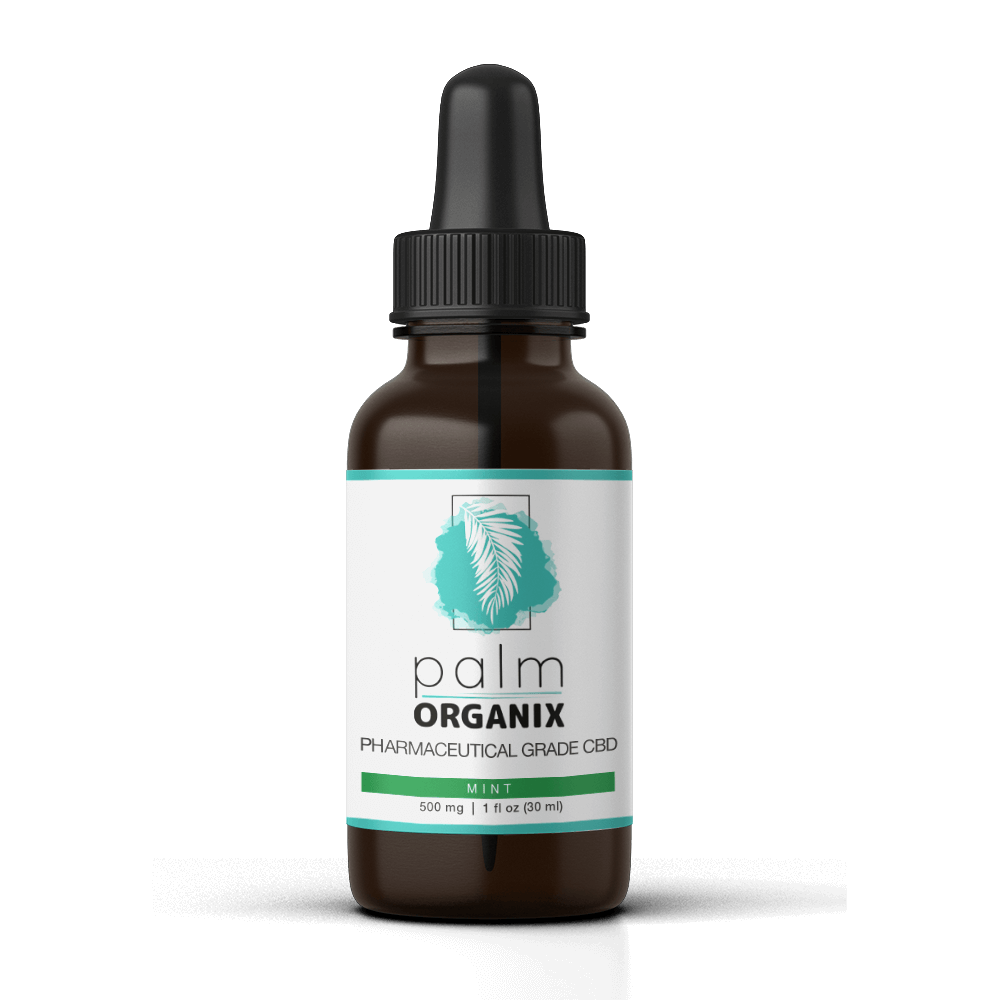 Palm Organix Dosage Recommendation
CBD currently isn't regulated by the FDA and, with that, there are no standard dosage recommendations. What we tell all newcomers is to start off small and work your way up. This will give you an idea of how CBD makes you feel and how much you'll need to meet your desires.
When dosing yourself with CBD, keep the following in mind:
Ailment - You've bought CBD for a reason. You're looking to cure or relieve a specific ailment that's disrupting your life. Consider how strong this ailment is and how much CBD you'll need in order to relieve it. For example, those struggling with chronic pain are going to want to take more CBD than those suffering from mild pain.

Bodyweight - CBD works all the same as any other supplement in the sense that your body weight determines how much you should take. The more you weigh, the more CBD you'll need. Depending on your ailment, you'll want to take 1 to 6 mg of CBD for every ten pounds you weigh.

Strength - How strong is the CBD you're taking? If you have a bottle of CBD oil that contains more milligrams (mg) of CBD in comparison to others offered by Palm Organix, then each dose will also provide you with more.
Keep in mind, our bodies develop a natural tolerance to CBD. This means if you take cannabidiol frequently, you're going to need to up your dose over time in order to feel the initial effects.
Palm Organix Certificate of Analysis
When you purchase CBD, it's important to make sure the CBD product comes with a certificate of analysis (or a lab result). A certificate of analysis details information of the CBD found within a third-party lab test. These tests check various aspects of the CBD, including its purity, the cannabinoid and terpene count, and whether or not it contains any contaminants, such as pesticides and heavy metals.
If you're looking for Palm Organix's lab results, you'll find it under the drop-down menu "CBD Education" on their website. This will guide you to a list of various lab results from specific batch numbers. In order to find the results of your CBD, simply look for the batch number on the label and find the corresponding number through this section of Palm Organix's website.
Each lab result will look like the following image:
Palm Organix Pros
Softgel option makes it easy to treat symptoms even if you don't want to taste oils

Stringent 12-point checklist of standards ensures the utmost quality of CBD products

Free shipping on all orders

NO RISK 100% satisfaction guarantee within 30 days of receipt

Palm Organix coupon codes offered
Palm Organix Cons
Not evaluated by the FDA, as with all CBD products

No worldwide shipping – Palm Organix currently only ships their U.S.-made CBD products domestically to all 50 states
Overall Thoughts on Palm Organix
If you're looking to improve your health and wellness through an all-natural alternative, look no further than Palm Organix. Their high-quality United States-grown hemp product are some of the best to improve your overall health and well-being.
As discussed, we really appreciate the variety of quality products Palm Organix has to offer. From mint tinctures to broad-spectrum energy drinks will keep you coming back for more and more.
Palm Organix places importance on providing their customers with quality hemp extract that always run through third-party lab testing. This quality can be tasted and felt through everything from their CBD oil products to CBD softgels.
If you're interested in purchasing any of Palm Organix's products, we invite you to use one of our coupon codes.
How to Use a Palm Organix Coupon Code
In order to use one of our Palm Organix coupon codes, you'll first need to make a selection from the variety of products on their website. Once you're in your shopping cart, you'll have the option to type in a coupon code in the lower left-hand corner, under your selected product(s). Simply type in one of our codes, hit apply, and you'll see your savings instantly.
Disclaimer: The following reviews are made by consumers. Palm Organix has not reviewed and therefore doesn't endorse, support, or approve the reviews or recommendations left by consumers. These statements have not been evaluated by the FDA. Palm Organix products are not intended to diagnose, treat, cure, or prevent any disease.
5 Palm Organix Reviews
Amanda

Whether teaching tennis or competing professionally, Palm Organix™ CBD products keep me in the game, on and off the court. The mint tincture is my favorite and also a great smelling salve. 2019-09-13 15:34:50

Harry

Having been very physically active for my entire life (I will be 70 this year), I was discouraged and disappointed when I began to start slowing down. After starting Palm Organix products I have been able to return to my favorite activities like hiking, biking, playing racquet sports, and workouts in the gym. 2019-09-28 02:31:09

Trinity

The taste of this oil is fantastic. 30 minutes after taking my first ;dose I already felt less anxious. It is very effective and worth every penny. 2019-11-23 01:25:27

Jesse

After a hard day of racing or riding, it's the only thing I look forward to using Palm Organix CBD products. 2020-02-10 12:21:26

John

I have a torn mcl and need surgery but have put it off for quite a while and Palm Organix products really makes it so much easier. They have drops that you take sublingual (tinctures), creams, and more. Everything I've tried so far has been amazing and I plan on being a long term customer of theirs. Thank you! 2020-04-04 09:14:18