Palmetto Harmony
(8)
Palmetto Harmony Coupons + Reviews
Palmetto Harmony is a retailer of natural essential oils and only sells organic products. They offer hemp oil that contains full-spectrum CBD. Their products are legal, safe, and do not get you high. Their products are all third-party lab tested by an ISO certified lab. This is to ensure consistency and safety in all products. According to their website, their products are all derived from organically grown hemp that doesn't include any pesticides or harmful microbial. As of May 3, 2019, Palmetto Harmony became the first vertically integrated CBD company to be Certified Organic.
Harmony's Story
Palmetto Harmony is a family-owned business that was developed around a child by the name of Harmony. She was born with a genetic condition called "smooth brain" which causes significant seizures. Unfortunately, modern medicine doesn't cure the condition. This lead her mother Janel to look for natural solutions to help her daughter. In 2015 the company Palmetto Synergestic Research LLC was created. Today the company, a true family-run organization, creates full-spectrum. Harmony now takes 90% less pharmaceutical medication and can enjoy a much higher quality of life.
Palmetto Harmony Products
Organic Hemp Oils
They offer two different strengths of full-spectrum cannabis oil, the popular 100ml which retails at $220 and the 30ml which retails at $90. Buying the 100ms definitely saves you some money. This oil is derived from organic whole-plant cannabis extract and contains a broad terpene profile. It contains no artificial flavoring or additives. For consumption, place a few drops under the tongue and leave for 15-30 seconds before you swallow.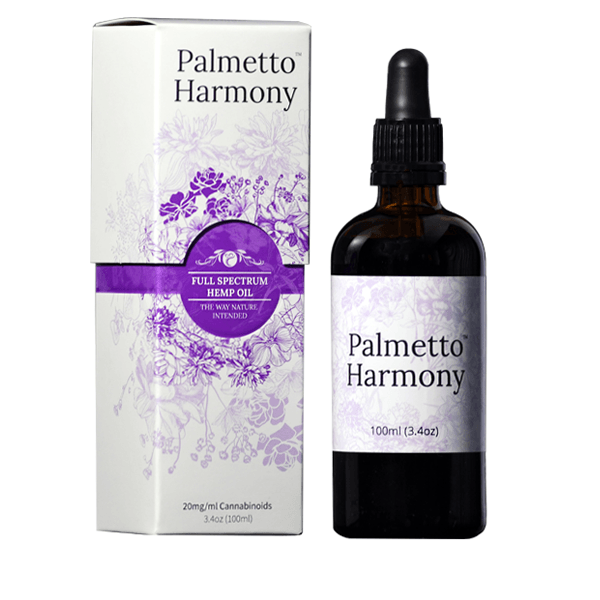 Topicals
They offer a full spectrum transdermal patch with 30mg of CBD, it is sold online at $19. The patch is designed to released small doses of CBD at intervals, but it has no chemicals added which makes it very safe for the skin. The patch lasts up to 12 hours and it contains menthol, camphor, methyl salicylate, mineral oil oleic acid, and 30mg of hemp cannabis extract. They also offer a topical Psorian Cream made out of Organic East African Shea Butter, Beeswax, Gotu Kola, Comfrey Root, Calendula, Marshmallow Root, Lavender, and hemp oil. The concentration is 100mg/2oz jar which sells at $39.99. It needs to be stored at 75 degrees or below because it liquefies when exposed to higher temperatures. Lastly, they sell a topical cream, Holy Cannacense, made out of Organic East African Shea Butter, hemp oil, Holy Basil, and Frankincense.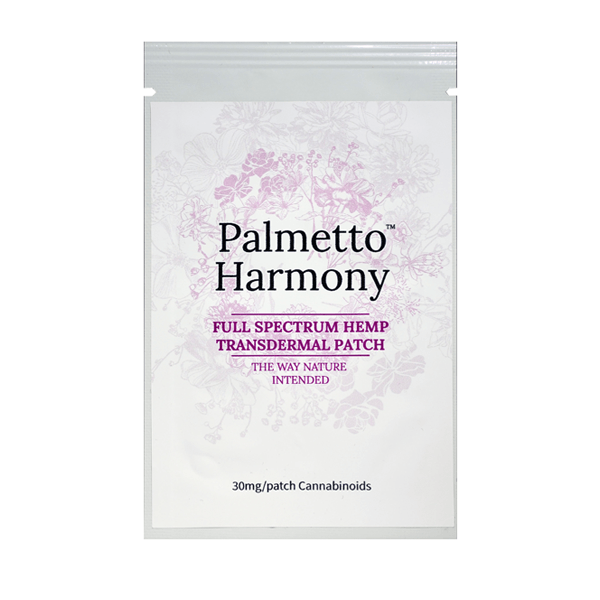 Palmetto Vapes
The Palmetto Aura vape oil is packed in a 15ml bottle and is best used to calm the mind and soothe inflammation. They also sell a ceramic coil pre-filled vape pen that comes filled with the Palmetto Aura vape oil. The pen is rechargeable and reusable. It is also inbuilt with firing protection and low voltage protection features. The pen sells at $19.99. You can use one of our Palmetto Harmony coupon codes to save 10% on these vapes.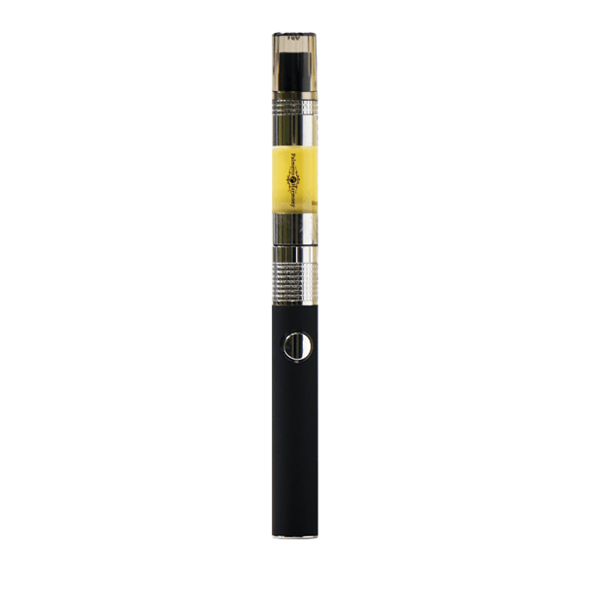 Palmetto Harmony Capsules
The Palmetto Harmony 60 count spectrum capsules are packed with antioxidants and omega 3, 6, and 9 fatty acids. Each capsule contains 10mg of CBD. The Palmetto Harmony Spectrum Suppositories are ideal for quick absorption and work as a strong anti-inflammatory. This unique delivery method provides greater bioavailability. It is available in a 7 count pack with each suppository containing 10 milligrams of cannabinoids along with a wide variety of terpenes.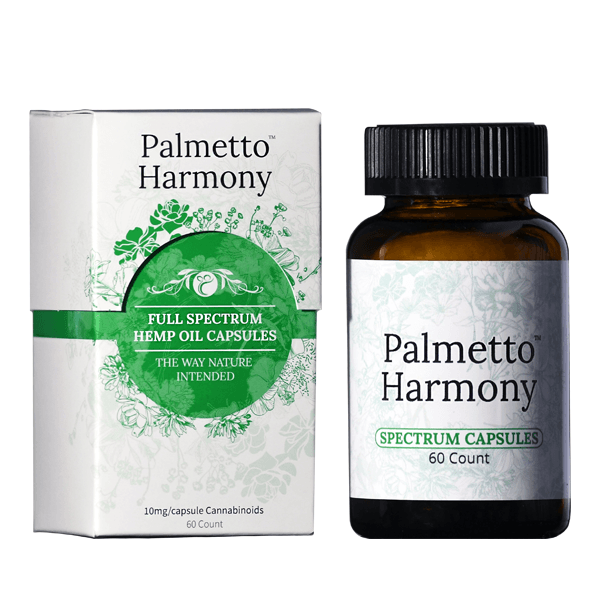 Palmetto Pet products
Palmetto paws come in 30mls and 60mls and are ideal for both cats and dogs. It is a whole plant extract infused into fractionated coconut oil and contains a broad terpene profile with 20mg of cannabidiol in each ml. It contains no artificial flavoring or additives. These products are safe for your pet and won't get them high.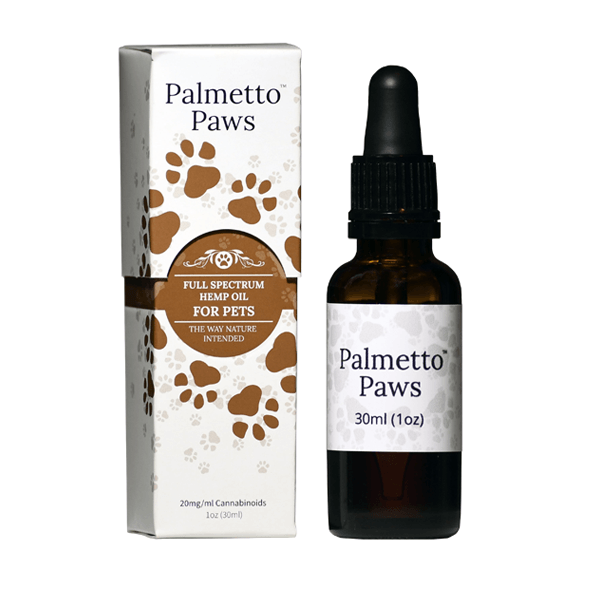 Palmetto Harmony Dosage Recommendation
When it comes to finding the right dosage for you, you'll want to keep in mind the strength of the CBD oil, the amount of ailment you're in need of, and your body weight. These three factors all play a major role in determining the right dosage for you. What we suggest is starting small - a drop or two of 250mg - and working your way up. This method will give you the opportunity to understand how Palmetto Harmony's CBD products make you feel and where your sweet spot is. If you're using CBD for the first time and in need of severe ailment, we suggest starting a bit higher - 3 to 4 drops of 250mg.
Palmetto Harmony Certificate of Analysis
In order to verify your CBD is quality and contains little to no containment, you'll want to make sure the cannabidiol is reviewed by a third-party laboratory. Reputable CBD companies will offer the results of these lab tests somewhere on their website. Palmetto Harmony takes 3rd-party testing to an even more transparent level. Through their website, you have the option to find the exact test results of your CBD product. First, you'll want to check the product and the "batch number" on its label. Then, through Palmetto Harmony's Batch Report page, you can type in that batch number and get your CBD's results.
Palmetto Harmony Pros
All their products are third-party lab tested (by an ISO certified lab). Every batch is tested for not only cannabinoid content and terpenes, but also mold, pesticides, heavy metals, microbial, herbicides, and residual solvents. Lab results are available on request.

Their plants are grown with one hundred percent organic practices; they only use combative pests instead of chemicals like pesticides.

Palmetto Harmony coupons available for 10% off

Have a wide range of full-spectrum products including transdermal patches, suppositories, and pet products

Offer free shipping on all products within the US
Palmetto Harmony Cons
No shipping outside of the US

Not FDA approved
How To Redeem A Palmetto Harmony Coupon
One of the advantages of shopping Palmetto Harmony products online is that they often offer coupons that range from 10% up to 20% off depending on the time of year (i.e. Black Friday or Holidays). In order to redeem the offers, you'll want to click "Get Coupon" at the top of this page for whatever current offer you see. Copy the code and a new window pops up where you can shop at Palmetto Harmony. After choosing your legal CBD items, you'll go to your cart and see a "coupon code" box. Simply paste the code in that box and you'll see your price drop!
Disclaimer: The following reviews are made by consumers. Palmetto Harmony has not reviewed and therefore doesn't endorse, support, or approve the reviews or recommendations left by consumers. These statements have not been evaluated by the FDA. Palmetto Harmony products are not intended to diagnose, treat, cure, or prevent any disease.
8 Palmetto Harmony Reviews
Henry

This is a very legit brand with high quality CBD oils. I've seen less expensive products out there though. 2019-01-21 21:37:55

Jessica

My husband has the worst knee pain, they are planning surgery in his future... but their rub is like magic! He used it the other day before laying down for bed and about ten minutes later he ripped off the blankets and started rubbing his knees shouting, "it worked it worked!" Soooo guess it works pretty good! 2019-08-08 13:23:43

Gina

Awesome products. Customer support people very friendly and helpful will be going back for more CBD oil. 2019-09-03 09:25:00

Melissa

I started vaping their CBD oil about 4wks ago in hopes that it would help with my chronic costochondritis, I have suffered for years and can no longer take ibuprofen due to the wear and tear on my stomach. I was so happy to get fabulous results from the product. I have been literally pain free since I started. I also use the topical CBD oil for a extra punch. Thank you so much for having a Great Oil that has helped me feel better!! 2019-09-25 01:53:53

Jeannette

Thank you so much for your psorian cream. I have finally found a product that has healed my plaque psoriasis. I have been using this product for one month. The thick flacky patches with deep fissures are almost completely healed! Within the first two days of use(applying 3 x day), I noticed my skin no longer felt like thousands of paper cuts. The pain was gone! Therefore, I highly recommend this product to psoriasis sufferers. 2019-10-05 11:30:20

Tamera

Prompted by Erin Elizabeth (Healthnut News), I decided to try CBD. Wow. I have anxiety due to PTSD and have tried every natural remedy available for that (from herbs to homeopathics), nothing really worked, but this Palmetto Harmony (30ml) did. Just takes that edge off without making me feel sleepy or "out of it." Often, with the anxiety, I get nauseated and lose my appetite (I'm underweight.). And, of course, it helped that immensely. Also, menopausal night sweats were making sleeping horrible – waking me often and couldn't get back to sleep. I'm not sure if the oil is stopping the night sweats, but it definitely helps me get back to sleep very, very quickly. Thanks so very much! 2019-11-01 08:05:19

Ashley

This cream is amazing! My 5 year old daughter has hemiplegic cerebral palsy and she was complaining about her hand hurting. We have been using this cream for 2 months and it's working! She is no longer complaining about pain in her joints and muscles. I love it because she still chews on her fingers and with Holy Cannacense I don't have to worry about it in her mouth. I highly recommend it! 2019-12-30 13:39:07

Janet

I have been taking CBD hemp oil for almost a month. I started taking it for leg spasms from MS. The leg spasms are much better. I have had days without any spasms. Other days I have had some but they are not nearly as intense and the duration is much shorter. I gave it 4 stars because I still have spasms but my head says it should be 5 because my quality of life has improved noticeable. I am more active then I have been in a long time. My quality of life is definitely better. 2020-02-26 07:39:37