Pure Relief
(10)
Pure Relief Coupons + Reviews
Pure Relief is a Hemp CBD retailer out of North Carolina. They focus on full spectrum CBD products that are both manufactured and distributed in the USA. They're known for offering CBD starters for beginners and focus only on all natural ingredients. Typically you'll find their CBD extracts blended with MCT oil to help the body absorb more efficiently. Although their products contain all natural terpenes, the THC count is less than .03% THC meaning you can't get high. Because of this Pure Relief can legally sell CBD and have it shipped directly to your door. We ordered some ourselves and receive a package in 3 days. Check out our Pure Relief review below and be sure to submit your own review if you're a customer. If you're looking to shop click on one of the Pure Relief coupon codes and you'll be direct to their site with a working coupon.
What's Unique About Pure Relief CBD?
Specialize in hemp derived full spectrum CBD

Products are THC free, safe, and legal

Offer a nice variety of CBD oils, vapes, topicals, and CBD for pets

Offer some of the best coupons and discounts we've reviewed

High quality pure relief gummies
Pure Relief CBD Products
CBD Oil
Pure Relief offers two types of hemp oil tinctures; mint and pure hemp oil CBD tinctures. They come in the following strengths: Mint pure hemp oil CBD tincture 250mg, 500mg and 1000mg and pure hemp oil CBD tincture 500mg, 1000mg, 2500mg and 5000mg.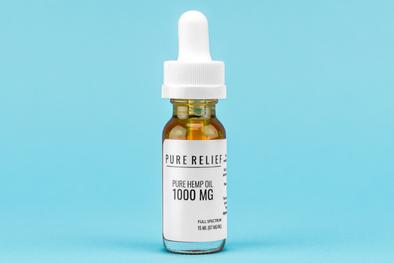 Mint pure hemp tincture 250mg
This mint flavored hemp oil is the perfect medium dosage for CBD beginners, it is easily infused into food or beverages such as teas and smoothies. It contains several beneficial cannabinoids such as:
CBD (cannabidiol)

CBG (cannabigerol)

CBDV (cannabidivarin)

CBC (cannabichromene)

CBDA (cannabidiolic acid)

Less than 0.3% THC (Δ-9 tetrahydrocannabinol)
A bottle contains 15 servings and costs $40, with each serving/ drop containing 33.4mg of CBD.
5000mg Pure Hemp Oil Tincture
For those requiring mega doses of CBD, this is the product for you. Each dropper will deliver nearly 200mg of hemp-derived cannabinoids in fractionated MCT (Medium-Chain Triglycerides) from coconut oil. For immediate effects, place 1ml of the oil under your tongue and hold for 15-30 seconds before swallowing. You can also mix this oil with juice if you're sensitive to the taste of the hemp CBD oil.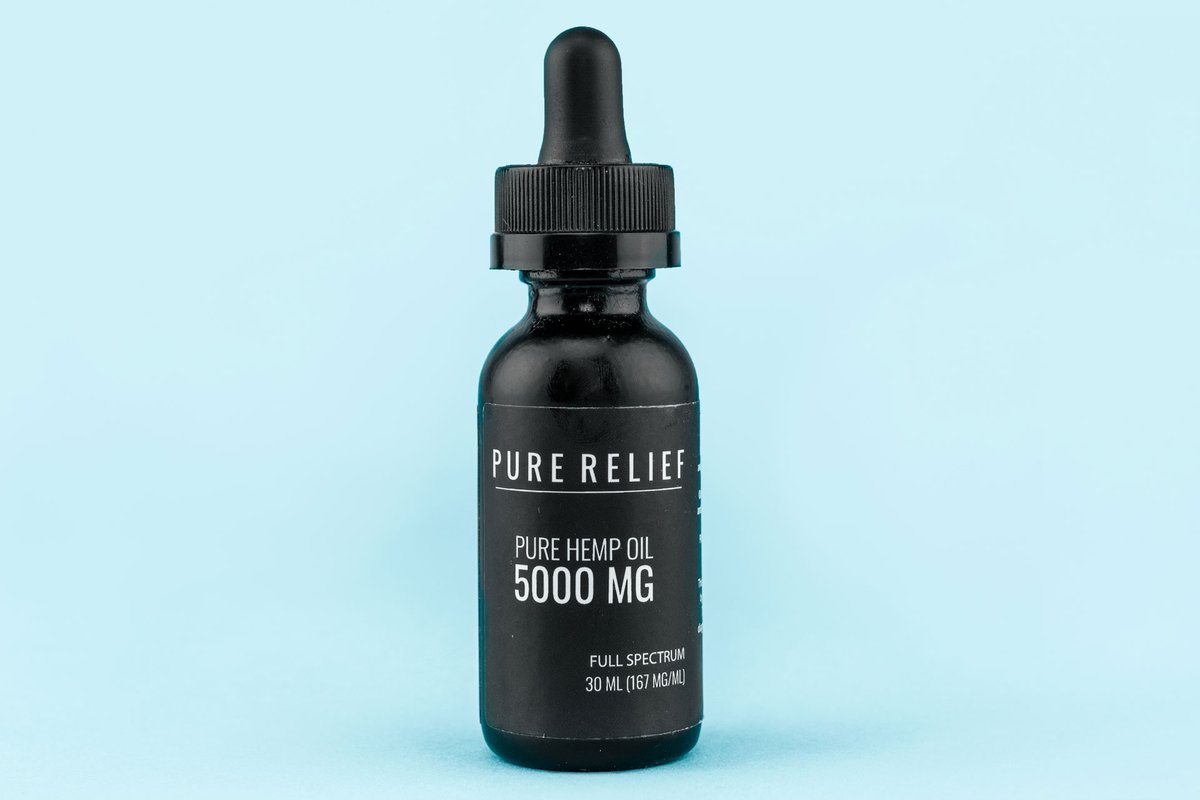 CBD Hemp Flower (Pre Roll Joint)
Pure Relief offers a collection of smokable hemp products that include CBD by the gram or CBD joints. Two pre-rolled joints are packed together and retail at $15 with each joint containing half a gram of CBD. You can save on these with one of the Pure Relief coupon codes on the right side of this page. All their smokable products are THC free so will not get you high.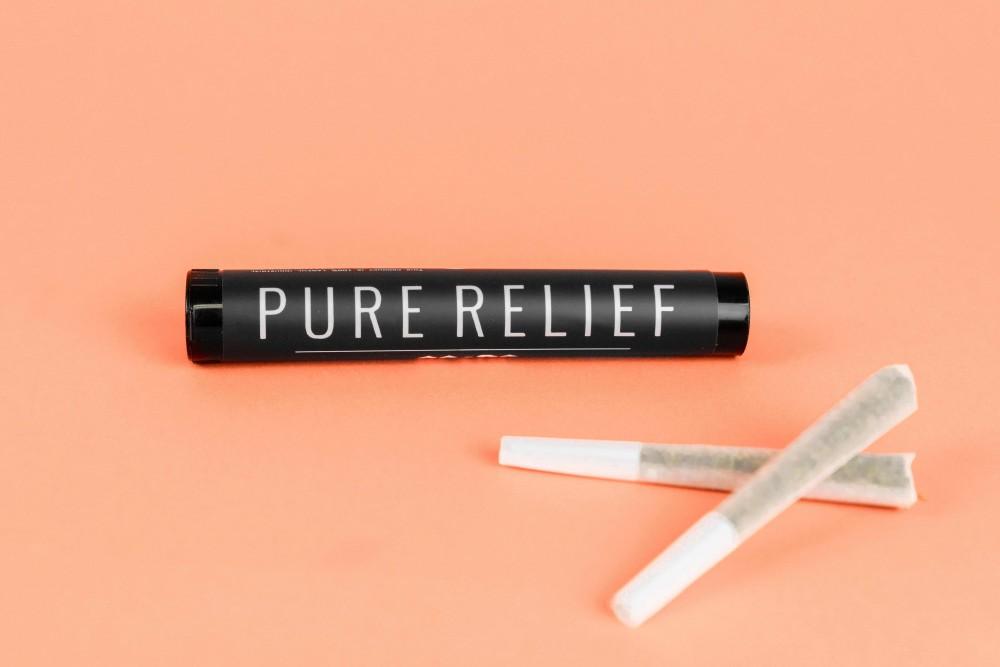 CBD Vape
Pure Relief offers vape pens, cartridges, and high-quality vape oil in a variety of flavors such as lemon haze, tangy and gelato. Their cartridges are disposable meaning that you will have to keep restocking. However, each disposable cartridge contains 200mg of highly concentrated CBD which should go a long way. They are also infused with terpenes extracted from gelato strain which give it a rich aroma and deliver full spectrum CBD benefits. They suggest inhaling for 3-5 seconds before exhaling to enjoy maximum benefits.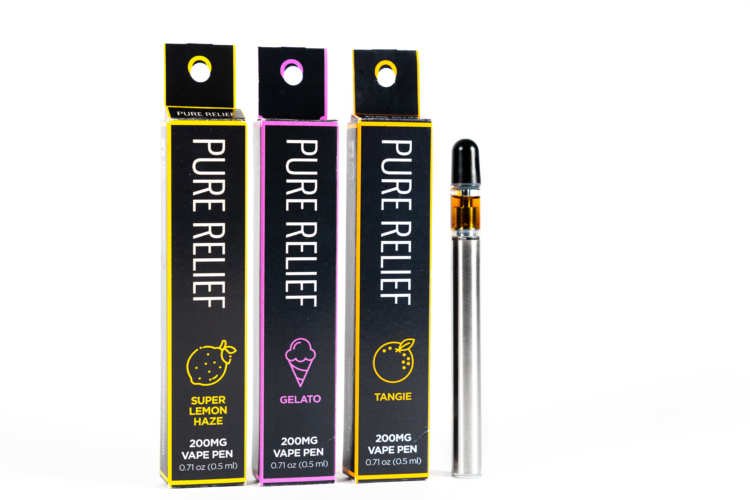 CBD Pain Salve 500mg
Pure relief offers a CBD pain salve to tackle minor aches and pains instantly. This pain salve contains hemp seed oil, olive oil, lavender, peppermint, wintergreen, eucalyptus, basil, camphor among other healing ingredients. For use, they recommend placing a pea-sized amount on your palm and massaging it onto the affected area until it dissolves. You should feel some relief in a few minutes. You can repeat this every 4-6 hours.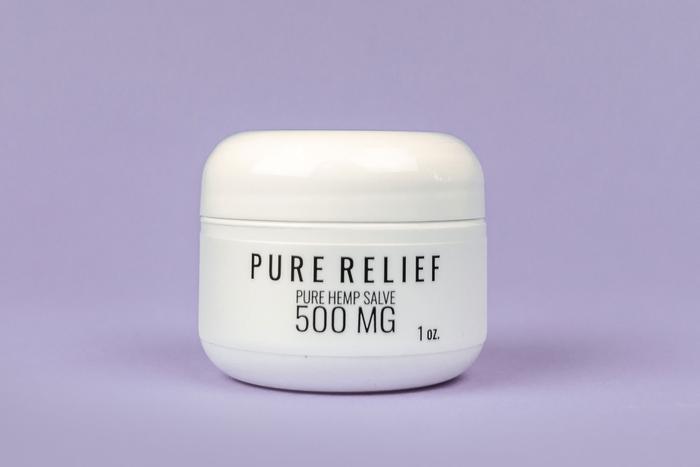 CBD Starters
Pure Relief offers free starter packs to get you started on their CBD products. The 1000 MG hemp-derived broad spectrum CBD tincture is delivered to your doorstep; you will only need to cater for the shipping cost. The tincture contains a number of cannabidiols, terpenes, and flavonoids that have been third-party lab tested for quality and consistency. One serving which is the equivalent of one bottle contains 66.7mg of pure CBD. This is a great way to try out their tincture and see if it works for you. The starter packs are basically samples for you to try. Personally, since you have to pay for shipping, I would avoid these and just go with a normal sized product.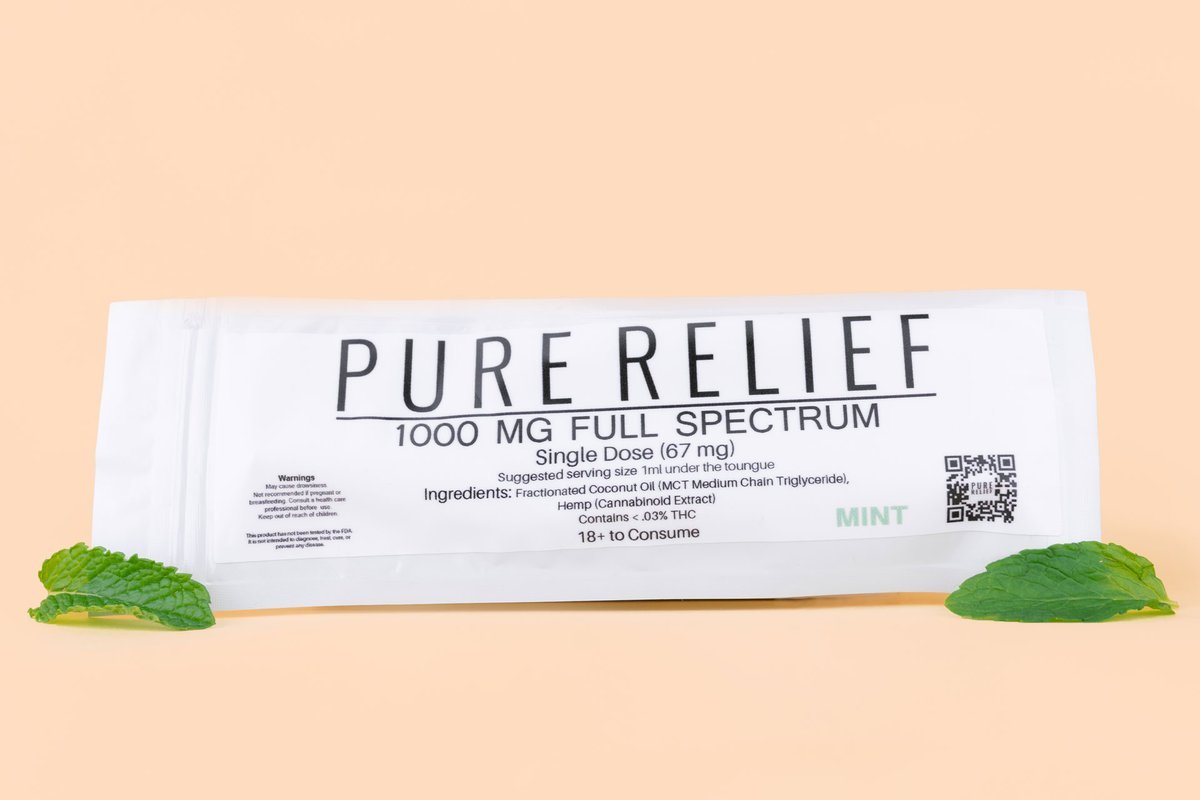 CBD for Pets
Pure relief offers pure hemp oil that is ideal for pets. This oil comes in a 15ml bottle containing 150mg of CBD and costing $20, not including our Pure Relief coupons. It is easy to control the dosage as each ml contains 10mg of CBD. The oil is full spectrum but contains less than 0.3% THC, this means that it has no psychoactive properties, great for pets! They suggest starting with half a dropper (0.5ml) for smaller pets placed under the tongue or beside gums.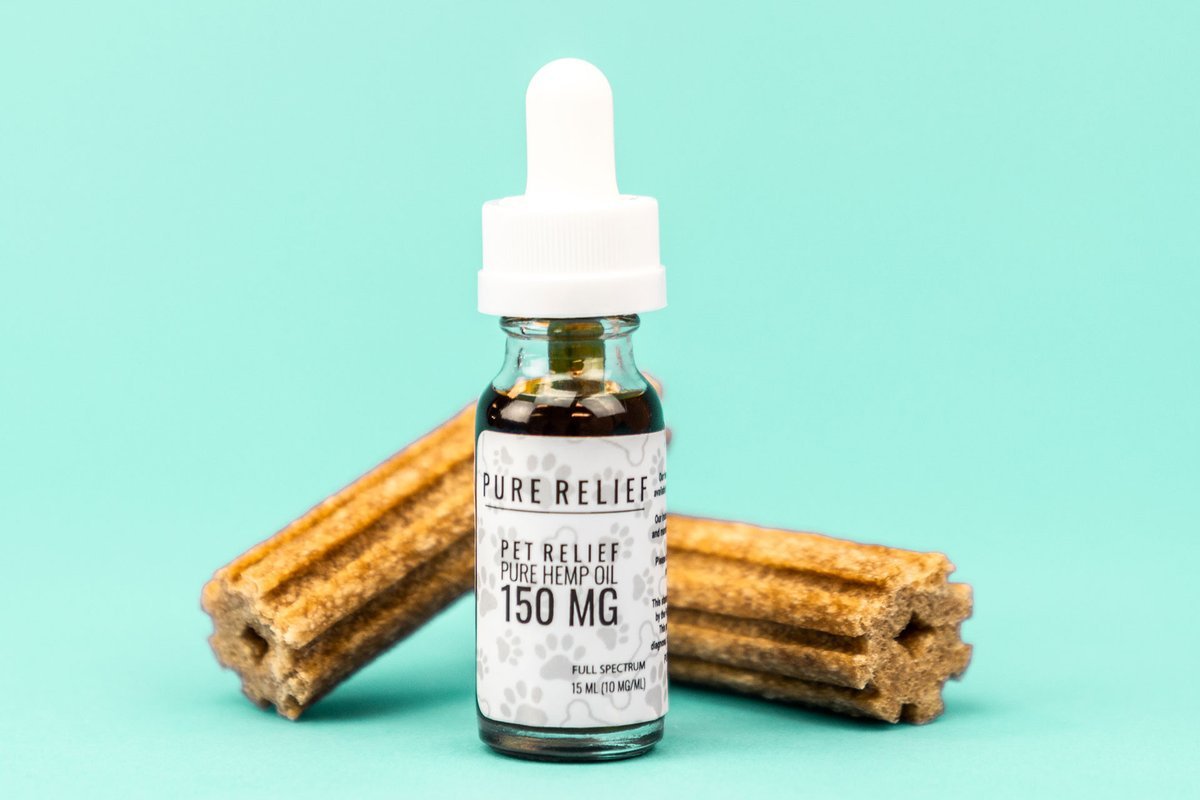 Pure Relief CBD Pros
Offer Pure Relief coupon codes

Specialize in full spectrum hemp extracts

All their products are third-party lab tested for purity and potency

Better than average pricing
Pure Relief CBD Cons
No free shipping for products

Not FDA approved
10 Pure Relief Reviews
Theo

I tested out the starter hemp salve for an ankle injury. Definately does it's part alleviating the pain. The starter pack is basically a 1-2 time supply so next going to just order the 500mg pain relief salve. Thanks CBD Nerds! 2018-12-20 00:04:00

Sid

My son bought me the 100mg CBD oil that has the mint flavor. It's one of the best I've tasted I'm very happy with Pure Relief. 2019-01-12 00:57:42

Ronald

I love CBD oil and want to tell everyone who hasn't tried it what are you Waiting for. It works wonders on joint inflammation muscle and back pain as well as Anxiety and restful sleep. Love my CBD. 2019-08-26 12:18:56

Nicole

Super fast shipping, great communication, fantastic prices and almost always have some sort of promotion or giveaway going on. Superior company! 2019-09-16 07:28:54

Torri

I cannot say enough good things about Pure Relief! The customer service is top notch, shipping is super fast, the prices fair and I've loved every product I've bought. Will be a repeat customer for a long time to come. 2019-09-23 13:39:52

Jack

The gummies are awesome, not tried the oil Yet but I am going to. 2019-10-01 11:35:20

Kiara

I ordered the rolled cbd and the shipping was extremely fast I didn't like the rolled blunts burned my throat so I don't use it gonna try the gummies next. 2019-10-24 02:42:21

Veronica

Absolutely love the tangie. Everything I thought it would be. 2019-12-03 11:09:13

David

I got a palm wood and a joint the joint taste was really good I recommend and the palm wood I had I would recommend to anyone 2019-12-26 11:11:51

Hilda

REALLY GOOD TASTE, AND SHIPS FAST I WOULD TOTALLY RECOMMEND THEM. 2020-03-27 14:59:56