Pure Science Lab Review + Coupon
(4)
Overview
Pure Science Lab is an online retailer offering high concentrate CBD products. They offer a variety of different products and flavors to fit your CBD needs. Products can range from CBD oil tinctures, edibles, pain creams, capsules, and even products for your pets. Pure Science Lab takes pride in its quality by displaying their third-party lab test reports on its homepage. The report showing 0% THC levels and CBD potency of 41%. This ensures that their products do not get you high and are perfectly legal. "The pure full spectrum plants and the extracts produced are formulated in the USA and tested by independent 3rd party USA labs to ensure they are of the highest standard through every step in the extraction process." – Pure Spectrum Labs
Pure Science Lab's hemp is organically grown and extracted through Supercritical CO2 extraction process with medical grade CO2, therefore containing no chemical compounds. They are known for having some of the highest strength products with up to 41% pure hemp oil extract. We've reviewed some of their products and will give recommendations below.
What's Unique About Pure Science Lab?
Laboratory tested and certified CBD products

Known for having one of the best CBD gummies on the market

Relieves muscle and joint pain

They offer Full Spectrum CBD with entourage effect benefits
Pure Science Labs Products
CBD Oil tinctures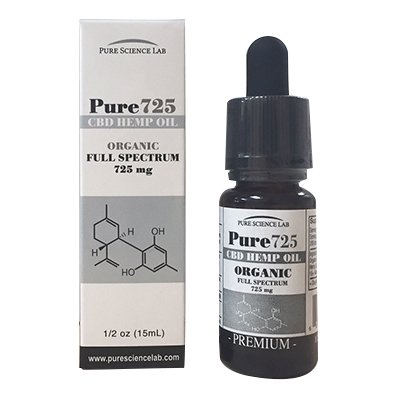 Pure Science Lab's tinctures come in three different flavors: vanilla, peppermint, and unflavored. They all come in 15 ml bottles (200 drops) and 30ml bottles (400 drops) with different strengths. The concentration per drop varies with the strength, so it is important to confirm the strength before you dose yourself. Also, remember that tolerance varies from one person to the next. The 400mg goes for $59.95, the 725mg goes for $99.95, the 1600mg for $ 199.95 while the 5000mg goes for $499.95. If you're newer to CBD go with a lower concentration. The tinctures contain CBD Hemp Oil Extract, Hemp Oil, MCT Oil, Organic Honey, and Organic Flavoring.
2. CBD concentrates
These come in an oral applicator form that resembles a syringe. They come in different concentrations; 1gm, 5gms, 10gms up to 60gms. All concentrations contain 41% CBD, therefore the 1gm concentration contains 410 mg of CBD with no trace of THC. The recommended dosage is 2-3 drops twice daily.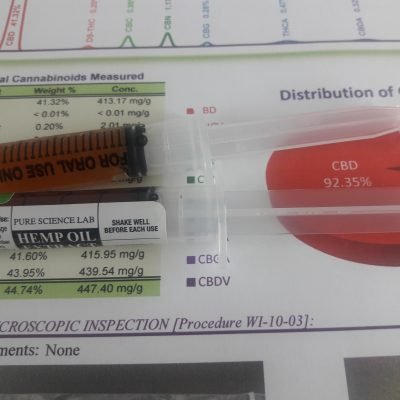 3. CBD Capsules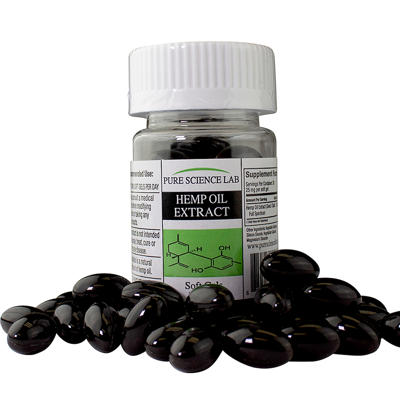 The Pure Science Lab capsules are soft and easy to swallow. They contain Hemp Oil, CBD Hemp Oil Extract, Vegetarian Softgel Capsule, Silica, Magnesium Stearate (from Palm Oil). They come in two different strengths; 750 mg and 1000mg with the capsules having different strengths too.
4. CBD Vape kits and cartridges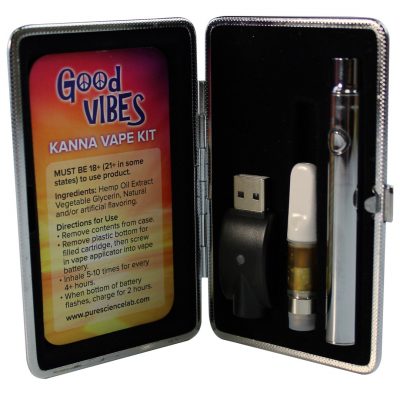 Pure Science Lab vape kits contain Kanna Vibes. The pack contains a vape pen, a high wattage battery, and a full spectrum CBD cartridge (pineapple, original and Durban flavors). The vape kit comes enclosed in a lockable case which is convenient to carry around. You could buy the vape kit as a unit which goes for $99.95 or alternatively you could buy a set of three refill cartridges at $99.95 if you already have the vape pen. A single cartridge will go for $39.95. When the battery is out of charge it will flash twice and you can charge it for two hours max. You can save on these orders with our Pure Science Lab coupon codes.
5. CBD pain cream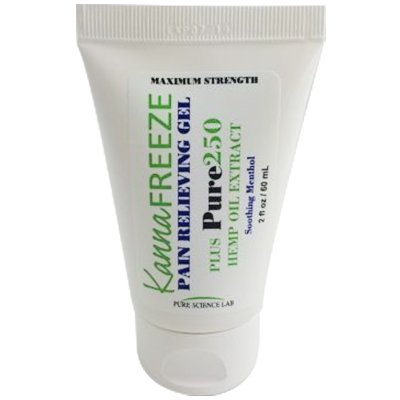 This is one of their most popular products- the Kanna Freeze Pain Relieving Gel. It contains menthol, CBD oil, and Aloe Vera among other compounds. It can be used by children and adults alike and the gel is rubbed directly onto the affected area. It comes in 2&4 ounces and 250mg and 500mg concentrations. I tried this product on my elbow joint and it did relieve the pain. You do somewhat have that icy hot feeling from the menthol. If you don't like that they also have a cream rub on.
6. Pure Science Lab Edibles and Teas
Pure Science Lab also caters to those who prefer to consume CBD via edible treats. CBD pomegranate flavored tea, gourmet chocolate, gummies, and granola bars are available. The CBD infused pomegranate tea comes in a pack of four (60mg or 15mg/chip). Each chip ideally makes two cups of tea. The four-pack costs $59.95 while a single pack costs $19.95 making the pack a deal saver. The good vibes gummies are absolutely fat-free, they come in a mix of flavors and colors making it great for children; Sour Worms, Cola Bottles, Tasty Watermelons, Strawberry Delights, Rainbow Strips, and Cherry Rush are available. The granola bars come in a pack of four and the pack goes for $19.95. They contain many compounds such as white chocolate, dark chocolate, peanut butter, CBD extract among others, but they lack preservatives and are gluten-free. The good vibes dark chocolate bars contain 60% dark chocolate with no added preservatives or colors. They are also gluten free and vegan-friendly. Each chocolate square contains 5mg of potent CBD. Our Pure Science Lab coupon codes help save on these.
7. Skin creams and oils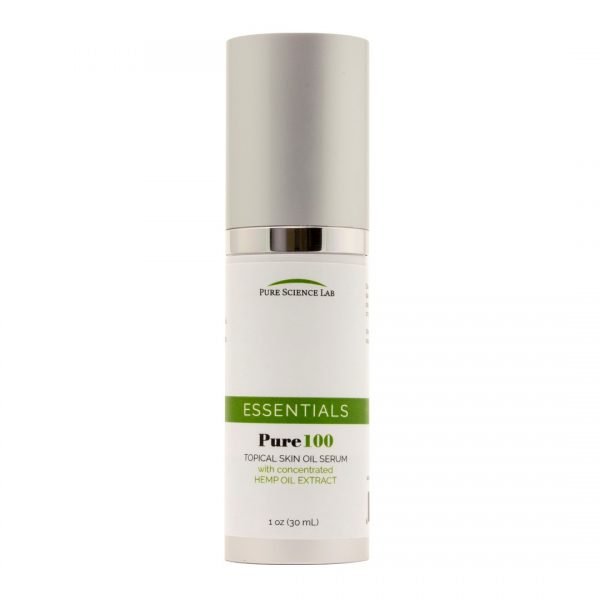 Pure Science Lab has gone a step further to formulate a CBD cream for both sensitive and dry skin. They also have a serum formulation that sells at $39.95 which is an introductory product in the CBD beauty space. The skin cream is great for soothing muscles and doesn't have that icy hot feeling.
8. CBD for pets
CBD has been shown to be effective in the management of health issues of pets as well as humans. You can learn more about that here. Pure Science Lab has two products for pets: a premium CBD oil and CBD infused soft chews. The oil goes for $39.95 per bottle which contains 250mg of CBD. The recommended dosage is 1-2 drops twice a day sublingually; each drop contains 0.5mg of CBD. The CBD infused canine chews contains 2mg of CBD per chew. The chews are effective for any pain, inflammation, stress, anxiety, age-related issues, and overall health & wellness.
Pros of Pure Science Lab
A wide variety of products to pick from

Lab tested CBD products

Accommodates vegans

Focus on quality ingredients

Full spectrum extract with entourage effects

Pure Science Lab coupon codes available
Cons of Pure Science Lab
No shipping outside the US

No free shipping (charged at $5.95 flat rate)
Pure Science Lab Recommendations
Pure Science Lab's has an impressive selection when it comes to the product range. They have products that are great for both beginners and experts. If you are someone who tastes sensitive, we recommend using their edibles, specifically the gummy worms (don't eat them all at once though hehe). If you want the quickest relief, try the oils or vape products since they enter the bloodstream the fastest.
4 Pure Science Lab Review + Coupon Reviews
Jessie

I tried the hemp infused Gummy Worms. They have a stronger CBD content but don't enter your system as fast as the oils. It's a fun way to take CBD and much better tasting than the oils. I would eat 1 or 2 at a time and see how it makes you feel. Enjoy! 2018-07-31 20:56:15

Ken

The CBD pain cream works great. I'm very happy with CBD for pain relief but it's really expensive that's my only complaint. I rub on the pain cream and within 15 minutes feel much better. 2018-10-11 10:45:31

Jeff

CBD Gummies taste great but I don't think I'd buy them again because it's literally just candy with CBD. I read somewhere about the Pomegranite Tea so that's next! 2018-11-30 06:47:29

Alex

The products are great. But, the vape kit arrived not working and the customer service of this company is slow to correct the problem. By slow I mean, not at all. 2019-08-24 12:23:14
Pure Science Lab Review + Coupon Coupons