Pure Science Lab
(11)
Pure Science Lab Reviews + Coupon: Organic CBD Products
Pure Science Lab is an online retailer offering high concentrate CBD products. They offer a variety of different products and flavors to fit your needs like, CBD oil tinctures, edibles, pain creams, capsules, and even items for your pets. The company takes pride in its quality by displaying their third-party lab test reports on its homepage (0% THC levels and CBD potency of 41%). This means that their products do not get you high and are perfectly legal.
Their hemp is organically grown and extracted through Supercritical CO2 extraction process with medical grade CO2, therefore containing no chemical compounds. They are known for having some of the highest strength products with up to 41% pure hemp oil extract. On the right-hand side of this Pure Science Lab review you'll find coupons and discount codes. Click on the Pure Science Lab coupons to save big before you visit their site directly at https://puresciencelab.com/ .
What's Unique About Pure Science Lab?
Laboratory tested and certified CBD products

Known for having one of the best CBD gummies on the market

CBD Gel relieves muscle and joint pain

They offer full-spectrum CBD with entourage effect benefits
Pure Science Labs Products
Our Pure Science Lab review spotlights the different CBD items made by the company like concentrates, vape kits and more. Don't forget to get your Pure Science Lab coupons before you make your purchases.
1. CBD Oil Tinctures: 3 Great Tastes to Choose From
Pure Science Lab's tinctures come in three different flavors: vanilla, peppermint, and unflavored. They all come in 15 ml bottles (200 drops) and 30ml bottles (400 drops) with different strengths. The concentration per drop varies with the strength, so it is important to confirm the strength before you dose yourself. Also, remember that tolerance varies from one person to the next. The 400mg goes for $59.95, the 725mg goes for $99.95, the 1600mg for $ 199.95 while the 5000mg goes for $499.95. If you're newer to CBD go with a lower concentration. The tinctures contain CBD hemp oil extract, hemp oil, MCT oil, organic honey, and organic flavoring.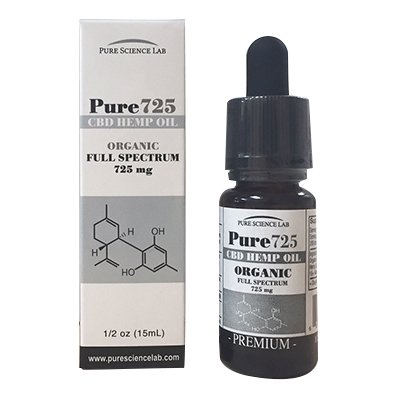 2. CBD Concentrates: Help with Pain Management
These come in an oral applicator form that resembles a syringe. They come in different concentrations; 1gm, 5gms, 10gms up to 60gms. All concentrations contain 41% CBD, therefore the 1gm concentration contains 410 mg of CBD with no trace of THC. The recommended dosage is 2-3 drops twice daily.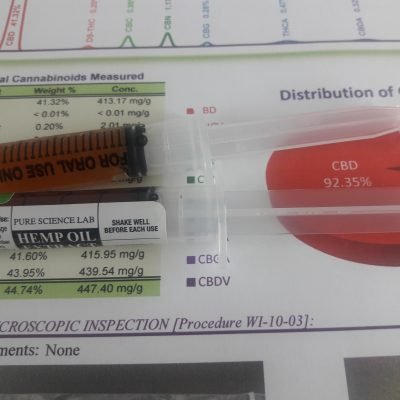 3. CBD Capsules: 2 Strenghts & Smooth Digestion
The Pure Science Lab capsules are soft and easy to swallow. They contain hemp oil, CBD hemp oil extract, vegetarian softgel capsule, silica, magnesium stearate (from palm oil). They come in two different strengths; 750 mg and 1000mg with the capsules themselves having different strengths too.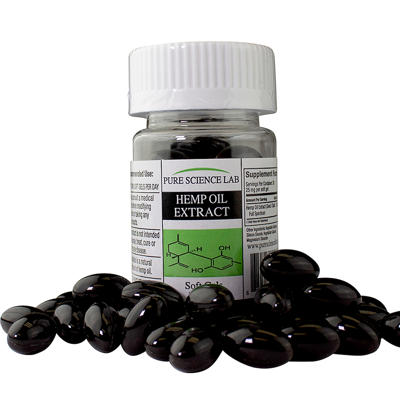 4. CBD Vape Kits and Cartridges
Pure Science Lab vape kits* contain KannaVibes. The pack contains a vape pen, a high wattage battery, and a full spectrum CBD cartridge (pineapple, original and Durban flavors). The vape kit comes enclosed in a lockable case which is convenient to carry around. You could buy the vape kit as a unit that goes for $99.95 or alternatively you could buy a set of three refill cartridges at $99.95 if you already have the vape pen. A single cartridge will go for $39.95. When the battery is out of charge it will flash twice and you can charge it for two hours max. You can save on these orders with our Pure Science Lab coupon codes.
*These products aren't available at all times.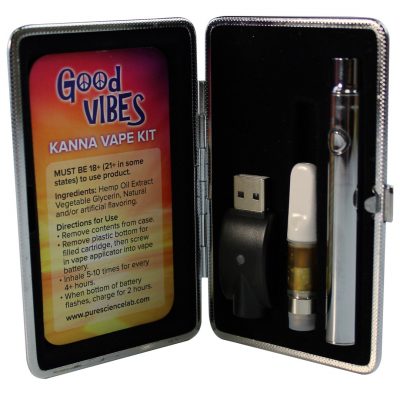 5. CBD Pain Relief: Cream that Soothes Tough Aches
This is one of their most popular products- the KannaFreeze Pain Relieving Gel. It contains menthol, CBD oil, and aloe vera among other compounds. It can be used by children and adults alike and the gel is rubbed directly onto the affected area. It comes in 2 and 4 ounces and 250mg and 500mg concentrations. I tried this product on my elbow joint and it did relieve the pain. You do somewhat have that icy hot feeling from the menthol.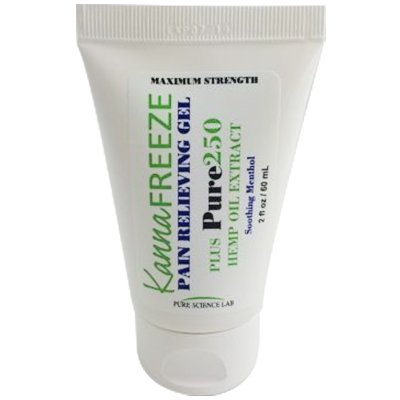 6. Pure Science Lab Edibles & Teas
Pure Science Lab also caters to those who prefer to consume CBD via edible treats. CBD pomegranate flavored tea, gourmet chocolate, gummies, and granola bars are available. The CBD infused pomegranate tea comes in a pack of four (60mg or 15mg/chip). Each chip ideally makes two cups of tea. The four-pack costs $59.95 while a single pack costs $19.95 making the pack a deal saver.
The Good Vibes gummies are absolutely fat-free, they come in a mix of flavors and colors making it great for children (always confirm with your child's pediatrician before giving them any form of CBD). Sour Worms, Cola Bottles, Tasty Watermelons, Strawberry Delights, Rainbow Strips, and Cherry Rush are available.
The granola bars come in a pack of four and the pack goes for $19.95. They contain many compounds such as white chocolate, dark chocolate, peanut butter, CBD extract among others, but they lack preservatives and are gluten-free. The Good Vibes dark chocolate bars contain 60% dark chocolate with no added preservatives or colors. They are also gluten-free and vegan-friendly. Each chocolate square contains 5mg of potent CBD. Our Pure Science Lab coupon codes help save on these.
7. CBD Creams: Nourish Your Skin
Pure Science Lab has gone a step further to formulate a high-quality CBD cream for both sensitive and dry skin. They also have a serum formulation that sells at $39.95 which is an introductory product in the CBD beauty space. The skin cream is great for soothing muscles and doesn't have that icy hot feeling.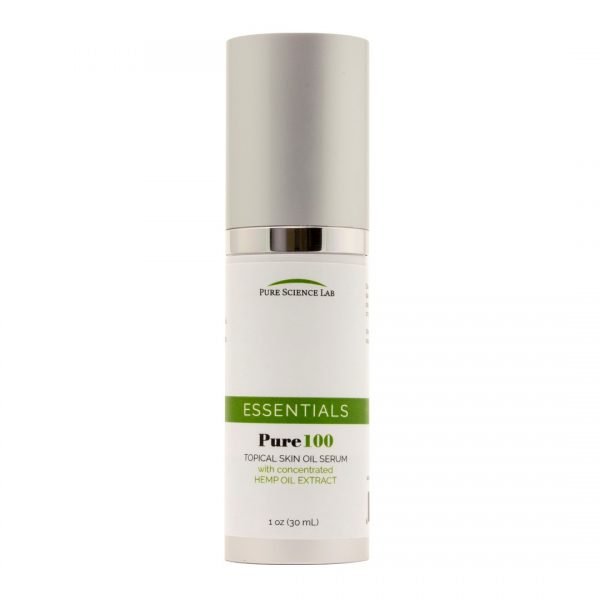 8. CBD for Pets: Manage Fido's Health Too
Cannabidiol has been shown to be effective in the management of health issues of pets as well as humans. You can learn more about that here. Pure Science Lab has two products for pets: a premium CBD oil and CBD infused soft chews. The oil goes for $39.95 per bottle which contains 250mg of CBD. The recommended amount is 1-2 drops twice a day sublingually (each drop contains 0.5mg of CBD). The CBD-infused canine chews contain 2mg of CBD per chew. These CBD edibles for dogs are effective for any pain, inflammation, stress, anxiety, age-related issues, and overall health and wellness.
Pure Science Lab Dosing Recommendation
Figuring out the right CBD dosage amount is difficult as it will vary from person to person. For newcomers, we recommend you start small and work your way up. If you're using a tincture, this means taking 1 to 2 drops a day, then take more as you get an idea of how the CBD effects you.
When you're starting your CBD journey, it's important to keep in mind the following when it comes to dosing:
Bodyweight

Necessity for the ailment (i.e. how much pain relief you're seeking)

Strength of CBD
All of these play an important role in discovering the right dosage recommendation for you. Furthermore, as you continue to take CBD, your body is naturally going to develop a tolerance. Therefore, you may need to take more in the future to get the same effects you experience in the beginning.
Pure Science Lab Certificate of Analysis
In order to ensure your CBD is pure and safe, you want to make sure the company you're purchasing from runs it through a third-party lab test and is transparent about this on their website. These tests check for the purity of the CBD and whether or not it contains contaminants, such as heavy metals and pesticides.
Upon going on Pure Science Lab's website, you'll immediately notice an option to view their "Certificate of Analysis" in the middle of the page. It's a great sign when a CBD company is encouraging you to check out their lab tests and we appreciate the company for making these tests so easily available – we also appreciate them for their amazing Pure Science Lab discount codes.
Pros of Pure Science Lab
A wide variety of products to pick from

Lab tested CBD products

Accommodates vegans

Focus on quality ingredients

Full-spectrum extract with entourage effects

Pure Science Lab coupon codes available
Cons of Pure Science Lab
No shipping outside the US

No free shipping (charged at $5.95 flat rate)
Pure Science Lab Recommendations
Pure Science Lab's has an impressive selection when it comes to the product range. They have products that are great for both beginners and experts. If you are someone who has sensitive taste buds, we recommend using their edibles, specifically the CBD gummy worms (don't eat them all at once though). If you want the quickest relief, try the oils or vape products since they enter the bloodstream the fastest.
How to Use a Pure Science Lab Coupon Code
If you're interested in purchasing from Pure Science Lab, we currently offer codes ranging from 10% to 15% off in the right-hand corner of this page. In order to use these, you'll first want to make a selection from their website. Click on the Shopping Cart and you'll find a box to type in a coupon code. Simply input one of our codes, hit Apply, and you'll see your savings instantly!
11 Pure Science Lab Reviews
Jessie

I tried the hemp infused Gummy Worms. They have a stronger CBD content but don't enter your system as fast as the oils. It's a fun way to take CBD and much better tasting than the oils. I would eat 1 or 2 at a time and see how it makes you feel. Enjoy! 2018-07-31 20:56:15

Ken

The CBD pain cream works great. I'm very happy with CBD for pain relief but it's really expensive that's my only complaint. I rub on the pain cream and within 15 minutes feel much better. 2018-10-11 10:45:31

Jeff

CBD Gummies taste great but I don't think I'd buy them again because it's literally just candy with CBD. I read somewhere about the Pomegranite Tea so that's next! 2018-11-30 06:47:29

Alex

The products are great. But, the vape kit arrived not working and the customer service of this company is slow to correct the problem. By slow I mean, not at all. 2019-08-24 12:23:14

Bonnie

These products have changed my life!!! 2019-09-15 12:31:17

Harl

Using CBD oil and Kanna Freeze together gave me relief from severe knee pain, which kept me up at nights. Doctors refused to give me pain meds, and advised me that I needed a total knee replacement. After using these two products together I have very little pain for the first time in many years. My girlfriend just had a total knee replacement, and gets better pain relief using this than she does from her pain meds. Great product I highly recommend it. 2019-09-22 15:01:06

Suzanne

Pure Science Lab gummies are amazing! I first started with 1/2 of one but now I use one and they are very relaxing. I am sleeping much better and feeling much better. 2019-09-29 13:46:47

Bill

I tried several products that helped me a little. Then I wanted to order a higher dose. So I bought Pure5000mg of CBD Hemp Extract. This is the product for me! My knee and hip pain is totally under control. I paid more for this product but use a lot less and it works. Happy customer. 2019-10-22 08:23:40

Steve

Expensive but Effective, Key to success is consistency of use, small daily application… 7% menthol it will make your tissue sing, so no need to use a lot… 2019-12-06 15:38:37

Linda

Their gummies really taste good and does the job. Will buy more after payday. 2019-12-22 11:46:45

Brian

Extremely fast shipping BUT, it is the quality of the product that i am impressed with. I suffer from an arthritic auto immune disease and this product has given me my life back without pain. I am going on my third month and i have not had an attack. Only on several occasions during this time have i felt an attack coming on but after a dose or two of the CBD it somehow reverses the attack. Can't say enough about its positive affect on my life.. i would wish the same for you. Pure science provides great customer support and always responds quickly to questions. The product itself is expensive but after searching the internet top to bottom, I have found this to be the best price per gram along with higher concentrate. Peace and Blessings! 2020-03-27 14:19:47