Sol CBD Coupons
(1)
Sol CBD Coupon Code + Reviews
Founded in 2015, the wife and husband team that started Sol CBD has a prior history for being natural health advocates. Their passion started the business, and their determination helped it flourish with popularity. They presently only deliver within the United States, though they eagerly hope conditions for that will change as the world becomes more accepting of CBD as a natural remedy. The team over at Sol CBD provide high-quality CBD products you can trust – and with their impressive range of products, it's easy to see that they're clearly dedicated. Let's dive into our review of the different Sol CBD products, what makes the brand unique, and our takeaway from the experience. If you're here for a Sol CBD coupon code you can find them on the right. Be sure to help those researching the brand by leaving a review below.
What's Unique About Sol CBD?
They're a family-run mom and pop company based straight out of the UK

With a genuine passion for wanting to provide CBD to those in need, they set up a low-income program

Sol CBD tinctures come in different, unique flavors

Sol CBD coupon codes offered

Money back guarantee if you return products within 60 days

Sol CBD offers their own coupon codes to help their customers save even more money
Sol CBD Products
CBD Capsules
A vegetable-based capsule, the CBD capsules from Sol CBD provide an easy, convenient way to take CBD on the go with you. There is a precise dose of 15mg for each capsule, guaranteeing a consistent dosage. After trying them out, these would certainly be perfect for someone looking to get the same benefits as a CBD tincture without the distinct tincture taste. You can use our Sol CBD discount code to save 10% on these capsules.
Sol CBD Dosage Recommendation: 1 capsule daily (15mg daily) – better for those with lower tolerances to CBD. If you don't feel desired response take 2 capsules a day then 3 after a few weeks.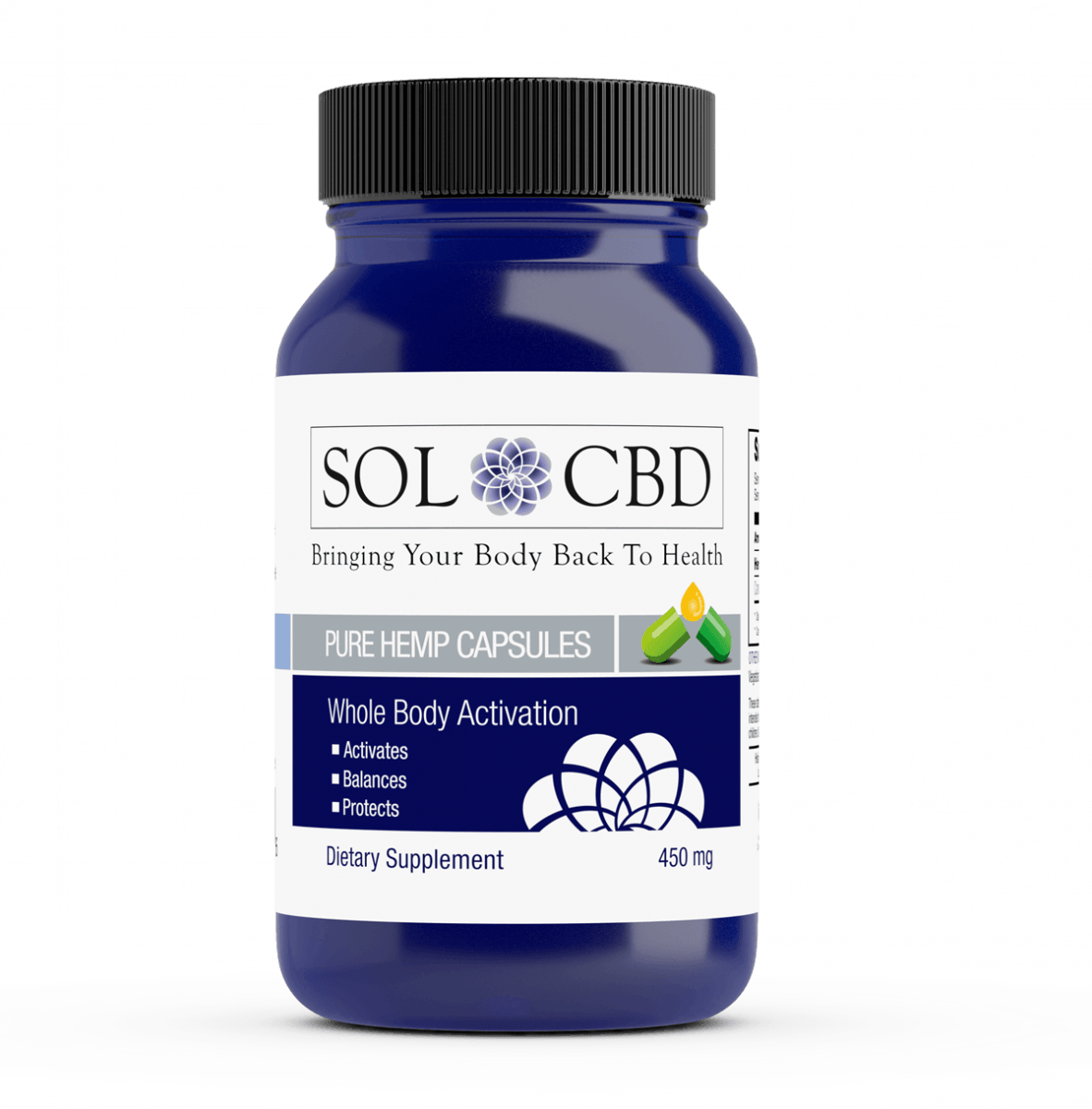 Liposomal CBD
The hemp liposomes in Sol CBD's Liposomal CBD is designed to rapidly dissolve faster than the average CBD product. This shuttles the cannabinoids faster and more thoroughly throughout the body. For the value, the enhanced dissolvability factor of the Liposomal CBD absolutely helped. The Liposomal CBD flavor Sol CBD has available is called "Orange Twist," which was certainly interesting.
This would be a viable option for someone with chronic pain that isn't localized, or even frequent inflammation throughout parts of the body. For those with higher tolerances to CBD, it also helps you feel the effects on a lower dose, which certainly helps save money in the long run!
Sol CBD Dosage Recommendation: Stir 5 pumps of the Liposomal CBD into a glass of water, twice daily (5mg per 5 pumps)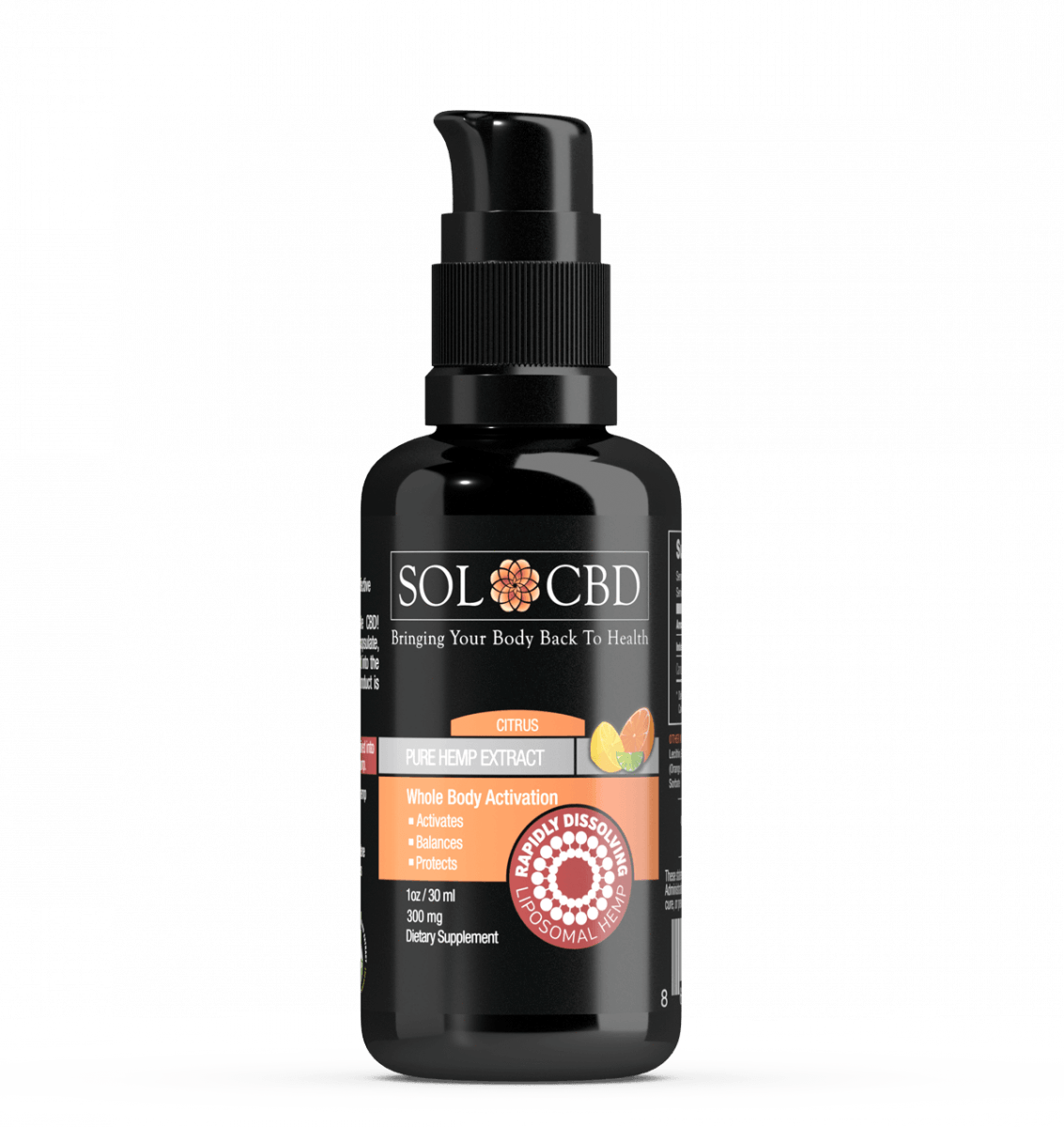 Sol CBD 3600mg CBD Tinctures
A serving of the 120ml 3600mg high CBD tincture bottle is one-quarter of a dropper full, which is 0.5ml and approximately 15mg of pure CBD (50mg of hemp oil in total, though the other 35mg consists of other cannabinoids excluding THC).
The 3600mg bottle was noticeably different, though you can see why when you compare it with the other tinctures as well. The 3600mg high CBD tincture from Sol CBD has three times the amount of CBD per ml than the other bottles. Likewise, the high concentrate tinctures only come in bottles of 120ml or more.
Sol CBD Dosage Recommendation: 1/4 twice daily or as needed (15mg per 1/4 dropper full) – better for those with higher tolerances to CBD or more intense chronic pain/inflammation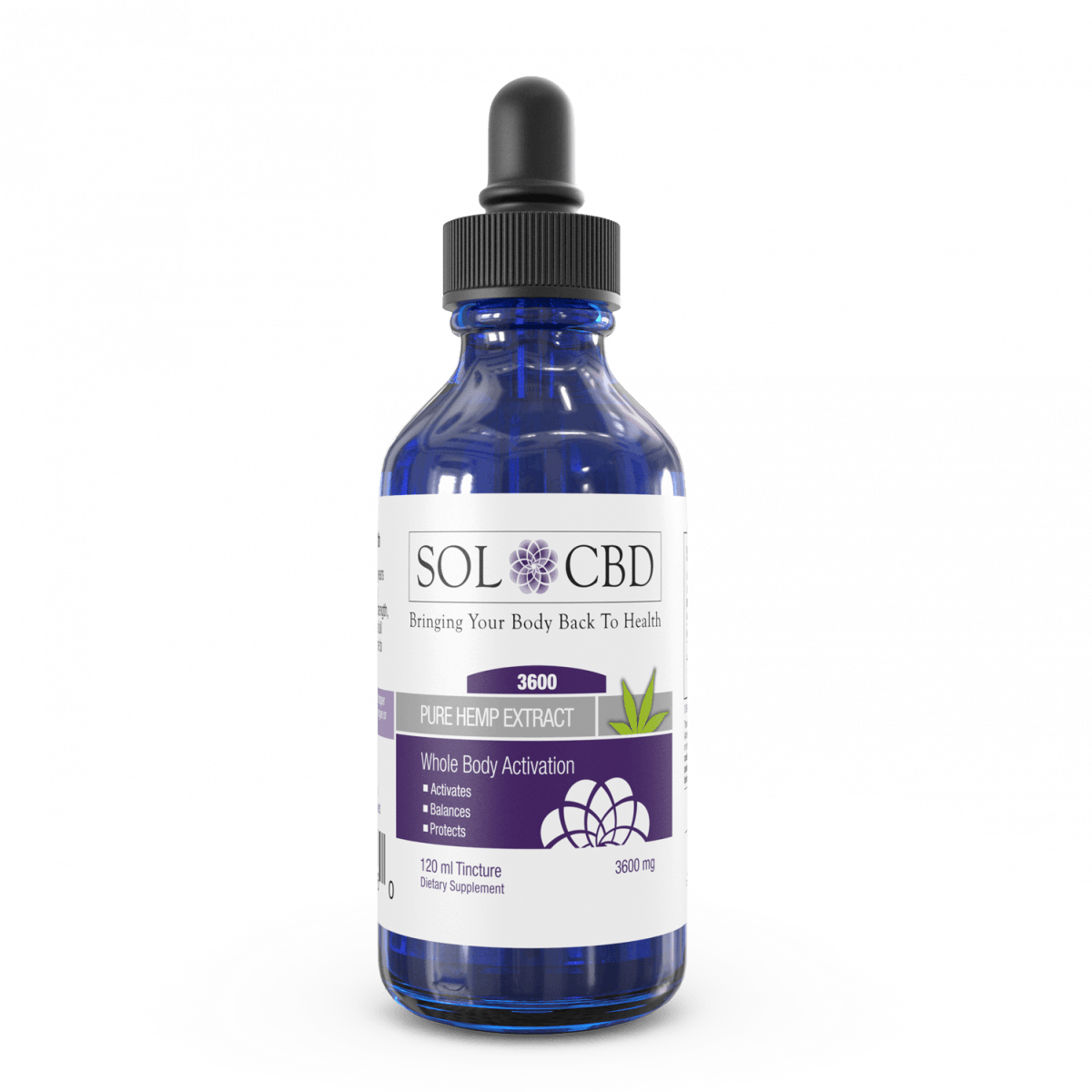 Flavored CBD Tinctures
As mentioned with the higher intensity CBD tinctures above, the "Whole Body Activation" tinctures from Sol CBD have less CBD per milliliter. A serving size is approximately half a dropper full instead of one-quarter, which is about 0.5ml and 300mg of CBD per 30ml bottle.
While the 3600mg tincture was more helpful for chronic pain, the dosage seemed to wear away perhaps faster than the regular version. The biggest plus size of the regular CBD tinctures is being able to choose between the two flavors – Cinnamint or Natural. They have very distinct tastes, but that ultimately comes down to preference (our team liked the Cinnamint a bit more, although there were some that preferred the Natural Flavor).
Sol CBD Dosage Recommendation: On an empty stomach, use 1/2 dropper full, twice daily (5mg per 1/2 dropper full) – mix with juice or warm water and drink, or place directly under tongue for 30 seconds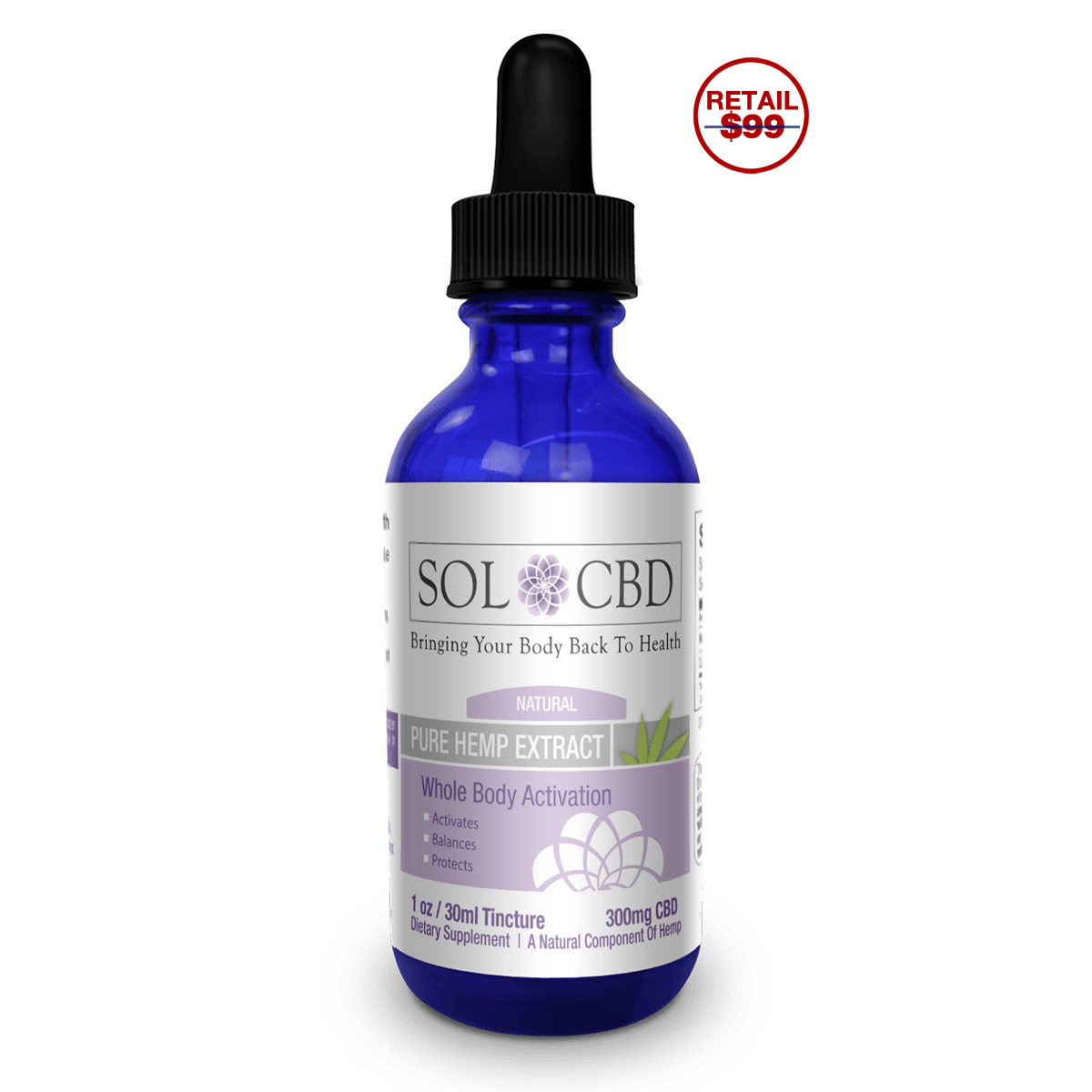 CBD Tinctures for Pets
One of the most impressive aspects of Sol CBD is that they pay attention to every member of the family – and that goes for the family pet. Offering an even smaller dosage in a 30ml bottle of only 100mg of CBD, we trusted in the Pet Tincture Test Results straight from the Sol CBD website to feel confident about letting our canine buddies try it out.
No prescription required, all of Sol CBD's tinctures are made without any harmful chemicals and no solvents, for both the pet and human versions. Mixed with MCT oil, this works to help shine their coat and make them feel more active even as they get up in doggie years.
Sol CBD Dosage Recommendation: For large dogs, 1/2 dropper full up to twice a day, or 2 drops for every 10 pounds of water/food. For cats, up to 1/2 dropper full daily (approximately 1.7mg per 1/2 dropper full).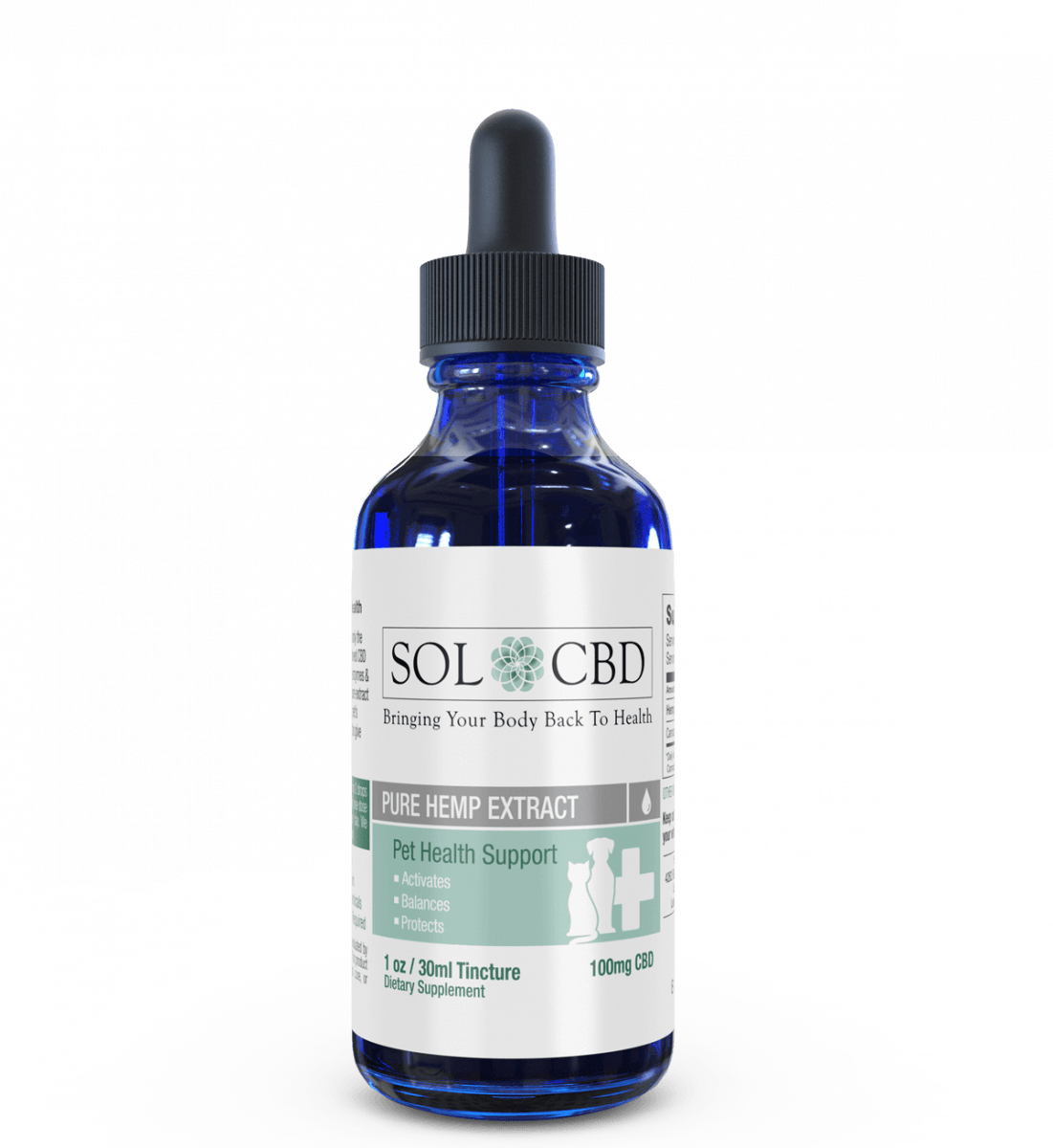 CBD Balm
The balm from Sol CBD we took a particular liking to. It was different than the rest of the CBD products offered on the site, as it includes 13 ingredients that work to penetrate deeply, stimulate muscle relaxation, and ease various joint and muscle pain and inflammation. We had a few testers for this one, trying to test it out on people from all walks of life – from different ages to completely opposing personalities!
It's been a hit so far, with mostly positive experiences from the balm. One consistent complaint is having to reapply as frequently as some chronic pain patients must, although that may be an issue with the amount of CBD in the product after consistent use.
Sol CBD Dosage Recommendation: Apply as necessary to clean skin. While there isn't a serving size or dosage amount (since you're not consuming this one), you shouldn't apply it to your face, sensitive, or broken skin.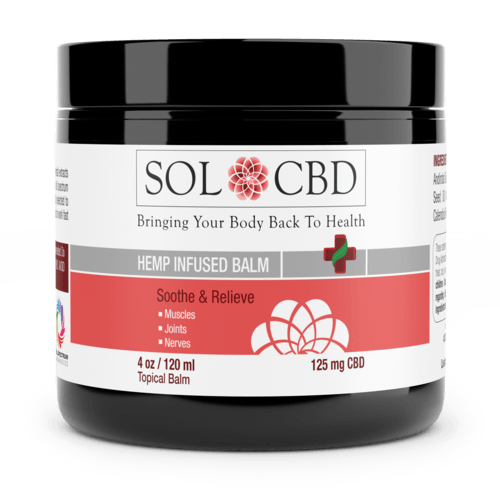 Sol CBD Pros
Family-run operation with family values

Low-income program so everyone can benefit from CBD

Sol CBD website is a reliable source for information on the science behind CBD and proof of the benefits

Triple tested for 0.03% or less THC purity before delivery

60-day money back guarantee instills more trust and faith in the product

Sol CBD offers their own coupon codes to help everyone save money and get access to reliable CBD products
Sol CBD Cons
Flavor selection is very limited – only one flavor option for the Liposomal and two for the regular tinctures

FDA-registered, though not approved (an unfortunate problem for most CBD brands at this time in history)

Recommended daily dosage amounts can seem low for people with severe or chronic conditions with some of these products

You have to spend over $75 to get free shipping, so it's best to usually buy in bulk
Disclaimer: The following reviews are made by consumers. Sol CBD has not reviewed and therefore doesn't endorse, support, or approve the reviews or recommendations left by consumers. These statements have not been evaluated by the FDA. Sol CBD products are not intended to diagnose, treat, cure, or prevent any disease.
1 Sol CBD Coupons Reviews
Forrest Geely

The CBD oil is very tasty, almost gives you a tingle on your tongue when you put the droppers under. This stuff really helps my anxiety but the concentration in the tincture is very low. You need to take at least 2 droppers to feel any effects. 2019-02-07 21:25:23