SOL CBD
(9)
Sol CBD Coupons + Reviews
Sol CBD is a CBD brand founded in 2015 by a husband and wife, Oksana Ostrovsky and Larry Ostrovsky, who have a history of being natural health advocates. They're a new company that has exploded in growth and popularity, gaining the trust of customers worldwide. Their cannabidiol is hemp-derived, full-spectrum, and is perfectly safe and legal. You don't need a prescription to purchase Sol CBD and you won't get high using it. SOL CBD products are legal to purchase and one of our favorite we've tested. Their products are derived using the co2 extraction method, the top-recommended method ensuring purity. Their website is an amazing resource for learning about CBD and you can tell they care by spreading the word about CBD and keeping their business transparent and ethical. Be sure to use one of our Sol CBD coupon codes if you decide to purchase after reading this review!
What's unique about Sol CBD?
They offer a 60-day money-back guarantee on products

Have innovative great tasting oil flavors like Cinnamint

Sol CBD offers coupon codes

Have a low-income program to help spread CBD to those in need

Family run business based out of the UK
Sol CBD Product Reviews
Sol CBD has a good, but not an overwhelming spread of products where they clearly spell out the contents that you can cross-reference with their dosage guides and FAQ. Their CBD tinctures are all cold processed by CO2, so there are no solvents or other toxic substances left behind, and they helpfully explain exactly what a tincture is. They also do a really good job helping you understand the correct CBD oil tincture dosage and making their products user-friendly.
Sol CBD's Whole Body Activation CBD Tincture is 300mg of US organically grown pure full-spectrum hemp oil mixed with MCT oil, which are fats that come from coconut oil. These apparently have their own health benefits and increase the bioavailability of the CBD. Full-spectrum means that Sol CBD's oils contain all cannabinoids helping achieve the entourage effect. At $75 for 300mg (or 60 half-drop servings, as they recommend), this is a very reasonably priced starter purchase and our Sol CBD Coupon located on the right side of the page knocks off 10% additional. I would recommend this for those newer to CBD and try using a small dosage at first to see if you get benefits. If so you can prolong your tincture by continuing a small dosage. I actually use this product at night because it calms my mind before sleep. I use a full dropper, put it under my tongue for 30 seconds then swallow and it doesn't taste bad at all.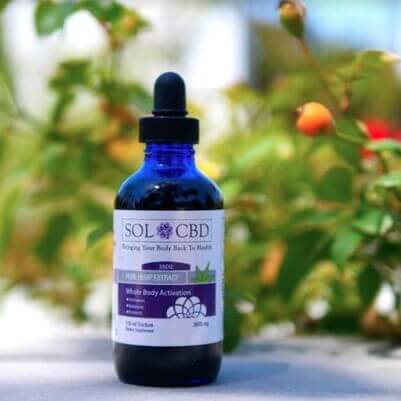 As Sol CBD outline is their description of their vape oil, vaping allows the body to absorb up to 4 times as much CBD at a much faster rate. Again, this is a great alternative for beginners as most people prefer this method to start. Sol CBD's vape oil is blended with vegetable glycerin and comes in grape/mint flavor that users report as very pleasant. This is what I used the first time I consumed CBD. It's probably still my preferred method as it's easy and effective. I noticed it helped boost my appetite or made me feel hungry. It's $79 for 600mg content. If there's an active Sol CBD discount code you can save on these.
Another way to absorb CBD is through the skin, Sol CBD has developed a balm for this purpose. They blend 125mg of CBD with a range of other medicinal oils, that they list with a description of its healing properties. We recommend this for anyone who has muscle pain or inflammation from an injury. You can massage the Sol CBD hemp balm directly on your skin to reduce inflammation and pain. The price is $47 for a single bottle which compared to what we've reviewed is a bit pricey for 125mg of CBD. The Sol CBD coupons apply for 10% here as well.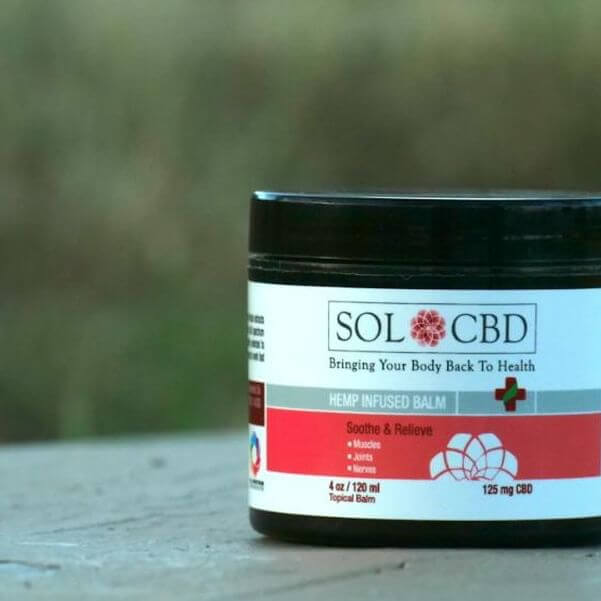 CBD Liposomal is one of the most efficient ways to ingest CBD. In fact, outside of intravenous injection, liposomal CBD is the fastest way for CBD to enter your system. It's water-soluble and not many brands carry it as we speak but this will likely change. Liposomes are simply meant to help improve and deliver absorption. Sol CBD sells liposomes for $79 that has 300mg of CBD for $79. Again somewhat pricey for $300mg but at least they offer coupons for this. You can also bulk order liposomes to save.
Sol CBD Capsules
Sol CBD now offers capsules which are an awesome and convenient way to consume CBD without tasting hemp. It's also great for making sure you take accurate dosages. Their CBD capsules have tons of great customer feedback and are priced at $69 for a one-time purchase (excluding coupon code). You can get a 10% discount if you subscribe to one bottle a month. These come with an easy to swallow vegetable-based capsule. You can get a single bottle, 2-pack, or 3-pack. The higher quantity purchases come with a higher discount.
Sol CBD For Pets
Like most CBD brands, Sol CBD now has pet hemp extracts. Specifically, they sell a pet CBD oil tincture. Pets and humans respond to CBD oil in the same way. The main difference between products is that pet CBD oil is a lower dosage since pets are smaller than humans. Their pet hemp extracts are organic, CO2 extracted, and also mixed with MCT oil, to give your pet the relief they're looking for.

It is a full-spectrum extract, not synthetic which you'd want to avoid and not CBD isolate. The pet tincture contains all the synergistic Cannabinoids, Terpenoids, Essential Oils and other compounds of the original plant which is intended to help achieve the entourage effect. The Pet tincture is organically Grown in the USA. It's a Cold processed oil using CO2 extraction with zero solvents. Your pet won't get high and this is a legal product.
Sol CBD Dosage Guide
Sol CBD has put together an infographic that'll make it easy to know how much CBD to take and the dosage of CBD. You can also check the package for each product as they come with dosage instructions. I do disagree with their one capsule daily as that seems very low. That's just a 15mg dosage so you may want to start with 2 a day.
Quality of Sol CBD
Customers can view the third-party test results of all their batches at the bottom of the page for each product. They test for contaminants, and importantly for people who are subject to drug testing, THC, the chemical that most urine tests pick up. All their hemp is organic and they follow FDA regulations. This doesn't mean they're products are approved by the FDA, but they are meticulous about the safety and purity of their products before shipping them to your door. What's unique about Sol CBD's testing is that they test the purity of their products 3 times before actually shipping it out to you. One thing unique about Sol CBD is that they offer a 60-day money-back guarantee. Any company that does this shows their confidence in the quality of their products.
Sol CBD Pros
Top-quality hemp is grown in Scandinavia

An informative, well-explained website for beginners with great content

Triple-tested for purity before delivery

Sol CBD coupon codes take 10% off

An experienced, health-focused company with caring leadership

Offer a 60-day money-back guarantee (which we love)
Sol CBD Cons
Not the widest selection of flavors

CBD is not FDA approved

Some users report that you have to use these products several times before feeling the benefits

If you want free shipping you have to spend over $75
How To Redeem A Sol CBD Coupon Code
In order to redeem the offers, you'll want to click "Get Coupon" at the top of this page for whatever current discount you see above. Copy the code and a new window pops up where you can shop Sol CBD products. After choosing your CBD items, you'll go to check out and see a "Discount code" box.
Simply paste the code in this box and you'll see your price drop!
Contacting Sol CBD
There are a few ways to contact Sol CBD. You can use their online form on their website or..
For inquiries or questions, please contact support@solcbd.com or call at: 1-800-413-5420
Disclaimer: The following Sol CBD reviews are made by consumers. Sol CBD has not reviewed and therefore doesn't endorse, support, or approve the reviews or recommendations left by consumers. These statements have not been evaluated by the FDA. Sol CBD products are not intended to diagnose, treat, cure, or prevent any disease.
9 SOL CBD Reviews
Michelle

I purchased the soothing balm. It's a much larger size than what's being sold out there and it does actually work. I have tennis elbow and the balm certainly helps sooth it. The only complaint is the cbd mg is pretty low and so there's a lot of other stuff added in the balm. 2018-07-01 19:00:21

Sarah

I tried the Cinnamint flavor and really enjoyed it. It has a unique flavor and makes you feel really relaxed after trying it. The bottle is much bigger than most other companies that sell CBD. 2018-07-09 17:49:21

Shawn

I was able to save 10% on my order. Looking forward to the infused balm! 2018-07-20 13:15:31

Santa

I started to use SOL CBD few months after my last concussion. It was very very bad and nothing else helped. I needed to teach my brain everything walking, talking, seeing, balance. This concussion took away my life. The Cbd was pretty much the last hope and it worked. I have been on it every since, and have recommended it to several people and everyone loves it. If it gave me my life and 100% sure it can help everyone. 2019-08-24 11:34:30

LaShona

I Absolutely Love My CBD Oil. I take the Cinnamon Tincture. Helps with My MS Symtoms. 2019-09-21 12:16:24

Cynthia

Love it! I have experienced great sleep at night deeper sleeps at night and my knee is minimal that I've been experiencing. Have extreme arthritis in my right knee. I've started doing spin class! 2019-09-29 12:23:33

Daniel

The effectiveness of SOL CBD: My experience has been and continues to be wonderful! It helps me relative to sleep and pain in the evening, and is even helping me with some very sever tooth pain the last couple of days, a blessing! My skin tone seems more even, and better overall coloring, and I have an added sense of well being, a wonderful thing! My overall experience with SOL CBD for the last five months has been consistently positive, and for this, I am extemely thankful! Feeling blessed and healthy. 2019-10-14 14:13:10

Lynn

I take the capsule and usually receive 90% relief. On particular rough days, I use the cream in the pain areas. Then I have 100% relief! I have recommended this product to many of my friends. Thank you for your time and effort on your research to find exactly what works. 2019-12-20 06:56:16

Susan

I searched for cbd oil capsules, because I do not like the taste of the oil. I found them with SOLCBD! My doctor said I could take 3 capsules a day. It has totally changed my life. It is the only thing I have found that has worked so well that I no longer experience the agonizing arthritis pain that was robbing me of a normal life and I can get out of bed without being stooped over in pain. THANK YOU! I have shared this info with friends and family?? 2020-03-27 16:17:17