Thoughtcloud CBD
(21)
ThoughtCloud Coupon + CBD Reviews for April 2021
ThoughtCloud is an online brand based out of Portland, Oregon and was voted the number one CBD on Instagram. They're a great choice for those interested in finding a CBD product that is 100% Organic, legal, and does not have the psychoactive effects that make you high. The absence of THC creates a non-psychoactive effect, and ThoughtCloud creates a distinct way to come with an oil that is made specifically for relieving pain in the body. Their CBD oils typically use a base of coconut to both make it taste good and ease the digestion process. Their CBD oil comes from Hemp plants grown in Colorado and are 3rd party lab tested for purity. Each batch is tested by ThoughtCloud ensuring a sufficient supply of quality products and known for treating the "system," rather than treating the symptoms. The company offers a wide range of products ranging from CBD oils, vapes, topicals, and even bath bombs. We have tried several of their products from vaping to several different CBD oils. We're here to tell you how these products make you feel and give suggestions based on what your ailments or preferences may be. Not to mention, we offer ThoughtCloud coupon codes if you're interested in any of these products.
What's Unique About ThoughtCloud?
Founded in 2016 by a holistic medical practitioner

Offers all-natural, lab-tested, high-quality, organic CBD oil

They offer free shipping and a money-back guarantee

They winterize their products removing fats and wax

They offer the first full-spectrum bath bombs

ThoughtCloud coupon codes available
Thoughtcloud.com Products
CBD hemp oil drops are the most diverse and popular form of use when trying CBD. Other than Cannabidiol (CBD), ThoughtCloud products are infused with either hemp oil, coconut oil, or a flavored extract, making your experience one to remember. We recommend the CBD oil drops as they are the most diverse and can be diluted in drinks, eaten with food, or placed under the tongue. For the people that enjoy smoking, this brand also has CBD Vapes available. If you're interested in any of these products, we invite you to use one of our ThoughtCloud coupon codes on the right-hand side of this page to help you save on your entire order.
The Signature Series comes in 3 flavors and potencies with each bottle being 60mL. We recommend using two full droppers twice a day for proper dosage. The Daily Formula is 900mg CBD and recommended for people newer to CBD and want an oil that tastes good. The Super Formula is 1800mg CBD and formulated with MCT oil. This formula is for users who want a stronger CBD dosage and costs $163.33. We recommend using a ThoughtCloud coupon if you purchase this. If you want an even stronger formula you can choose the Ultra Formula which has 3600mg of CBD. The flavors are Organic Grape, Organic Apple, and Organic Cherry. You can use one of our promo codes to get an extra discount on these tinctures.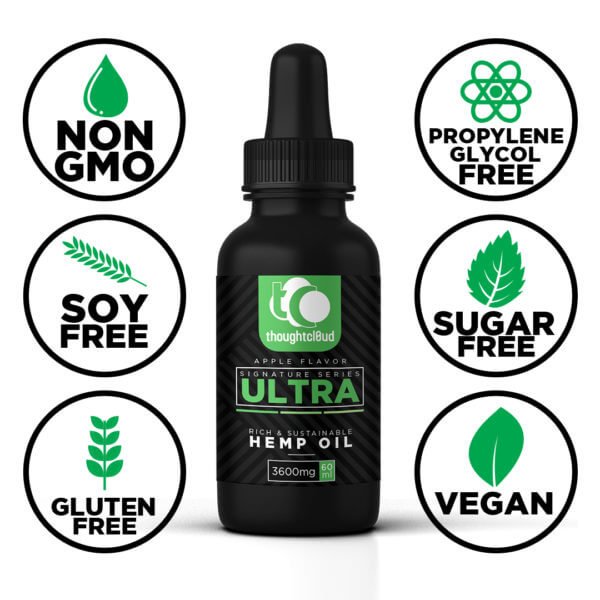 This product is made from select hemp plants sourced from Colorado and infused with coconut oil. This item is available in 500mg, 750mg, 1500mg, and 3000mg bottles of CBD. Each bottle contains 300-1200 drops depending on the size, and Full-spectrum is 100% non-psychoactive. Prices range from $31.99 to $149.99 depending on CBD content. Their CBD oils are one of the most effective ways to consume the compound. If you're the type of person that likes to mix your CBD oil with a drink or smoothie, I would stick with any of the nonflavored (coconut oil added) formulas since they both taste good and have a neutral flavor and will taste good with foods. Most all of these are vegan suitable so check the label if you prefer vegan.
Similar to CBD infused with coconut oil, the only difference is this oil is infused with cold-pressed hemp. This item is also available in 500-3000mg. Each bottle contains 300-1200 drops and is non-psychoactive. Prices will vary based on CBD content.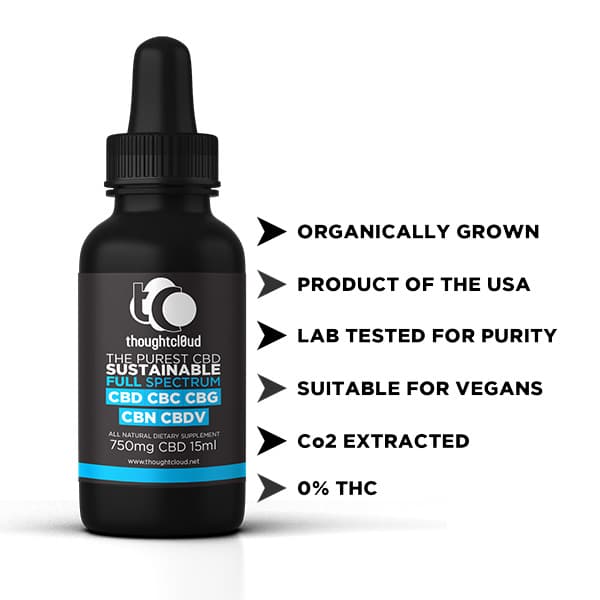 This product is often quoted as the "go-to," for the alleviation of migraines, menstrual cramps, and acute pain. This CBD isolate is a good choice for people who are sensitive to other cannabinoids such as THC. The CBD is isolated and provides a less intense effect than Full Spectrum. Sustainable Isolate is recommended for those that want to ensure a zero-trace amount of THC in their system and not feel high. (None of ThoughCloud products will get you high). Another differentiator for this tincture is that it contains MCT oil.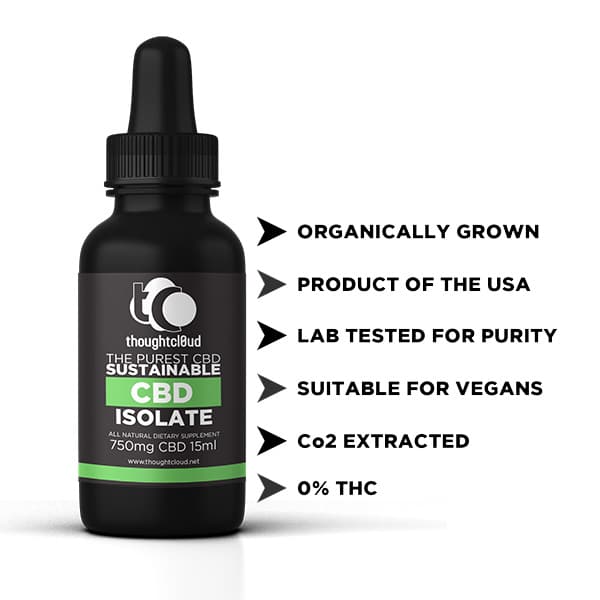 This product is recommended for those that have a common cause of allergies and inflammation. The Inflammation and Allergy come in 450mg and 800mg and each one is split with 50% CBG. One of the many cannabis compounds, Cannabigerol is known for its antibacterial effects and brain cell growth. This option is recommended for someone that is cautious about the effects their body may have from the oil.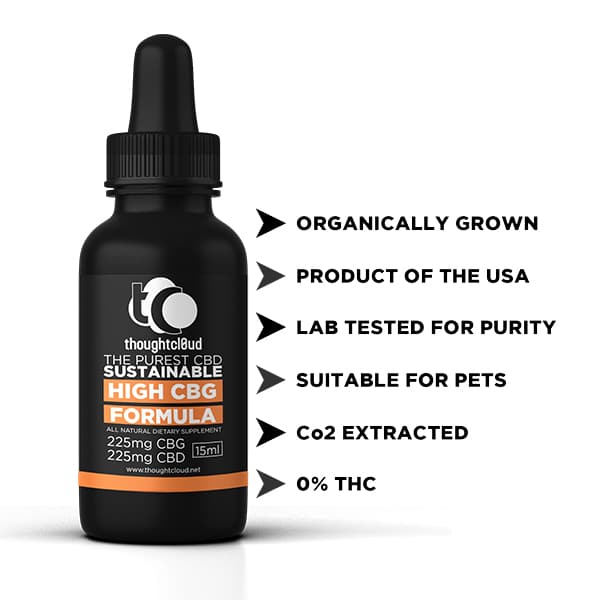 The bundle comes with a Vape Pen and CBD vape juice with the option to choose more than five flavors. Vape pens are optimized to activate concentrated oils, making this one of the most elevating cannabis trends. Besides the oils and tinctures, using a vape pen is an easy way to be discreet, is clean for the lungs and requires a few inhalations in order to feel an immediate change to the body. I tried this vape pen with both the strawberry and cheesecake flavors. This is probably the quickest way to feel the benefits of CBD and if you like the ritual of vaping that's an added bonus. The Rubi pen somewhat reminds me of the Pax but it's much less expensive and I've yet to have issues with mine. It charges quickly. My only criticism is I personally don't like strong flavors when I vape and you will definitely taste the vape oil. The bundle is $69.99 but you can save 10% with our exclusive ThoughtClould coupon code which is on the top right of this page.
CBD Capsules
If you're new to CBD, capsules may be a great way to get introduced to these products. A CBD capsule provides you with a familiar and effective way of consumption. And ThoughtCloud offers some of the highest-quality currently on the market.
Each of their CBD soft gels contains 25mg of CBD isolate (offering 750mg total). These capsules are made using 100% vegan ingredients and are designed for quick absorption. Not to mention, Thought Cloud offers a capsule that contains high amounts of cannabinol (CBN) to help you with sleep.
CBD Facial Mask
One of the topical benefits of CBD is it has the ability to moisturize dry and flaky skin. When combined with other all-natural rejuvenating ingredients, CBD can be a powerful tool battling various skin conditions. ThoughtCloud is well aware of this and has developed three different CBD Facial Masks to correlate with these conditions. These include:
Regular Skin

Sensitive Skin

Acne-Prone Skin
Each face mask jar costs $29.99 and comes loaded with 300mg of CBD. ThoughtCloud also offers a Full-Spectrum Facial Beauty Bar for $19.99 if you're looking for something that can more conveniently be used in the shower.
CBD Balms
If you're looking for a CBD topical that's better used for pain management, you may want to check out the two CBD balms offered by ThoughtCloud. Topicals are a great way to manage pain as they allow you to target specific areas of the body.
The first CBD balm ThoughtCloud offers is a Tattoo Balm. This is designed to help your skin health after you receive a tattoo along with maintaining the coloration of the tattoo. Each Tattoo Balm is packed with 250mg of CBD (along with 50mg of isolated CBG) and costs $41.99.
The other CBD balm ThoughtCloud offers is Pain Management. This is designed primarily to help with joint and muscle pains but can also be used for bruises and sprains. The Pain Management balm comes with 300mg of CBD and costs $41.99.
Both balms are made using only all-natural ingredients and are 100% vegan.
Pre-Roll Flower Joints
ThoughtCloud also offers a pre-rolled hemp joint that offers an orange, tangy flavor. This joint contains 80% CBG, 19.9% CBD, and 0.14% THC and is meant to help your mind clear while promoting well-being. Each pre-roll pack costs $19.99 and comes with two half gram (1 gram total) joints. It's important to note that these joints contain an extremely small amount of THC and, therefore, won't get you high.
CBD Pet Products
ThoughtCloud also offers two unique products for our furry friends. CBD works all the same in animals as it does in humans thanks to our endocannabinoid system (ECS). The main difference in pet CBD products is the dosage (usually lower) and the ingredients used to make these products.
The first CBD pet product ThoughtCloud offers is a standard full-spectrum tincture. This is made using cold-pressed hemp seed oil rather than MCT oil which is healthier for pets to digest. It comes in 300mg, 600mg, and 1,200mg.
The second product they offer is CBD dog treats. These also contain a full-spectrum extract at 10mg of CBD per treat. They can be purchased for $25.99. You can use our Thought Cloud coupon codes to help you save on these products.
ThoughtCloud Suggested Dosage
If you are new to CBD, ThoughtCloud recommends starting with 10 milligrams of CBD day and doubling the dose after a week, so you'd be increasing it to about 20 milligrams a day in your second week. Since CBD benefits vary from individual to individual you can continue to increase or decrease the dose incrementally until you find the right dose for you. Below are some of ThoughtCloud's recommended dosages for varying ailments:
Schizophrenia: Up to 1000 mg
Insomnia, anxiety, depression: 50-150 mg
Dietary supplement: 5-25 mg
Aches and pains: 25-100 mg
Epilepsy: 200-300 mg
When it comes to CBD dosing, it's important to remember that your perfect solution is highly dependable on a number of factors. These include:
Your Ailment - You're taking CBD for a reason and your dosage can be determined based on that reason. For example, someone struggling with mild pain is going to naturally need less CBD than someone struggling with chronic pain.

Your Body Weight - The more you weigh, the more CBD you'll need. You may find the above-recommended 10mg to start doesn't have any effect on you. This may have to do with your body weight. Generally speaking, some professionals suggest you take 1 to 6mg of CBD (depending on your ailment) for every 10 pounds you weigh.

Strength - How many milligrams (mg) of CBD does your product contain? The higher the milligram count, the more CBD there is per dosage and, therefore, the less you'll need to feel the effects.
As you start to take CBD frequently, it's important to remember that cannabidiol builds a natural tolerance within our bodies. This means you may need more in the future in order to feel the initial effects.
ThoughtCloud Lab Testing
ThoughtCloud CBD products are lab-tested immediately after the CBD is extracted and then again by a third party laboratory in Colorado to ensure a safe and consistent product. Although ThoughtCloud does not publish their lab results on their site you can request them via email by reaching out to admin@thoughtcloud.net.
ThoughtCloud Pros
Organic, Colorado hemp, 3rd party tested for quality

Suitable for Pets

Commonly have sales, verified ThoughtCloud coupon codes, and free shipping

Uses industry-standard CO2 extraction

Safe, non-psychoactive, gluten-free, natural flavoring, non-GMO

Easy to read dosage instructions for beginners
ThoughtCloud Cons
Vape flavors can be somewhat intense

CBD is not FDA approved
Overall Thoughts on ThoughtCloud
Whether you're looking for a CBD bath bomb or a CBD tincture with the right sleep formula, ThoughtCloud's versatile selection of products has you covered. Their whole-plant CBD products are loaded with terpenes and a number of beneficial cannabinoids (including CBC and CBN) which means you're the most out of this plant medicine.
There are a lot of CBD companies to choose from, especially when you're a newcomer who knows next to nothing about these plant extracts. The amount of competition out there truly can be overwhelming and it can make it difficult to find a company that's full-spectrum CBD oil you can rely on.
We can safely say ThoughtCloud can be that company for you. Their variety leaves something out there for everyone and their high-quality production guarantees you're purchasing some of the best CBD on the market.
How To Redeem A ThoughtCloud Coupon Code
To redeem ThoughtCloud special offers, you'll want to click "Get Coupon" at the top of this page for whatever current discount you see above. A small pop window will appear and you'll select the "copy code" button, this will automatically copy the code. Next, you'll select "open site" which will redirect you to ThoughtCloud's website where you can shop products. Once you have made your CBD selections you'll go to your cart and see a "coupon code" box. Simply paste the Thought Cloud discount code in that box then select "apply coupon" and you'll see your price drop instantly!
Contacting ThoughtCloud
You can contact ThoughtCloud via email or phone regarding any questions or concerns. You can also message them directly through their website. Depending on where you are located geographically they offer both a Toll-Free and an EU phone number. Additional contact information is listed below:
admin@thoughtcloud.net
+1(855) 602 - 3183
+44 20 8077 9839
Nature Catalyst Ltd.
Adamson House
Towers Business Park, Wilmslow Road
Greater Manchester, England
M20 2YY
If you purchase any of these products please feel free to leave a ThoughtClould CBD review of the product you tried. We want to help our community with transparent reviews of products so they can find what's the best fit for their ailments. Be sure to sign up for our newsletter to get the latest news, discounts, and more.
Disclaimer: The following reviews are made by consumers. ThoughtCloud has not reviewed and therefore doesn't endorse, support, or approve the reviews or recommendations left by consumers. These statements have not been evaluated by the FDA. ThoughtCloud products are not intended to diagnose, treat, cure, or prevent any disease.
21 Thoughtcloud CBD Reviews
Jessie

I've tried a few different Thoughtcloud, products my favorite being the 750mg CBD Oil tincture. It has coconut oil in it and a neutral taste so you can mix it with food/drinks or put drops under your tongue which is what I prefer. I also tried the Rubi Vape Bundle with Strawberry Lime flavor. The pen reminds me of the Pax but much more reasonably priced. It vapes consistently and the CBD vape oil makes you very relaxed. I've been using it after work to help decompress and calm my mind. 2018-06-19 17:04:06

Shane

I have the Full Spectrum Pain Management balm. Been using it on my shoulder after pain and inflammation of my rotator cuff. It's not healing my injury but it's definitely helping with the pain. Been using it once in the morning and once at night. Has a pleasant smell and I noticed when taking it at night I sleep pretty well. 2018-06-26 01:58:52

Megan

I'm thrilled to have discovered these CBD products. Since I started taking the CBD oil my back pain has improved significantly. I'm more relaxed and less anxious and getting the best sleep I've had in a very long time. Your oil is incredible and I'm very happy with the customer service hel 2018-06-26 16:00:21

Disappointed

2 weeks to pack your cbd and send on its way....terrible customer service. Half a month to put something into a box, with no updates regarding the status of your order. Say you spend $100-500 with this conpany. Now your hard earned dollars are tied up and you cannot spend any money on any other cbd company's product to help with your anxiety etc. in the meantime. Seems that they need to reevaluate their intentions as a company. From my perspective and experience with them, it seems to be all about money, selling a product aimed to heal or alleviate anxiety and inflammation when their actions or lack thereof causes all of the above. Do Not buy from them. How hard is it to put a product into a box and ship it off? Its not hard....if your products are backordered, let your customers know. 2018-09-04 20:31:04

Sam H

I reached out after I mistakenly put the wrong address on the order, and they were able to track it and found a way to still deliver the package to me without making me pay for a re-order. They were very helpful, I give them a 10/10 on customer service, and my dog loves the stuff. 2018-09-17 04:09:04

Kenny

I've ordered a couple times from thought cloud cbd and received my order pretty quick both times. The cbd oil does taste good and has helped a lot with my ailments. I also tried the vape pen but there's something about the CBD oil I enjoy much more and notice the effects much better. I'm using the 750mg isolate and am curious about the stronger ones but CBD is not cheap. 2018-09-17 21:57:12

Emily

They are really good people and I got the support when I needed . I brought vape juice for myself and CBN for my boyfriend and we are both satisfied. 2018-09-17 22:12:56

MEDINA DIZDAREVIC

Just a fair warning since the website does not notify you that the billing process is from England even though the company itself is in Oregon. But I ordered CBD oil as a first time buyer from the website and was charged an international fee on my account. I also had to deal with a bunch of bs from my bank including them canceling my debit card and having to ship me out a new one because they thought it was fraud. 2018-12-08 02:12:08

Eddie

I was referred to Thoughcloud by CBD Nerds. I bought the full-spectrum CBD oil with MCT in it. Product tastes perfectly fine, ships fast, and has really helped with my nerves. Thanks again! 2019-01-28 19:02:07

Rickson Lee

The pet CBD oil does seem to have some small impact. My dog shakes a lot less and I do think the oil has been beneficial. 2019-03-29 17:45:40

Christine

I have been using Thoughtcloud CBD for about 2 years now for inflammation, arthritic pain and anxiety. This product by far has been the most beneficial in reducing pain and anxiety. Thank you for giving me back my quality of life! 2019-05-18 16:46:16

Betty

I'm on second bottle 1500mg thoughtcloud broad spectrum.. Hasn't helped with my inflammation of the nerves in lower back. I'm not sure how much to take. Can't seem to get a recommended dosage from anyone! Maybe I need to increase. I take 1/2 stopper full three times Day. . 2019-06-22 03:06:49

Charlotte

So happy to have found Thoughtcloud! The company is excellent, their quality is stellar and the products are, hands-down, the best CBDs I've found anywhere. Thank you for your dedication to your customers & maintaining such business high standards! 2019-08-08 13:43:23

Jennifer

They have a great product and often run some awesome sales. The sleep formula is the best. 2019-08-26 12:49:35

Taylor

Such a great company! The bath bombs are to die for & the orange creamsicle vape full spectrum CBD is so flavorful and convenient. So glad we have found an amazing brand that we trust enough to use on our pets & children. 2019-09-16 07:12:46

Debra

I have degenerative arthritis in my back and feet so I am confined to my home. I cant drive or work at the moment. I was also diagnosed with chronic lyme disease this year and my condition is deteriorating. I had a friend buy me a bottle of your oil and it has helped me soo much with my pain and so many of my other symptoms. 2019-09-24 09:04:03

Ingela

The best CBD company! their product's has changed my life ? I'am using their vape bundle and the full spectrum oil. Totally recommend them with all my heart! Anxiety and stress free cause of their products. 2019-10-04 06:47:32

Stephanie

Life saver and life changing! How did I go this long in life without this amazing pen and oil! HIGHLY RECOMMEND this brand and products! Also their other oils are amazing!!! 2019-10-25 02:01:36

Kellie

High quality, high potency Full Spectrum Oil with many essential cannabinoids and terpenes. It's expensive but worth every penny and works better than other company's full spectrum oils. It doesn't have a heavy cannabis-tyoe taste to it. The natural unflavored oils, like this one and this series in the Fractioned Coconut Oil/MCT oil, is almost clear in color, and has more of a light taste of the MCT/coconut oil used as the carrier oil than anything else. There really isn't a strong or much at all of a cannabis flavor/taste to it. It's one of the better tasting full spectrum oils I have tried. Great quality product with high potency. Once you try these CBD oils and see what a quality product it is, with all the cannabinoids necessary to get the full benefit of the oil, I definitely recommend buying larger bottles/quantities, it's completely worth it! 2019-12-02 12:38:59

Lisa

My 9 year old doggie was just diagnosed with CHF and ever since I started giving him the CBD in the morning and night with his kibbles and his meds he sleeps so much better! No more tossing and turning with rapid shallow breathing! He finally relaxes and sleeps the whole night?? some nights when he is a bit off and can't sleep I just give him a couple drops and off to bed he goes again. So thankful to have found this and so happy his breathing and nerves have calmed. His vet fully supports it and I've seen such a major difference in him. Will be purchasing this again. Rico says thanks Thoughtcl0ud! ?? 2019-12-28 00:56:48

Rodric

So many benefits from their products. Mental and pysical relief with lower dosages of pain and anxiety medicine. 2020-02-27 12:38:21