Treatibles
(1)
Treatibles CBD Coupons + Reviews
Treatibles is a pet CBD provider who's mission is "to promote harmony for the whole family® through the happiness and health of each pet with our revolutionary full spectrum hemp oil products." Their products are Compassion Certified, made in the US, and sourced from their own organic hemp fields. They grow hemp in 4 states: Kentucky, South Carolina, Oregon, and Colorado. All of their products are THC-free, non-psychoactive, and non-toxic. Their products are safe and legal.
Treatibles CBD Benefits
First company to offer full spectrum hemp pet products

All products are virtually free of THC, non-psychoactive, and non-toxic

All ingredients are third party tested to ensure quality and consistency

All products are Compassion Certified, made in the USA from USA-sourced ingredients

Treatibles is a charitable brand
Treatibles CBD Products
Treatibles offers over 20 products for pets ranging from full spectrum oils, hard and soft chews, capsules and some CBD oil for humans.
Ready Pack for Cats (10 ct) Feline
Treatibles Ready Packs contain ten single servings of organic full spectrum hemp oil for animals under 20lbs. Each pack costs $22.00. The pocket sized package is easy to transport while the single packaging makes it easy to dispense on the fly. The doses can also be adjusted to suit the needs of the pet. The oil can also be applied topically on affected areas.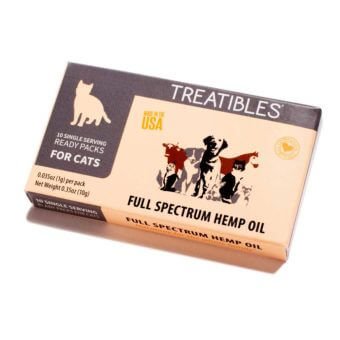 Soft chews for dogs (60ct) Canine
Treatibles Soft Chews are made for senior dogs because they are formulated with a softer consistency. These chews contain organic full spectrum hemp, turmeric, papain and bromelain. They are intended to help maintain normal emotional balance and promote relaxation. They also enhance joint function and support digestive tract health. The recommended dosage is 1 chew per every 30lbs of an animal's weight every 4-8 hours as needed.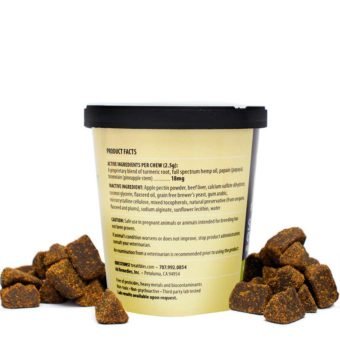 Large Villalobos Sweet Potato Hard Chews (45 ct) Canine
These grain free chews contain approximately 45-47 chews per bag (packaged by weight), while each chew contains 4mg of full spectrum oil. Treatibles partnered with Villalobos Rescue Center (VRC) to create Tater's Sweet Potato Tots as their flagship product. How this works is that each $1 from the purchase of each Villalobos product is donated to Villalobos Rescue Center to help pay their veterinary expenses. These chews are infused with chickpea flour, sweet potato, coconut oil, hemp seed oil, tapioca, molasses, cinnamon and turmeric. The recommended dosage is 1 chew per 40lbs body weight. When you buy 10 bags of chews you get a 20% discount.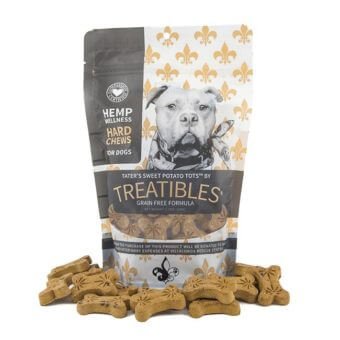 750mg Full Spectrum Hemp Oil
This hemp oil is intended for animals weighing over 125lbs. The base used is MCT coconut oil which offers antiviral, antifungal and antibacterial properties. It also contains antioxidants which when combined with the many benefits of full spectrum hemp oil offer a wholesome healthy product for your animal.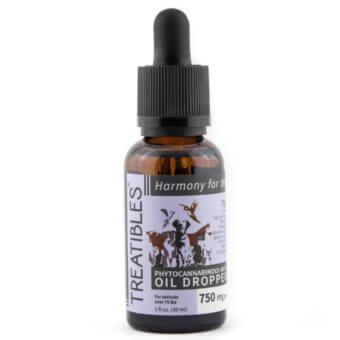 1500mg Full Spectrum Hemp Oil for Horses
This full spectrum oil is intended for animals weighing over 250lbs like horses. The oil is mixed in MCT Coconut Oil and Peppermint Oil to create a multi-use formula. The recommended dosage is 1 ml per every 250lbs of an animal's weight administered every 4 – 8 hours as needed. The package will come with a calibrated dropper that makes it easy to administer the oil which you can give sublingually or mix it in the food.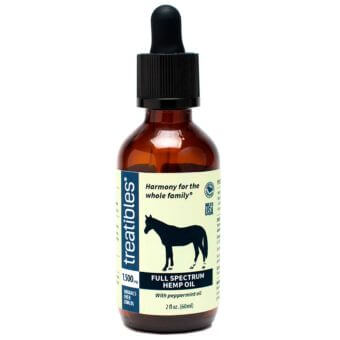 10mg Full Spectrum Hemp Oil Capsule
Treatibles capsules are intended for animals over 50lbs as each capsule contains 10mg full spectrum hemp oil. Each bottle contains 30 capsules and costs $64. You can use one of the Treatibles coupon codes to save on these. You can throw the capsule into the food of the pet or simply open it up and mix the oil with the pet's food. Observe your pet for effects soon after, remember that it has an endocannabinoid system similar to yours so will respond to CBD in similar ways. They also offer 25mg capsules for pets.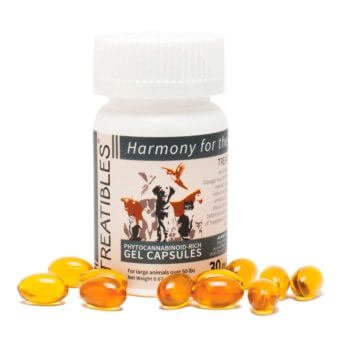 Full Spectrum Hemp Oil and Hemp Oil Capsules for People
Treatibles offers full spectrum hemp oil in a 250mg bottle costing $52. Our Treatibles coupons apply here as well. It contains 250mg of full spectrum hemp oil which is peppermint flavored. The 25mg capsules are easy to take on the fly and easy to transport too. Each bottle contains 30 capsules and costs $120. You can take a capsule each four hours or as needed.
Treatibles CBD Pros
Offer a wide range of CBD products for pet (over 20) that are THC free therefore are non psychoactive.

Offer free shipping on orders that are above $75

Treatibles coupon codes offered

Offer third party testing on raw materials as well as end products to ensure that quality is maintained
Treatibles CBD Cons
COAs not displayed on website

Offer limited number of products for humans

CBD is not FDA approved
1 Treatibles Reviews
Salty

Everyone is sleeping better, playing, and during thunderstorms they are much more relaxed 2018-12-17 14:39:26