Is CBD Legal? 2018-2019 Updated Status On Where It's Legal
Is CBD Legal? 2018-2019 Updated Status On Where It's Legal
Cannabidiol (CBD) is a non-hallucinogenic chemical compound found in the marijuana and hemp plant. Both plants belong to the same cannabis plant family, but hemp contains a high concentration of CBD. Unlike the psychoactive tetrahydrocannabinol (THC) compound found in marijuana, CBD provides users with a clear-headed experience without the mind or body high. CBD oil is a versatile and discreet supplement or alternative to traditional medication for numerous medical conditions. Despite studies touting CBD's efficacy as a promising medical treatment, many consumers are left wondering, "is CBD oil legal in the United States?"
CBD oil is in high demand for its effectiveness in relieving pain, inflammation, anxiety, seizures and much more. Derived from the hemp and marijuana plant, CBD oil has a confusing legal status due to ever-changing laws that vary from state to state. Its legality depends on the source of the CBD oil, THC content, and purpose for using it. The stigma behind the CBD compound and CBD oil has scared off patients who fear legal repercussions. State lawmakers across the country have continued to campaign for hemp as an agriculture commodity over the recent years. Therefore, the answer to the question "is CBD oil legal in the United States?" isn't cut and clear.
The Legality of Cannabis and Hemp-Derived CBD Oil
Hemp accounts for thousands of industrial and commercial uses in food, textiles, construction, personal care, recycling, and hemp-derived cannabidiol (CBD) oil production. Although hemp comes from the same plant that produces psychoactive marijuana, hemp contains a higher concentration of cannabidiol (CBD) and trace amounts of tetrahydrocannabinol (THC), the molecule that gives users a cerebral and heightened sensory experience.
Cannabis-derived CBD oil, however, isn't legal in all states. Some states do have laws allowing for the production and selling of cannabis-derived CBD oil, but not all states have these laws. Other state allows for hemp-derived CBD oil purchases, but only with a medical recommendation. For this reason, many customers have had trouble finding to answer the questions, "where to buy legal CBD?" and 'is CBD oil legal?"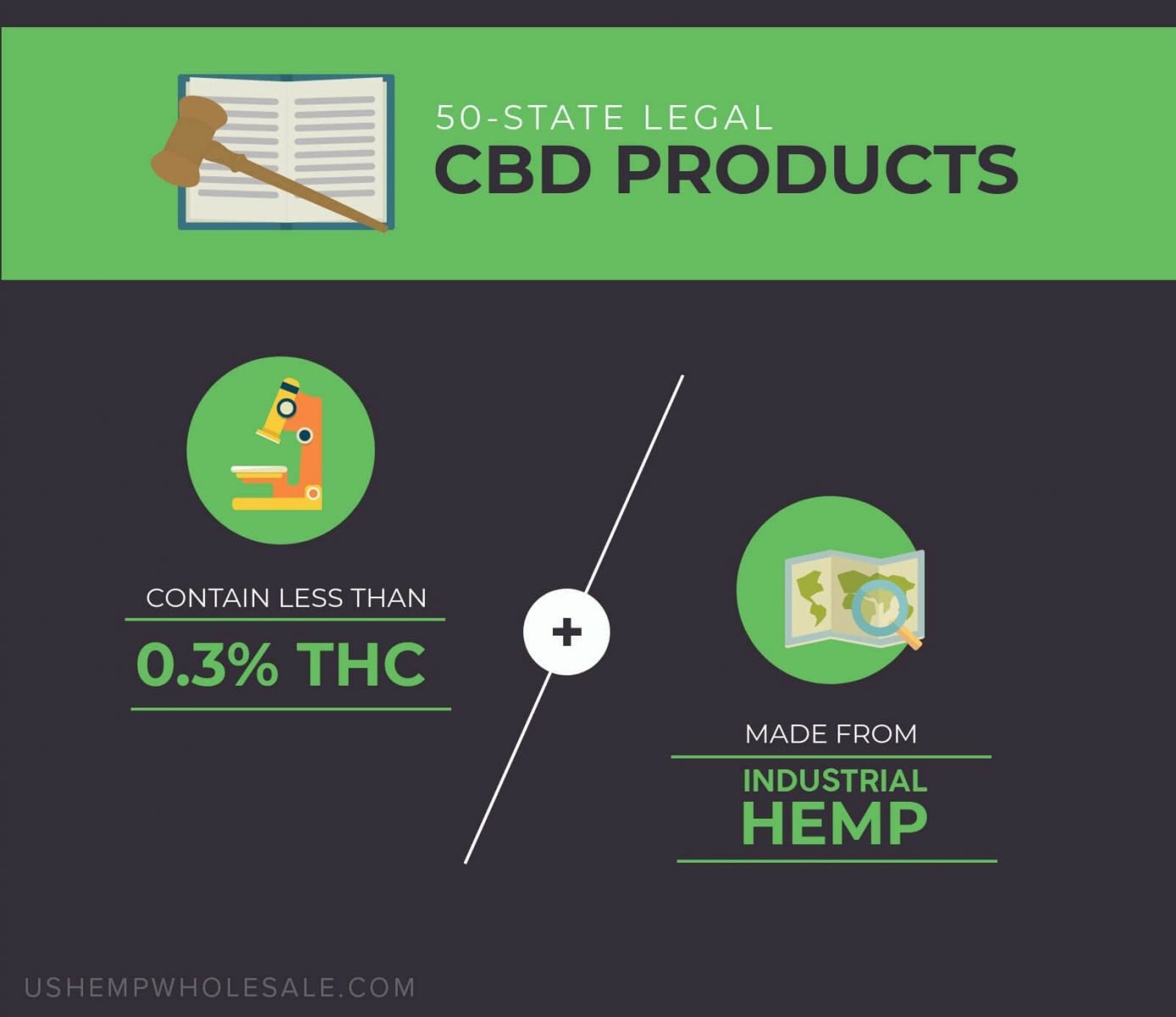 (photo credit: www.ushempwholesale.com)
2014 Farm Bill Promotes Hemp Production
President Obama signed the Agricultural Act of 2014, also known as the 2014 Farm Bill, to build a regulated pilot program for hemp cultivation. Despite the federal status of hemp, section 7606 of the Farm Bill allowed universities and state departments of agriculture to cultivate industrial hemp under three conditions:
Hemp is grown for academic and agriculture research

Hemp cultivation is allowed under state law

Grow sites are registered and certified by the state
In order to advocate for further hemp production, U.S. senators introduced the Industrial Hemp Farming Act in 2015 to give all farmers permission to grow hemp. Ultimately, the goal of the act is to take hemp products off of the controlled substances list if the hemp product contained less than 0.3 percent THC. On October 1, 2018, no new Farm Bill was approved and the old one expired without a short-term extension. The precarious legality of hemp products like hemp-derived CBD oil has led to more questions than answers for CBD consumers.
Hemp Research Pilot Program
State legislators have addressed the nuances in hemp law including its definition, licensing cultivators, seed certification, and creating laws to protect the grower. A total of 41 states currently has enacted laws regarding hemp production, with 39 of those states allowing for a hemp pilot program. In 2018, at least five more states have moved forward with legislation to establish a hemp pilot research program. These new pilot program states include:
Arizona

Alaska

Kansas

Missouri

Oklahoma
Currently, however, many states do not allow for the cultivation of hemp. These states include Idaho, Texas, South Dakota, Iowa, Louisiana, Ohio, Missouri, Georgia, New Jersey, Washington D.C., and Connecticut. Hemp cultivation is also not allowed in Puerto Rico, Virgin Islands, Guam, American Samoa, and Northern Marianas territories.
A proposed 2018 Hemp Farm Bill features stronger protections for hemp products including CBD oil. Despite the expiration of the 2014 Farm Bill, hemp pilot programs do not expire with the bill. For one, the Farm Bill contains no sunset provision, a condition that a program is discontinued if it is not renewed. A president-approved "minibus" spending bill also protects hemp pilot programs until December 7, 2018.
Where is CBD Oil Legal for Recreational and Medical Use?
CBD oil is currently legal for recreational and medicinal use in nine states. These states include Maine, Washington, Oregon, Vermont, California, Alaska, Massachusetts, Nevada, and Colorado. In these states marijuana and hemp-derived CBD oil is legal without a medical cannabis prescription. 31 states allow for the medical use of cannabis and hemp-derived CBD with an approved doctor's recommendation. These medical-friendly states are New Mexico, North Dakota, Rhode Island, Ohio, West Virginia, Oklahoma, Arizona, Delaware, New Jersey, Montana, New York, Hawaii, Louisiana, Connecticut, Florida, Arkansas, Pennsylvania, Michigan, Rhode Island, Maryland, Minnesota, Alaska, California, Colorado, Oregon, Vermont, Washington, Maine, Massachusetts, Nevada, and New Hampshire.
18 states have conditions to limit the access of cannabis to only include CBD oil products with restrictions on THC content and qualifying conditions. Each one of these states has unique restrictions on levels of THC in CBD oil products. These states are Kansas, Indiana, Alabama, Texas, Wyoming, North Carolina, Tennessee, South Carolina, Utah, Kentucky, Missouri, Mississippi, Wisconsin, Virginia, Iowa, Florida, Oklahoma, and Georgia. Texas residents searching for "is CBD oil legal in Texas?" have especially restricting laws on qualifying conditions, medication use, and physician approval.
Where is Cannabis-Derived CBD Oil Illegal?
There are three states that prohibit the use of cannabis-derived CBD products including CBD oil. Idaho, South Dakota, and Nebraska do not allow the use of cannabis-derived CBD. In Idaho, South Dakota possessing marijuana is a misdemeanor. In Nebraska, possession of marijuana, even cannabis-derived CBD oil, is treated as a civil infraction.
The 2014 Farm Bill expanded the cultivation of hemp making hemp-derived products more accessible to the general public. If the 2018 Farm Bill passes by the end of 2018, the stigma and legal status of hemp farming and hemp-derived products will change to benefit farmers and consumers. Despite CBD oil being technically illegal on a federal level, the DEA isn't likely to prosecute individual users that have found relief from CBD oil.