Review Summary
Offering gummies, tinctures, and vape cartridges, Cannabis Life may provide the highest-quality delta-8 THC products on the market.
Delta-8 THC (tetrahydrocannabinol) has recently taken the market by storm as it's a legal way to experience cannabis' psychoactive effects. Still, with the advent of this cannabinoid, there's been a lot of speculation over whether or not the products on shelves are of quality. Just like cannabidiol (CBD), the industry isn't currently regulated by the Food & Drug Administration (FDA).
Luckily, a number of premium CBD brands are turning to Delta-8 to provide the market with top-quality products that are both safe and effective. Cannabis Life has recently come out with their line and we are happy to report that these products do not disappoint!
We invite you to follow along as we take a deeper look into Cannabis Life and the products on offer here. If you're interested in any of these products, we invite you to use our exclusive Cannabis Life coupon to help you save 20% on your total order!
OUR PICK
FEATURED PRODUCTS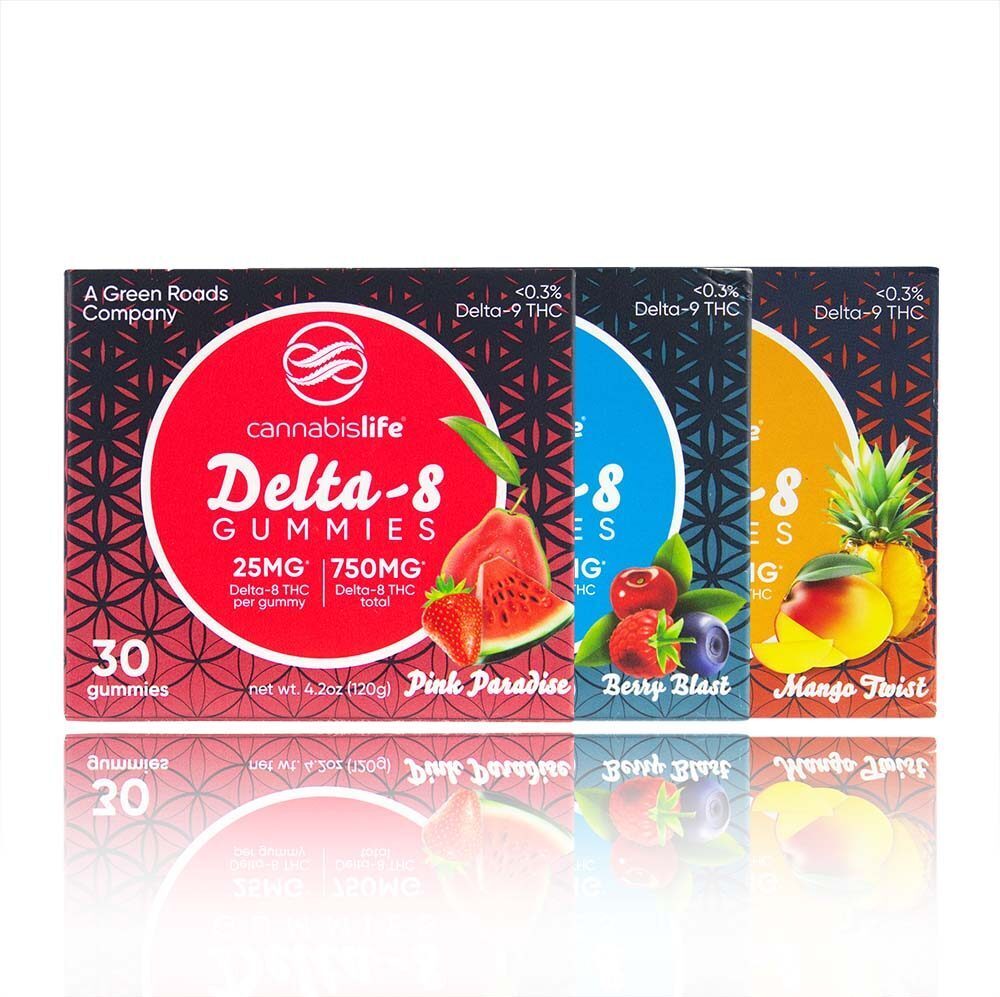 What's Living With Cannabis Life Like?
Currently, one of the biggest delta-8 brands on the market
Four unique product categories featuring high-quality delta-8 THC products
Delta-8 gummies come in an assortment of different flavors for various tastebuds
All products are made using organically-grown hemp from the United States
All products are tested by the batch in a third-party lab to ensure quality and safety
Wholesale options available for retailers
30-day money-back guarantee
Sitewide Cannabis Life discount codes are available
Pros
Good variety of high-quality delta-8 products
Pricing is reasonable compared to competitors
Sample dose available if you just want to try delta-8
Cons
Free shipping only available on orders of $75 or more
Return policy only applicable for unopened products
Cannabis Life's Delta-8 THC Products
Cannabis Life's products all circle around delta-8 THC – a cannabinoid that's derived from CBD, but is more comparable to delta-9 THC. This is due to the fact that it causes psychoactive effects (or a "high"). With that in mind, these products should only be taken by those over the age of 21 and under responsible circumstances.
We invite you to follow along as we take a deeper look at each of the products Cannabis Life has on offer. Feel free to use our Cannabis Life coupon for 20% off your order!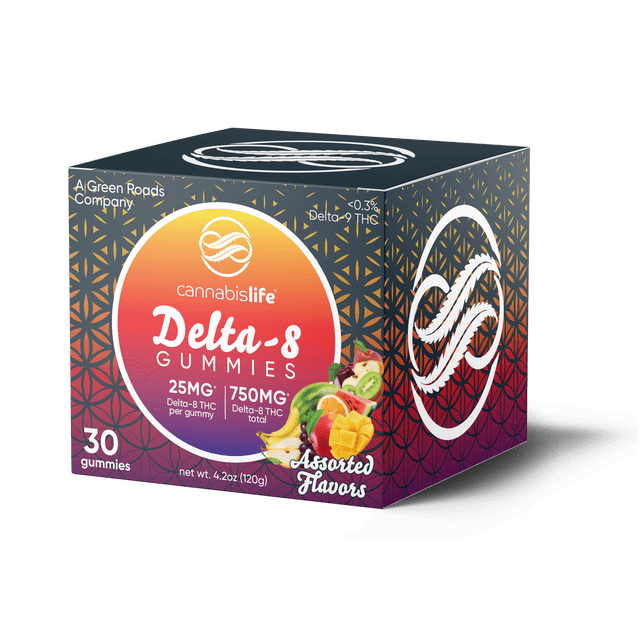 Delta-8 Gummies
One of the most popular ways to consume delta-8 is through gummies as they provide familiar and convenient consumption.
Delta-8 gummies work a bit differently than other products. For one, it's going to take some time before you feel the effects kick in – usually around 30 minutes to an hour. Secondly, when the effects do kick in, they're likely to slowly increase in strength. In other words, you may feel more of the effects four hours after you ate the gummies compared to 2 hours after.
For these reasons, it's important to consume delta-8 gummies during a period of time when you don't have too much responsibility ahead of you. We've found them to be great for a Friday night out or a relaxing Sunday in.
Cannabis Life currently offers its delta-8 gummies in four different flavors: Pink Paradise, Mango Twist, Berry Blast, and Assorted Flavors. Each purchase comes with 30 gummies at a total of 750mg delta-8 THC (25mg per gummy). They cost $34.99, but you can use our promo code to help you save.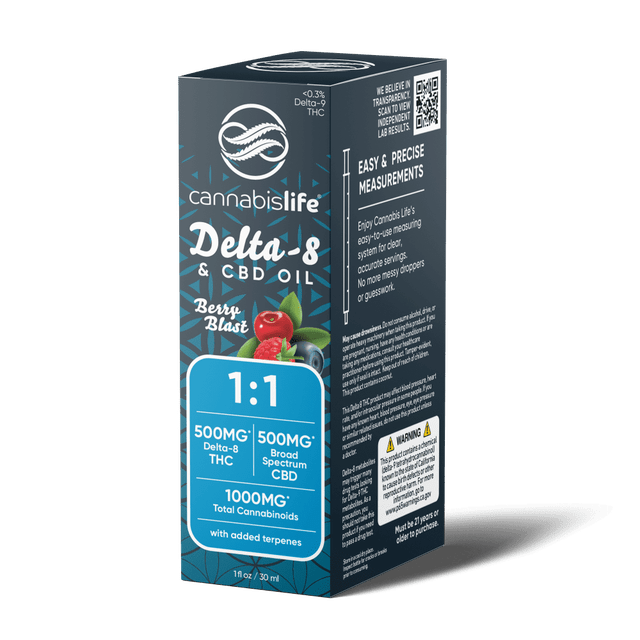 Delta-8 + CBD Oils
Cannabis Life offers a unique delta-8 THC oil by also incorporating CBD into its formula.
The combination of CBD and delta-8 THC provides you with a very distinct effect. While the delta-8 induces psychoactivity, CBD helps to calm you down and make you feel relaxed. The duo together makes for a really nice "high" and some may find they prefer taking delta-8 only when also taken with CBD.
Cannabis Life currently offers two ratio assortments of delta-8/CBD – either a 1:1 or a 1:2. Both cost $39.99 as they come with the same 1000mg. However, the 1:1 is ideal for those looking for an even 500mg delta-8 and 500mg CBD. Whereas the 1:2 provides you with 333mg delta-8 and 666mg CBD.
Which is better for you ultimately depends on what you're looking for when it comes to your delta-8 THC experience. If you're not sure what to expect, Cannabis Life offers a single 1:1 packet for $2.99. This one dose is meant to give you an idea of how the combination of delta-8 and CBD makes you feel and for you to determine whether you like it or not. If you find the psychoactive effects are a bit overwhelming, but would still like to give this combination a try, then you can opt for the standard 1:2 tincture.
Furthermore, if you find yourself preferring the single packet (as doses are already measured out), Cannabis Life also offers a 12-pack of these for $35.99.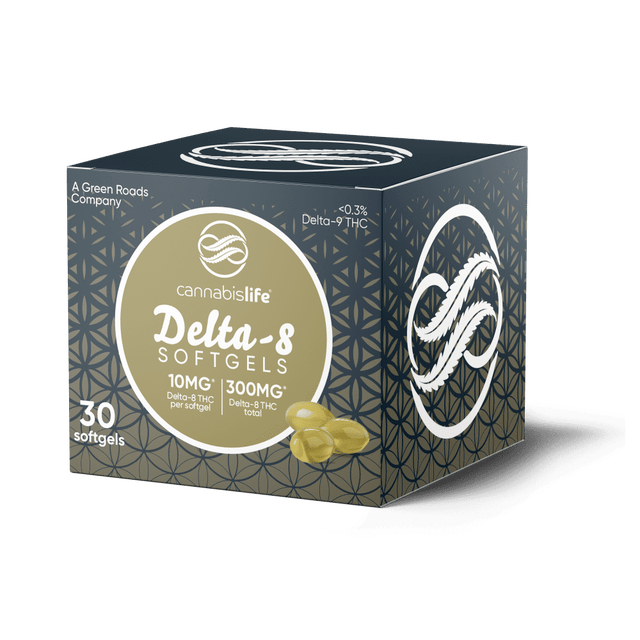 Delta-8 Softgels
Delta-8 soft gels are a great option for those who don't like tinctures, yet, want to avoid the sugar of gummies.
Cannabis Life's delta-8 softgels are very similar to their gummies in the sense that they're easy to consume. However, they do come with a lower potency – 10mg per softgel (300mg total).
This is an ideal option for those who want to try delta-8, but are a bit skeptical of how it will make them feel. While the low dosage will cause psychoactivity, it won't be as overwhelming as the dosages provided by the gummies and tinctures.
You can get yourself a pack of 30 delta-8 THC soft gels for $24.99.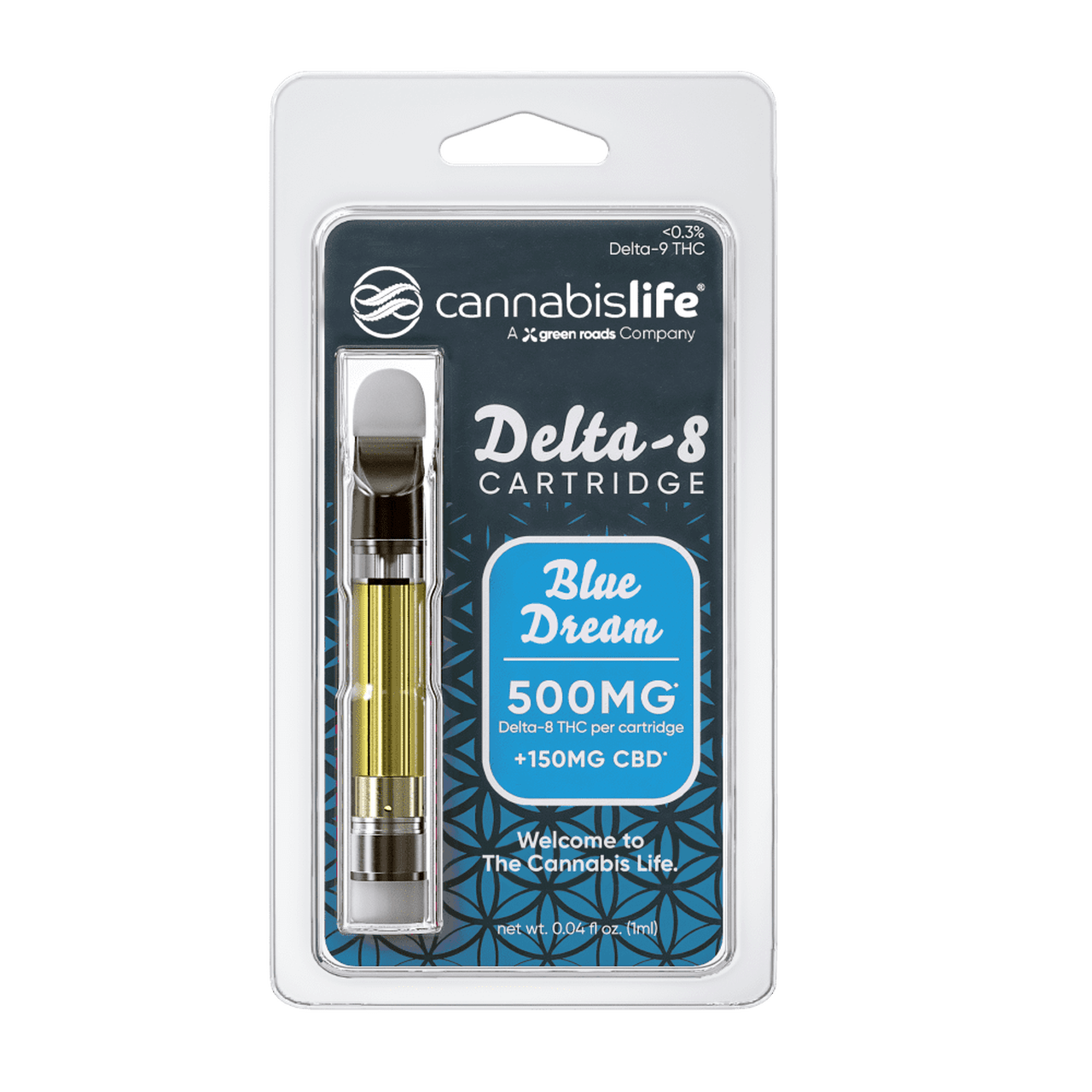 Delta-8 Cartridges
If you're looking for the most immediate effects of delta-8 THC, look no further than these cartridges.
Redeem code CBDNERDS for 20% off Cannabis Life
A delta-8 THC cartridge is ideal for those looking for instant effects. When we inhale a substance, it's able to enter our bloodstream quicker through the lungs. In turn, we'll feel the effects of that substances within minutes.
If you're looking for a way to consume delta-8 that's most closely relatable to traditional marijuana, this is it. Since delta-8 is derived from CBD and can't be grown naturally, we'll never have flower that can be conveniently smoked. So, cartridges are our next best option.
Cannabis Life currently offers 3 cartridges under the hemp strains of Blue Dream, Sour Diesel, and Maui Wowie. Each comes with 500mg total delta-8 THC. As of this time, these cartridges can only be purchased at select retailers.
Buyer's Guide
Cannabis Life Dosage Recommendation
Since delta-8 THC is such a new cannabinoid, not many people know what the right dosage is for them. Luckily, the average amounts are similar to CBD – where about 20 milligrams (mg) is the average. All of Cannabis Life's products provide a "suggested serving size" which is what you should initially go with as it tends to work for most people.
However, with delta-8, you may find you need more or less of a product to feel the effects you're looking for. With that in mind, it may take some experimentation to get a good idea of what the right dosage for you is.
If you're new to delta-8, we highly recommend Cannabis Life's 1:1 Delta-8/CBD Daily Dose to start with. This is a very affordable option (only $2.99) for those who still aren't sure about delta-8. Furthermore, it comes with a 16.67mg dose of CBD which will help to neutralize the psychoactive effects of delta-8.
If you find that you enjoyed this daily dose, you can always opt for another product. If you're looking for something stronger, we recommend the gummies (25mg delta-8 per serving) or the 1:1 CBD oil tincture (comes at the same dose, but can take another half to full dropper for further effects).
We do not recommend the vape cartridges for newcomers as it's much more difficult to measure out the proper dosage.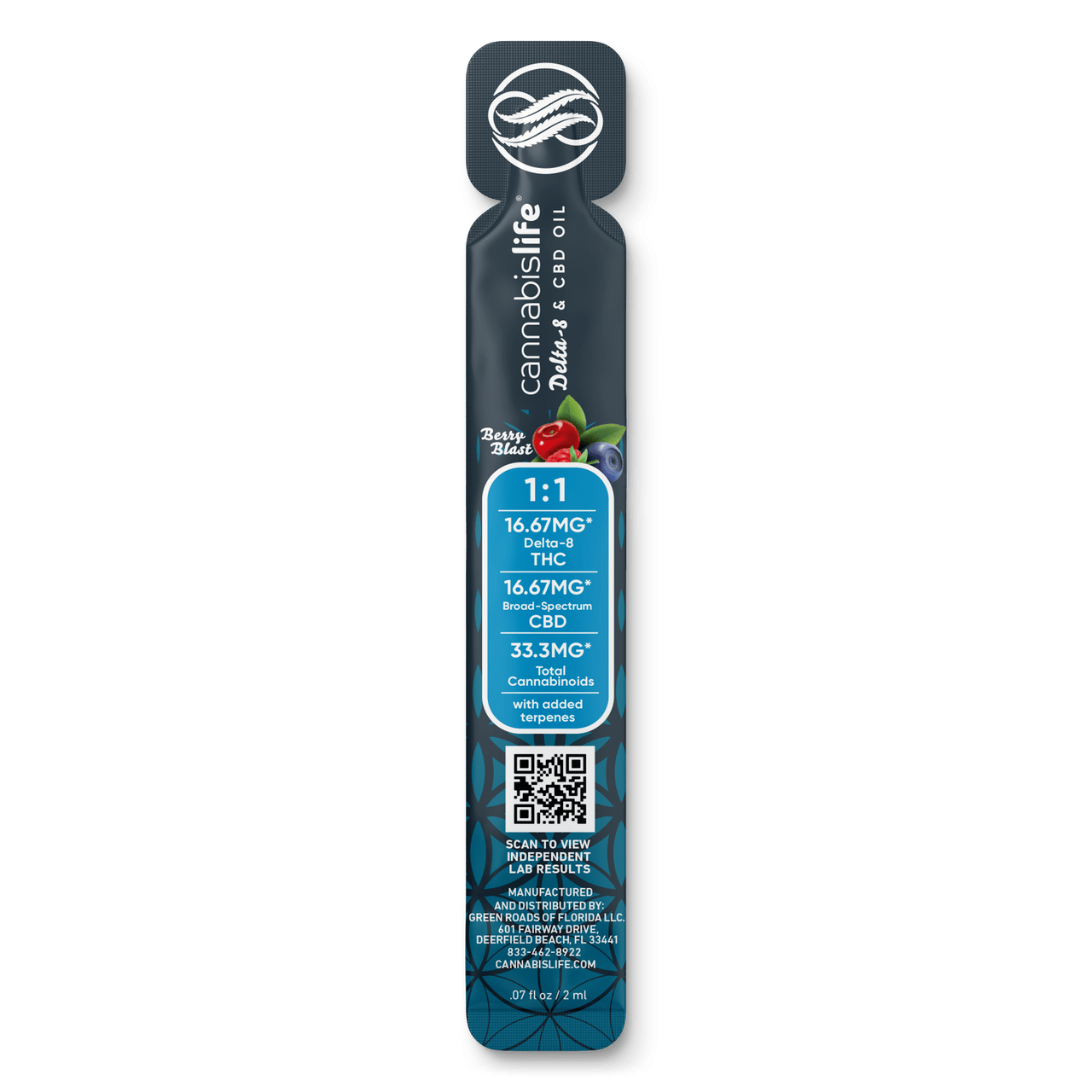 Cannabis Life Certificate of Analysis
Just like CBD, the delta-8 THC market is currently unregulated. With that in mind, it's important to us for a company to ensure the quality and safety of their products. One way to do so is through a Certificate of Analysis (CoA). These are third-party lab results that seek out a number of aspects of the delta-8, from its profile to whether or not it contains contaminants.
All of Cannabis Life's product batches are given a CoA and these are easily available through their website. At the top of all their web pages, you'll find a "Lab Reports" hyperlink which will directly take you to a page where you can find CoAs by either typing in the batch number of looking the product up by category.
Overall Thoughts on Cannabis Life
When it came to our personal experience with Cannabis Life, we really enjoyed their products. Compared to other delta-8 products we've tried, we found Cannabis Life to be of high quality and giving us an experience nearly identical to standard marijuana. In particular, we were big fans of the gummies as they come in such a variety of flavors. Truly, there's a taste for everyone here!
Furthermore, we really enjoyed the fact that all of Cannabis Life delta 8 products are at a fair price point. Since this industry remains new, it's difficult to determine whether or not you're getting ripped off by a company. The low price point and high quality of products provided by Cannabis Life reassured us that our money was going to exactly what we were looking for.
How to Use Our Cannabis Life COupon Code
Enjoy our Cannabis Life review? If so, we invite you to use our promo code "CBDNERDS" to save you 20% on your total order. In order to use this coupon, you first must make a selection from Cannabis Life's product life. Once decided, head over to your shopping cart where you'll find the option to add a coupon code on the right-hand side of the page (above your price). Within moments, you'll see your price drop!
Contacting Cannabis Life
Interested in reaching out to Cannabis Life? You can do so through the following methods:
Email: support@cannabislife.com
Phone: 1 (833) 462-8922
Address:
601 Fairway Drive
Deerfield Beach, FL 33441