Review Summary
TheraOne is a CBD brand by TheraBody that specializes in a variety of CBD topical products.
TheraBody found its roots in 2008 when it began selling effective natural solutions for daily wellness. Founder Dr. Jason Wersland was on a mission to find relief for his debilitating pain after a traumatic motorcycle accident. With nothing available on the market, he developed a makeshift tool that would eventually become the TheraGun: a percussive therapy device that helps with muscle recovery and relieves stress and tension.
In recent years, the team at TheraBody saw the holistic potential of cannabidiol (CBD). In turn, they developed a line of products known as TheraOne. These are primary CBD topicals, each of which has its own unique formulas to help with varying health conditions. While these products are extremely effective on their own, they make a great pair when purchased alongside TheraGun.
We invite you to follow along as we offer our TheraOne review of the CBD products they have available. If you're interested in any of these products, feel free to use our TheraOne coupon to help you save on your total order.
OUR PICK
FEATURED PRODUCTS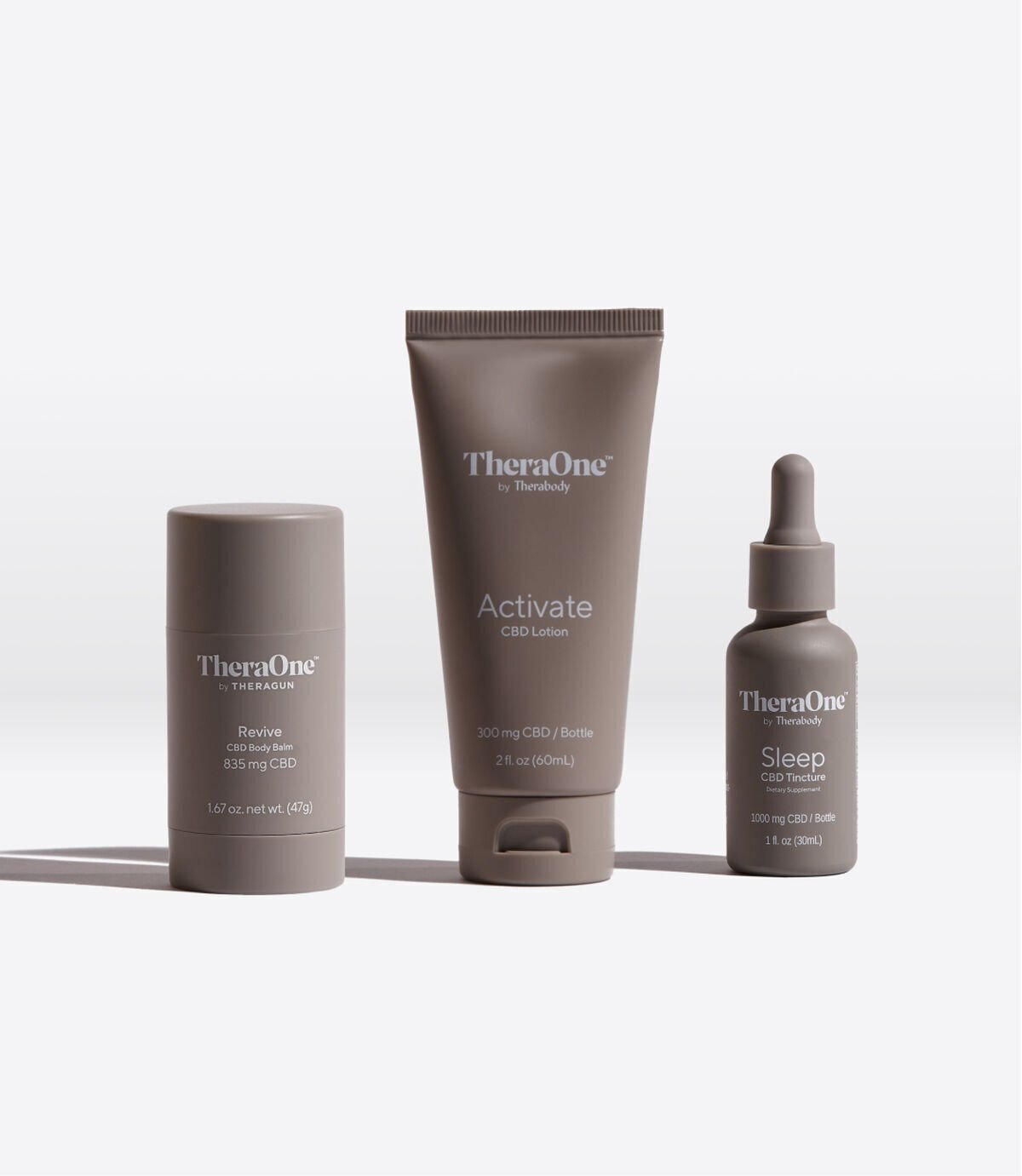 What Makes TheraOne a Unique CBD Brand?
Focuses on CBD topical products that can be paired with the TheraGun
TheraOne offers a number of CBD product bundles that can support you in multiple areas of daily wellness
All hemp is organically grown in Colorado, USA to yield in at least 10% CBD
Uses full-spectrum, organic extraction processes to ensure there are no contaminants
Uses Biosorb™ Technology to increase effectiveness, consistency, and product stability (shelf life)
All products are tested in a third-party lab 4 separate times to ensure safety and quality
Company was established after the founder required real relief for pain that wasn't available on the market
Offers high-quality customer service (including a live chat)
TheraOne discount codes are available
Pros
Can be purchased alongside TheraGun for further relief and wellness
All products are made using USDA-certified organic hemp
Offers interest-free payments on all their products and bundles
Cons
Limited to namely CBD topicals
Fairly low CBD potencies in each product
TheraOne Products
TheraOne mostly offers CBD topical products alongside a tincture. These topicals are each formulated to help with various health conditions. In turn, you may find one topical more effective than another when it comes to relief. Furthermore, TheraOne is a brand by TheraBody. Their name to fame since the start of their company has been the TheraGun: a percussive therapy device. With that in mind, you may find TheraOne products even more effective when paired with TheraGun.
If you're interested in any of the products discussed here, we invite you to use our verified TheraOne coupon code to help you save on your total order today! You can find this promo code on the right-hand side of the page.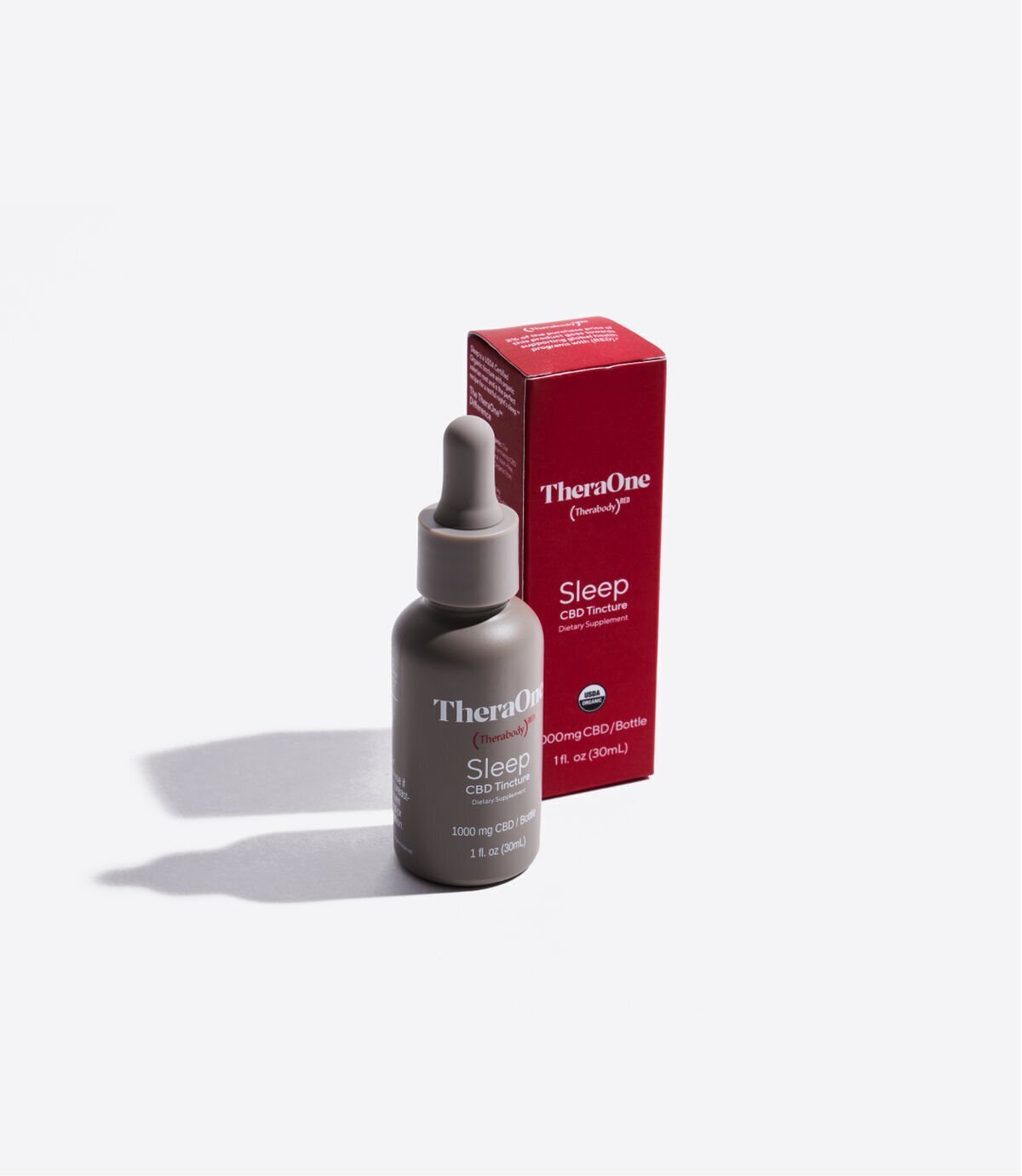 Sleep CBD Tincture
For effective sleep, TheraOne has developed a CBD tincture that stands out among the competition.
It's no secret that daily wellness requires proper sleep. For this reason, TheraOne developed its Sleep CBD Tincture. A CBD oil that incorporates 1000mg total CBD (about 33mg per serving) alongside a dose of chamomile oil, lavender oil, and valerian root extract.
We found this combination of ingredients to be the perfect natural alternative to get a better night's sleep. Research shows that lavender oil can help to reduce stress and pain whereas valerian root is effective in treating sleep disorders. The combination of the two, along with chamomile, helps to ease anxiety and stress right before bedtime. Allowing your mind and body to have an easier time getting to sleep.
If you struggle with sleep disorders, such as insomnia, this product may just be what you're looking for. Furthermore, some have used CBD as a way to reschedule their sleep or simply ensure they're getting good rest at night.
Each bottle of TheraOne's CBD Sleep Tincture costs $80.00. However, you can save by either receiving this product monthly through their subscription service or using one of our coupons!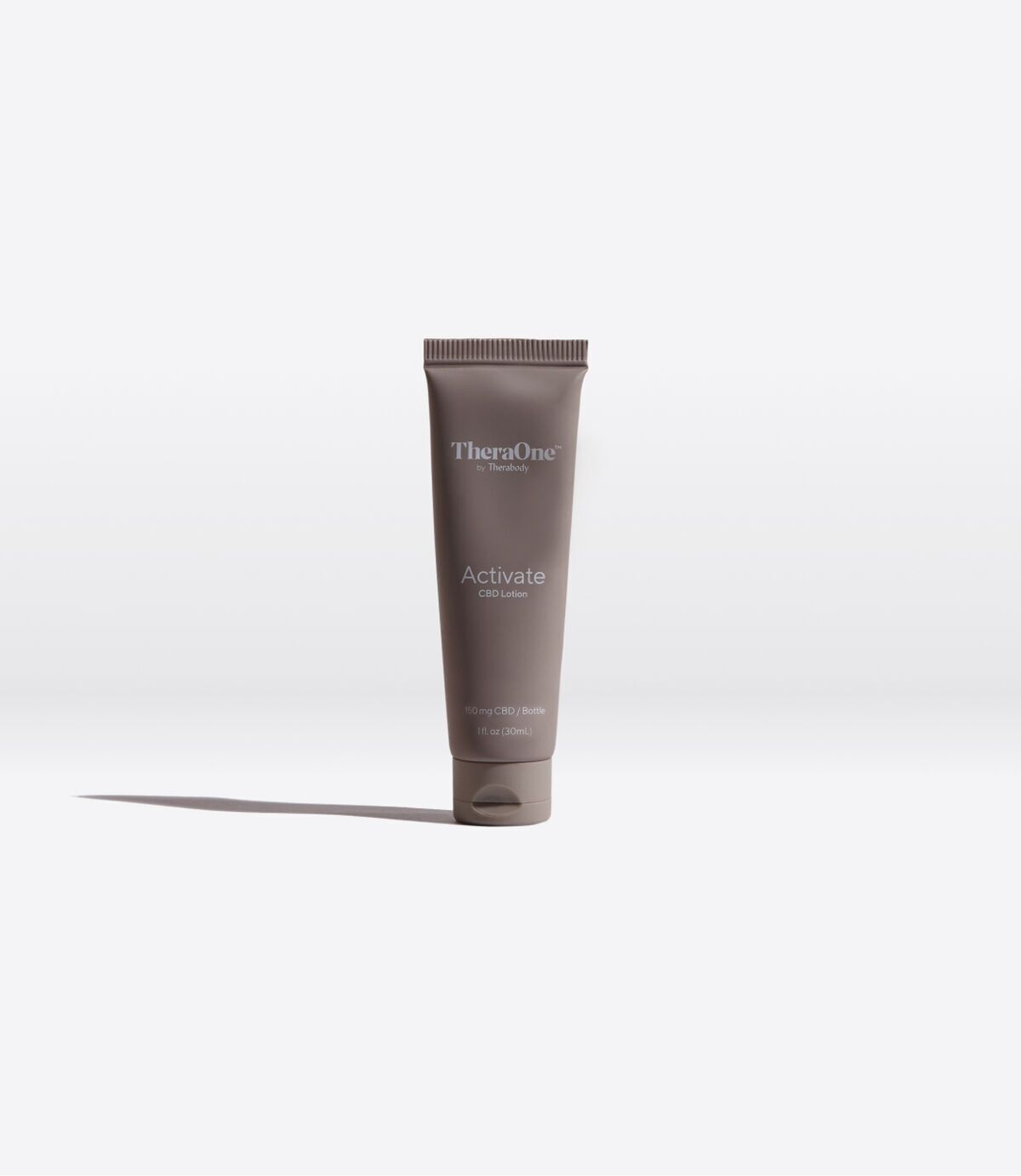 Activate CBD Lotion
TheraOne's Activate CBD Lotion acts as a pre-workout topical that can be used for a number of health conditions.
If you struggle with pain due to an underlying condition, it's natural that working out comes with its difficulties. Still, being as it's in our best interest to stay active, the ideal solution would be to relieve the pain before heading to the gym.
This is exactly the premise with TheraOne's Activate CBD Lotion. Each bottle contains 150mg of full-spectrum CBD, organic white camphor oil, organic turmeric CO2, and organic black pepper oil. The combination of these ingredients can help ease stiffness while also warming and reinvigorating targeted areas.
Each bottle costs $29.00. However, you can buy the exact same formula in 300mg CBD for $49.00. The higher-priced of the two comes in a red box which means some of your purchase goes to a Global Fund to fight worldwide pandemics.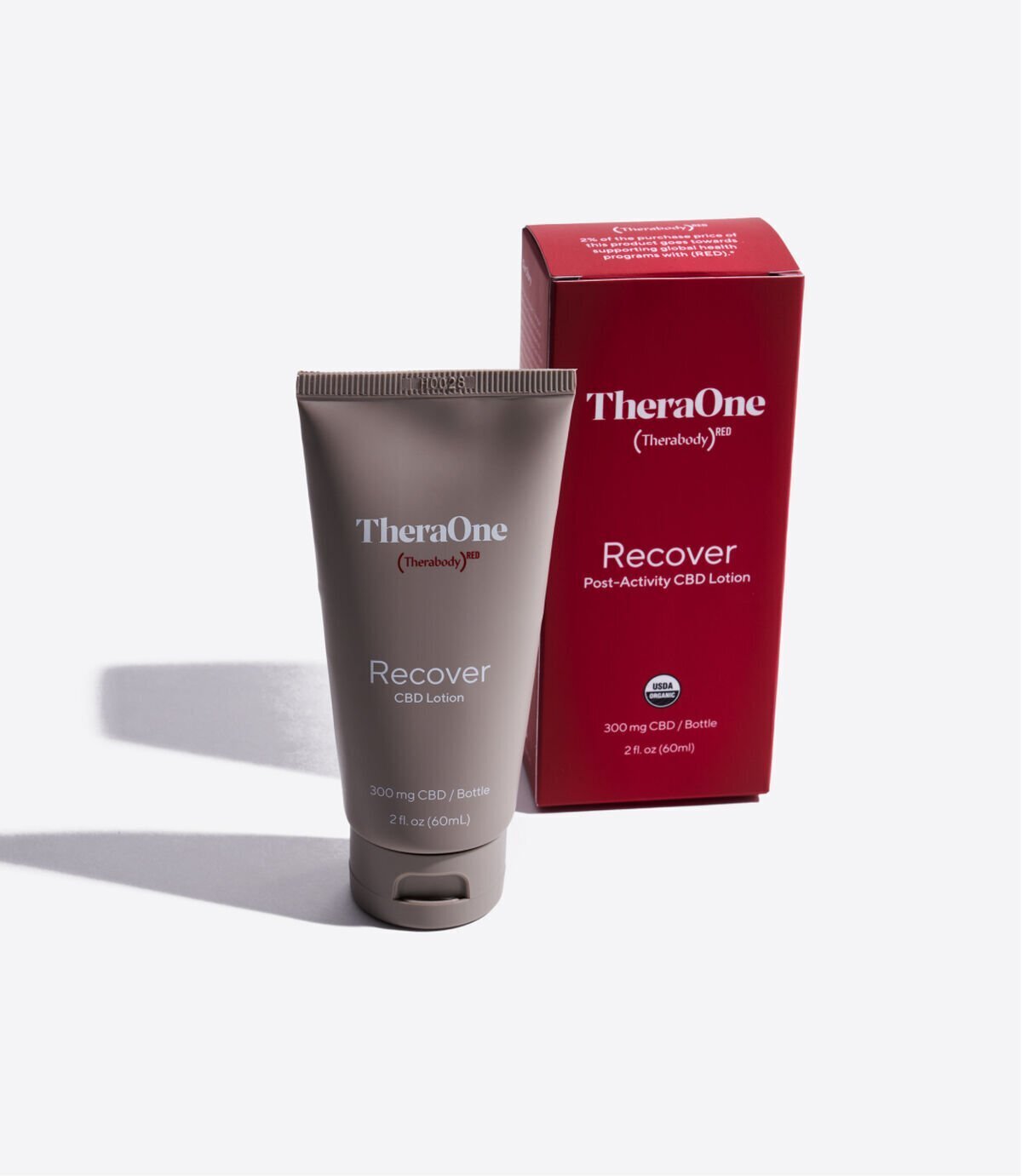 Recover CBD Lotion
If you're looking for a CBD topical for post-workout recovery, look no further than TheraOne's Recover CBD Lotion.
In order to ease post-workout inflammation, discomfort, and soreness, TheraOne developed the Recover CBD Lotion. This comes with 150mg CBD alongside organic eucalyptus oil, organic peppermint oil, and organic arnica oil. This combination not only helps to cool targeted areas but may also improve circulation and calm muscles.
Each bottle can be purchased for $29.00 and, just like the previous topical, can also be bought in a red box for $49.00 at 300mg. We highly recommend the second option as it directly goes to help those in need (plus, you get more CBD with your purchase).
Revive CBD Body Balm
When it comes to CBD topicals, some people prefer potency over formulas. In such cases, TheraOne's Revive selection contains their highest concentration of CBD.
Since research has shown CBD may have optimal anti-inflammatory effects, some people prefer topicals that have higher concentrations of cannabidiol to relieve pains. If you find that the Activate and Recover CBD topicals aren't doing justice, you'll likely be interested in TheraOne's Revive CBD body balms.
These can be purchased in either a standard body balm (500mg) or a body balm stick (835mg). Each is made using full spectrum CBD extract, organic turmeric CO2 oil, organic refined shea butter, and organic menthol to provide an instant cooling effect. We personally found these topicals to be the most effective for pain relief.
More particularly, we prefered the body balm stick as it came with a higher concentration of CBD. Not to mention, it's only $10 pricier than the standard body balm at $75.00. Furthermore, Revive Body Balm Stick comes in a red box which means your purchase goes to directly help others.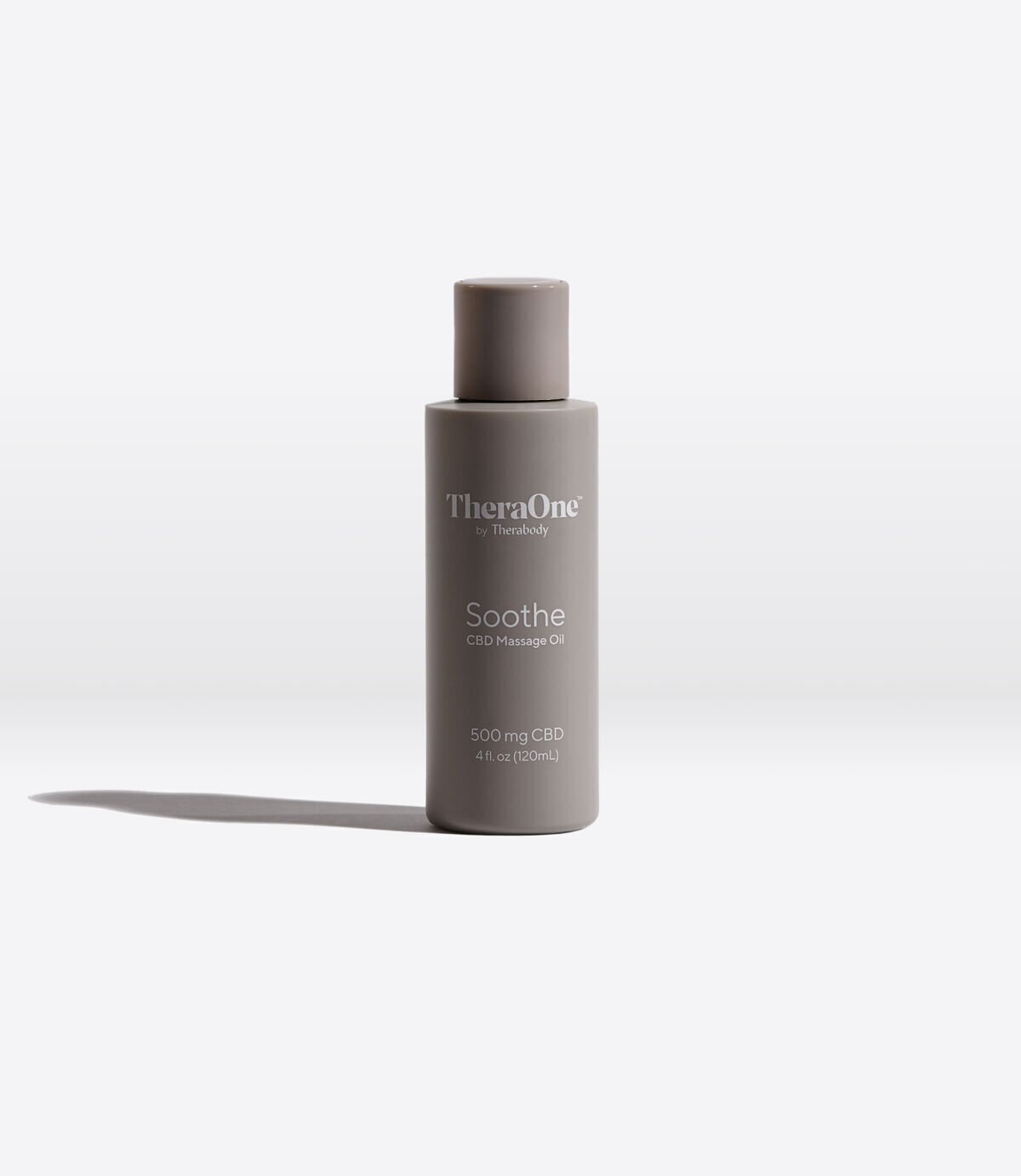 Soothe CBD Massage Oil
The last topical TheraOne offers is a CBD massage oil and it's sure to help you find that perfect relief.
Massages are already relaxing as they help to relieve tense muscles which naturally soothes stresses and anxieties. By adding CBD to the mix, you're only furthering that relaxation.
This was exactly the idea TheraOne had in mind when they developed their Soothe CBD Massage Oil. Each bottle contains 500mg CBD alongside organic golden jojoba oil, organic lavender oil, and organic eucalyptus oil. All these ingredients help to hydrate the skin, soothe muscle tension, melt away stress and anxiety, and restore homeostasis in the body.
Each purchase of TheraOne's Soothe CBD Massage Oil costs $65.00. However, you can save on that price by either receiving this product monthly through their subscription service or using one of our TheraOne promo codes!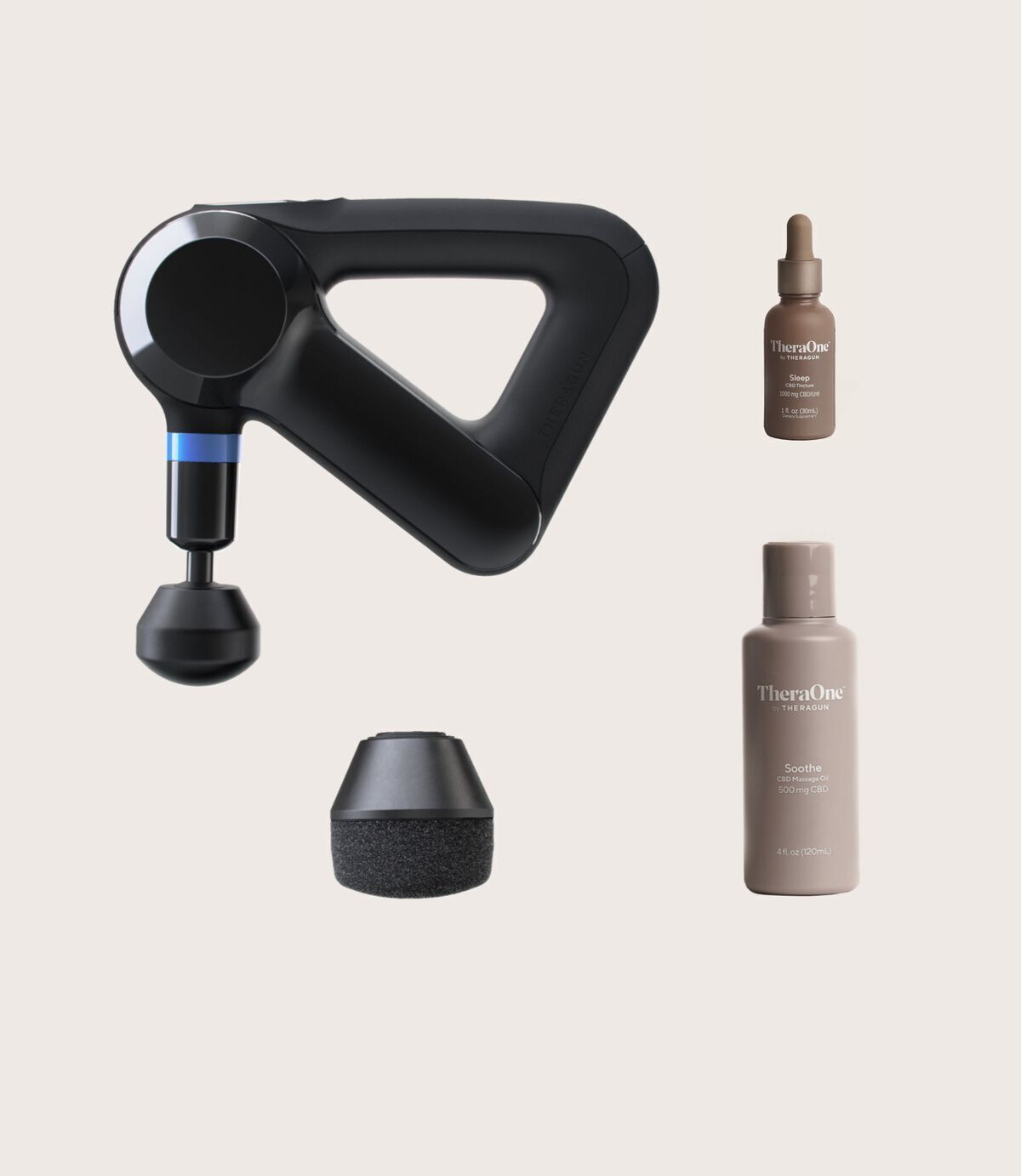 CBD Bundles
If you're looking to try multiple of TheraOne's products, your best bet is checking out their bundle selection.
TheraOne's bundle selection is optimal for a number of reasons. For one, it allows you to save money by purchasing multiple products at once (with each product being purchased at a reduced value). Secondly, it gives you the opportunity to try a number of different TheraOne products to see which one is the best fit for your needs.
Currently, TheraOne offers the following CBD bundles:
Daily Support CBD Bundle – For $124.00, you get the Activate CBD Lotion (300mg) and the Revive CBD Body Balm Stick (835mg).
Evening Support CBD Bundle – For $155.00, you get the Revive CBD Body Balm Stick (835mg) and the Sleep CBD Tincture (1000mg).
24-7 Support CBD Bundle – For $204.00, you get the Activate CBD Lotion (300mg), the Revive CBD Balm Stick (835mg), and the Sleep CBD Tincture (1000mg).
If you're interested in also purchasing the TheraGun to help ease muscle tensions, you'll likely be interested in knowing TheraBody offers this product alongside their CBD products in a number of bundles. These include:
The Work From Home Set – For $543.00, you get the TheraGun Elite, TheraGun Elite Wireless Charging Stand, and the TheraOne Revive CBD Body Balm (500mg).
Better Sleep Bundle – For $574.00, you get the TheraGun Elite, the Supersoft Attachment, the TheraOne Soothe CBD Massage Oil (500mg), and the TheraOne CBD Sleep Tincture (1000mg).
The Always Active Set – For $674.00, you get the TheraGun PRO and the TheraOne Revive CBD Balm Stick (835mg).
Buyer's Guide
TheraOne Dosage Recommendation
All of TheraOne's products come with a recommended dosage to ensure you're getting the right amount of CBD. We highly recommend basing your first dose on this suggestion as it tends to work for most people. However, since TheraOne mostly offers CBD topical products, it's likely you won't need to be too concerned with the dosage – simply use it as needed.
For TheraOne's CBD Sleep Tincture, we recommend taking one dropper which comes with 33mg of CBD. This is about an average dose and will likely have some effect. However, if you aren't receiving the effects you're looking for, we recommend gradually increasing your dosage to one and a half or two droppers.
TheraOne Certificate of Analysis
Since the CBD industry is unregulated, companies have had to take it under their own belt to ensure customer safety and satisfaction. One way they've done so is by incorporating third-party lab tests with each batch of their CBD products. These ensure that the CBD is pure and not contaminated. It also offers insight as to the cannabinoid and terpene profiles of these products.
TheraOne runs all their products through multiple tests to ensure they're only offering your premium quality products. You can find the lab reports for these on their Certificate of Analysis (CoA) page. If you'd like more information on how to read third-party lab results, we recommend you check out our article on the topic.
Overall Thoughts on TheraOne
TheraOne is a unique CBD brand due to the fact that it didn't start off selling CBD products. Rather, the TheraBody brand found its roots in a percussive therapy device known as the TheraGun. This device helps to relieve deep muscle pains and tensions in ways other products simply don't compare. When combined with CBD, TheraGun only furthers its ability.
Due to this unique relationship, most of the products on offer here are CBD lotions and balms. CBD topicals have proven to be some of the most effective on the market, especially when it comes to targeted muscle and joint relief. If you're a fan of such products already, we definitely recommend TheraOne as they offer formulations that you simply won't find anywhere else.
The only downside to these products is the fact that most of them contain fairly low potencies of CBD. Some long-time users may find that this lower concentration doesn't provide them with the effects they're used to.
For this reason, our personal favorite products were the Revive CBD Balm Stick and the Sleep CBD Tincture. Both come with a healthy dose of cannabidiol alongside a unique formula of other natural substances to help relieve pain and stress. However, being as these products are crafted for specific uses (i.e. the CBD Sleep Tincture is primarily for getting a better night's rest), we understand that some users may not be looking for these exact formulas in their cannabidiol experience.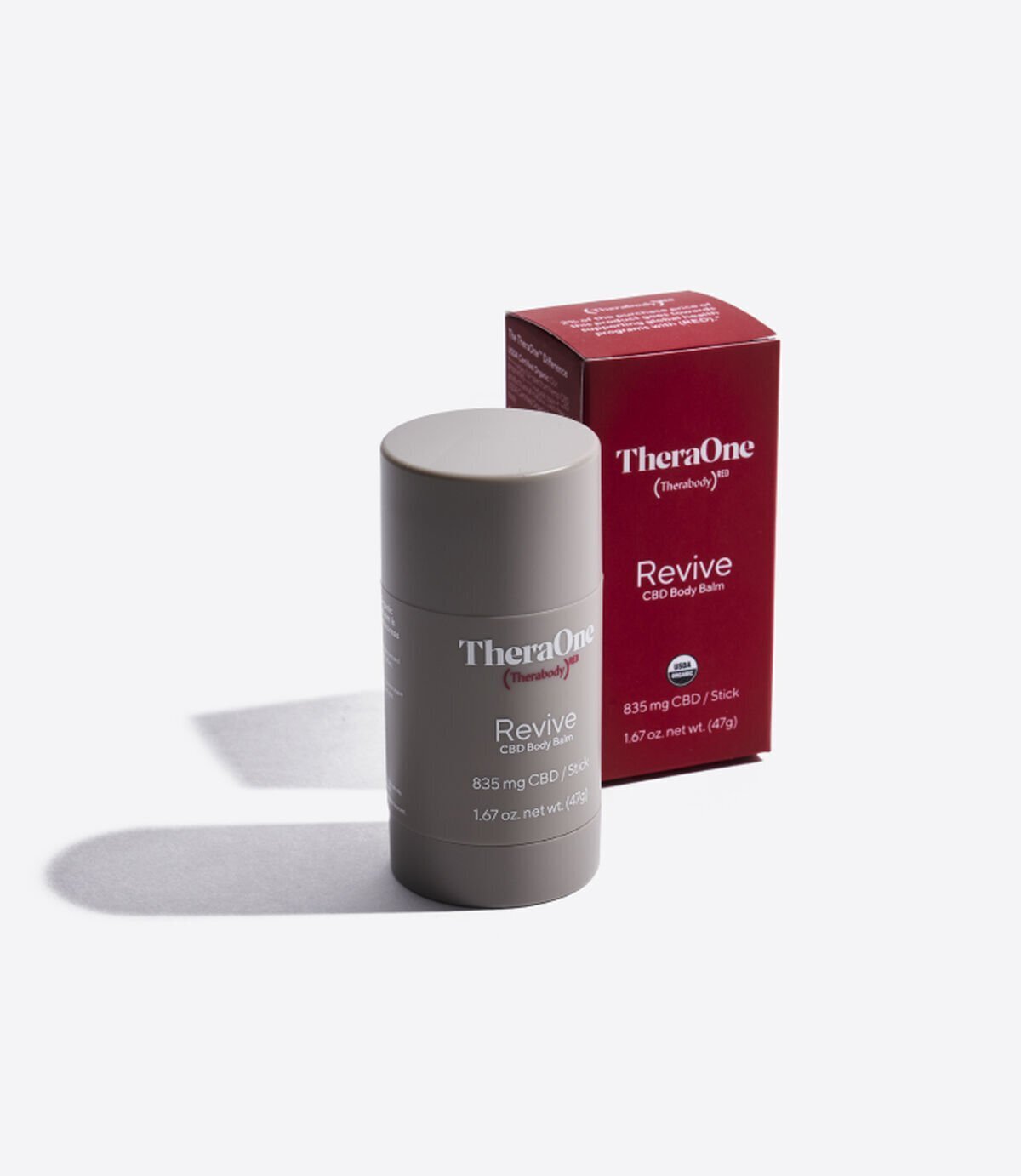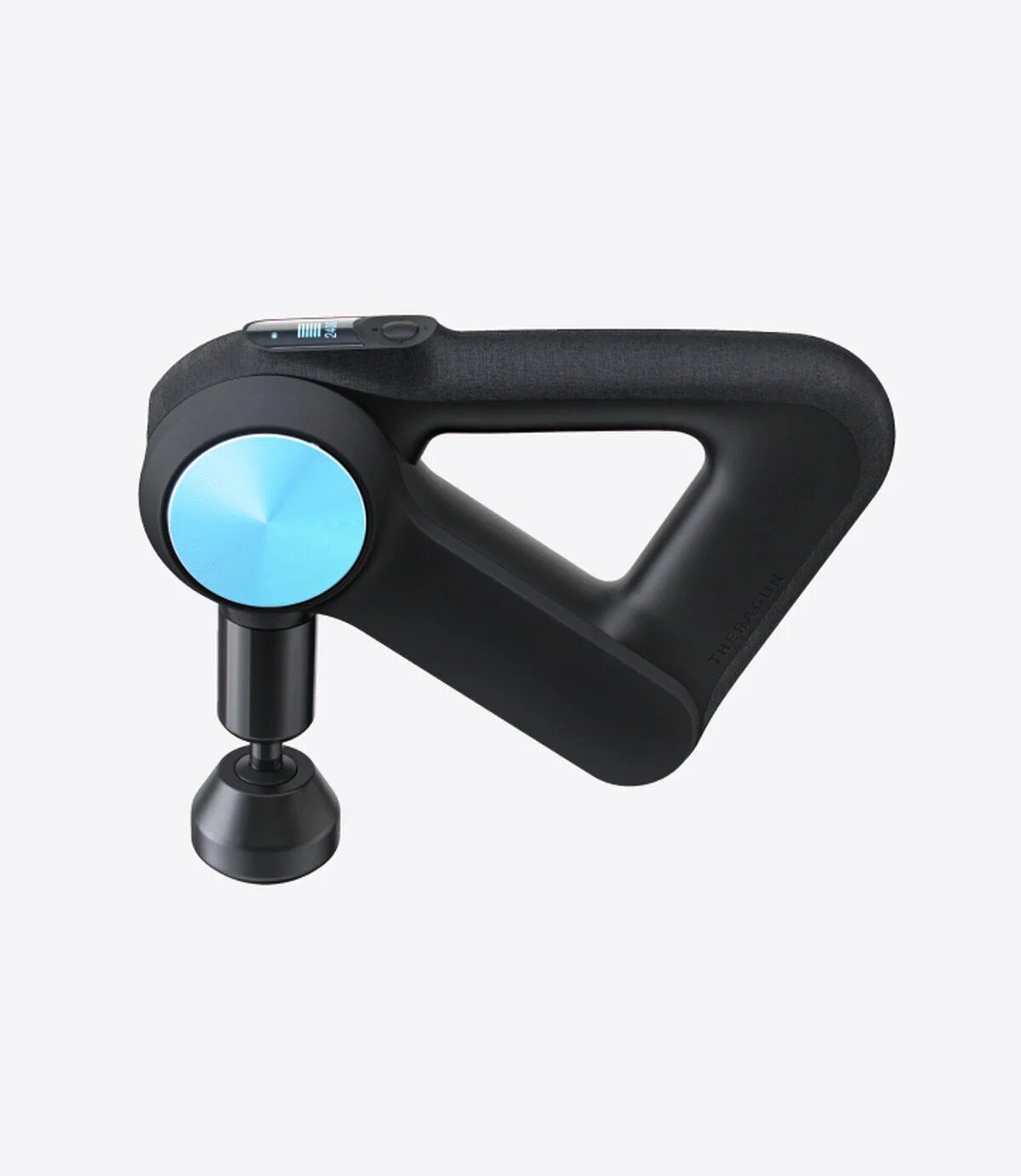 Featured Product
If you're interested in incorporating a TheraGun with your TheraOne CBD product, we highly recommend checking out the TheraGun PRO for $599.00. According to reviews, this product has helped people enhance muscle recovery, release stress and tension, and soothe discomforts.
How to Use a Theraone Coupon Code
Enjoy our TheraOne review? Interested in purchasing one of their products? We invite you to use our TheraOne coupon to help you save!
In order to use one of these codes, you must first make a selection of their available products. Once decided, you can head to your shopping cart. Here, you have the option to apply a promo code under your subtotal price.
Simply type in one of our codes, hit apply, and you'll see your savings instantly!
How to Contact TheraOne
Interested in contacting TheraOne? You can do so through the following methods:
For inquiries concerning order returns, order cancellations and TheraBody's limited warranty, they recommend you reach out to their phone number at 1 (866) 221-2185.
From Monday through Friday, between 5:00 am and 8:00 pm PST, you can reach out to their live chat for instant support.
If you need to reach out outside of business hours, TheraOne offers you the ability to email them. Please note, it can take up to 24 hours for them to reply to any single email.