Holistapet
(4)
Holistapet Coupons + Reviews
Holistapet is a CBD retailer based out of Venice, Ca. USA. They offer CBD oil for dogs and cats that is Full Spectrum, legal, and does not get your pet "high". Their intentions are to help your pet find relief from anxiety, arthritis, seizures, and more using natural remedies rather than pharmaceutical. Holistapet's CBD products are organic, lab tested and approved by vets. What seperates them is that they make products using natural superfood ingredients in different products specialized to treat specific symptoms. They are based out of Venice, Ca. and ship products right to your door. If you're looking for Holistapet coupons you can find them on the right side of this page. If you're looking for Holistapet reviews scroll to the bottom and please be sure to leave one if you're a customer.
What's Unique About Holistapet?
They offer full spectrum CBD products with entourage effects

Holistapet CBD products are specialized for dogs and cats

Products have unique superfood ingredients for specific conditions

All products are non THC (less than 0.03%) so will not get your pet high

Products are lab tested with natural, organic, vegan ingredients
Holistapet CBD Products
1. CBD Pet Tincture 150mg/300mg/600mg
Holistapet CBD Pet Tinctures contains hemp seed oil and full spectrum CBD oil with other potent cannabinoids. The tinctures have 0% THC which makes it suitable for cats, dogs, rabbits and horses. The price ranges between $23.95- $43.95. Use a Holistapet coupon code for these as they knock off up to 20% of the price. The CBD tincture comes in 3 sizes: 150mg, 300mg and 600mg. The drops are administered directly into the pet's mouth or mixed with the pet's favorite food or snack.
CBD Pet Tincture 150 MG for Small Pets under 20 LBS,1 drop = 0.5 mg CBD
CBD Pet Tincture 300 MG for Medium Pets 20-60 LBS, 1 drop = 1 mg CBD
CBD Pet Tincture 600 MG for Large Pets over 60 LBS, 1 drop = 2 mg CBD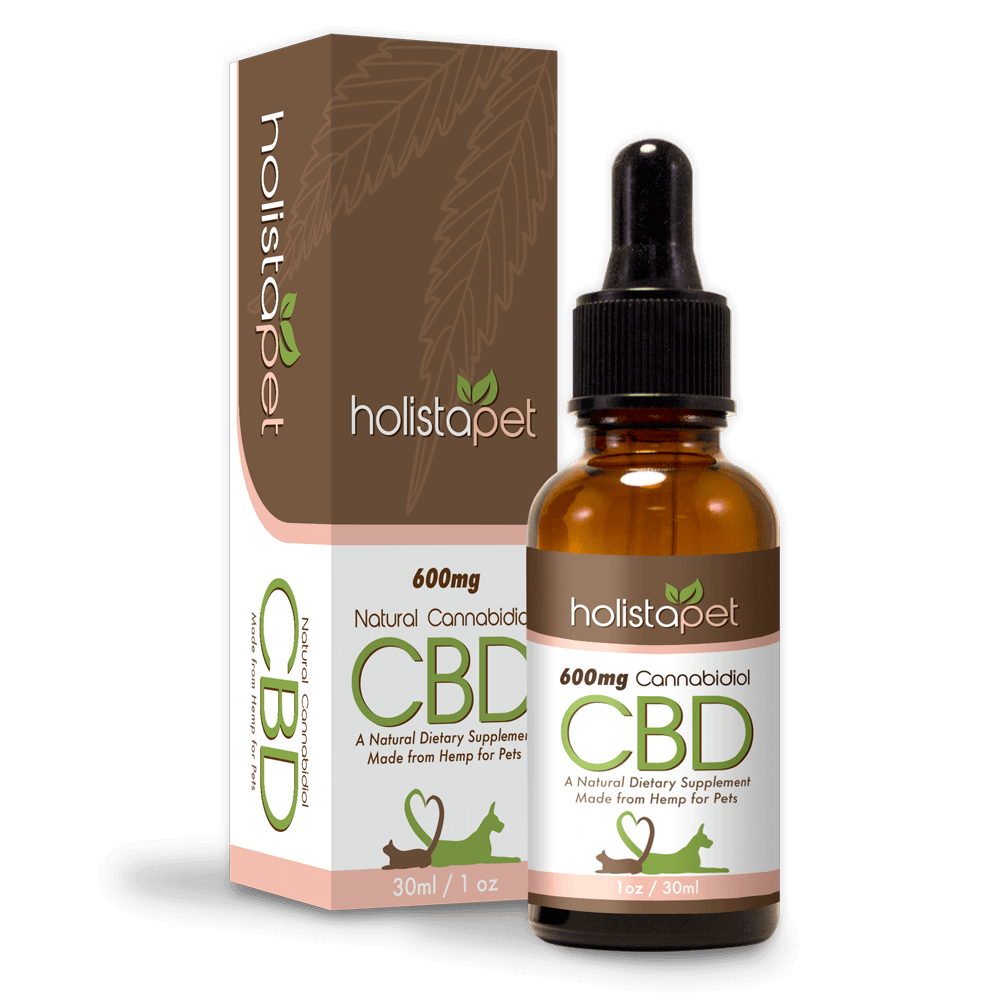 2. CBD Pet Capsules 150mg/300mg/600mg
Holistapet CBD Capsules are formulated with 100% plant-based ingredients and are vegan. They are loaded with omega oils, antioxidants, and proteins. They come in three sizes: 150mg, 300mg, and 600mg. You can hide the capsule in a treat or open the capsule and mix with food. The bottles cost between $23.95 – $43.95 depending on CBD concentration and the Holistapet coupon applies.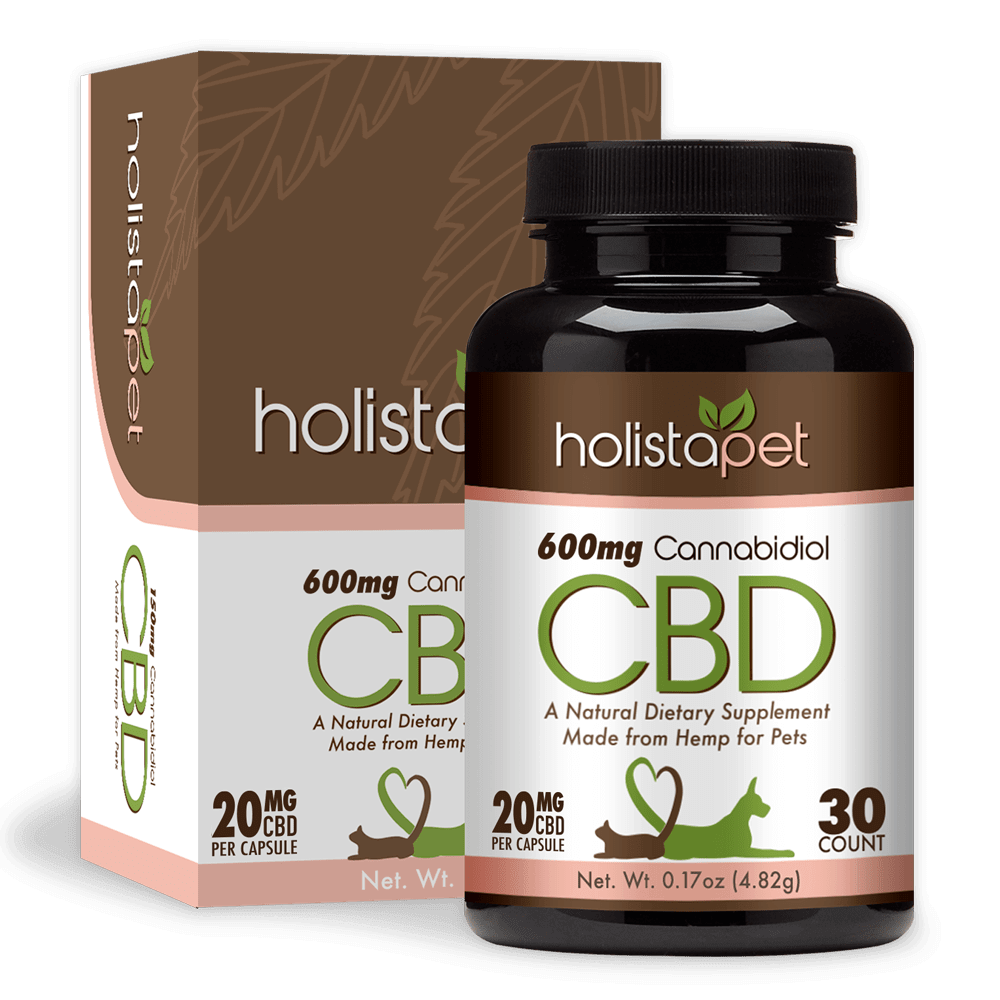 3. CBD Dog Treats + Stress & Anxiety Relief
They offer peanut butter + apple dog treats which are enhanced with L-Theanine and chamomile to help decrease your pet's anxiety. They are also combined with hemp seed powder and pure CBD Oil to provide stress relief for anxious and phobic pets. Each treat has 5mg CBD and can be consumed every 12 hours. Other ingredients include organic applesauce, brown rice flour, molasses, cinnamon, and coconut oil.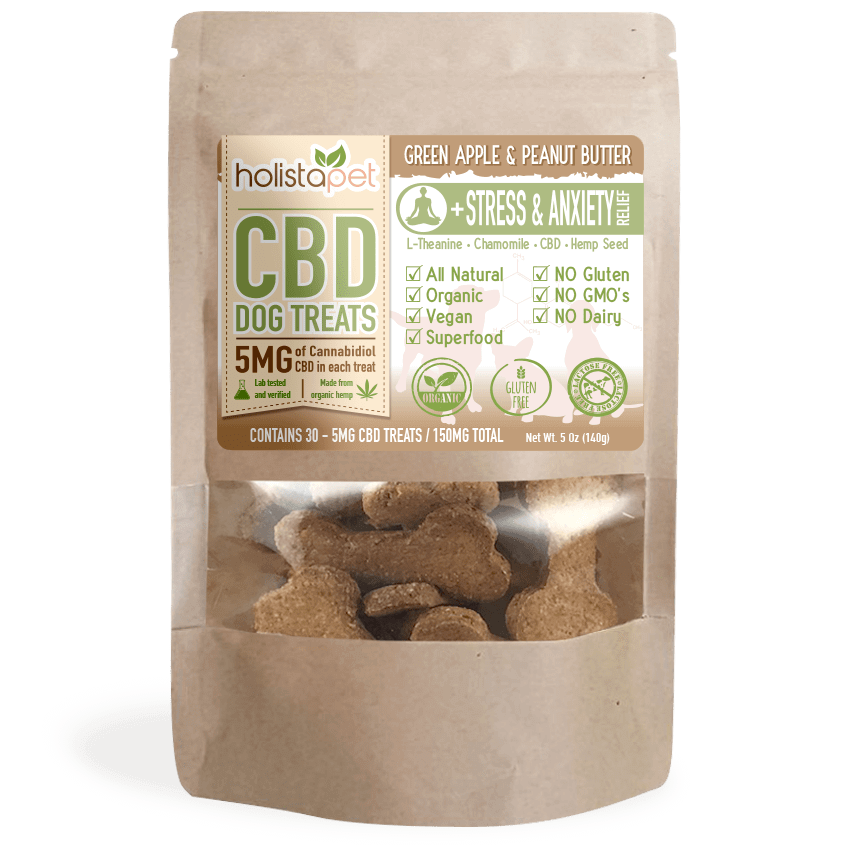 4. CBD Dog Treats + Joint & Mobility Care
The Holistapet joint and mobility treats contain pumpkin spice, cinnamon, are infused with turmeric root and Boswellia. This product is intended to increase strength in joints and reduce inflammation. They are non-GMO and gluten-free. They are good for aging pets that may be suffering from reduced joint mobility or arthritis; they also provide great relief post-surgery. Each treat contains 5mg of CBD and 30 treats (1 bottle) goes for 27.95. The recommended dosage is one treat (5mg) per every 10 lbs of body weight taken every 4-8 hours.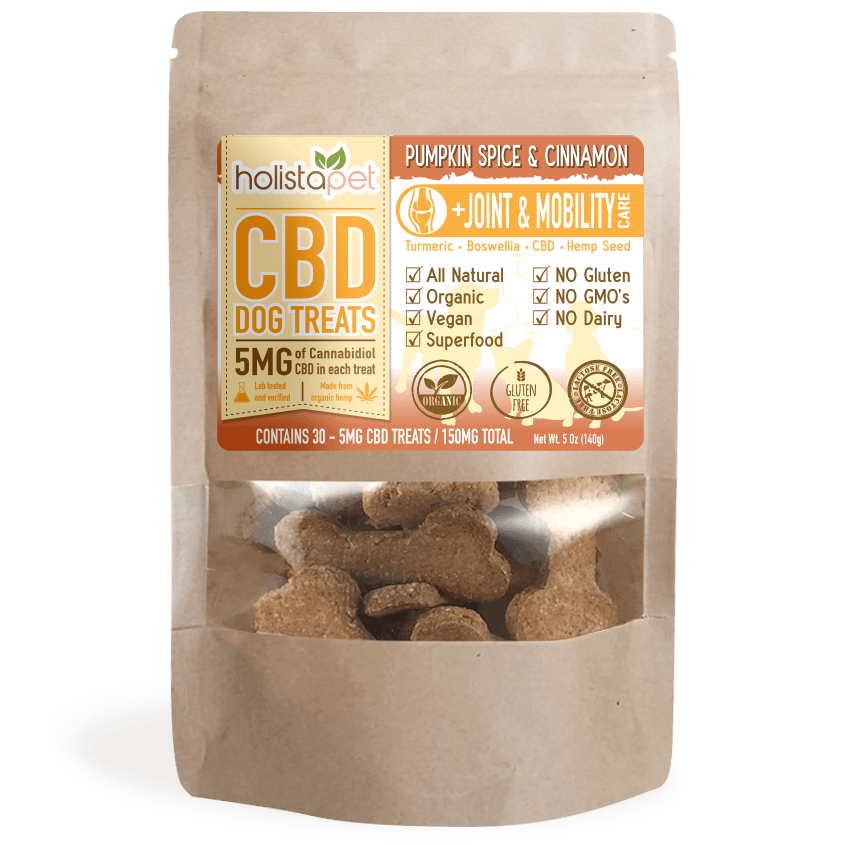 5. CBD Dog Treats + Heart & Immune Care
These are blueberry and sweet potato flavored dog treats infused with hemp seed powder, flax seeds and full spectrum CBD to boost immunity and strengthen the cardiovascular system. Blueberries are potent antioxidants while flax seeds are immune boosters. These treats are organic and vegan. 30 treats have 150mg CBD and cost $27.95. Be sure to use a Holistapet coupon code as these aren't cheap for dog treats.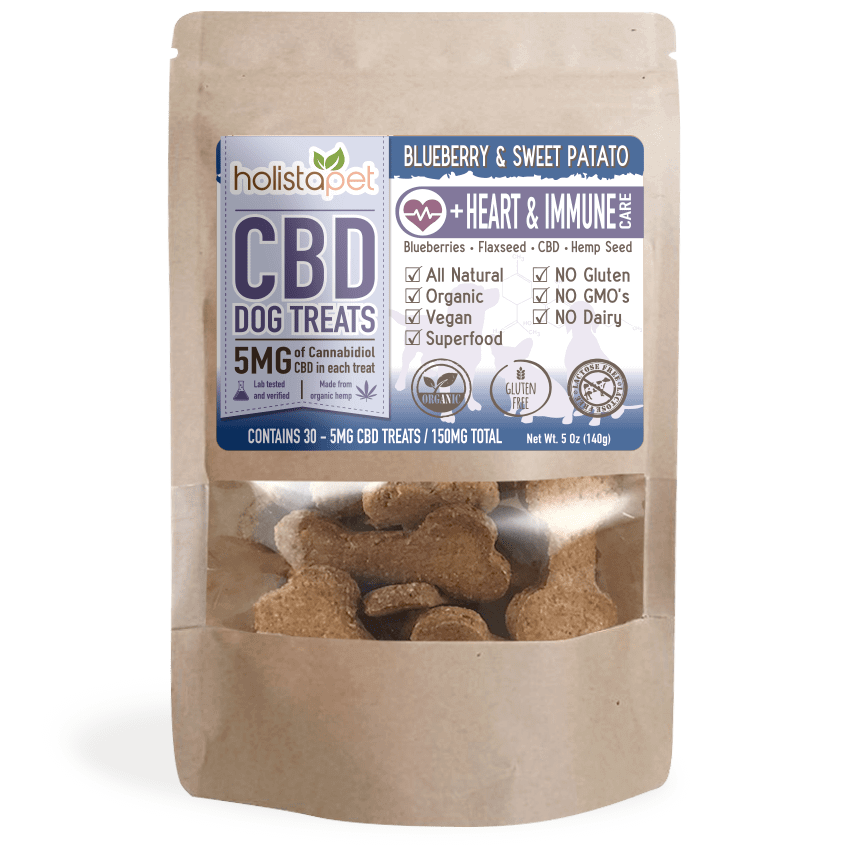 .
These are delicious salmon flavored crunchy treats for cats containing full spectrum CBD with 0% THC. Each treat contains 2mg CBD. The treats also contain chicken, potato starch, peas, and rosemary oil. Give your cat 1 treat every 12 hours. Most customers say that the cat treats are the easiest way to actually administer CBD since you don't have to put oil under their tongue and you don't have to sneak capsules in their food.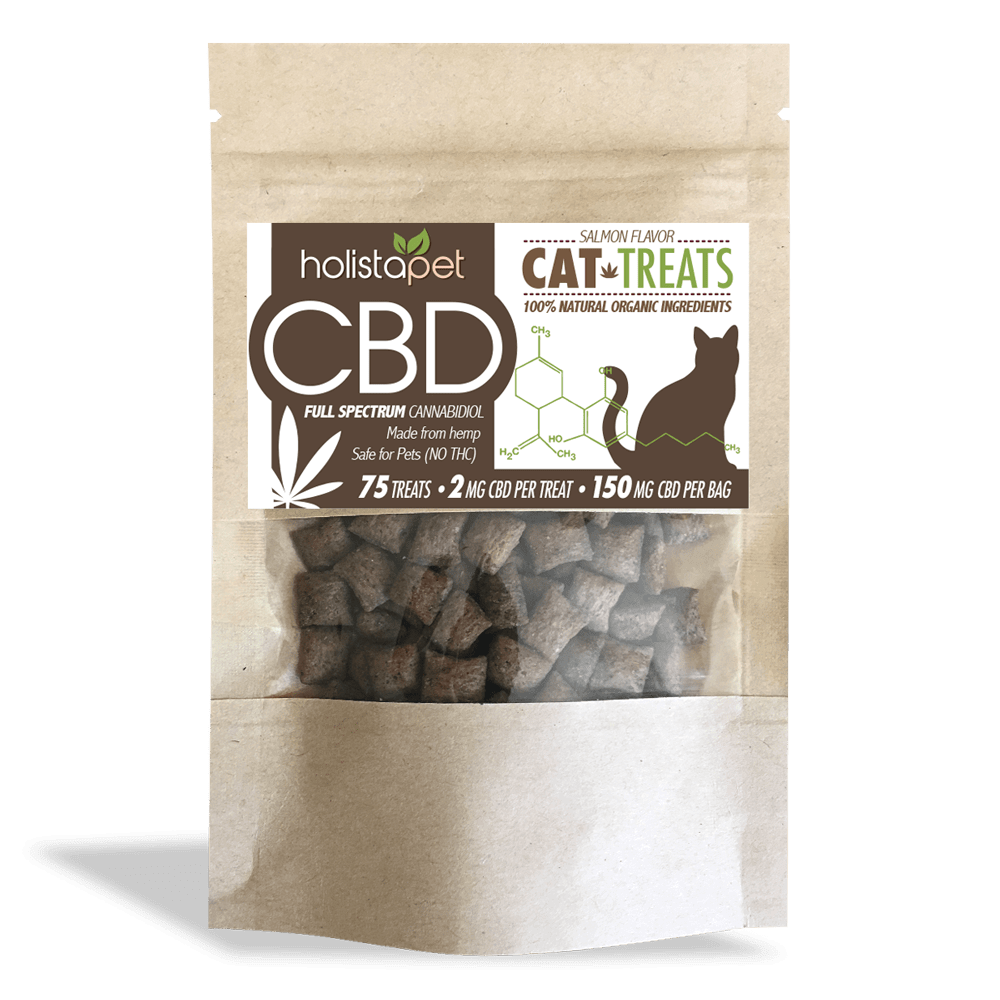 Holistapet Pros
Free shipping on every order

Holistapet coupon codes and bundled discounts offered

Shipping is faster than most brands we've reviewed

100% organic, vegan, natural ingredients

Each batch is 3rd party lab tested to ensure potency and purity

Have a reward program where you earn by reviewing products and referrals
Holistapet Cons
No worldwide shipping

Products range limited to pets

CBD is not FDA approved
Disclaimer: The following reviews are made by consumers. Holistapet has not reviewed and therefore doesn't endorse, support, or approve the reviews or recommendations left by consumers. These statements have not been evaluated by the FDA. Holistapet products are not intended to diagnose, treat, cure, or prevent any disease.
4 Holistapet Reviews
Nora

Our dog tiny always had a fit on Fourth of July because she was afraid of the firworks. The loud noises made her hide under the bed and whimper like a baby. This always was a problem because one person would always have to go inside and tend to the dog while the rest of the family would light fireworks outside. This all changed with the introduction of CBD. Now we give Tiny some CBD about an hour before the fireworks and no more phobia. It really works I don't know how but it does. 2018-11-03 18:49:38

Mike Faulk

I thought this was snake oil but a friend recommended giving it to my dog who's had joint pain. He's been able to walk up and down stairs no problem now and I have to credit this to CBD! 2018-11-09 04:45:51

Kirsten

After a dispute with USPS misplacing my package, Holistapet kindly called me and offered a replacement package and even offered to send it out of state at no extra cost. I am very happy with how they dealt with the situation and revoke my precious statement. 2018-12-21 17:50:55

Amber

I gave these to my very anxious and hyper pup. They took a little while to kick in but once they did they completely mellowed him out. He's still his usually happy self but at a much more manageable energy level. I also noticed they seem to have a little bit of a residual effect, he's always more mellow the following day. I would recommend either daily use, or plan in advance if you're using them for a specific event, like holiday fire works, etc. 2018-12-23 05:34:18