This year, FIFA 2018 had a great inauguration and there should be some notable absences from the program list. In accordance with U.S Men National Team, the World Anti-Doping Agency has made some changes regarding it's banned substance list. Over the last few years CBD has become a very popular resource for athletes in reducing pain and inflammation, especially with injury. It's now removed banned substance list and it is great when considering overall efforts in cannabidiol becoming more mainstream. It's becoming clear that the wider acceptance of medical marijuana is making it much easier for its brother compound, CBD, to reach legality. CBD is a compound that is derived from the cannabis plant but does not have psychoactive affects and does not make you high. More and more the world of professional sports and drug regulators like USADA have been accepting of the compound.
Because THC and CBD are derived from the same plant, there are still social stigmas related to CBD being something that gets you high. Over the last few years there has been more and more research making it easier for regulators removing it from the banned substance list. You could imagine the backlash and controversy if athletes were getting banned for using CBD given it's not a steroid or PED. There are clear discriminations between THC and CBD. The way your body metabolizes the compounds causes different reactions as different cannabinoid receptors are affected depending on what you take. Other cannabinoids like hashish, marijuana, and cannabis are still prohibited. CBD is the only one allowed. Below is an excerp from WADA's banned substance list.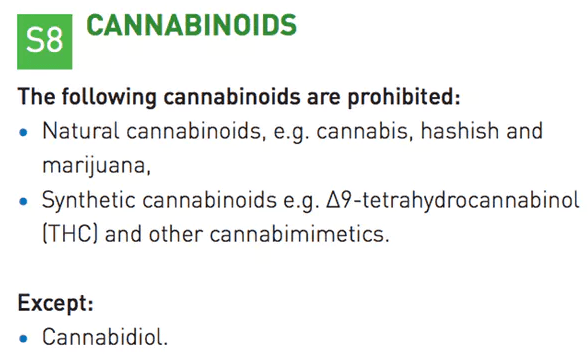 There's still lot's of controversy as the two compounds are still very similar except that CBD has one extra hydroxyl group attached to it. Many say CBD is like having the same medical benefits of TCH without getting high. Research supports that the extra hydroxyl groupo is a legitimate anti-inflammatory which is very beneficial to professional athletes who face injury. There's been increased research and findings regarding the compound as the oil is a potential anti-convulsant, especially with people who suffer from epilepsy. Studies from Future Medicinal Chemistry suggest that cannabinoids "suppress inflammatory response and subsequently attenuate disease". 
If you are interested in learning more about CBD please visit our simple guide which outlines what it is, where it comes from, how to consume it, and a list of brands that were reviewed. It's only a matter of time before more professional sports leagues remove the compound from the banned list. The NFL, MLB, NHL are among those that do not allow it. Although you never hear of athletes from these leagues being suspended from positive marijuana tests which makes you believe they don't get rigorous testing.