[2020] The 8 Best CBD Oils and Capsules For Sleep
[2020] The 8 Best CBD Oils and Capsules For Sleep
One-third of the adults in the US report that they get less than the recommended amount of sleep, on average. Poor sleep is linked to an array of serious conditions like depression, obesity, heart disease, and type 2 diabetes. As these chronic conditions continue to plague the US, the opioid epidemic is also at an all-time high.
In data compiled from 2005 to 2010, one in every eight adults with trouble sleeping and one in every six with a diagnosed sleep disorder report that they use prescription sleep aids. Others find no relief from their lack of sleep. These facts brought together our mission: find a safe, effective alternative to the most common prescription sleep aids – and that's exactly where CBD comes in.
What is CBD?
CBD, or cannabidiol, is a compound found in cannabis plants, including hemp and marijuana. When hemp was legalized for production in the US, the extracts from the plant were also legalized, opening the door for CBD products across the nation.
Now, CBD products are being used to treat or aid in treating a variety of symptoms or conditions, including anxiety, appetite loss, nausea, depression, chronic migraines, trouble sleeping, insomnia, and much more.
While CBD is not a cure for these conditions, many patients find the relief they're looking for by adding CBD to their regimen or replacing their prescriptions with CBD altogether. We absolutely recommend you speak with your doctor before removing any prescriptions from your daily routine first, but CBD products may be your all-natural answer to relief.
How Does CBD Help with Sleep?
The human body has an endocannabinoid system that CBD and other components in a cannabis plant can interact with. This endocannabinoid system runs throughout the entire human body, playing a key role in homeostasis, mood consistency, immune health, and even internal temperature.
CBD interacts directly with this system through certain receptors in the brain and body. Cannabidiol then blocks the receptors in the brain that cause anxiety or discomfort before sleep. Furthermore, it provides complete homeostasis to the body and regulates important bodily functions, which improves the ability to ease comfortably into a proper sleep cycle.
Our Best CBD Capsules and Oil for Sleep
As cannabidiol takes off on the market, we're able to see the perfected formulas for the products. No longer just engineered as hemp products, CBD is combined with other important active ingredients to help further promote relief for a specific symptom.
For example, the CBD products engineered for sleep also have melatonin, which is a naturally-occurring hormone in the human body that aids in sleep. Likewise, for us humans that have trouble producing the correct amount of melatonin on a daily basis, there are melatonin supplements that can safely promote sleep as opposed to a prescription sleep aid.
Combining cannabidiol with melatonin to formulate a perfected sleep aid makes certain CBD products ideal for sleep. As you can consume CBD through many methods, from smoking and vaping it to consuming it as an edible or infused drink, you have more options at your disposal than you ever might with mere prescriptions. Our favorite method for getting to sleep on the daily is by taking CBD capsules.
Liquid-filled capsules absorb faster into the body than most other methods. As a bonus, they're also, generally, longer-lasting and stronger-acting than other types of CBD products except for a few, such as tinctures.
Capsules can help provide relief within minutes instead of having to wait for over an hour for a pill to kick in – and best of all, it's all-natural ingredients, so you don't have to worry about any side effects or scary symptoms. Prescription sleeping pills have the downside of causing negative side effects like drowsiness throughout the day, mental impairment, weight gain, and other unwanted symptoms. With CBD capsules, you can avoid all of this.
We're going to dive into the best CBD capsules for sleep to show you what they have in common, what's effective for each of them, and why they may be able to help you get to sleep better than your standard prescription sleeping aids. We'll look at our top contender for CBD capsules for sleep first and follow up with other recommendations to show just how many options you have at your disposal.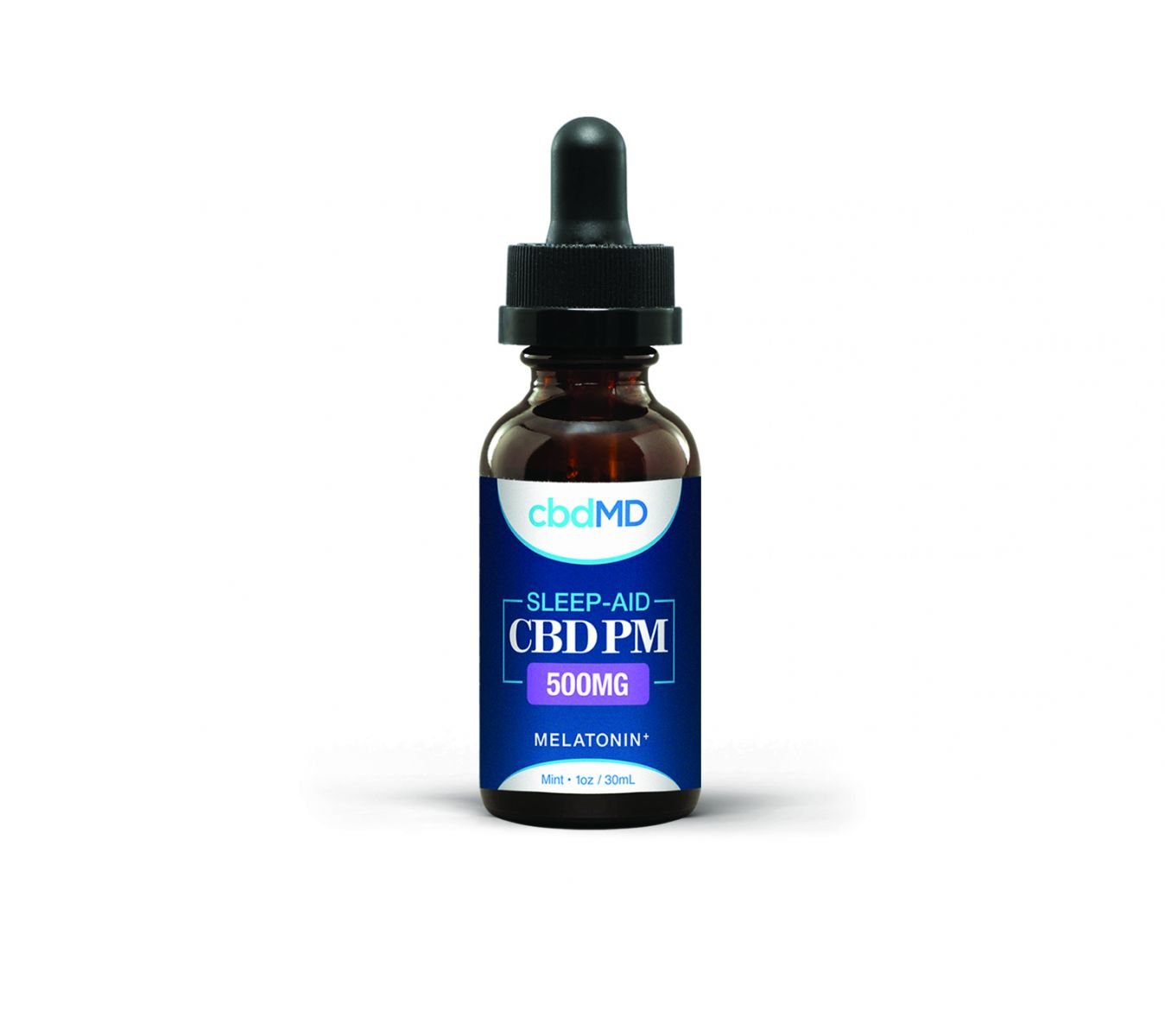 cbdMD engineered our most recommended capsules for a sleep aid. They recently won an award for Product of The Year. A powerful combination of CBD, melatonin, and other herbal remedies known for aiding with sleep (valerian root, cascade hops, lemon balm, passionflower, chamomile), the capsules even come in a cooling mint flavor. The product aims towards helping with sleep, but it also works to alleviate pain, reduce anxiety and promote deep relaxation. Stay asleep longer and fall asleep faster with a natural sleep-aid that enhances the body's ability to stay healthy and promotes it to relax.
While the CBD PM capsules from cbdMD work to promote deeper, longer sleep, make sure you have enough time dedicated to sleep beforehand. cbdMD recommends you have at least six hours dedicated to sleep before taking the capsule. Likewise, you'll want to take the capsule at least 30 minutes before bed to ensure it's in your bloodstream when it needs to be.
Thanks to the cooling mint flavor, cbdMD makes it to where you can partially sublingually dose without having to fully commit. Before swallowing the capsule, place it under your tongue for 20 seconds to optimize maximum results. This can also speed up how quickly the capsule gets into your system. As an added plus, the brand has a variety of other flavors; so, if you're not a fan of mint, this brand is still a viable option!
Likewise, if you want to use CBD for sleep but also other aspects of your life, or you want the product without the melatonin, cbdMD offers CBD-only tinctures in a variety of flavors and sizes. They promote sleep health, but they're also generally geared towards other needs that must be met, such as reducing stress and promoting relaxation throughout the day.
The most important aspect of the products from cbdMD is that they're broad-spectrum cannabinoids. This means that instead of isolating just CBD, this brand utilizes the other cannabinoids in the hemp plant to aid in CBD's effects. Still THC-free, this is a product at the top of our list because they understand what CBD does for the body and how to make it the most effective.
2.) Lazarus Naturals THC-Free Relaxation Blend Capsules
Price: $49.99 - 25% Coupon: BESTCHOICE
Count: 40 CBD Capsules
CBDmg: 1,000
Lazarus Naturals makes our list of Best CBD Capsules and Pills for sleep because of a combination of value, quality, and customer reviews. The blend is designed to help you relax (we recommend taking them at night) and unwind after a long day. These contain a blend of calming compounds that include melatonin, chamomile, ashwagandha, CBD, and some other natural extracts. Additionally, there's tryptophan which is an amino acid that helps increase serotonin and is the infamous amino acid found in turkeys that gives you a food coma.
The CBD for sleep capsules come in a 10 count option or a 40 count. Both options contain capsules with 25mg of CBD per serving. We recommend taking 2 of these at night 30-45 minutes before you plan on sleeping. These capsules contain 0% THC and are non-psychoactive.
3.) Medterra's Dissolvable Sleep Tablets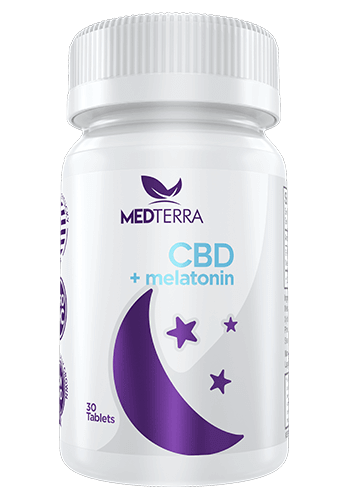 Price: $69.95
Count: 30 Isolate CBD Capsules
CBDmg: 750
Lab purity tested and guaranteed at 99.6% pure CBD, Medterra provides a dissolvable tablet geared towards promoting sleep. In a 30-tablet bottle, each of the dissolvable sleep tablets contains 25mg of CBD and 10mg of melatonin. While you won't be experiencing the cool, minty flavor that comes with cbdMD's PM capsules, you can dissolve the tablet entirely and taste their natural spearmint flavoring instead.
Instead of keeping it under your tongue for 20 seconds and then swallowing, like with the capsules, you'll just place the tablet under your tongue just before bedtime. It can dissolve completely in your mouth before swallowing the remains with just a little water (if preferred). A THC-free, non-GMO tablet you can trust, Medterra formulates all their products proudly in the US; laboratory tested and pesticide-free, no matter what.
Each dissolvable tablet is also conveniently scored. This means if the amount of melatonin is what was keeping you back from the capsules, you can more readily control how much melatonin you're consuming with this tablet. If you consider yourself sensitive to melatonin, breaking the tablet in half along the score allows you to take just 5mg of melatonin instead.
Another CBD isolate product, Medterra's dissolvable sleep tablets may not be the best for someone looking for a full-spectrum CBD experience. The other cannabinoids included in cbdMD's sleep capsules keep it at the top of our list with confidence.
4.) Charlotte's Web Hemp Extra Strength Capsules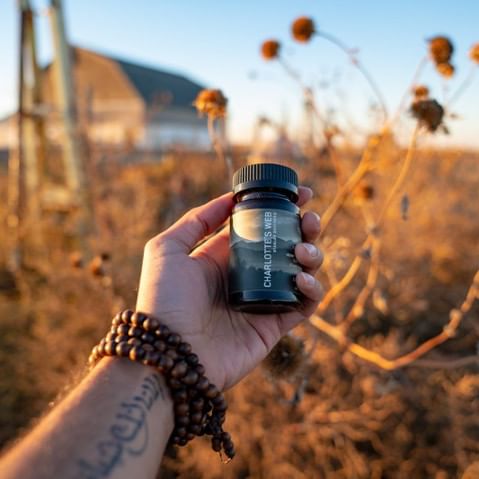 Price: $59.99
Count: 60
CBDmg: 900
A well-known, pioneer brand for the industry, Charlotte's Web's CBD products have always had a good name and a good reputation. Their Extra Strength capsules are not just geared towards better sleep, but also towards recovery from exercise, limiting loss of appetite, and providing support for the normal, everyday stresses of life. Curiously, compared to what's on our list thus far, the Extra Strength CBD capsules from Charlotte's Web have only 18mg of CBD per capsule.
The brand prides itself on the quality of their products, even down to the packaging. They use select, limited ingredients to ensure the best hemp extra experience. Additionally, they don't use CBD isolates, opening you up to the full spectrum of the hemp plant without the worry of THC. Formulated by seven brothers with a genuine mission close to their hearts, the Charlotte's Web brand only continues to grow and help more CBD users across the country. What started with the mentality to save one little girl has created a movement geared towards a better, safer and more natural future.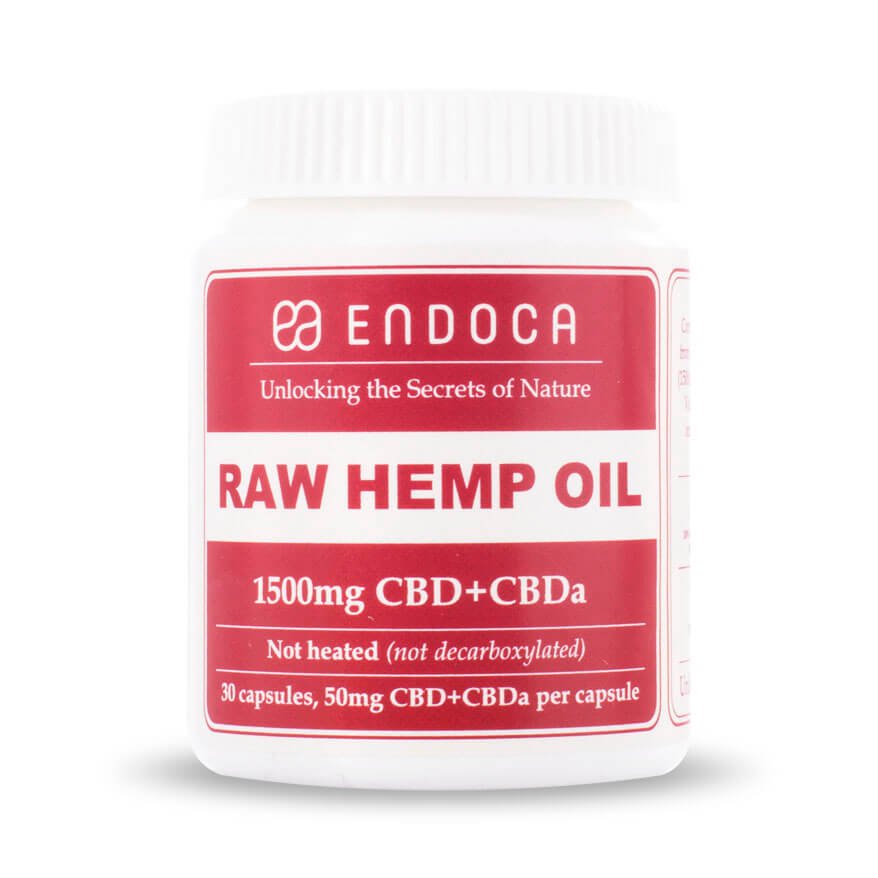 Price: $129
Count: 30
CBmg: 1500
One of the best values on our list, Endoca finds itself on the best CBD pills for sleep with their RAW Hemp Oil capsule line. Each bottle shows plainly and boldly exactly what ingredients go into each capsule, so there's no questioning what you're going to consume. Each capsule contains 10mg of CBD and CBDa. Made out of 100% organic hemp, you're guaranteed a certain percentage of pure CBD per capsule.
GMP quality certified the Endoca RAW capsules contain important Omega-3s and Omega-6s that are also good for the body, along with Vitamin E. They guarantee there are no artificial colors or preservatives, so the raw product you get is exactly as nature intended. Endoca strives to allow you to unlock the secrets of nature by enjoying a full-spectrum cannabidiol experience. They never use isolates and it's easy to identify the other cannabinoids directly on the ingredients label.
While Endoca contains no melatonin, the capsules are not necessarily geared towards just sleep. On the contrary, these raw capsules are meant to aid in eating and appetite, getting to sleep and staying asleep, relaxation, and much more. The brand understands the importance of certain cannabinoids over others, so they have standardized an extraction method that uses pharmaceutical control and precision to ensure they have exactly what they want.
6.) Palmetto Harmony Capsules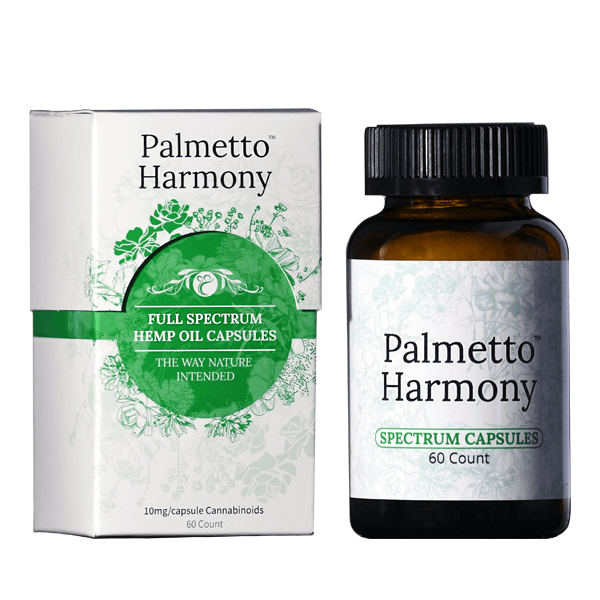 Price: 89.99
Count: 60
CBDmg: 600
Palmetto Harmony Spectrum Capsules taken daily should help with your ability to find a good night's sleep. These full-spectrum capsules come in a bottle of 60 and are 10mg ea. These capsules are infused with antioxidants as well as omega 3, 6, and 9 fatty acids. The fatty acids help with the absorption of CBD. Palmetto Harmony, according to our staff, offers one of the best quality CBD products online. The Capsules are 3rd party lab-tested, organic, and FDA compliant.
Palmetto Harmony has historically seen positive customer reviews but has slightly higher pricing and lower concentration CBD capsules. This means you would have to take more capsules to feel the same effects as say Lazarus Naturals.
Price: $69.95
Count: 60
CBDmg: 900
These are actually CBD Softgels and are an excellent option for helping calm the mind and getting a good night sleep. If you want to learn more, check out this PlusCBD Oil review. PlusCBD Oil offers full-spectrum CBD capsules that include several other terpenes to help you achieve the entourage effect. We recommend going with the 15mg capsules and if you choose the larger bottle you get a slightly better deal. The capsules are gluten-free and non-GMO.
PlusCBD Oil does make very high-quality CBD capsules for sleep but they find themselves towards the bottom of this list as their pricing is much higher than average. Their CBD capsules do contain 15mg of cannabidiol which is in the middle range of what we've seen.
8.) P.M. Capsules from Infinite CBD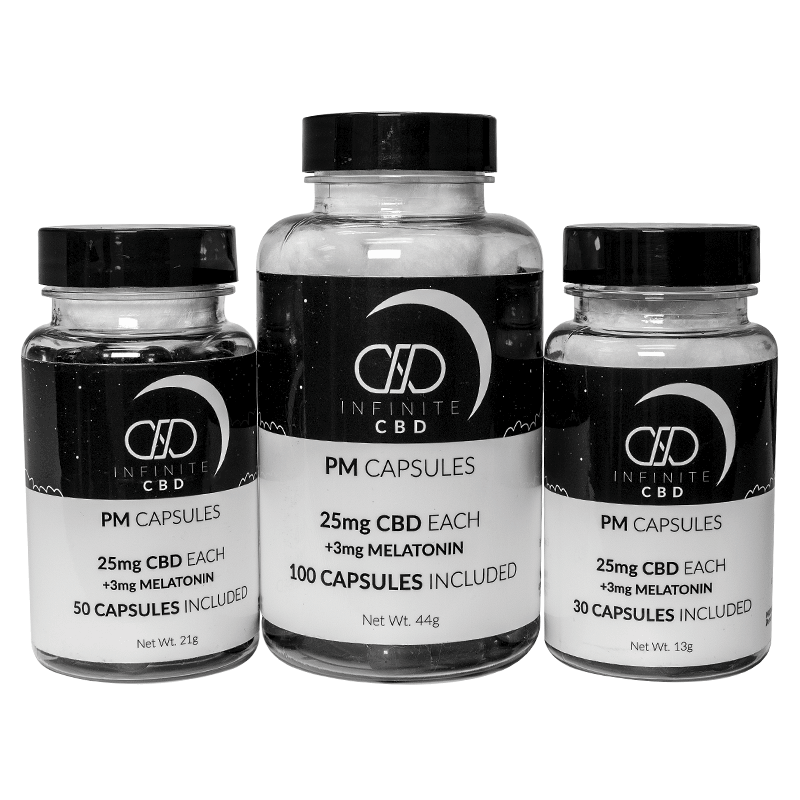 Price: $140
Count: 30
CBDmg: 3000
Containing CBD isolate, powdered coconut oil, and melatonin, the capsules from Infinite CBD that are geared towards sleep offer an interesting formula to our list. Even more, interestingly, each capsule contains 25mg CBD, but only 3mg of melatonin. For those that are particularly sensitive to melatonin, this may be the ideal capsule for you.
Your wake and sleep cycles are determined by how much melatonin you're producing. While we all naturally produce some melatonin in the pineal gland, we have no control over how much melatonin is produced, or when it's produced. When it gets dark, melatonin levels typically increase. Unfortunately, many people work night shifts or require sleeping during part of the day, when it's still light outside and our melatonin levels in our bodies are at their lowest. With Infinite CBD's formula, they aim to initiate and promote the sleep cycle with melatonin and CBD.
Two key differences from Infinite CBD's formulas and cbdMD's, at the top of our list, is that the P.M. Capsules from Infinite CBD are made of cannabidiol isolate and with powdered coconut oil. Isolating the CBD compound from the rest of the hemp plant, while removing all the THC, also removes all other cannabinoids. THC is the only psychoactive compound in hemp plants that can make you feel "high," but there are over 100 other cannabinoids that make up the plant. These cannabinoids typically aid, enhance, and intensify the effects brought on by CBD or THC. Removing these cannabinoids can make a CBD isolate product less effective than a full-spectrum CBD product.
Final Thoughts on CBD Capsules for Sleeping
While the PM Sleep oil from cbdMD are still at the top of our list for best CBD capsules for sleep, we hope we've opened your eyes to the many CBD brands out there offering effective products for sleep. No longer having to rely on prescription drugs to aid in your sleep cycle, maybe CBD capsules geared towards sleep are the next step in ensuring you get to sleep easier and stay asleep longer.
1 Reviews
deshawn

Wowwww what a great article you've got there. Keep up with write ups like this so we can learn more online. I look forward to visiting this site over and over again just to read articles published by you. Check out top quality products at my THC shop with discreet overnight shipment services. Good news is you won't need a marijuana card. 2020-03-06 17:39:44