Koi CBD Coupons
(5)
Update: Our Koi CBD Coupons only work at CBDChoice.com. These allow for larger discounts than shopping via Koi CBD directly. You can click the coupon and shop the Koi's products from the new page that pops up.
Koi CBD offers safe hemp-derived CBD that is nonpsychoactive and doesn't get you high. This is because their products are THC free allowing you to legally order products and have them shipped right to your door. Millions of people are using CBD and rave about the results they see. Koi takes pride in using only the purest ingredients. They test each batch for purity, safety, and consistency. If you're here for a Koi CBD coupon code you can find them on the right side of this page. If you're here for reviews you'll want to scroll down. Please don't forget to leave your own review!
Cool Facts About Koi CBD
Known for having some of the best tasting CBD oils

Popular for their CBD vape juices with unique flavors

Have a veterans discount program

Fair pricing with Koi coupon codes offered for additional savings
Koi CBD Products
Koi CBD Oil
Koi CBD Oil is full-spectrum meaning they don't isolate the terpenes. We recommend full-spectrum over isolates as the other compounds work in conjunction with the CBD. Flavors include Natural, Spearmint, Orange, and Lemon Lime. Prices start at $39.99 and you can apply our Koi CBD coupon code for 10% off. You can get 250mg up to 1000mg of CBD with each tincture. As you go higher the cost of the bottle goes up.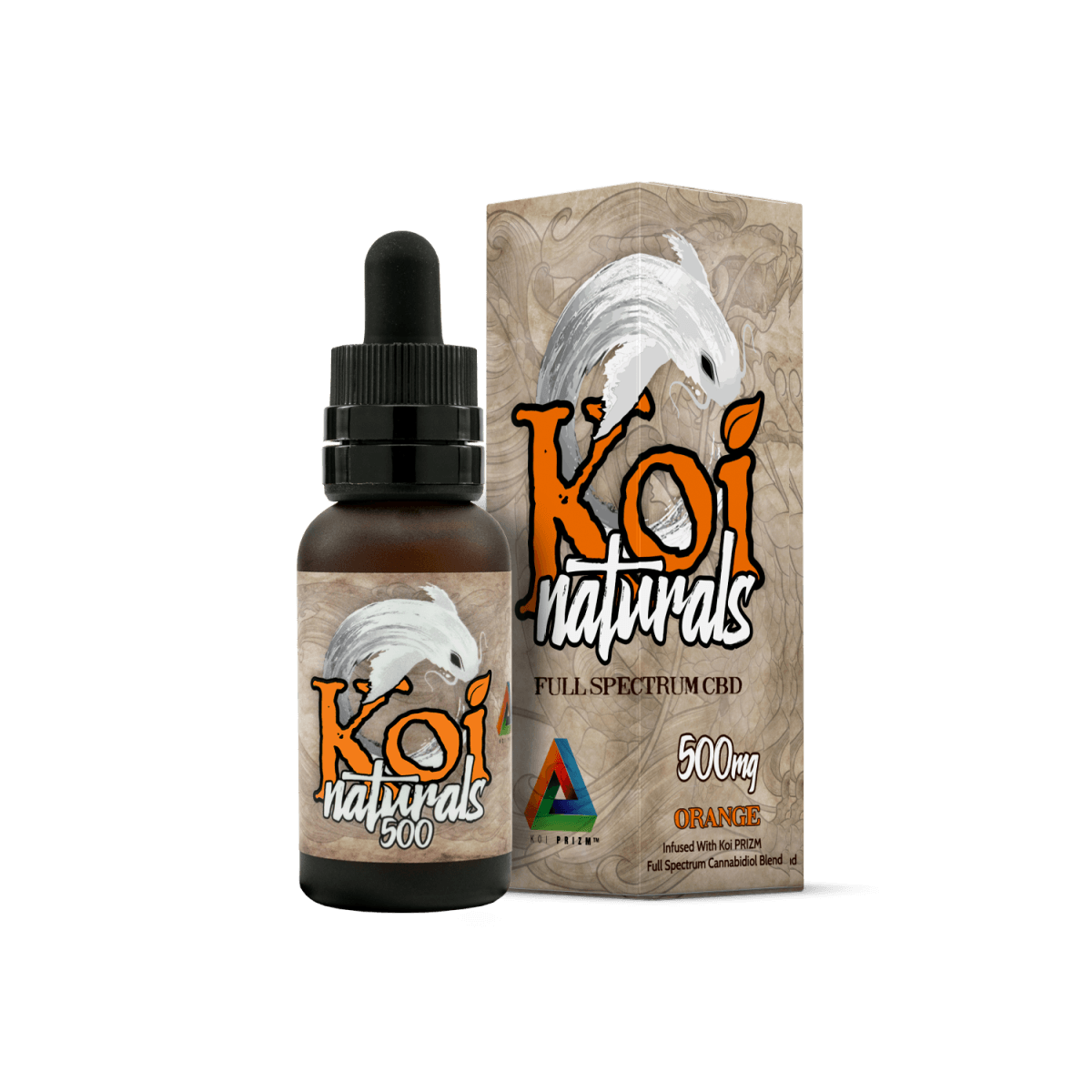 CBD Vape Juice
Koi CBD Vape Juice is one of the most efficient ways to take in the CBD. Vaping helps CBD enter your system faster than almost any other method of taking the compound. Koi offers many different flavors including Blue Koi, Red Koi, and Gold Koi. Pricing starts at $29.99 up to $99.99 depending on CBD concentration. Yes, our Koi discount codes apply here as well. The highest they offer is 1000mg which has the same amount as the oil tinctures. Most users who review these products say they last longer than the CBD oil tinctures.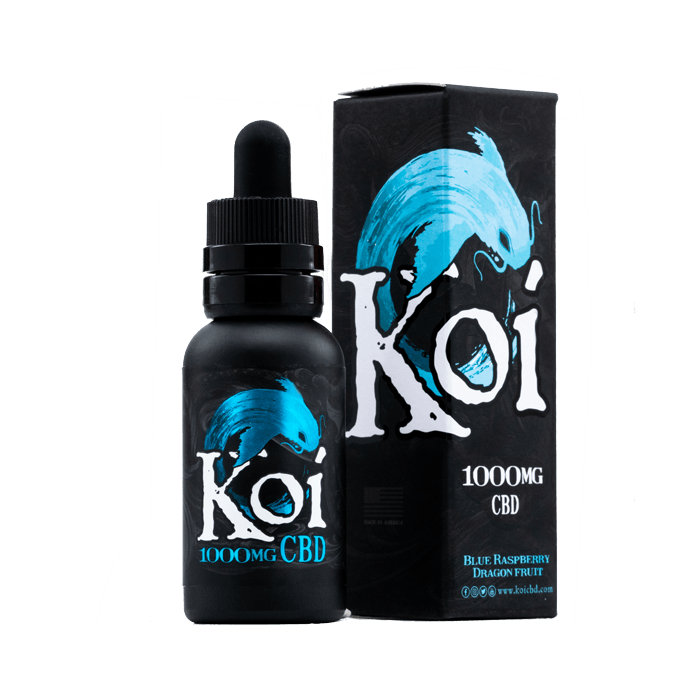 Koi CBD Gummies
Koi CBD Gummies are a popular way to take CBD via edibles. Unlike other brands that just spray CBD onto gummies, they actually roll it in multiple times. This is so each gummy has an even distribution of CBD. There are two different flavor options to choose from, the Tropical Fruit Soft Gummies and the Sour Tropical Fruit Soft Gummies. Just to be clear, these contain zero THC and like the rest of Koi products, they won't get you high. These contain full-spectrum CBD which includes additional non-psychoactive cannabinoids. Prices range from $9.99 to $29.99. You can use the Koi coupon code we offer for 10% off.
Koi CBD For Pets
There are two options if you want to give your pets CBD: The Koi Naturals Soft Chews and The Full-Spectrum CBD Oil Spray. Both products serve the same purpose and are just different options depending on what you think is easiest to administer to your pet. The Soft Chews contain all organic non-GMO hemp and have 0% THC. These have a chicken and natural bacon flavor. The price is $29.99 for 25 treats that each contain 2.5mg CBD. Even though the CBD Oil Spray is $59.99, it's a much better value as it has a total of 500mg CBD. Yes, our Koi CBD coupons at the top also save you 10% off.
Some Overall Thoughts On Koi CBD
It seems most people love Koi for their CBD Vape Juices. The brand has been around longer than most CBD retailers and can be found in hundreds of stores selling CBD as well as online. There is some value in shopping online as you can still get free shipping as well as Koi CBD discount codes that aren't offered in brick and mortar stores. They also provide lab results from products tested right on their website. The lab that does their testing is called Cannasafe and they're based out of Van Nuys, California. It seems like most brands these days are doing this as most of them just white label products. If you're a previous customer we'd love to hear your thoughts on Koi CBD with a review below.
How To Use Our Koi CBD Coupons
Koi CBD currently offers a 10% coupon code and this is the largest one out there with the exception of their Black Friday coupon which can be as high as 25%. In order to use one of these coupon codes, you can click "Get Coupon" on the right side of this review or click "Shop Now". Once you are done shopping from their website, look for the coupon code box at checkout (pictured below). From there just paste in the code "koidrip10" and you'll get 10% off. This Koi coupon works for all products and there's no limit on usage.
Koi CBD Pros
Koi CBD coupon codes offered

Koi has free shipping

Full-spectrum CBD oil that actually tastes good

One of the best CBD Vape Juices we've reviewed
Koi CBD Cons
CBD is not FDA approved

Sweeteners added to CBD oil
Disclaimer: The following reviews are made by consumers. Koi CBD has not reviewed and therefore doesn't endorse, support, or approve the reviews or recommendations left by consumers. These statements have not been evaluated by the FDA. Koi CBD products are not intended to diagnose, treat, cure, or prevent any disease.
5 Koi CBD Coupons Reviews
Brian

Their oils taste the best that's for sure. I tried the orange flavor and it has a sweet taste to it, will make your tongue tingle a little but you'll feel relaxed in around 30 minutes. Thanks Koi! 2018-09-05 19:50:26

theo

Your best bet with these guys are the CBD vape liquids. They last the longest and you get the most CBD for your money. 2018-12-16 18:17:50

Crystal

The Soft Chews are $30 and don't last that long. There's not that much CBD in them so you have to give your dog several of them if he's on the bigger side. 2019-03-24 20:28:55

Allison Freely

The coupon code worked! I've bought Koi products in stores a bunch and didn't even realize you can buy them online and use a coupon. Their products can be expensive but they work for me :) 2019-04-03 23:32:17

Aqib Sharif

I loved Koi CBD products. I purchased them from thewellnesskafe.com before. I'll try direct CBD too. Thank for the coupon. 2020-01-15 19:50:29